I've always had very tender fingernails that would curl back or even break off on their own. My toenails are equally as soft and I can easily trim them with my fingers. Some of my fingernails move away from the nailbed but it was never a problem because it always seems to attach itself back.
It became a worry when I noticed my toenails were doing something weird. The big toenails both had another nail growing under them. I figured it was as a result of trauma because I tend to hit them a lot when moving around and since they're tender, I get injured.
Anyway, I went searching, trying to figure out what's wrong with my finger and toenails and I think I hit the nail on the head.
What is Onycholysis?
Onycholysis is the separation of a nail from its nailbed, usually a gradual and painless process. It separates either from the tip or the sides and the detached part is lighter from the rest of the nail or takes a discoloration.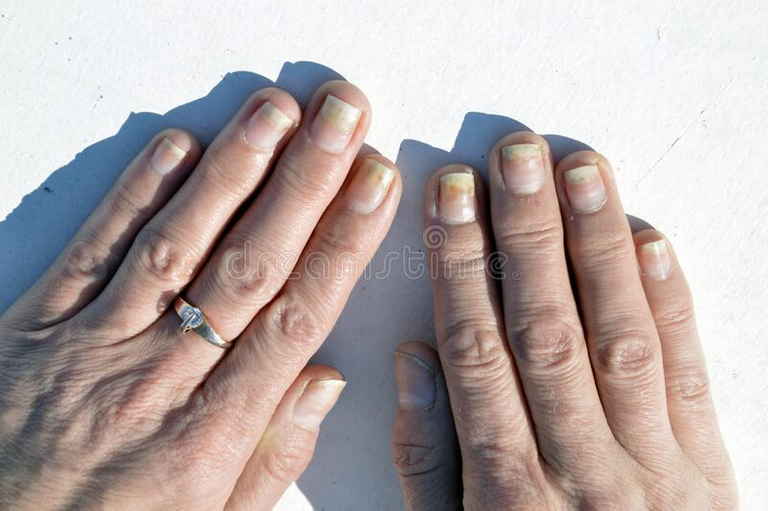 source
It lasts for a couple of months because nails do not reattach to the nail bed. A new nail has to grow and this usually takes 4-6 months for fingernails and 8-12 months for toenails.
Causes
Trauma on the nails can lead to onycholysis and it happens to be the common cause. Other causes are too much exposure to water and the use of manicure tools. Nail products like nail polish remover and artificial nails can cause allergies that lead to onycholysis. It can also be a result of wearing tight shoes in the case of toenails. Other health conditions like psoriasis can also be a cause and sometimes, the cause can be systemic or unknown.
The nails can sometimes be markers and show that something might be wrong with the body. For instance, onycholysis might indicate a lack of vitamins, thyroid disease or yeast infection.
Diagnosis
A doctor will typically diagnose onycholysis by examining the nails. Although easily self-diagnosed, it's advisable to see a doctor once you notice the symptons of onycholysis so as to deal with any underlying problems that might be causing it.
Treatment
The nails tend to grow back but then if the skin is now exposed, care needs to be taken to avoid infections. Essential oils with antifungal properties help with onycholysis. Ultimately, you need to follow doctor's instructions to treat any underlying cause of onycholysis.
Preventive Measures
According to Medical News Today,
It is not always possible to prevent onycholysis. However, a person can try:

avoiding wearing warm, wet shoes for prolonged periods
wearing gloves and appropriate footwear when exercising or doing manual labor
keeping psoriasis well controlled with therapies and medications
eating a balanced diet and supplementing with vitamin D and iron if needed
managing any thyroid conditions
I have my doctor's appointment in a couple of days so I decided to wait until then before complaining about my nails. I barely use nail polish or use artificial nails but I've completely stopped them since I discovered what I've been experiencing is onycholysis. Most of my daily chores have me dipping my hands in water a lot and so I bought kitchen gloves to reduce contact with water.
It's never been a bother when this was happening to my fingernails but after noticing it on my toenails for the first time, having a whole new nail underneath while the old one is still hanging off, I think it's time to find out what's causing this.
REFERENCES