Well... I went to research about Fluor in water and ended up being surprised by the complex layers of this story. So I decided to tell you a little about it and take the opportunity to ask: - Is the water in your country fluoridated?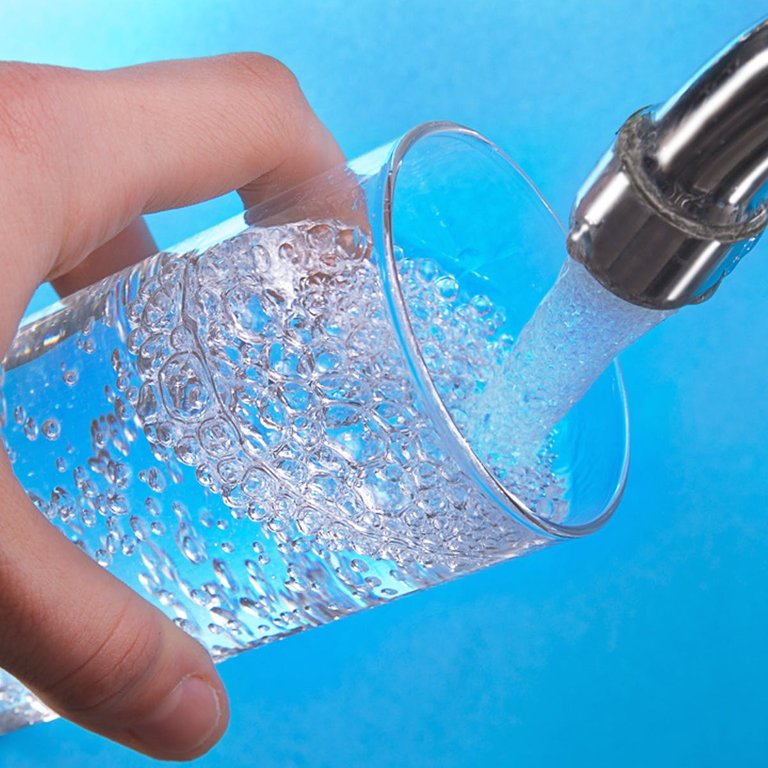 Source
What is known based on scientific studies of strong evidence, the main objective of water fluoridation is to reduce the incidence of caries in the population, but mainly in the poorest, lower class. In fact, this goal is achieved with fluoridation and since it became standard (in Brazil) there has been a considerable drop in the history of dental problems. Each country has its rules, some countries do not put fluoride in the water, mainly European countries, such as Austria, Belgium, Finland, France, Germany, Norway, Sweden, Italy and others. This is not just for reasons of conservatism and conspiracies, but also because some of these countries naturally have considerable amounts of fluor in their water. By the way, important to remember: Fluor is an ion, a natural component, present in nature. Some countries within China, for example, have serious problems because their inhabitants have severe cases of Skeletal Fluorosis, this is due to the fact that the water from the sheets that are used for consumption have a very high level of fluor (either through natural reserves/bags in the soil or or by contamination caused by the numerous chemical industries that dump their waste and contaminate the soil), this also occurs in India and the government often needs to intervene and purify the water to remove excess fluor.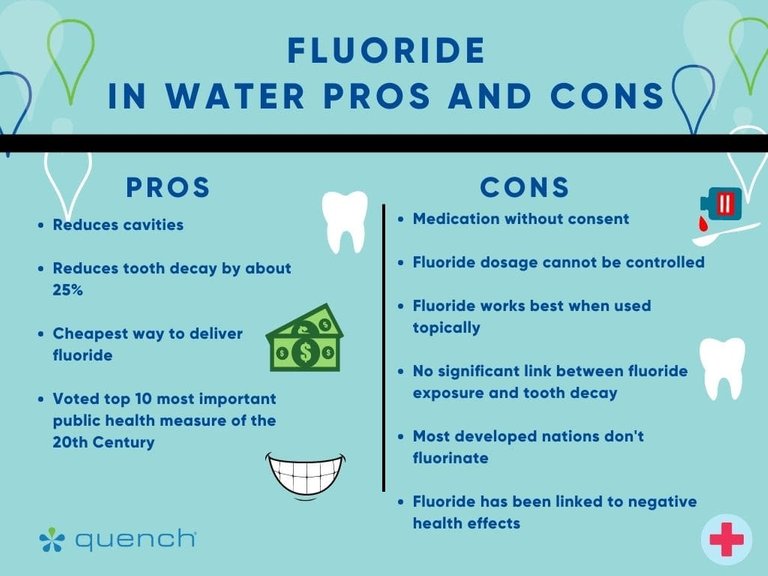 Source
There are virtual legends about water fluoridation being a kind of "Nazi heritage". The story suggests that in concentration camps fluor was used experimentally to make Jews more peaceful and obedient, which caused a dull reaction in them. Of course, this is just myths created by conspirators and there is no confirmation or any historical evidence about the use of fluor in concentration camps, even scholars point out that even the Jews often lacked water, if not even the water itself was offered. , then imagine a fluoridated treated water! Nor will I go into the completely conspiratorial and "new age" issue that fluor causes calcification of the pineal gland and that this makes man stuck at limited levels of consciousness and that it is not only an instrument of mass control applied by the government but is also a system of castration of the evolutionary expansion of consciousness. Writing this has already made me uncomfortable to imagine how sick conspiracyists are!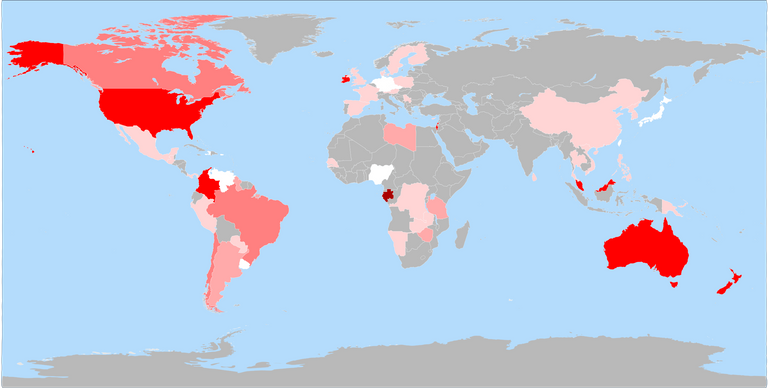 Colors in different shades of red show where water fluoridates
Source
Anyway. What we know is the following: Fluoride in the water is something natural, it occurs even in the healthiest water spout of the mountain, but protected and blessed, and it may even be that this mountain has excess fluor in its mineral composition and this will bring you problems severe conditions such as tooth stains and inadequate bone calcification. Which brings us to the second point: Induced fluoridation to prevent cavities is OK, but it is essential that fluor levels are not exceeded, each country has its limit range and it is very unlikely that a country (such as Brazil for example) was to spend MORE money putting more fluoride than provided by law as this would not bring any benefit, more expenses and possible serious legal problems for the company responsible for supply. Anyway, I hope the topic was interesting and I would love to know where you live and if your region has water fluoridation! Thanks for reading!
Research source used in this article:
1, 2, 3, 4 and 5
Thomas H Blum

Português
Bem... Eu fui pesquisar sobre Fluor na água e acabei me surpreendendo com as camadas complexas dessa história. Resolvi então contar para vocês um pouco sobre isso e aproveitar para perguntar: - A água no país de vocês é fluoretada?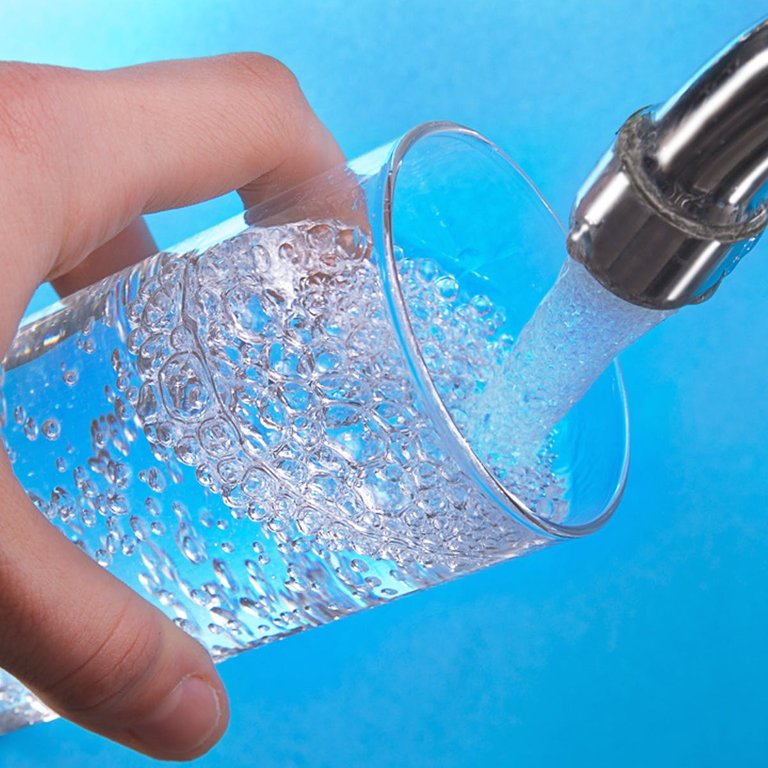 Source
O que sabe-se com base em estudos científicos de forte evidência, a fluoretação da água tem como principal objetivo diminuir a incidência de cáries na população, mas principalmente na faixa mais pobre, de classe baixa. De fato essa meta é atingida com a fluoretação e desde que tornou-se padrão (no Brasil) houve uma queda considerável nos históricos de problemas dentais. Cada país tem suas regras, alguns países não colocam fluor na água, principalmente países da Europa, como por exemplo: Austria, Belgica, Finlandia, França, Alemanha, Noruega, Suécia, Italia e outros. Isso não acontece apenas por questões de conservadorismo e conspirações, mas também por que parte desses países tem em sua água naturalmente presente quantidades consideráveis de fluor. Aliás, importante lembrar: Fluor é um íon, um componente natural, presente na natureza. Alguns países dentro da China por exemplo tem sérios problemas por que seus habitantes tem severos casos de Fluorose Esqueletal, isso se dá pelo fato da água dos lençóis que são usadas para consumo possuem altíssimo nível de fluor (seja por reservas/bolsas naturais do solo ou seja por contaminação causada pelas inúmeras industrias químicas que despejam seus rejeitos e contaminam o solo), isso ocorre também na India e o governo muitas vezes precisa intervir e purificar a água para tirar o excesso de fluor.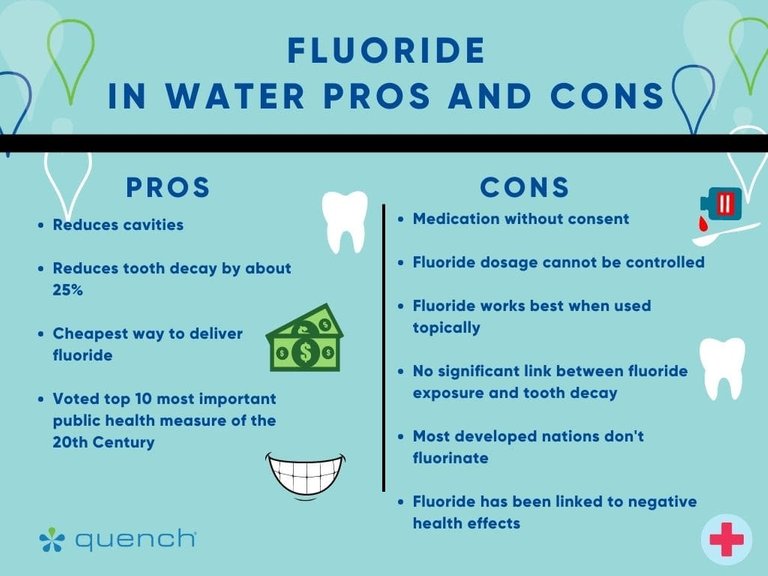 Source
Existem lendas virtuais sobre a fluoretação da água ser uma espécie de "herança nazista". A estória sugere que nos campos de concentração o fluor foi usado experimentalmente para tornar os judeus mais pacíficos e obedientes, que causava uma reação de embotamento nestes. Naturalmente que isso não passa de mitos criados por conspiradores e não existem confirmações nem nenhuma evidência histórica sobre o uso do fluor nos campos de concentração, inclusive estudiosos salientam ainda que muitas vezes faltava até mesmo água para os Judeus, se nem a própria água era oferecida, imagine então uma água tratada fluoretada! Nem vou entrar na questão completamente conspiratória e "nova era" de que o fluor causa a calcificação da glândula pineal e que isso torna o homem preso a níveis conscienciais limitados e que não apenas é um instrumento de controle das massas aplicado pelo governo mas também é um sistema de castração da expansão evolutiva da consciência. Escrever isso já me causou até desconforto por imaginar quão doentes são os conspiracionistas!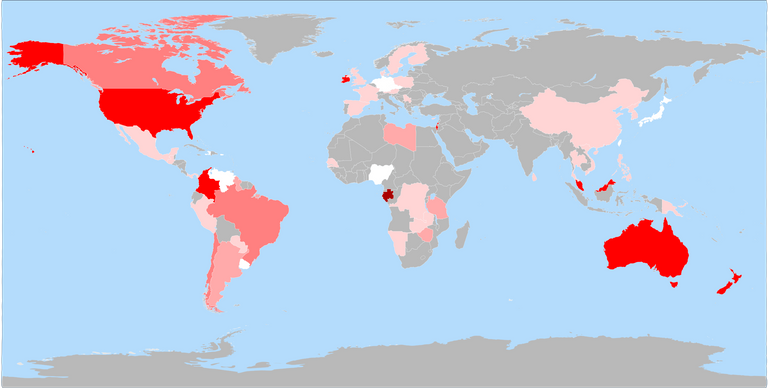 As cores em tons diferentes de vermelho mostram os locais onde existe fluoretação de água
Source
Enfim. O que sabemos é o seguinte: Fluor na água é algo natural, ocorre até mesmo na bica da água mais saudável da montanha mas protegida e abençoada, e inclusive pode ser que essa montanha tenha excesso de fluor na sua composição mineral e isso lhe trará problemas severos como manchas nos dentes e calcificação ossea inadequada. O que nos leva para o segundo ponto: Fluoretação induzida para prevenir cáries é OK, porém é fundamental que os níveis de fluor não sejam ultrapassados, cada país tem sua faixa limite e é muito pouco provável que um país (como o Brasil por exemplo) fosse gastar MAIS dinheiro colocando mais fluor do que o previsto por lei dado que isso não traria nenhum benefício, mais gastos e possíveis problemas sérios judiciais para a empresa responsável pelo abastecimento. Enfim, espero que o tema tenha sido interessante e adoraria saber onde você mora e se sua região possui fluoretação na água! Obrigado pela leitura!
Fonte de pesquisa utilizados nesse artigo:
1, 2, 3, 4 e 5
Thômas H Blum