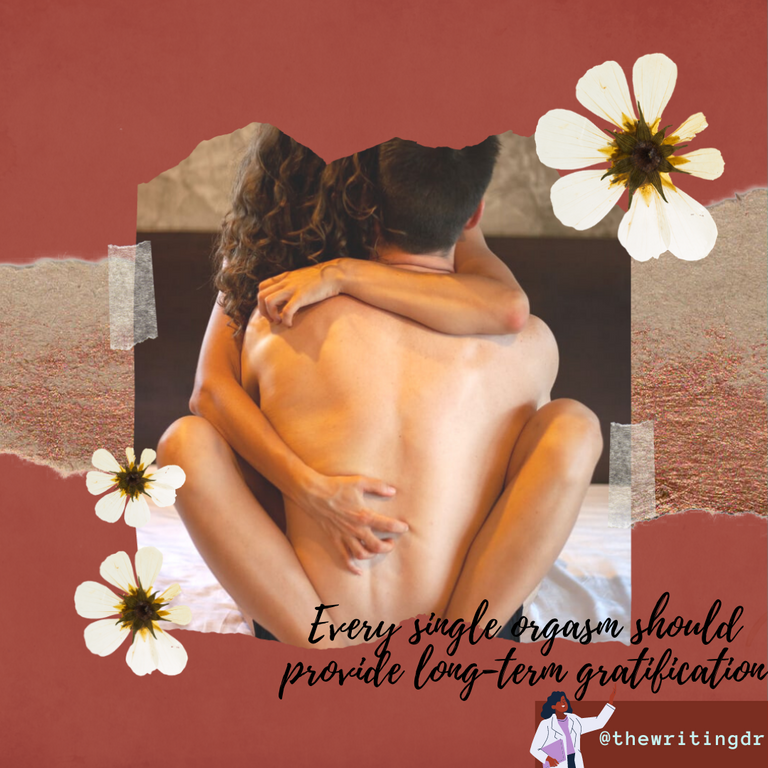 There are a few things that make life a bit more interesting - burger and fries, deep tissue massages, luxury vacations, and, oh yes - SEX.
You see, sex was designed to be beautiful and mind-blowing, both in the present when you're all "ohhh... ahhhh... oh, yeah!" and in the aftermath. However, this has not exactly been the case as the aftereffects of wrong sexual choices are not worth the transient throes of orgasm.
The only thing worse than ignorance is incorrect or incomplete information. When the purpose (or in this case, the detail) of something is unknown (or incorrectly known) abuse is inevitable.
Some parents, guardians or teachers find it difficult to introduce to their kids or wards to the nitty gritty of sex education, so these people grow up with incorrect information and, without meaning to, cause harm to the world - with just their genitals! Then when these unpleasant consequences show up, the blame games begin. For instance, how often do you get caught up in the heat of the moment and later blame poor, innocent alcohol?
Sex IS a big deal. It is a big deal and should be treated as such. It shouldn't just be a spur-of-the-moment genital meet-and-greet. Spontaneity is beautiful, true; not many things match the thrill of giving into the hot, urgent sexual need in the moment. And such coital encounters tend to form the best, most memorable ones, whether for good or bad reasons. This is why your sexual choices, which you should remain firm and resolute on, shouldn't be made at the particular point everything in you wants to have sex, when you must have lost all sense of reason. No, these pertinent decisions should be intentionally made a lot earlier, well before that really cute person gives you the eye at the club. Some problems in the future can be averted by this simple consideration.
Prime your genitals ahead of their use!
Whether you're a complete newbie to orgasmville, an occasional tourist, or a popular resident, there are conscious decisions you have to make to ensure you get the best, most hassle-free, sexual encounter of your life in the long-term. Start by asking yourself these pertinent questions:
Question 1: WHY AM I HAVING SEX?
People all over the world have sex for a number of reasons and while some make more sense than others, each is valid (sort of). Some of these reasons include:
to keep up with the times
for intimacy among lovers
for fun
for money
for procreation
When you have an honest conversation with yourself and find out why exactly you want to have sex, or are having already, ponder on the second question.
Question 2: WHO AM I HAVING SEX WITH?
This is a follow up to Question 1. It could be rephrased to WHO SHOULD I BE HAVING SEX WITH? but, oh well. Truth is, when you answer the first question, the answer to the second is revealed.
Forget about what your peers think or what seems cool or the new normal; you SHOULD have sex only with ONE uninfected partner. Your life is easier that way, believe me. Your genitals, your entire body, and the world at large would benefit endlessly when we aim for fewer body counts. For one, there's less risk of contracting STIs with only one loyal, uninfected partner in the picture. Also, there are certain genital cancers (like cancer of the cervix) whose chances of occurrence are increased with poor sexual choices. Who wouldn't love to live in world with a reduced incidence of these scary health problems?
After the questions, what next?
Before you start to have sex, you should consider doing the following:
have honest conversations about your sexual history, past or current STIs and your HIV status with your partner.
Never assume your partner is 'clean.' Get tested together for HIV and other STIs
Discuss what you want out of it: is it just fun or something serious? Are you interested in/ready to have a baby?
For hetero couples: Unless you're willing and ready to get pregnant, you shouldn't be having unprotected sex especially if you don't have a contraception plan in place or if the female is unsure of her safe period. Always talk to your doctor to get the right contraceptive to suit your needs.
GENITALS TO THE RESCUE! The ABCDE of Safe Sex
Abstinence:
Guess who has the most fun: Abstainers! Okay, maybe that's not entirely true but you get the point.
Whether you're totally not sexually active or you occasionally indulge in solo pleasure, you have fewer woes than those indulging in unsafe sex. And it makes sense, too; if you're not doing anything with anyone, you're not scared you'll contract any disease or get pregnant. That's all shades of amazing
Abstinence is nothing to be ashamed of; it's honestly the best way to go!
Be faithful:
Consider your genitals as gold, pure gold. You wouldn't give just anyone access to such valuable treasure, would you? If this is the case, keep it to:
one uninfected partner: Remember we talked of getting tested with your partner. When you do and you're both clean or gotten proper treatment and medical advice, stick to them. It's for your own good.
one sex toy: I recently saw a post on Twitter where someone was ranting about her neighbour not cleaning up the vibrator she lent her. No judgement but ewww sis! I know we should share stuff but there are some things we should be selfish about, like things that come into contact with your most intimate parts. Make no mistake, even sex toys can transmit disease.
Correct and Consistent Use of Condoms:
Condoms, which should be made of latex or polyurethane, should be used:
at every sexual encounter if pregnancy isn't anticipated (like we know, this is not always possible but it's the ideal thing)
before sex, not midway through
before their expiry date
when they're examined to have no leaks or tears
only once and disposed properly afterwards (no reuse)
only one at a time; no point in wearing more than one at once
with water-based lubricants only (avoid oil-based products like petroleum jelly, baby oil, etc, because they damage the condoms)
Condoms should also be stored in a cool, dry place. The wallet is not an ideal place to store condoms.
Note that there are infections that condoms don't protect against, like syphilis or herpes. These ones are transmitted via skin-to-skin contact. Again, get tested.
Delay Sexual Debut:
If you're yet to start, don't rush. There's no prize or award for early genital recruitment. Take your time, ask yourself the pertinent questions, and make the right choices at your own pace. Don't give into what you see around you.
Empowerment of Girls and Young Women:
This is a big challenge especially in low socioeconomic countries, like Nigeria where I'm from. And it's not just females; even though poor education and lack of money as a prompt for sex affects mostly young females, males can have similar experiences too. When there is some benefit (financial or otherwise) to get from having sex, people who are not empowered (either through sound education or financially) may find themselves making the wrong decisions. Everyone should be able to say a firm NO to sex if they do not want it, at no cost whatsoever.
To Wrap It All Up:
Sex is a big deal. It doesn't matter how old or experienced you are. It is a big deal, and wrong sexual choices have placed the world at risk ranging from STIs, cancers, unplanned pregnancies, unsafe abortions and the numerous consequences, and even death.
You've been making serious plans for your next romp. You're thinking of a million ways to make another human call you "daddy!" and scream for more. All of that is precious, but be sure you're putting your health and the health of your partner first. Your genitals can be so much more than an orgasm generator; they can change the world.
PS: I hope you caught on to the weird metaphors, lol. Feel free to ask questions where you're not clear 🤗
References/ Further Reading: