The number has clicked over to 81 now, but the question of the title was posed by @revisesociology a few weeks back in a chat and I have been wracking my brain to think of one, but I might have to concede that no, Reputation might be the most useless indicator of an account behavior - but it isn't completely useless as a mechanism, as it does have an affect on influencing the reputations of other accounts, both up and down.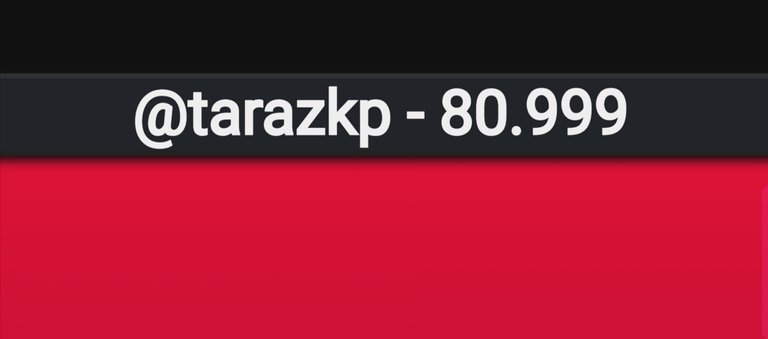 At the moment, I am 9th highest rep on the platform, according to Hive-db.com, which means that when I upvote or downvote, there is quite an effect on reputation, as useless as it is on the upside, it can come in handy on the downside to make the accounts of spammers and phishers very unattractive. While the reputation is useless to indicate much on the up, it is a pretty good warning on the downside for most people to at least be wary and take some caution.
I don't know the specifics, but affecting reputation is determined by staked weighting in combination with reputation and with my stake and rep, I think I can take an account from the starting 25 down to near zero with about 5x 100% votes. I can also move an account up into the 50s pretty quickly too - but that matters less.
While useless in many ways, it would actually be very useful to have a reputation mechanism that actually meant something, it is just that the way that this one calculates doesn't factor in enough points to be relevant, as it only uses stake and other reputations, which can obviously be gamed and was done through both selfvoting and the use of bidbots.
I think that in the future, there will be more sensitive mechanisms that are able to apply some kind of confidence score as to whether someone is qualified in some way. A simple example on Hive is one that often takes place through relationships, where if someone with a good reputation shares a post, voters may vote on it blindly trusting that the post is worth it, as the track-record tells them the likelihood of it being worth it is high.
Reputation is about influence and while it is hard to enumerate, reputation matters in the real world in many ways, both good and bad. But, reputation of all kinds doesn't mean that the value applied is indicative, as it is gathered and applied through a process of opinions, often from those who have no experience to accurately give a score. A "bad reputation" doesn't mean that the person is bad, nor does a "good reputation" indicate the goodness of someone, but reputations can precede us through various channels and can prime an audience into having an opinion or valence before they have any experience with us or a product at all.
For a product example, a restaurant can have a good reputation, but that doesn't mean that the food or service is fitting for every customer, which means that the good reputation is given by those who are suited to considering the restaurant positively. It is no different for people, where a reputation is calculated by transmitted opinions and the evaluated person is going to have a whole range of values along the reputation spectrum, depending on the audience they walk into. Because of this, it may be impossible to accurately apply a reputation rating of a single number on anyone.
However, as I said above, reputation in a specific area might be possible, where for example a specialist with education and training, as well as experience in a field could have a greater reputation in that narrow slice of information, over someone that has no experience. I think that this will gain importance when for example, information is being ranked on validity to mitigate the risks of fake news. Add a layer of decentralization and a broad sample size, and it is possible that in a large number of areas, there can be far clearer information as well as decisions made based on a confidence level of distributed experts.
Apply the same thing to a voting profile, and it could be that rather than the ridiculousness of voting for an individual, we would be voting for a range of ideas, where our own experience over time is factored into the weighting, so while we vote once, our vote is split across a range of factors with a weighting applied to give us more voting rights in one area over another. While there will still be a lot of imperfections, it should develop a better line of best fit for public policy.
On Hive, this is demonstrated poorly through the use of stake and reputation, where the assumption is that stake will be more inclined to work for the betterment of the platform than unstaked, and that stake will identify people of value who support their vision. The concept is pretty solid, the application is very poor, as people are people, regardless of stake and, they potentially make their decisions on who to support based on points that aren't necessarily in line with the betterment of the platform, or potentially not in a way that is needed now, so there might be an alignment problem. The decentralization of the stake and platform is meant to mitigate against the risks to flatten the influence curve to spread it wider, but that requires the distribution of stake to people who are more likely to look to improve the environment in some way, not just maximize themselves.
But, as useless as it is currently on Hive, I do think that in the coming years, reputation of individuals and communities is going to be of increasing importance of relevance, as the world is going to have to start contending with an increasing flow of fake and biased information designed to do harm - including improving deep fake videos that appear very real. What this means is that platforms are going to have to do a better job of filtering, but more than that, we are going to have to do a better job of what we share, considering much of what we share we don't actually consume entirely, just headlines.
Similarly to the trust in some people based on what they share here, there is the future potential that a confidence level could be applied to what we share on all platforms, where if something is proven fake, the score can be affected negatively, or if a user is often sharing good information the score can be improved - with the ubiquity of social media, this could also inform the interest level in the narrow field areas, so it is not only professionals, but also enthusiasts that have a scaled rating on topics.
There is obviously a lot of complexity and caveats involved in designing a "web of trust" in this way, but with enough data points and automation to record important numbers without self-reporting (self-reporting is unreliable), it could be that a decent mechanism that can actually means something could be found. I don't expect this to be soon or used well however, especially in the hands of corporations and governments who already use profiling for their own benefits, but as a concept, there is opportunity and regardless of whether it is used well or not, because of that opportunity - it will be used - so it is better to consider it openly and as widely as possible.
So, while there might not be a more useless public metric on Hive than rep, reputation itself is a tool that we as social animals use to manage ourselves, a heuristic of trust that we apply to our world as to who can influence us and therefore, the decisions we make. As a world that has larger groups and has become far more integrated and connected at the global level, the human brain is unable to accurately factor in reputations well, but will naturally do so based on irrelevant data. This means that there is a need to solve the problem at some kind of technological level to provide trusted information we can act upon, without having to spend all of our "human time" cross-referencing data through our biased filters.
I know that for example, @blocktrades is working on this kind of thing in his spare time (who I tag just in case I can add something to jog his thoughts in some way) and I assume that a lot of the platforms are seeing the coming need to be able to verify what they share and promote, as they will start becoming more responsible for the content on their platforms.
What I do think is that blockchain and tokenization are the likely candidates that can be integrated into form the fabric, with each becoming a transparent layer that overlays to become a well-informed and verifiable blanket of trust. This gives a very strong usecase to blockchains and tokens and one that crosses across industries, fields and institutions in the same way as the internet itself. And since it leverages the same networks of value, the acceptance and barriers of entry to do so might be lower than expected.
While the technology may allow it, it is us as people who have to make sure that it is going to work in our favor as a society and individuals - something that we aren't overly great at doing, due to our own biases and level of confidence in things we might not know much about at all. The discussion of humanity however, is always open.
Taraz
[ Gen1: Hive ]