Is my life a lie? I ask that to myself, sometimes. Well, especially after reading some stuff on the internet. I mean, I have been working with viruses for over 8 years now. Previously, I was working with replication-incompetent lenti- and adenoviruses to make genetic modifications in target cells and animals. And, recently started working with infectious viruses. And now, 8 years later, I have come across articles denying the existence of viruses altogether. So, have my life really been a lie?
I have been thinking about it a lot. I was wondering who could best put my worries to rest. Who could resolve the doubts that these internet articles have put in my head? I thought who could be better than Veeru for answering my questions.
Who is Veeru?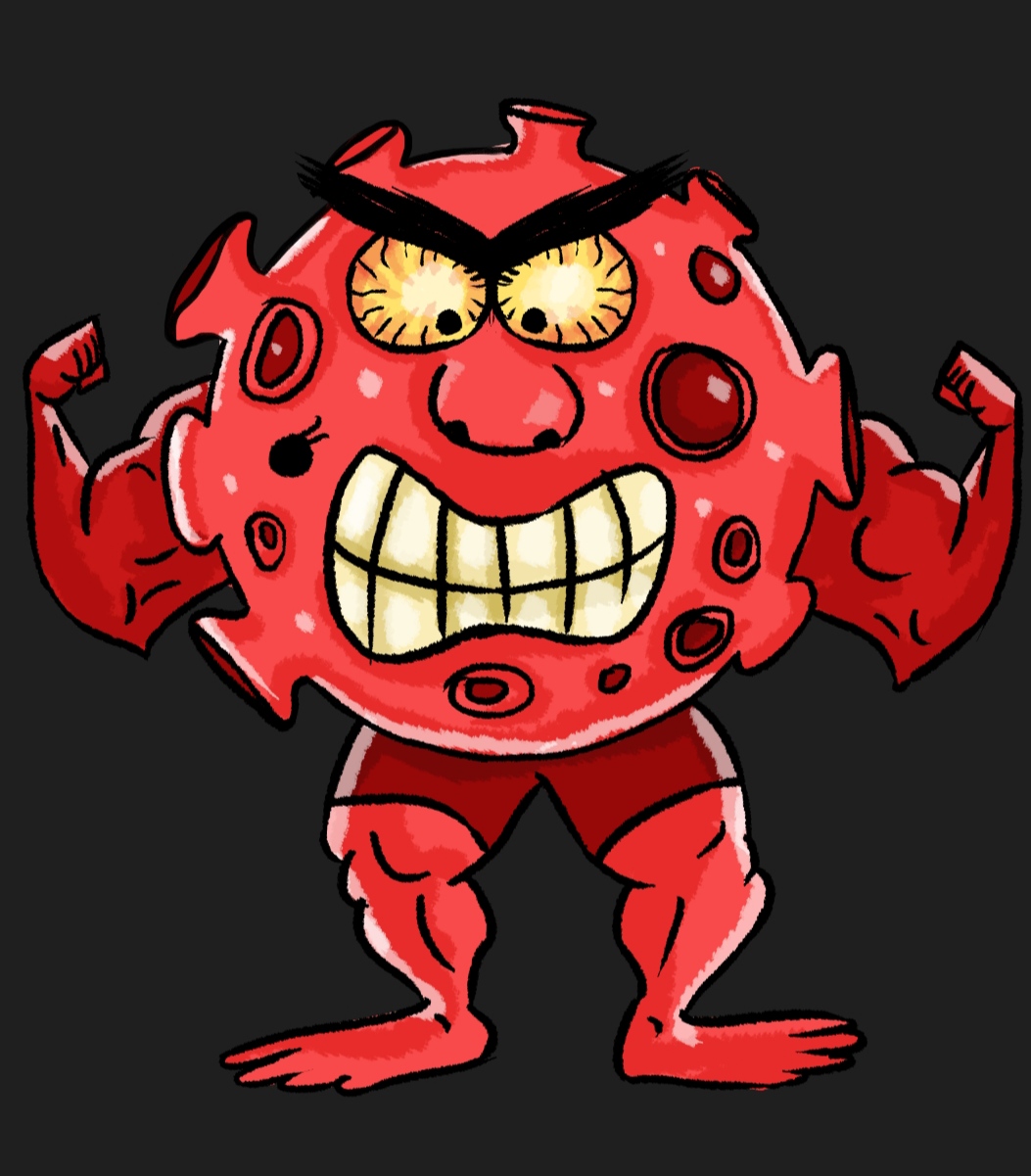 Well, Veeru is a virus facing an existential crisis. He is angry and depressed like so many other viruses right now. He is a representative of all the viruses out there and will tell us their story. Given, Veeru's long-standing experience in being a lab rat, I think he would be the right man for the job. He would tell us all about - the mysterious viruses, where and how to find them.
Art by @mycrimsonhues (used with her permission and added her as beneficiary). Also, a sneak peek into Veeru NFT collection she was contemplating on creating.
What is the reason for their depression, you ask? Well, imagine being a criminal mastermind, the particle of mischief who is constantly making evil plans. Plans to take over every king and beggar, every plant and animal out there. Yet, someone out there just dismisses your entire existence altogether. Imagine how Gru from Despicable Me would feel about it? Well, I would have felt devastated if I was Veeru.
Scienceblocks: Hello Veeru. How are you today?
Veeru: Not so good, Scienceblocks.
Scienceblocks: What happened?
Veeru: You know we have been there on this planet since the very dawn of life. I mean, I know we are like lifeless particles, just a piece of DNA or RNA wrapped in proteins and lipid membrane.
But, we have done a lot of hard work to be those particles, you know.
All we want is a chance to develop and grow.
We have made grand plans.
Executed attacks against every form of life.
And while that may sound sinister;
but, that's how we thrive.
Scienceblocks: That rhymes. Are you a poet Veeru?
Veeru: A virus can try!
There isn't much to lose when you sit on the fence.
A fence you find hard to define.
I exist, but in what kind of existence?
Am I alive or inanimate?
Who am I?
Where am I?
Where do I fit?
Surprise! surprise!
I am the glitch in your imaginary matrix.
Scienceblocks: Ah well! Moving on!
Well, some people say that since you are not "exactly living" like bacteria, you can't infect and cause disease.
Veeru:
Ouch! That hurts!
But yeah! outside the host, we are just dust particles. But, that doesn't mean that we can't be animated. We are not some inert matter like rocks. We viruses carry molecules on our surface that bind to molecules on the surface of our target cells. While we may look like any other sub-microscopic dust particle, we can do a lot of shit at the molecular level. We just need some proximity with the host cell1. We latch onto the host cell and gain entry 2. We don't even need to go inside the cell as a whole; we just inject our genome and some important proteins into the host cell. Then the host cell provides us energy and raw material and helps us replicate. Our genome contains instructions for making the whole of us again, just like yours. The host cells also read this code for us, use its energy and raw material to make proteins that build us. Our proteins and genomes also contain instructions sequence on how to reassemble. And so they do.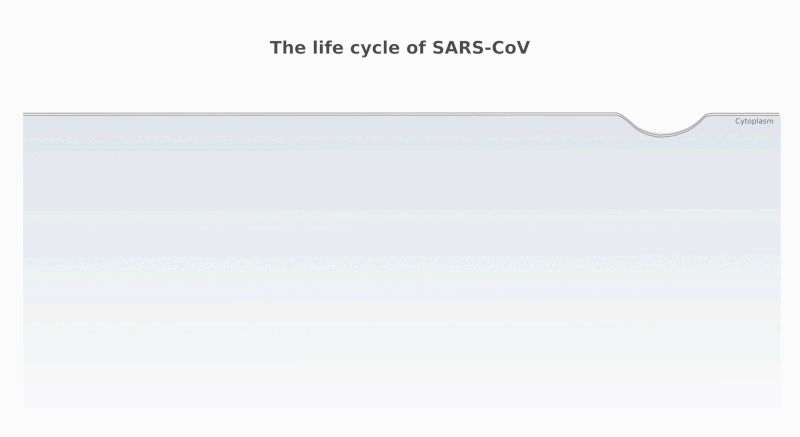 SARS-CoV-2 lifecycle. An example of the virus replication cycle. The virus attaches to cell surface receptor (Ace2). Gets internalized. The virus membrane fuses with that of the cell or endosome. This causes the genetic material of the virus to enter the cell. What happens after this point depends on the nature of genetic material -DNA or RNA, single or double strand, positive or negative sense. It also depends if the virus is retrovirus like HIV or not. For a single-stranded, positive-sense, RNA virus such as SARS-CoV-2 - the invading RNA is translated by ribosomes in the cells. The product of this translation is a polyprotein chain. This chain is then cleaved by a protease to release individual viral proteins, including an enzyme called RNA-dependent RNA polymerase (RdRp). RdRp binds to viral RNA particles and copies them using raw material and energy from the cells. Ribosomes on the ER translate the membrane proteins of the virus. The core nucleocapsid proteins bind to freshly replicated viral RNA molecules. The ER membrane containing viral envelope proteins wrap around the core proteins bound to viral RNA, creating novel viral particles. These particles can then just bud off via exocytosis or ectocytosis, get released via pores created by the NLRP3 pathway, or get sprayed out of the dying cell. And then the cycle repeats3.
Image by Anver Hisham | CC BY-SA 4.0
Veeru: The assembled particles leave the host cells. If in luck, they will find a new cell to infect. Or even better if they get sneezed out and find a new host. Or if you were HIV you hope that your host got lucky last night. In a nutshell -
All we need is a cell somewhere.
Something to hold on to the surface there.
And its ribosomal chair.
Now, wouldn't that be loverly!
Lot's of nucleotides for my genes,
Lots of aminos making my proteins
My genes, my core, my envelope
Now wouldn't that be loverly!
Scienceblocks: look at you! Singing songs and all. So full of life.
Veeru: You have a problem with a virus being happy? Huh?
You know, we just don't multiply and spread. We also mutate and evolve. We are in a constant evolutionary arms race against the host immune system. We even jump species whenever possible.
Maybe multiplying and evolving is not life enough for you. I mean, sure, it must be more to you, but that is what life is for us!
Scienceblocks: Ya! I guess what life is, is a debatable topic. Let's keep aside it for another day. But, can you cite more examples from nature, other than viruses, where just some external genetic material enters cells and uses cells to replicate themselves? Some other genetic parasite?
Veeru: Well, phages that infect bacteria. But, fine phages are kind of viruses of bacteria themselves. But what do you think plasmids do.
Yes! Take plasmids 4, 5 for example. You don't say such mean things about plasmids, do you? You don't deny their existence based on this premise. Why? If I go by the logic of you puny mortals, then they are even more dead than we are. A plasmid is just a fucking piece of circular DNA. Forget membrane! a plasmid doesn't even have proteins bound to it to help it be taken up by the bacteria.
But once taken up, it can multiply and spread among different bacteria. Sure! Apart from being a little expensive to maintain, it is not necessarily harmful to bacteria. Well, because it uses a different strategy. Unless it offers something beneficial to bacteria - like antibiotic resistance genes, it will just be an extra load for infected bacteria. And if infected bacteria don't get to grow fast, neither does plasmid. So it kind of forms a symbiotic relationship with bacteria rather than being a harmful intracellular genetic parasite. But the point remains the same. It is the genetic material that comes alive inside the cells.
Some plasmids even contain genes to make F-pili. F-pili can form a bridge between the two bacterial cells and aid in the direct transfer of the plasmid. I like to call it bacterial penis. From how I see it, that freaky plasmid is just a naked virus.
It doesn't matter what you call it. But since the dawn of life, the nucleic acids - RNA and DNA have evolved many strategies to keep making copies of themselves. In some situations, it made whole organisms like humans. In others, it made functional single-cell machines like bacteria. But there were also pieces of stray nucleic acid molecules. These molecules evolved methods to instead make those cells work for them.
Scienceblocks: Tell me this Veeru - How does anyone find you? Say I come across someone who is sick. How do we know that you are there, and you are the one causing infection and disease?
I will give you that, that we are tricky. But it's not that hard to figure out we are the one causing the disease out there. If you come across a new illness that spreads from person to person, you know that you are dealing with an infectious pathogen of some sort. What sort? That is the next thing for you to determine.
I mean, it's basic! You correlate our presence with the disease. You isolate us, grow us and then infect someone else with us. See if the disease develops in at least a proportion of newly infected hosts. If it does, test them for the presence of viral DNA/RNA. If you detect us in these hosts, you know we are there, doing what we do.
Scienceblocks: So you mean like fulfill the Koch's postulates?
Veeru: Oh! scienceblocks! You are so basic! You may make NaOH feel ashamed. I seriously expected more from you.
I mean even Koch knew limitation of his postulates 6, 7. They don't even work for bacteria like Vibrio cholerae. Nevertheless, the crux of the matter remains the same from Koch to all of the new adaptations. That is, you have to have a correlation and then prove causation. But how you approach it really depends on the nature of the pathogen in question. So you have to improvise.
Scienceblocks: So, how does one approach viruses?
Veeru: Well, we are intracellular pathogens. That means we spend a good amount of our time as nucleic acids inside the cells, as I mentioned before. Hence, you can easily find our nucleic acids (DNA or RNA) in the organs we infect, in a person suffering from the disease alleged to be caused by us. And, even in some asymptomatic contacts. If you do whole-genome DNA or RNA sequencing of the diseased tissue, you will see the foreign sequence in them. You can also design specific primers if you know our genomic sequence and amplify our genome in a PCR reaction to detect us. For instance, in late 2019 and early 2020, when doctors and researchers in Wuhan, China noticed a new respiratory disease spreading, they collected the lung samples and performed unbiased sequencing. This was the first evidence of a novel beta-coronavirus being associated with the disease 8.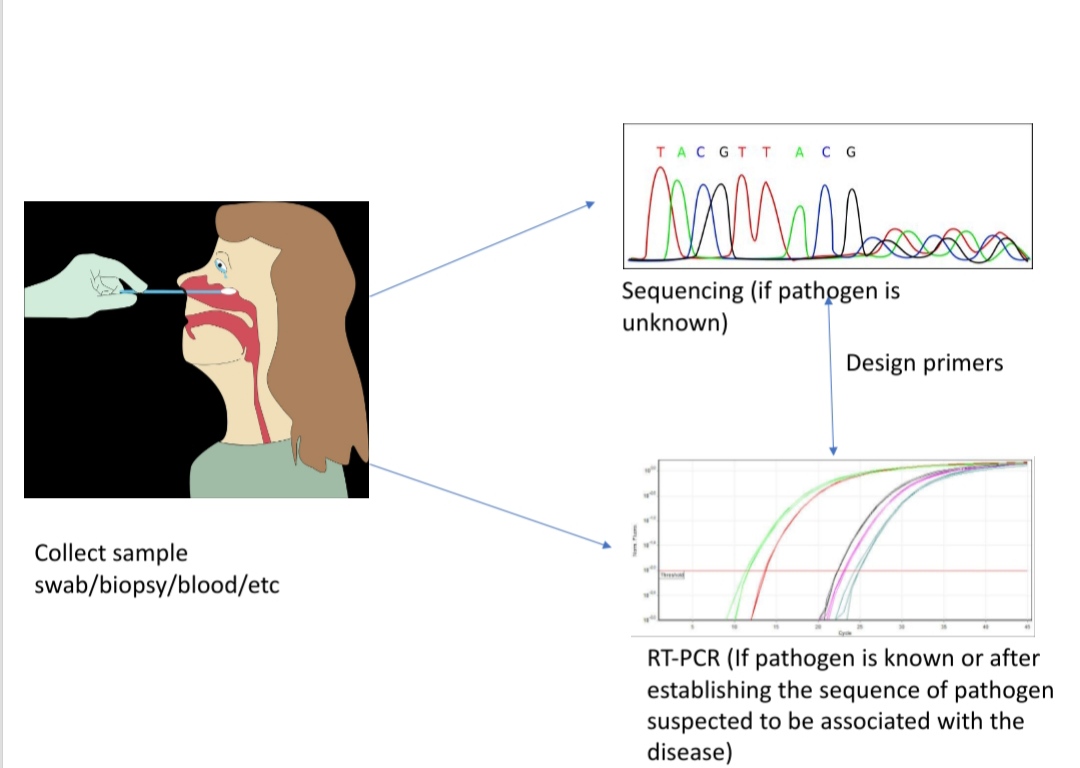 You take a sample from the infected organ of the patient - it can be a simple nasal swab in case of some respiratory viruses. Or, it can be blood or even tissue biopsy. You sequence the RNA or DNA from this sample in case you suspect a novel pathogen (for example, see how they identified SARS-CoV-2 8). You find sequences that do not align with the human genome. Then check which clade of life do these sequences best align with. And you have your probable pathogen. You can continue to sequence samples from other patients with the same disease, and establish a correlation. Alternatively, you may develop specific primers and do RT-PCR to see if the positive detection in RT-PCR often correlates with the pathology of the disease.
Illustrated using nasal swab | CC0, Sequencing | Pixabay license, qPCR | CC BY-SA 3.0.
As the disease progresses, you will see an increase in the copy number of viral genes. The viral load should decrease when the person recovers. If the person relapses, you may see an increase again. But, you should take caution about relapse and some lasting symptoms that can last as remnants of damage caused during our war with the immune system. Also, the relapse may look different. Take chickenpox as an example. This guy Varicella zoster causes chickenpox when it first infects you and then lies there latent in nerves for decades. But when the immune system becomes weak, it rises again and causes shingles in old age9. Also, not all viruses may cause symptoms in every individual they infect. A lot depends on the war that we fight inside the host 10. However, if a significant number of people with symptoms also have viral genetic material, you may correlate the symptoms with the virus.
Once you establish such a correlation you can move ahead to establish causality. For which, you can grow us in your labs and infect someone else to see if now you can replicate the symptoms associated with us.
Scienceblocks: That's cool! You mentioned that you can be grown. But as far as I know, you can't be grown in pure culture. You need host cells to grow. So how do virologists grow you in their labs? And how can they specifically isolate your effects vs those of cells themselves in the experiment?
Veeru: What do bacteria eat scienceblocks?
Scienceblocks: Well, bacterial food! Like all that glucose in agar culture.
Veeru: That's right. And, what do we eat?
Scienceblocks: Ummm...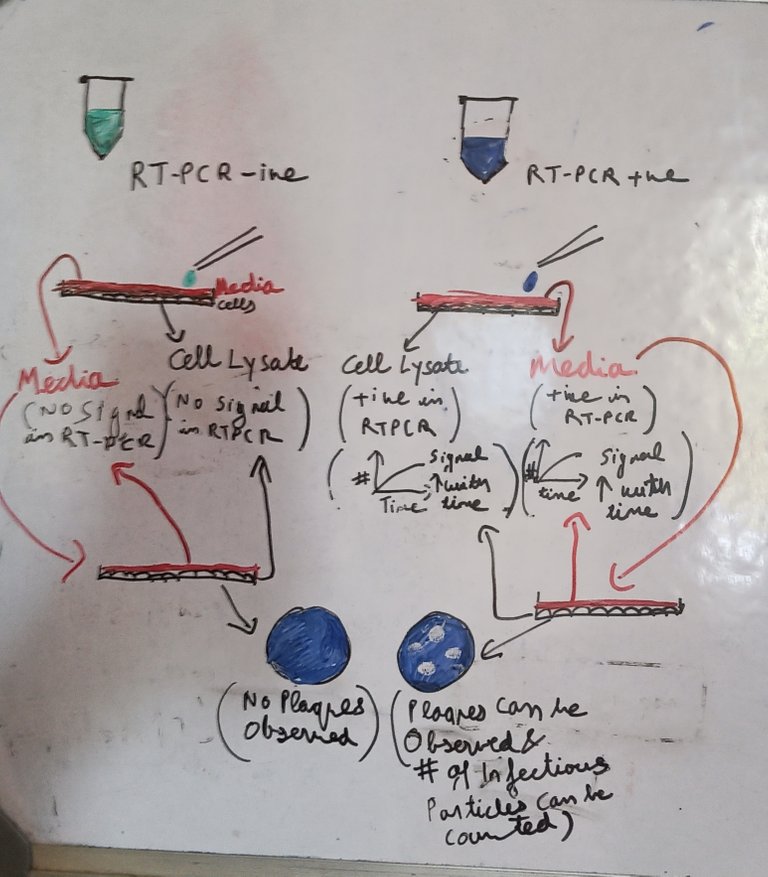 Just some whiteboard drawing showing what is likely to happen downstream when you start with a sample from a confirmed positive or a negative case. When you add a sample from the confirmed positive case on susceptible cells, you are more likely to infect those cells and convert them into virus-producing factories. Both cell lysate and spent media from these cells will test positive for the sequence of the virus. Furthermore, if you collect this media or lysate in progressive time points, you will see an increasing signal for the presence of the virus. If you take the media from the cell producing the virus and add a small amount of it in cells that show cytopathy, and cover it with either agar or carboxymethylcellulose to lock the position of the virus (plaque assay) you can observe and count the plaques to determine the number of infectious particles in the media.
Veeru: That's right, nothing.
We let the cells eat make stuff for themselves. And then we highjack them and tell them to now use the same stuff to make building blocks for us. So, yes you can't grow us in pure culture on an agar plate. But if you give us the cells we can infect, we can make copies of ourselves and grow in numbers. As far as isolating our effect goes, you always put controls in your experiments, don't you?
So all you got to do is take a sample for infected patients which shows our genetic signature. Put a tiny amount of that sample on your tissue culture dish and see our numbers grow. You can do a qPCR to see how our copy number is growing after infection. You can either do the qPCR of cell lysate (which will show you the number of genomic copies, present inside the cells), or you can collect the media in which cells are growing which will show you how our particle number is increasing with time. Alternatively, if you have a cell line that shows cytopathy when infected with a particular virus you can do a plaque assay with this media to actually count the number of viable particles. None of this would happen if you start with the same material from RT-PCR negative person or even from the same person after his infection was fully resolved. The successful infection of cells will depend on the presence of intact and viable virus particles in the sample. For instance, even if you find RNA of SARS-CoV-2 in stool samples, the stool samples fail to infect cells, due to a lack of viable virus particles. On the other hand, the maximum number of intact virus particles seem present in the sputum, nasal swabs, and lung in the case of SARS-CoV-211.
Scienceblocks: But are those particles viruses? People say they are just exosomes or some artifact released by dying cells.
Veeru: Really! I mean how do you explain that those particles now contain genes that were not present in the host before he got infected? Nor were these genes present in the cells before you infected them. If you put material from uninfected patients you won't see these genes in the cells or produce more particles. If you put material from the same person before or after infection these genes won't show up in cells and multiply either. Show me where on earth have regular exosomes come out of a cell with foreign genes that can't be mapped to the host genome out of nowhere, and then grow in numbers when put on a fresh batch of cells?
Also, not all viruses kill all cells. Some of us can reproduce in some cell lines without killing them. For instance, SARS-CoV-2 can grow in CaCO2 and CaLu-3 without killing them. But veroE6 cells die to produce the virus particles 12. So you can grow that SOB in CaLu3 cells. Collect media from CaLu3 cells and put it on VeroE6 cells. You will see that only media from infected CaLu3, which showed the genetic signature, can kill VeroE6 cells.
But, I do understand your confusion. We viruses have evolved to hijack not just host machinery to replicate, but also the vesicular trafficking pathways. Most, viruses use multiple ways of entering and exiting the cell. For instance, after binding to a receptor a virus can either directly fuse with the membrane and deliver viral proteins and genome into the cell or it can use the endosomal pathway.
Similarly, a virus can exit the cell by a lytic mechanism that kills the cells, or by digging pores in the host membrane by hijacking the NLRP3 pathway. Or, by simply hijacking the exosome or ectosome pathway without needing to cause any damage to the cell, whatsoever. But, since an enveloped virus uses a host membrane to create its envelope, it might get hard sometimes to tell the virus apart from the regular extracellular vesicles such as exosomes 13.
But, beware that in the case of an infected cell there is an evil genius actively driving the process. The regular extracellular vesicles don't replicate and contain foreign genomes and proteins. But a virion contains both its own nucleic acid and proteins and even some host nucleic acids and proteins which aid in virus replication. For instance HIV along with its own genome also carries host tRNA and some host proteins as an aid 14, 15.
scienceblocks: But aren't extracellular vesicles (EVs) such as exosomes known to contribute to pathology in certain diseases and even aid inflammation. How do you know that it is not EVs causing some symptoms but instead the virus?
Veeru: Did whatever I said before, went over your head? I mean yes EVs are known in certain pathologies - inflammatory diseases and even in cancer. Stressed, injured, and even virus-infected cells secrete more EVs. In fact, EVs may both aid and suppress inflammation depending on the context. But those EVs don't contain viral proteins or the viral genome. Those, EVs don't replicate. Some EVs from the virus-infected cells may carry viral genes and proteins and may even aid viral infection. And that is because in these cells it is the virus that is driving EV formation and hence sometimes half-assed assembled EV which can't be considered a virus yet may be secreted along with a fully developed virus. But again the key is that they contain foreign viral genes and proteins because the cell was infected with the virus in the first place 14.
scienceblocks: If I understand this right, then all you need to make a complete virus is the viral genome. So, if I take the viral genome and artificially insert it into the cells, I should be able to create infectious viral particles without even having to start with an actual intact virus.
Yes, here is another fun part. Say you don't throw patient samples on the cells. And want to prove that this genetic material you associated with the disease produces virus inside the cell. You can take the genomic sequence of that virus. Insert it into a plasmid. Now you can transfect that plasmid into the mammalian cells using liposomes and you can create new virus particles, that can infect other cells or even animals for that matter 16, 17.
So, this again proves that our genetic material is sufficient to make us, and reproduce us inside the cells.
scienceblocks: Now that we know how you guys can be cultured using cells that support your reproduction, and given that I do culture viruses am I at risk of getting infected? What I am trying to ask is - can I use the virus produced by these cells to infect another host?
Veeru: As far as you are concerned you are safe till you follow all the mandated protocols. Biosafety facilities and PPE you wear are designed to keep you and everyone outside safe.
The answer to your second question is - yes. You can take the media from cells producing the virus and infect another susceptible host. You will see that a decent number of these hosts develop similar symptoms, even if not all (depending on how many symptomatic infections do develop in the wild and the immune status of the host). Though, I know this can be tricky because you can't and should not in your right mind infect another fellow human being, intentionally. Hence, you need to have another organism that is susceptible to that particular virus.
And if you can't find one, then you can design one. If you have identified the receptor that the virus binds to, all you have to do is genetically make a mouse that expresses the human version of that receptor 18, 19. And with CRISPR technology you don't even have to overexpress it, you can just replace the mouse version of that gene with the human version 20.
Alternatively, instead of modifying the organism, you can also evolve us in a tissue culture dish to become infectious to that organism. For this, you have to grow us over and over again till you find potent particles able to infect cells of that organism. And then optimize that virus using those cells 21.
scienceblocks: Well, all that sounds cool. But you know seeing is believing. I have heard that no one has ever isolated directly from the source and taken a picture of it under an EM. They have only taken pictures of your kind after culturing them in a tissue culture setting. So pictures we are seeing may be in fact tissue culture artifacts.
Veeru: Ok, think of it this way. You give me a satellite image of a city. In that satellite and ask me to locate a specific tiny building. If the city is desert and there is one small house in the entire city, it will take me quite some time to zoom in at all regions scan for that house. Well unless you have multiple such houses in that region, locating that kind of house manually could take hours to days. Similarly, the net area of an electron microscope grid is too huge compared to the size of the virus. You are looking for a particle of about 100nm diameter in an area of 3mm diameter. Hence, most people who study us prefer to have a good number of us on that grid. Say 107 intact virus particles per ml. So when they put like 10 ul of that solution on that grid they get at least 100 intact particles to search for. The tissue culture helps in expanding the number of particles.
But that doesn't mean you can't image us directly or it hasn't been done. If you have too much time in your hands, too much money to operate that cryo-EM machine you can, by all means, locate us in direct samples from patients. Moreover, some viruses which are produced in huge quantities in host fluids have been imaged directly. Alternatively, one can even concentrate us from hosts directly by using affinity columns and ultracentrifugation, if you detest the cell culture method so much. And that has been done for a good number of viruses out there.
In fact, Brian Mondeja in July 2021 published a paper in Virology 22, where they collected the nasopharyngeal swabs from RT-PCR positive and RT-PCR negative patients. They inactivated these swabs to minimize the biohazard, dried them on the coverslips, sputter-coated them with gold particles to increase contract, and observed them under the scanning electron microscope. And guess what they detected virus particles only in the RT-PCR positive samples and not in the RT-PCR negative samples. Hence, providing direct observation of the virus without the need for intermediate cell culture. And not only this, but they also subjected these swab samples to atomic force microscopy and were able to capture the virus particles budding out or fusing with cells in RT-PCR positive patients. Hence, establishing direct evidence between the presence of viral-specific genome in the person and the presence of virus particles.
Scienceblocks: I see. So they have imaged the viruses both after culturing them and directly from the patients. Furthermore, they have associated the presence of viral genetic material with the disease development, isolated it, grown it, and infected susceptible animals with it which then developed the symptoms. I think it was wrong of me to not appreciate your life as a genetic parasite.
Welcome back to existence Veeru. 😆
Veeru: 😖 Stop pulling my leg (sorry spikes) Scienceblocks.
It was nice meeting you. Let me know if you want any more details on us.

#STEMsocial powered by Hive
Video by @gtg
References
You can reach out to me on discord if you are in stemsocial discord. Or you can even send me a DM. My discord handle is the same as my hive - @scienceblocks. You can also ping me on my telegram handle: @UncertainHeisenberg. Or follow me on Twitter: @scienceblocks1