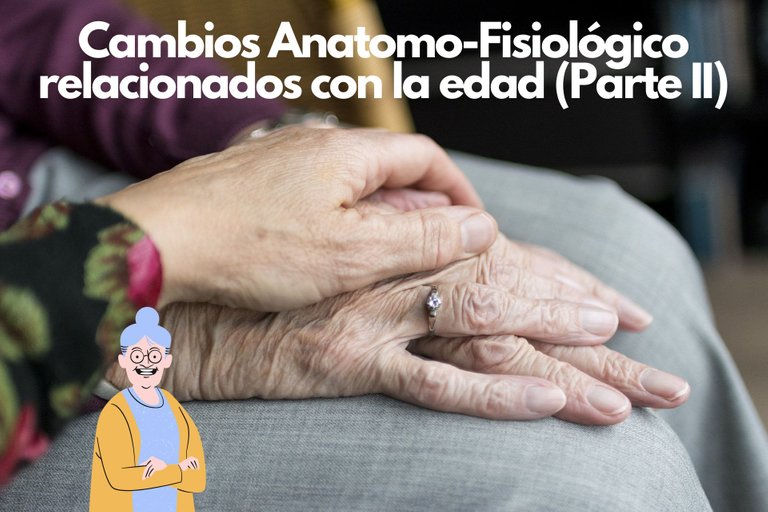 Buenas amigos de #stem-español y amigos de stemsocial, hoy volvemos con esta segunda parte de este artículo sobre los cambios Anatomo-Fisiológico ocurridos por sistemas en el adulto mayor, anteriormente hablamos de algunos cambios generales, así como los específicos del sistema respiratorios y Cardiovascular. Hoy tocaremos los correspondiente al sistema Renal, Digestivo, el Hígado, al Sistema Nervioso Central y algunos cambios Funcionales y Cognitivo, sin más preámbulos allá vamos espero que les sea de su interés.
Good friends of #stem-español and friends of stemsocial, today we return with this second part of this article about the Anatomo-Physiological changes occurred by systems in the older adult, previously we talked about some general changes, as well as the specific ones of the respiratory and Cardiovascular system. Today we will touch on those corresponding to the Renal, Digestive, Liver, Central Nervous System and some Functional and Cognitive changes, without further ado, here we go, I hope you find it of interest.

Sistema Renal
A nivel Renal ocurre una disminución del número de glomerulos funcionales lo que conlleva a una disminución progresiva del filtrado glomerular. También existe una disminución del aclaramiento de la creatinina. Y alteraciones a nivel de la función Tubular que produce una disminución de la capacidad para concentrar y diluir la orina, aspecto por el cual los ancianos se deshidratan con mayor facilidad.
Renal System
At the renal level there is a decrease in the number of functional glomeruli which leads to a progressive decrease in glomerular filtration rate. There is also a decrease of creatinine clearance. And alterations at the level of the tubular function that produces a decrease in the capacity to concentrate and dilute urine, which is why the elderly become dehydrated more easily.
Tubo Digestivo
Aquí ocurre una disminución de la función motora que se traduce en una mayor tendencia al estreñimiento y predisposición al crecimiento de bacterias. Añadiendo también la atrofia que se produce en la mucosa gástrica con disminución de la secreción de clorhídropeptina afectando la absorción del hierro y la vitamina B12.
Digestive tract
Here there is a decrease in motor function which results in a greater tendency to constipation and predisposition to bacterial growth. Adding also the atrophy that occurs in the gastric mucosa with decreased secretion of chlorhydropeptin affecting the absorption of iron and vitamin B12.
Hígado
El el Hígado el dato puntual más importante es la pérdida de la eficacia de su sistema de oxidación, lo que aumenta el tipo de vida media de cada fármaco que se metaboliza a este nivel y por supuesto cual hay que tenerlo presente a la hora de evaluar la eficacia de un tratamiento.
Liver
In the liver, the most important point is the loss of efficiency of its oxidation system, which increases the half-life of each drug that is metabolized at this level and, of course, must be taken into account when evaluating the efficacy of a treatment.
Cerebro
Aquí existe una disminución de la corteza cerebral con pérdida de neuronas pudiéndose perder hasta 100000 de estas por día. Disminuye la sustancia blanca y pérdida de dendritas por lo q se afectan las conexiones sinapticas. Y también ocurre una disminución de los reflejos.
Brain
Here there is a decrease of the cerebral cortex with loss of neurons, losing up to 100,000 of these per day. There is a decrease in white matter and loss of dendrites, affecting synaptic connections. And there is also a decrease in reflexes.
Funcional
A nivel funcional en el anciano existe una disminución del control muscular lo que los hace más proclives a las caídas. Un aumento de la bipedestación y el balanceo del cuerpo. Cambios en la marcha con disminución de la amplitud de los pasos y disminución de la altura al levantar los pies. También disminución de la agudeza visual y auditiva.
Functional
At the functional level in the elderly there is a decrease in muscle control which makes them more prone to falls. An increase in standing and swaying of the body. Changes in gait with a decrease in the amplitude of the steps and a decrease in the height when lifting the feet. Also decreased visual and hearing acuity.
Memoria
Existe un deterioro de la memoria reciente, por eso que a nuestro ancianos se les hace más complicado el aprendizaje de nuevas cosas.
Memory
There is a deterioration of recent memory, which is why it is more difficult for our elderly to learn new things.
Bueno amigos esto fue todo, con esto dos post no estoy cerca de abarcar la totalidad de los cambios ocurridos en la tercera edad, pero sí he tocado los que a mi percepción son los más relevantes y de mayor connotación en todos los problemas en el anciano. Hasta un próximo encuentro gracias por acompañarme en este enorme mar de hive..
Well friends this was all, with this two post I am not close to cover all the changes that have occurred in the third age, but I have touched those that in my perception are the most relevant and of greater connotation in all the problems in the elderly. Until a next meeting, thank you for joining me in this enormous sea of life....

•Proceso de envejecimiento, ejercicio y fisioterapia.MSc. Nancy Stella Landinez Parra.Enlace
•Fisiología del envejecimiento: contenido de estudio imprescindible en la formación del médico cubano.Maricela de Armas Sáez. Enlace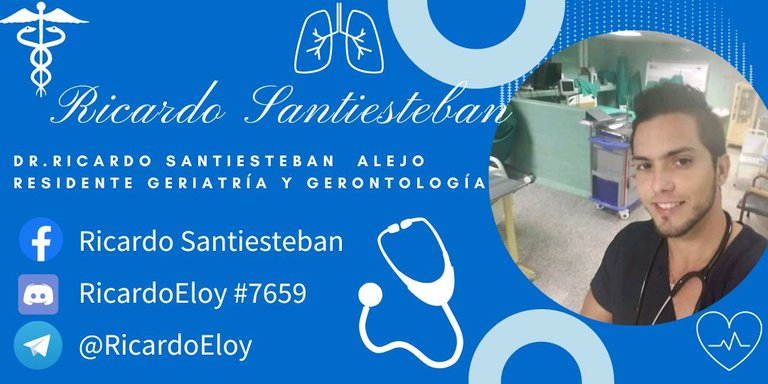 •Todas las imágenes son extraídas de Pixabay. Las imagen de la presentación es editada en canva.
•Traducido en Deepl.
•El banner es editado en canva.
•All images are taken from Pixabay. The image of the presentation is edited in canva.
•Translated in Deepl
•The banner is edited in canva.
Gracias por visitar mi blog médico.