It is impressive all the knowledge that we can acquire when we visit a museum or any educational institution, today I am going to share my beautiful and all the learning about the ecology of the famous "Clown Fish", (Amphiprion ocellaris) they are very resistant animals, colorful and with a very advanced communication system, they are the favorite fish in the aquarium in saltwater aquariums! so make yourself comfortable and enjoy my post!💙💚💛
Es impresionante todo el conocimiento que podemos adquirir cuando vamos de visita a un museo o cualquier institucion educativa, hoy voy a compartir mis hermosas y todo el aprendizaje sobre la ecologia de los famosos "Pez Payasos", (Amphiprion ocellaris) son animales muy resistentes, coloridos y con un sistema de comunicacion muy avanzado, son los peces favoritos en la acuarofilia en acuarios de agua salada! asi que ponte comodo y disfruta de mi post!🐠🐟👨‍🏫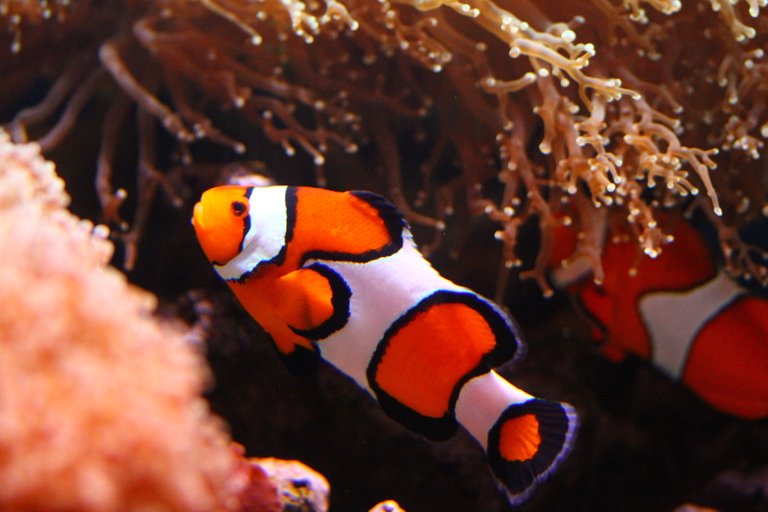 CLOWNFISH🌅🐟🐠/PEZ PAYAZO🌊👨‍💻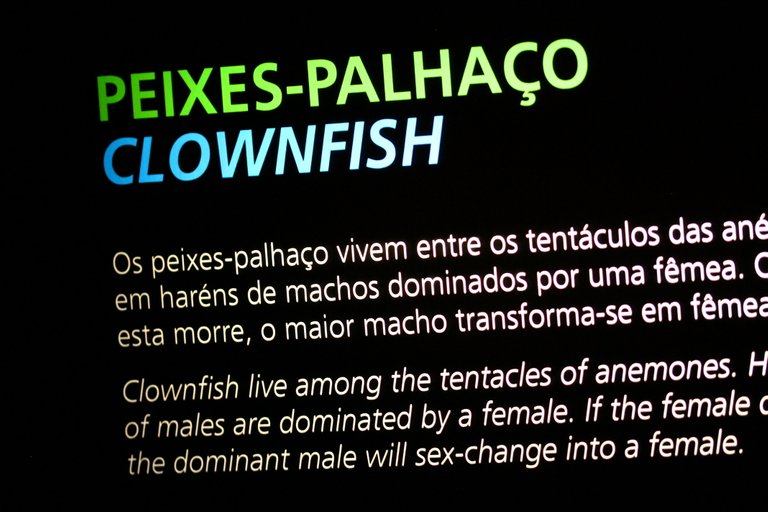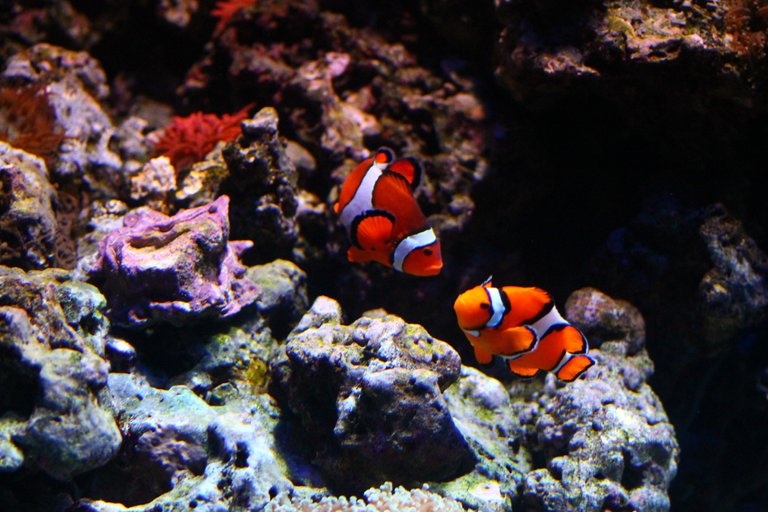 Clown fish are incredible animals and very easy to differentiate from other fish, their orange and white colors are a perfect combination, taxonomically they are classified within the order: Perciformes and the subfamily: Amphiprioninae, another common name by which the fish is known Clown is "Anemona Fish" theoretically all the species that in total add up to 30 and that belong to the Amphiprioninae are known as "ANENOMA FISH"😍🤯
Los peces payasos son animales increibles y muy faciles de diferenciar de otros peces, sus colores naranjas y blancos son una combinacion perfecta, taxonomicamente estan clasificados dentro del orden: Perciformes y la subfamilia: Amphiprioninae, otro nombre comun con el que se le conoce al pez payaso es "Pez Anemona" teoricamente todas las especies que en total suman 30 y que pertenecen a los Amphiprioninae son conocidos como "PEZ ANENOMA" 👨‍🏫🕵️‍♂️

DESCRIPTION🌅🐟🐠/DESCRIPCION🌊👨‍💻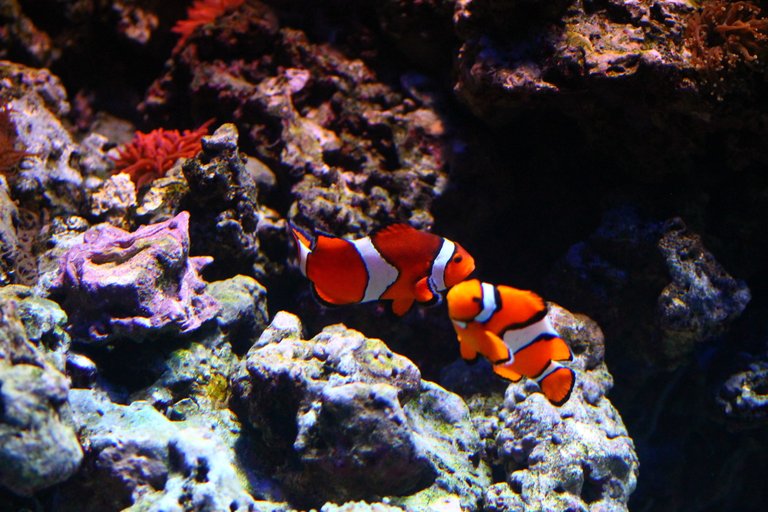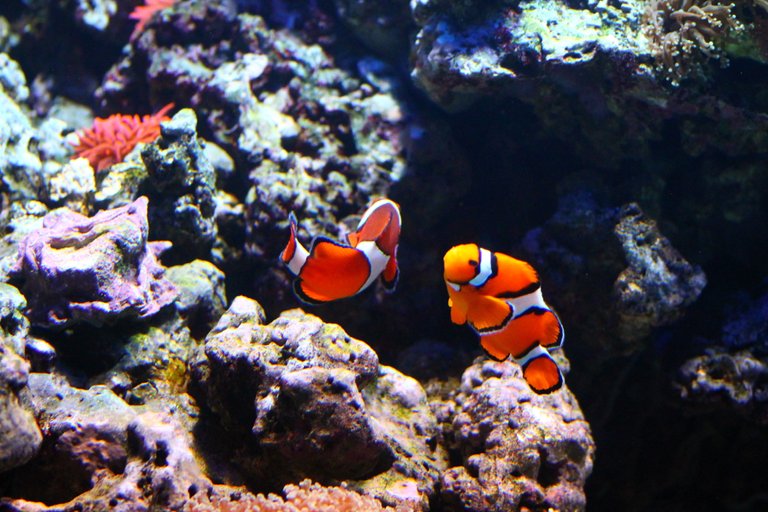 The size of clown fish can vary between about 10 to 18 centimeters, in this species there are small morphological and behavioral characteristics that differentiate the male from the female, in this case the males are smaller than the females when they are adults, not all of the anenomas fish have the same color pattern, there are some that have darker tones, it all depends on the species, actually there are clownfish that are black!🕵️‍♀️🕵️‍♂️👨‍🏫
El tamaño de los peces payasos puede variar de entre unos 10 a 18centimetros, en esta especie existen pequeñas caracteristicas morfologicas y comportamentales que diferencian al macho de la hembra, en este caso los machos son mas pequeños que las hembras cuando son adultos, no todos los pez anenomas tienen el mismo patron de coloracion, hay algunos que tienen tonos mas oscuros, todo depende de la especie, en realidad hay pez payasos que son negros!💥✅🚻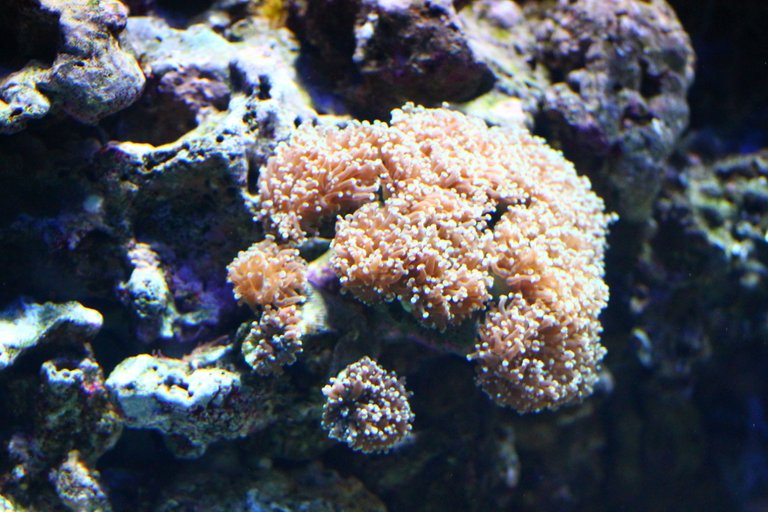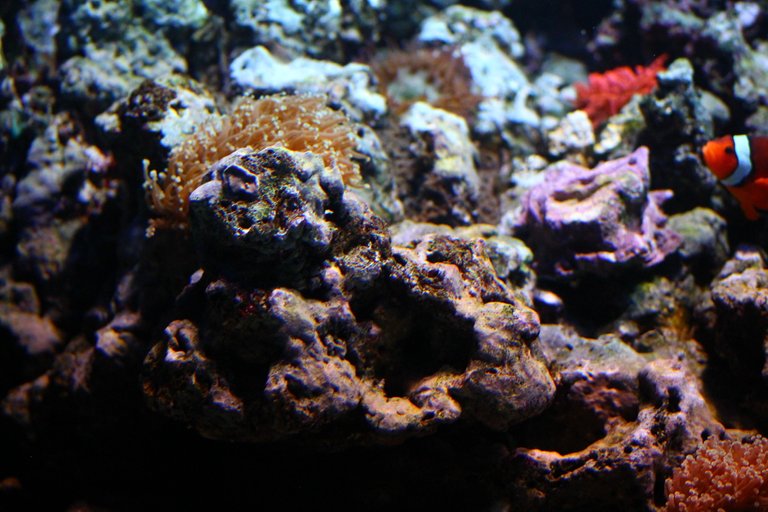 Clown fish have a lot of unique characteristics that make them special and well studied, it should be noted that they are animals that belong only to MARINE ecosystems, there are no freshwater clown fish! It is an animal that in the evolutionary scale since man has been aware of them have not undergone bodily changes, so they are highly adaptive animals to different conditions, making them large resistant!😨🤓
Los peces payasos tienen un monton de caracteristicas unicas que los hacen especiales y muy estudiados, cabe resaltar que son animales que pertenecen unicamente a ecosistemas MARINOS, no hay peces payasos de agua dulce! es un animal que en la escala evolutiva desde que el hombre tiene conocimiento de ellos no han sufrido cambios corporales por lo que son animales muy adaptativos a diferentes condiciones tornandolos grandes resistentes!🐠🐟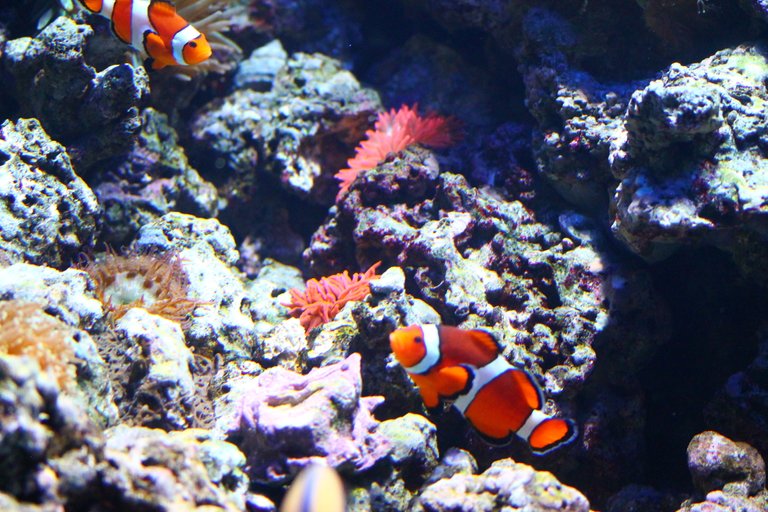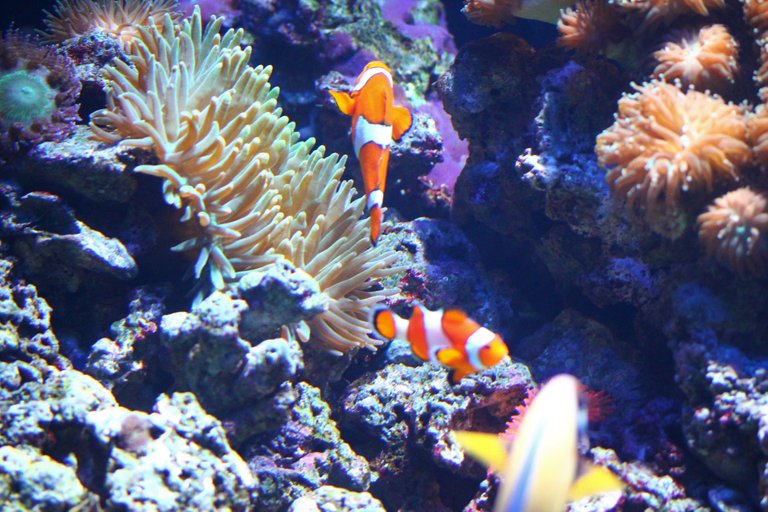 BEHAVIOUR🌅🐟🐠/COMPORTAMIENTO🌊👨‍💻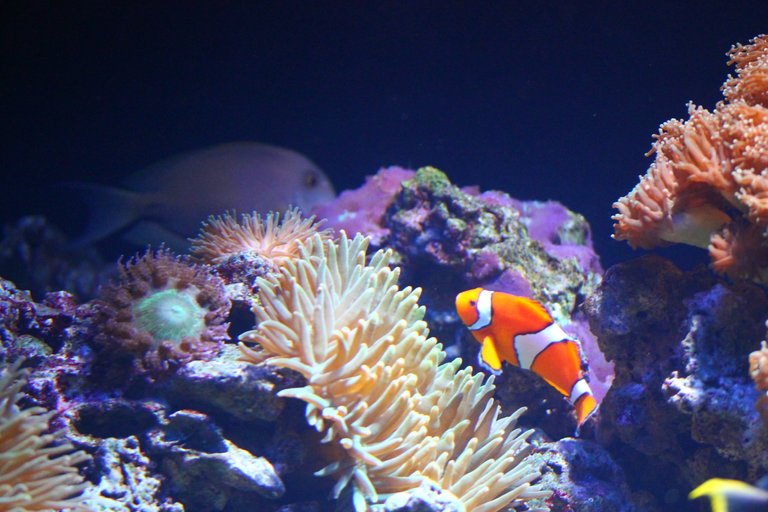 The behavior of these species is what makes them very special animals, you cannot say exactly which is the male and the female because they have a biological characteristic that allows them to change sex depending on the community where they are, if there are many males some they change their sex to females and vice versa! then the question is? How is a species in danger of extinction that can control its reproductive population at will? amazing, right? that is why these fantastic animals are not in danger of extinction! something like the common toad!😋😋
El comportamiento de estas especies es lo que los convierte en animales muy especiales, no se puede decir exactamente cual es el macho y la hembra porque tienen una caracteristica biologica que les permite cambiar el sexo dependiendo de la comunidad donde esten, si hay muchos machos algunos cambian su sexo a hembras y viceversa! entonces la pregunta es ? como corre peligro de extincion una especie que puede controlar su poblacion reproductiva a su antojo? increible no? es por eso que estos fantasticos animales no corren peligro de extincion! algo parecido al sapo comun!😨😨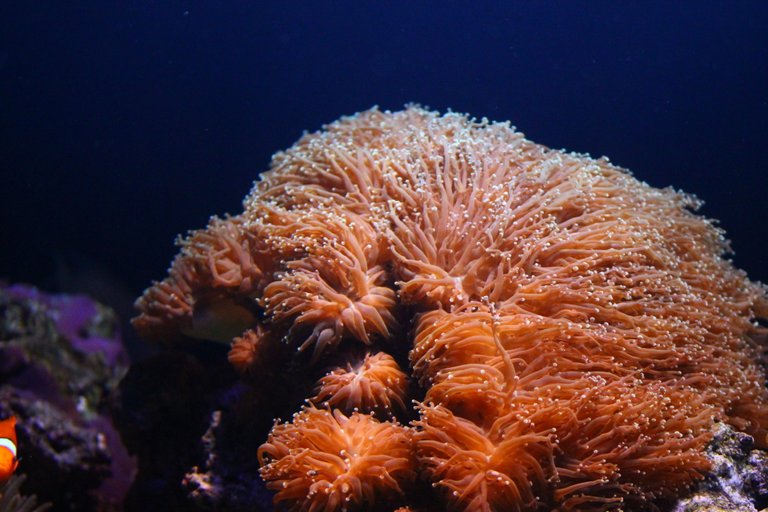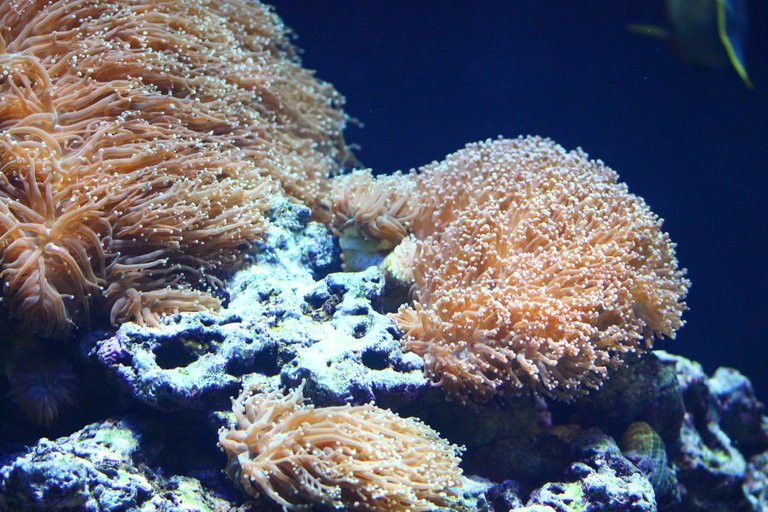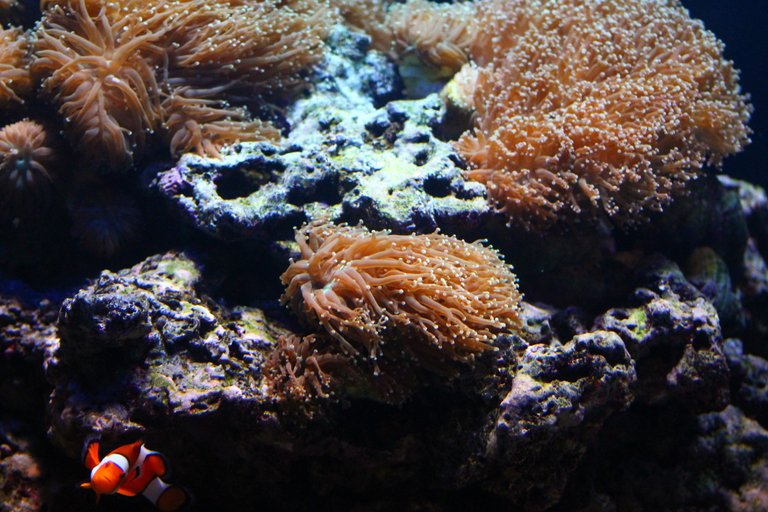 On the seabed, fish avoid approaching anemones because they are very poisonous biological species, but with years of evolution and adaptation, clownfish have taken advantage of the poison of anemones and perform a perfect beneficial symbiosis where both species benefit from their presence. ! the anenoma fish protects its skin with the anenoma venom that it acquires when swimming between the tentacles, and the anenoma receives free cleaning! They are the only fish that perform this symbiosis and that is why they were baptized as "ANENOMA FISH"😧😨
En el fondo marino los peces evitan de aproximarse a las anemonas porque son especies biologicas muy venenosas, pero con años de evolucion y adaptacion los peces payasos han aprovechado el veneno de las anemonas y realizar una perfecta simbiosis benefica donde ambas especies se benefician de su presencia! el pez anenoma protege su piel con el veneno de la anenoma que lo adquiere cuando nada entre los tentaculos, y la anenoma recibe limpieza gratis! son los unicos peces que realizan esta simbiosis y por eso se les fueron bautizados como "PEZ ANENOMA"👨‍🏫👨‍🎓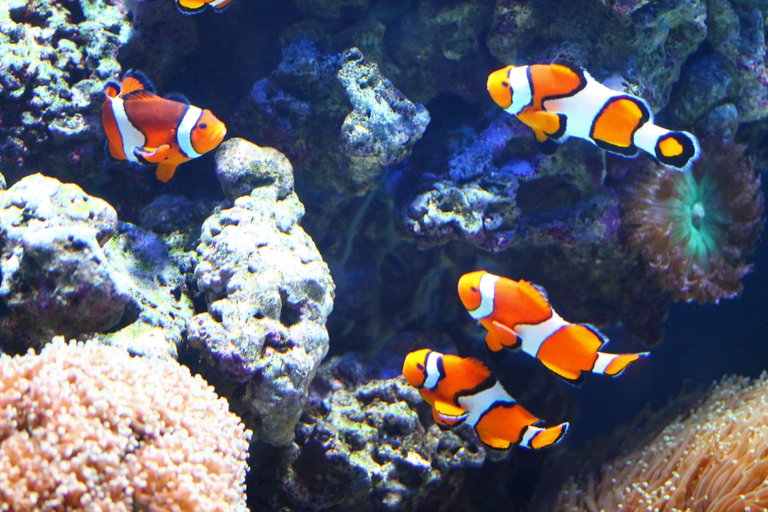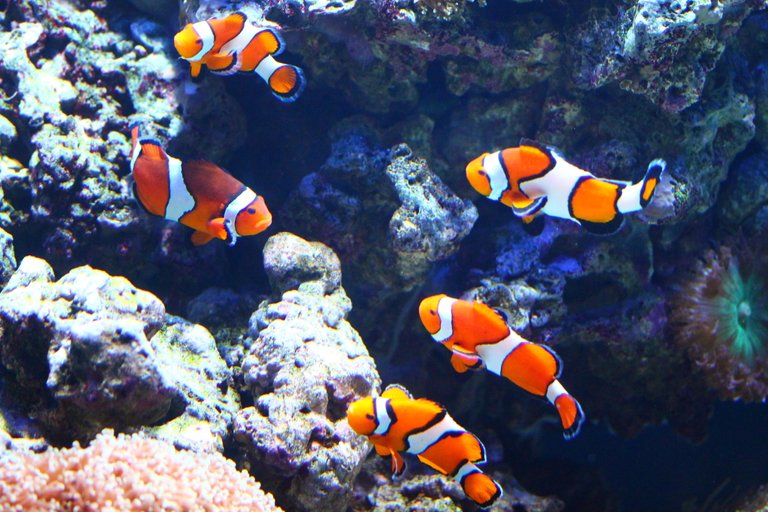 FEEDING🌅🐟🐠/ALIMENTACION🌊👨‍💻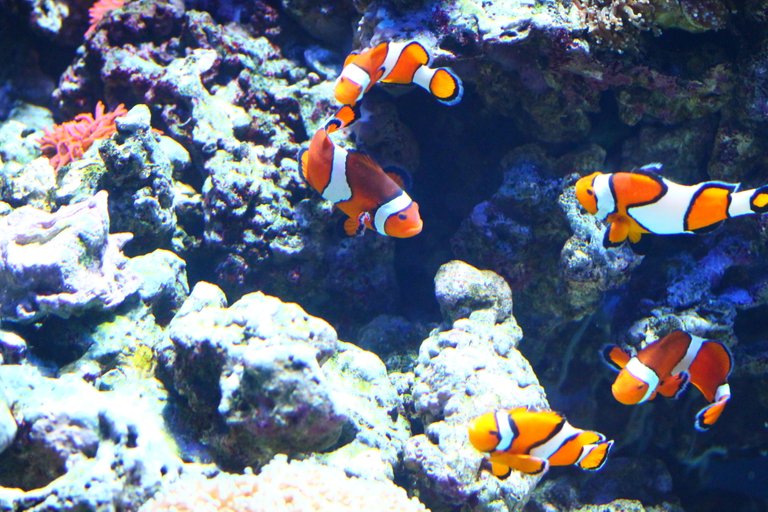 They are animals that can feed on various things within the ocean, so they have an omnivorous diet: this tells us that they can eat both animal and plant matter, according to scientific studies, the food that anenomas fish frequent are algae, plakton, and small animals like crustaceans! so we clearly see that these animals are not great predators!😮🌾🌿
Son animales que pueden alimentarse de varias cosas dentro del oceano, por lo que tienen una dieta omnivora: esto nos dice que pueden comer tanto materia animal como vegetal, segun los estudios cientificos el alimento que frecuentan los peces anenomas son las algas, placton, y pequeños animales como crustaceos! por lo que claramente vemos que estos animales no son grandes depredadores!🦞🦀🐚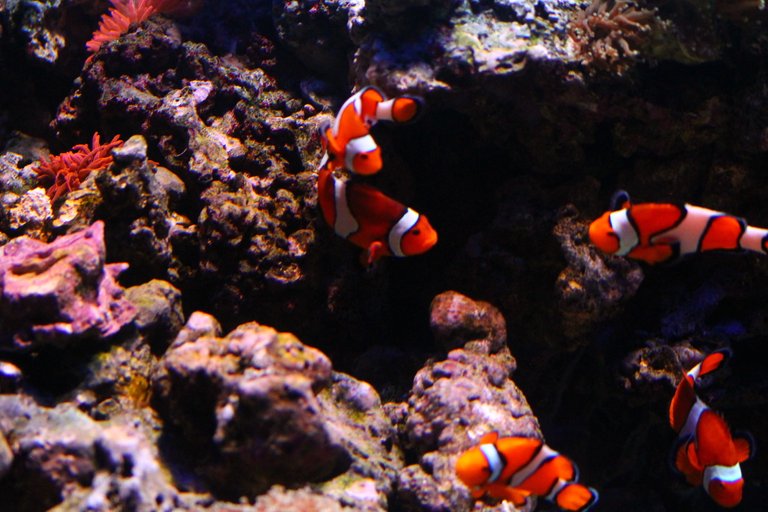 Here in the diet we must highlight the great work that the clownfish does inside the body of the anenomas, they by nature present many parasites, the anenomas cannot clean themselves so the clownfish cleans the anenomas of parasites in exchange for the toxins they receive as a defense mechanism!
Aqui en la alimentacion debemos resaltar el gran trabajo que realiza el pez payaso dentro del cuerpo de las anenomas, ellas por naturaleza presentan muchos parasitos, las anenomas no pueden limpiarse por ellas mismas asi que el pez payaso limpia de parasitos a las anenomas a cambio de las toxinas que reciben como mecanismo de defensa!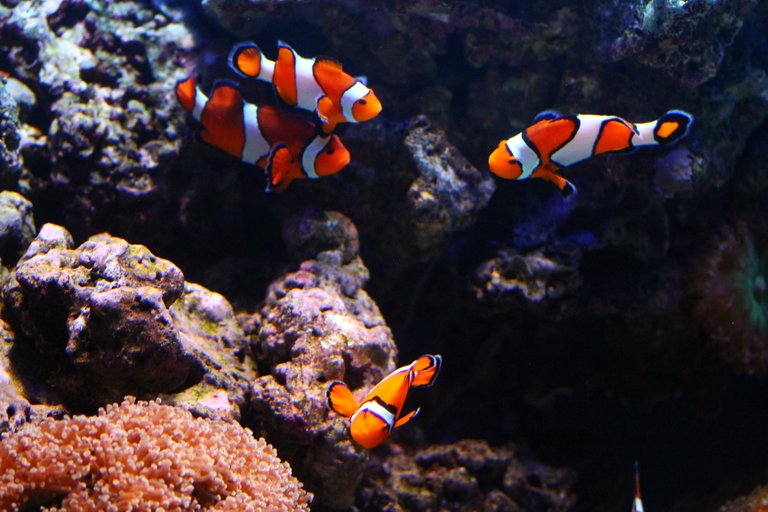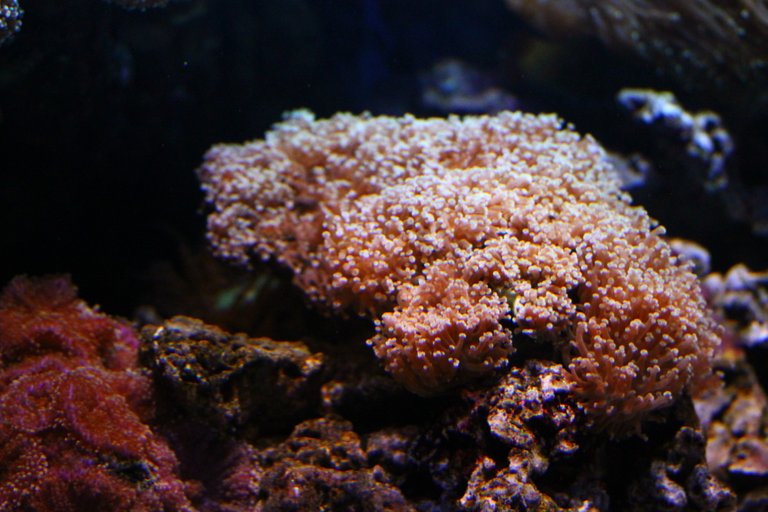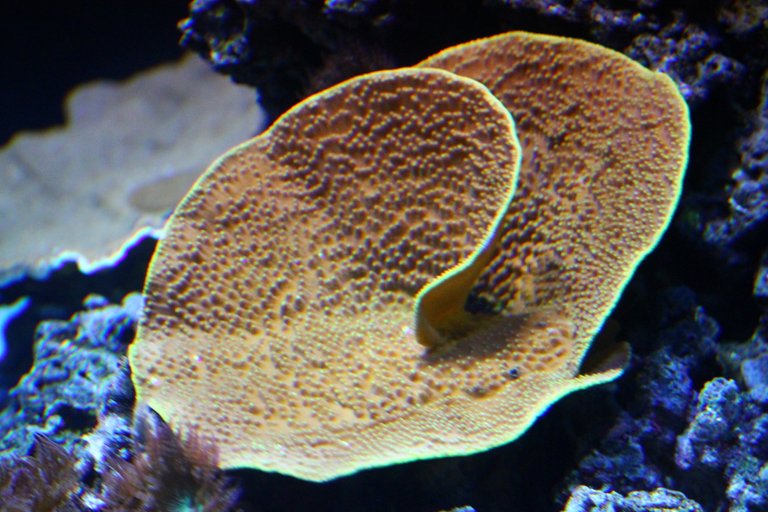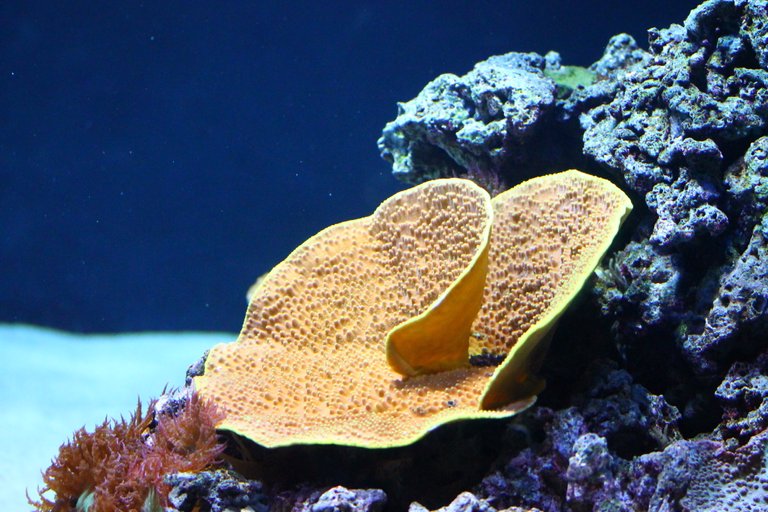 WHERE DO THEY LIVE?🌅🐟🐠/DONDE HABITAN🌊👨‍💻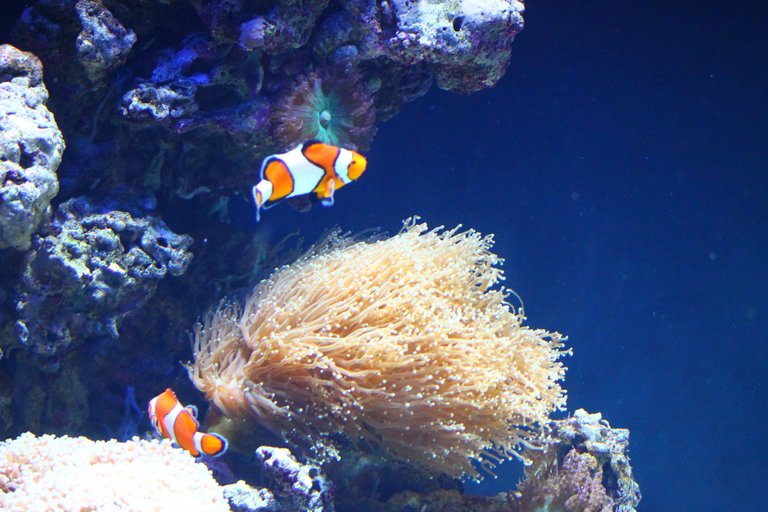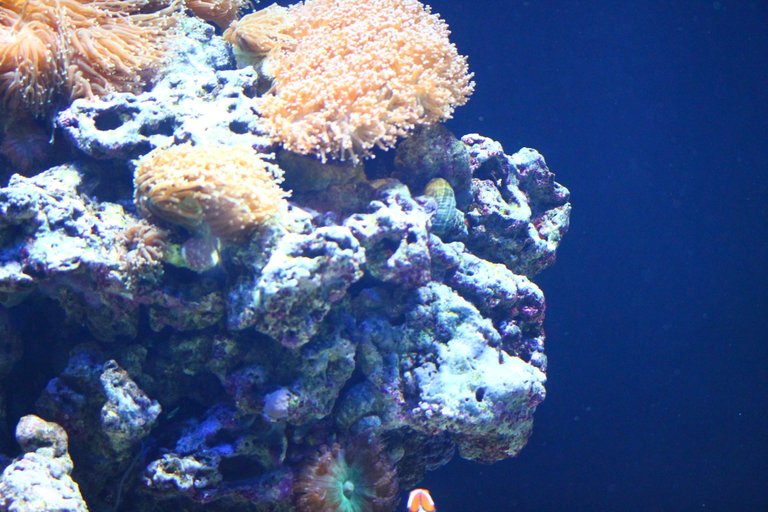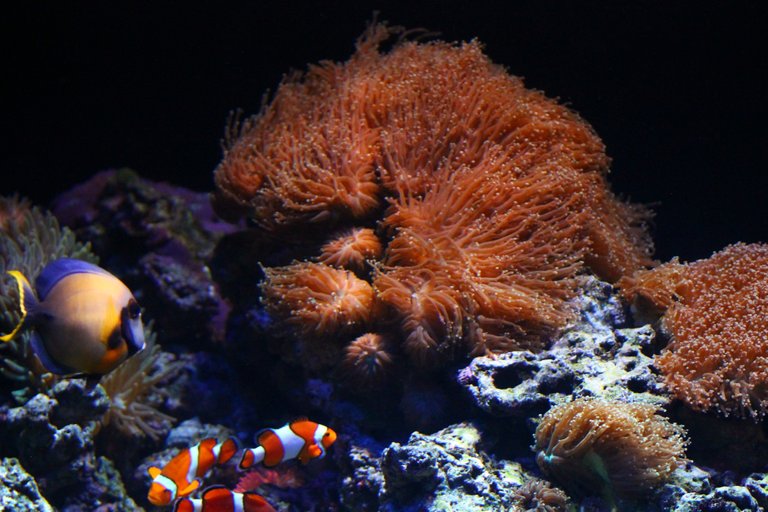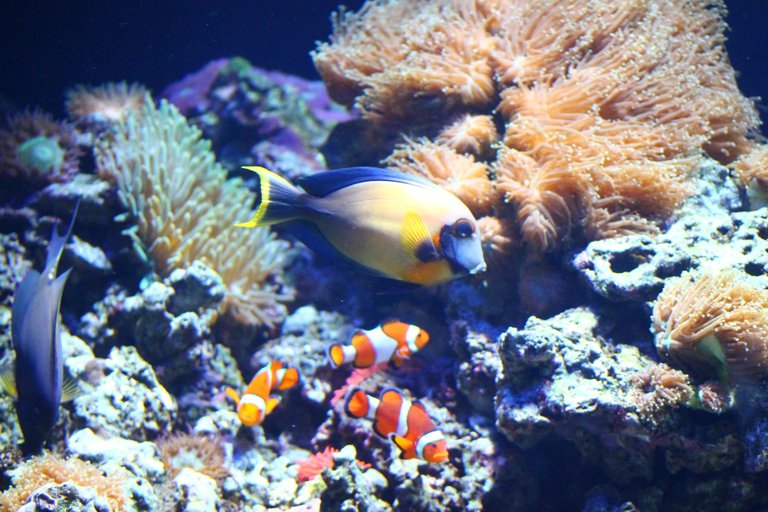 Well, the habitat of clown fish is very specific, they do not live at great depths since they are lovers of warm temperatures where the sun constantly radiates, their habitat as you can see in my photos is in corals and mainly in anemones, there is a false belief that everyone lives or needs anemones to inhabit a space, IT IS NOT SO! there are anemones fish communities that live in corals without the presence of anemones! we can find them in the INDIAN AND PACIFIC ocean!😛🧭🌏
Bien el habitat de los peces payasos es muy especifico no viven a grandes profundidades ya que son amantes de las temperaturas calidas donde el sol irradia constantemente, su habitat como puedes ver en mis fotos son en corales y principalmente en anemonas, hay una falsa creencia que todos viven o necesitan anemonas para habitar un espacio, NO ES ASI! hay comunidades de peces anenomas que viven en corales sin presencia de anemonas! podemos encontrarlos en el oceano INDICO Y PACIFICO!🌊🌊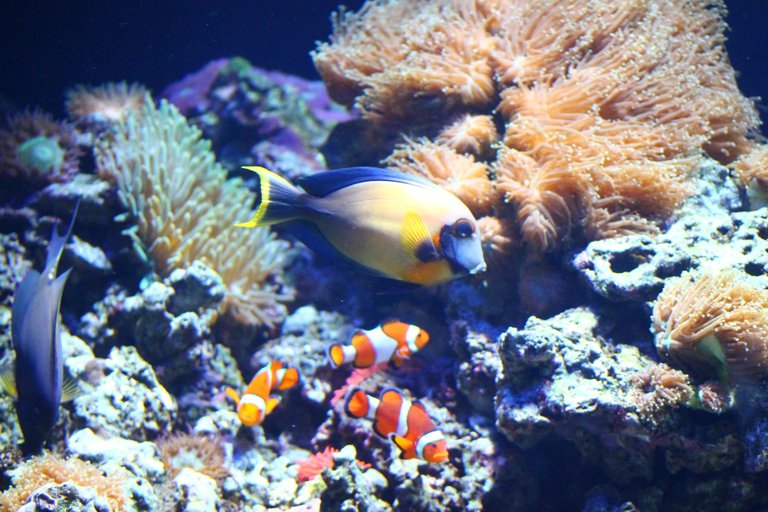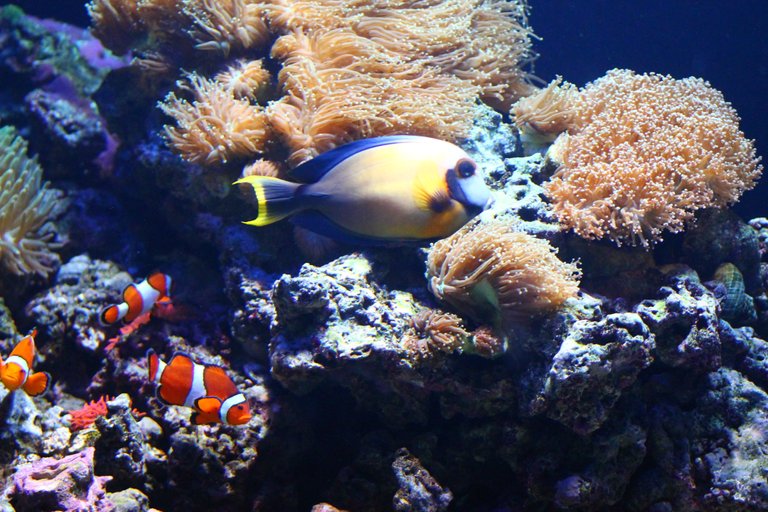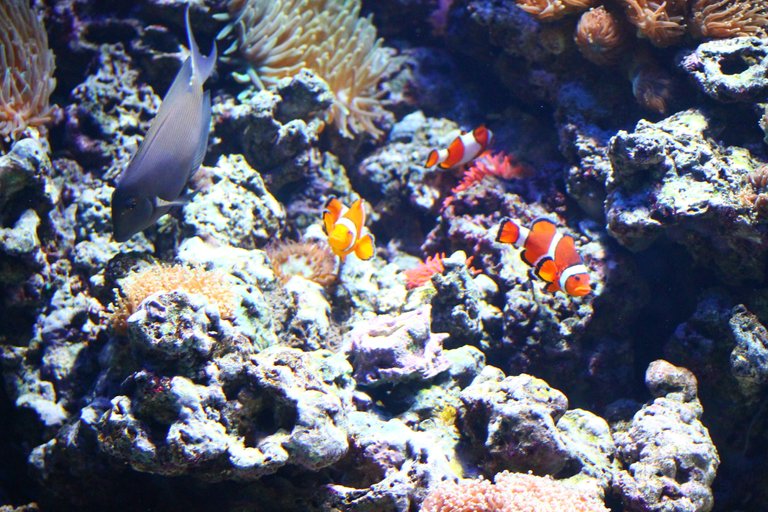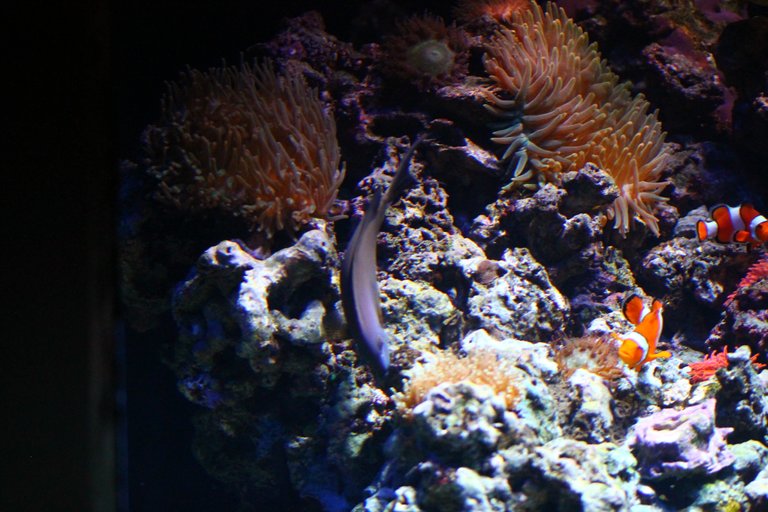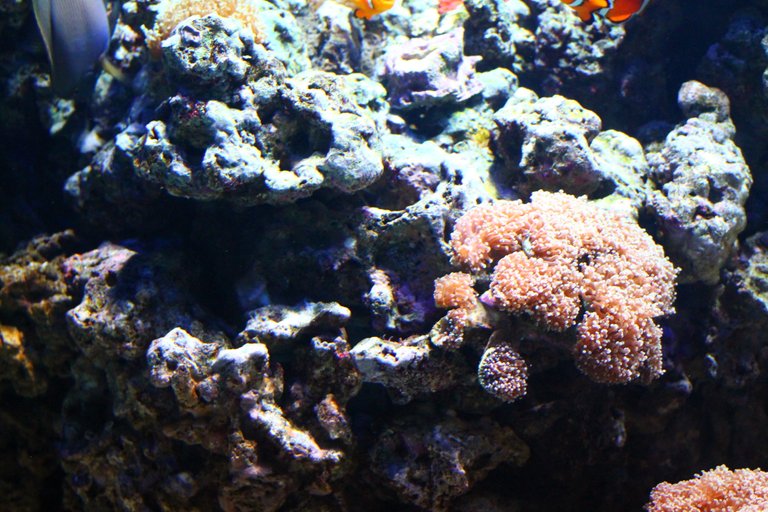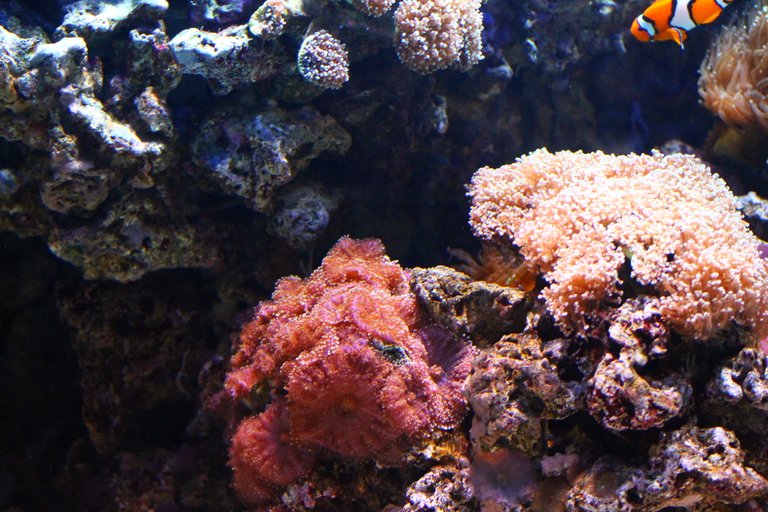 LIFE EXPECTANCY🌅🐟🐠/ESPERANZA DE VIDA🌊👨‍💻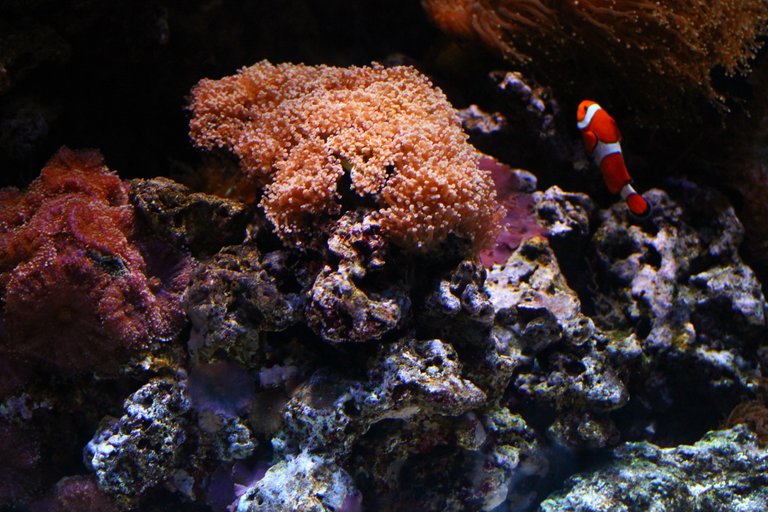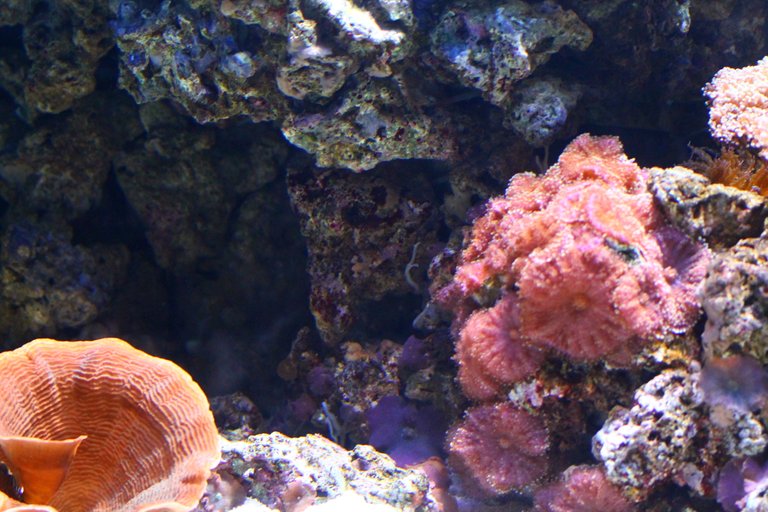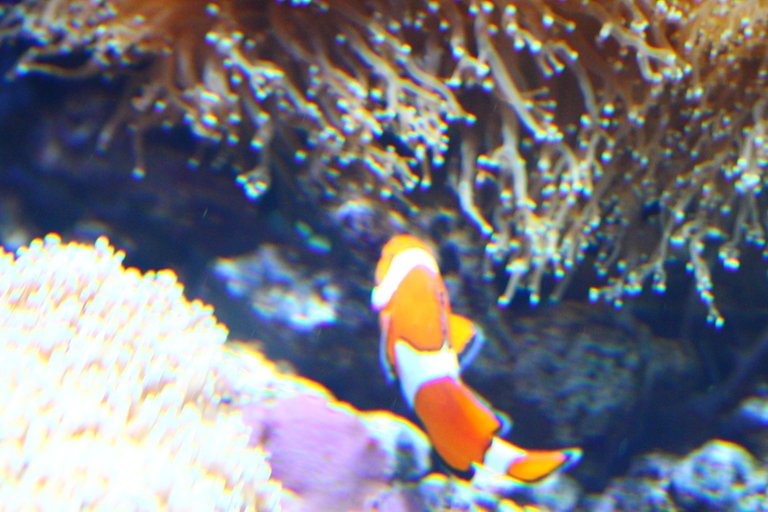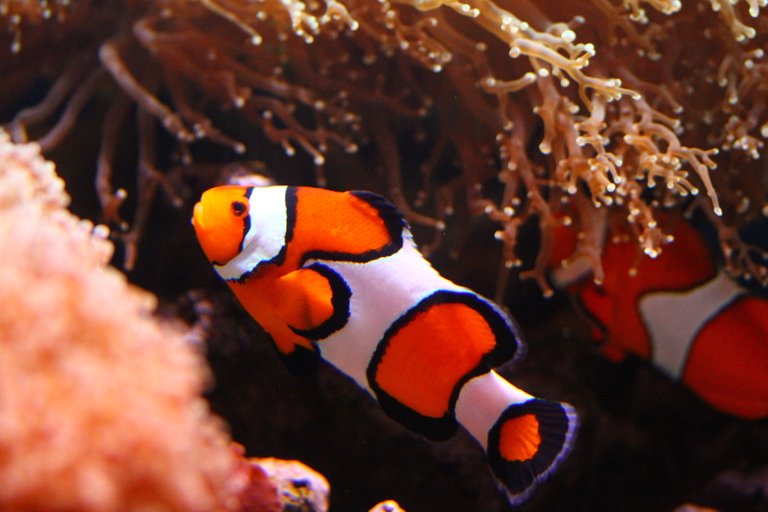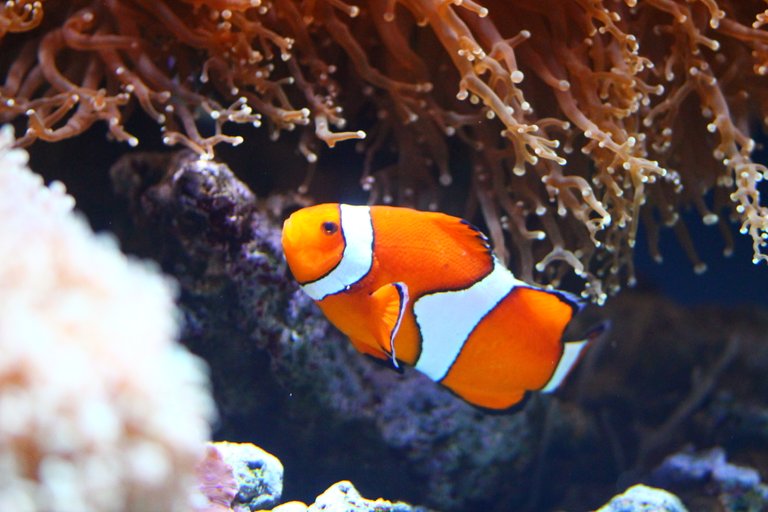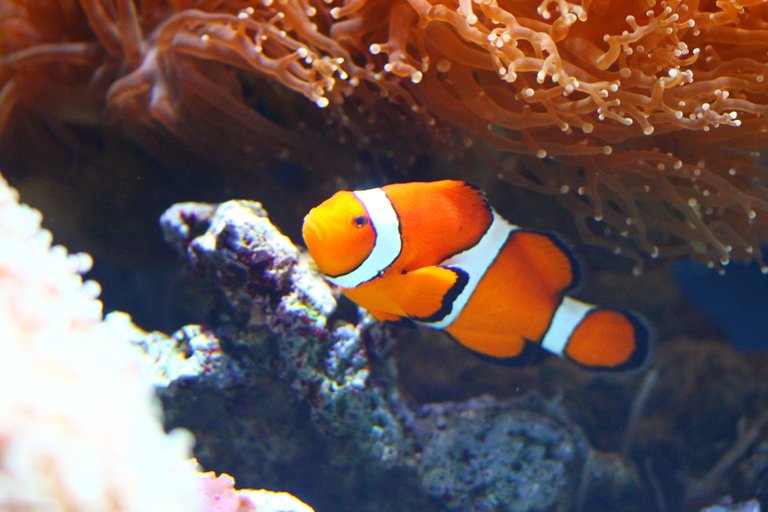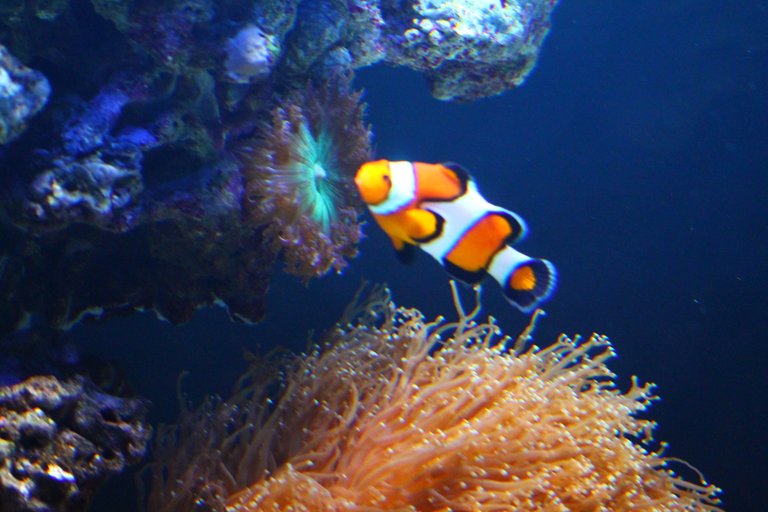 One of the aspects that make them highly commercialized in aquariums as exotic animals is their life expectancy, actually in the wild they can easily live 15 years and in aquariums up to 10 years! They hardly manage to live 15 years since coral reefs are ecosystems where everyone eats everyone! there are too many predators and they are very harmless and are commonly preyed upon!😮
Uno de los aspectos que los hacen muy comercializados en la acuarofilia como animales exoticos es su esperanza de vida, en realidad en habitat salvaje pueden vivir facilmente 15 años y en acuarios hasta unos 10 años! dificilmente ellos consiguen vivir los 15 años ya que los arrecifes de corales son ecosistemas donde todos se comen a todos! hay demasiados depredadores y ellos son muy inofensivos y conmunmente son depredados!😦😦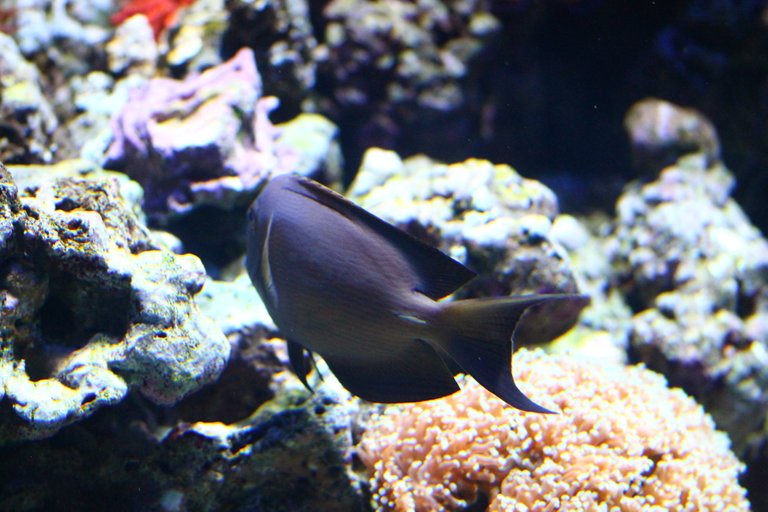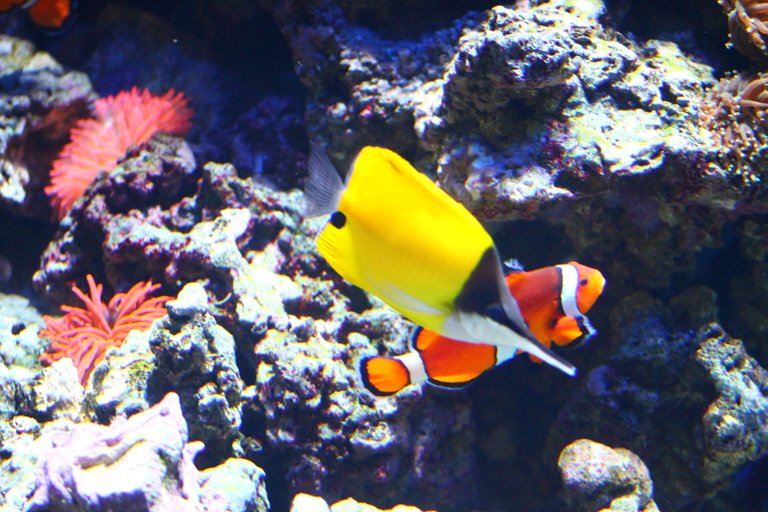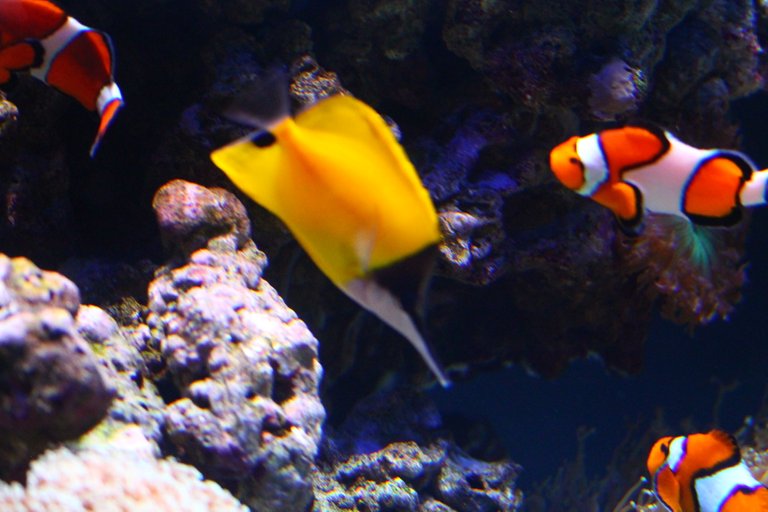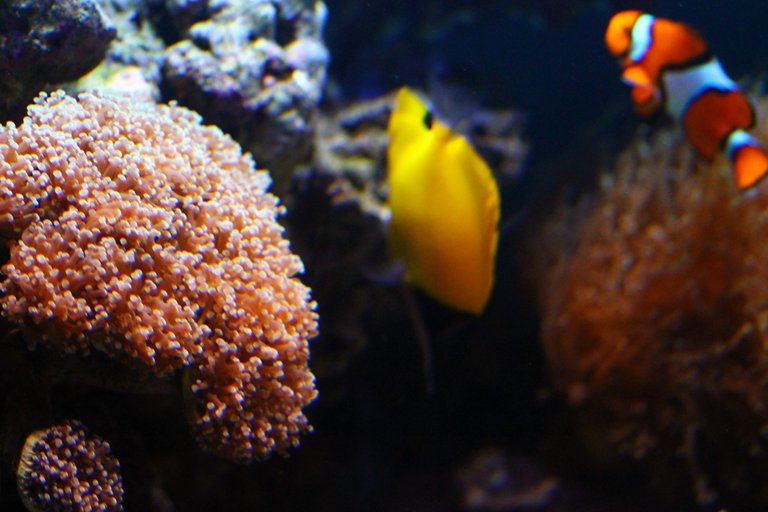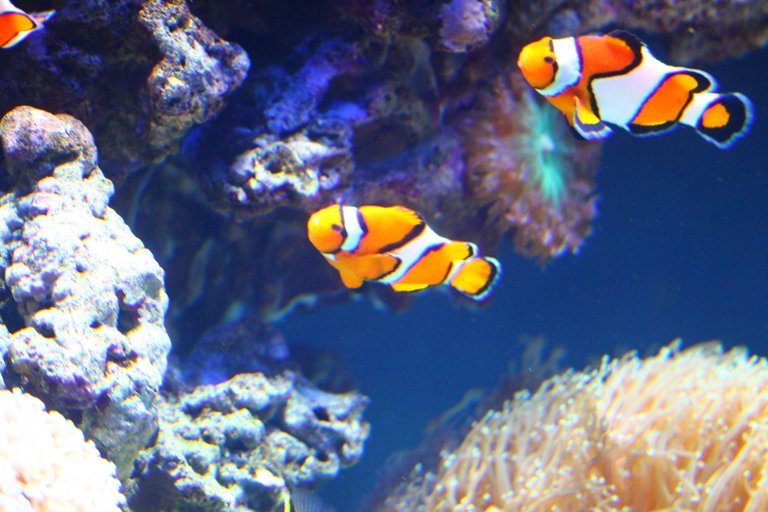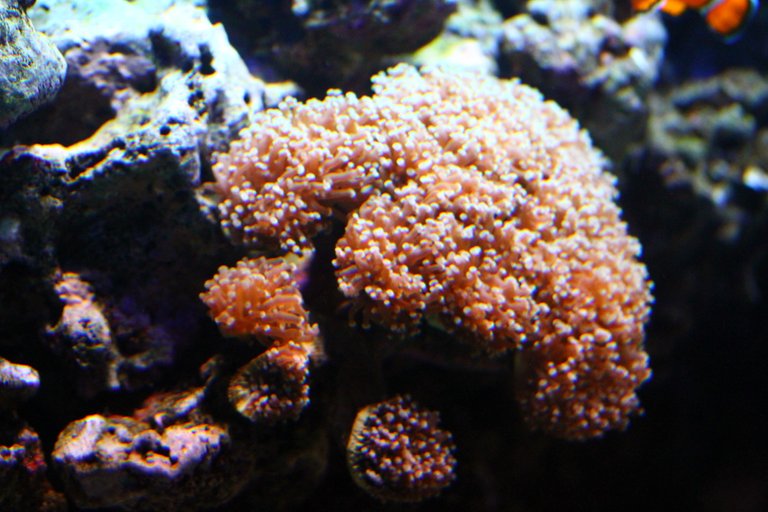 REPRODUCTION🌅🐟🐠/REPRODUCCION🌊👨‍💻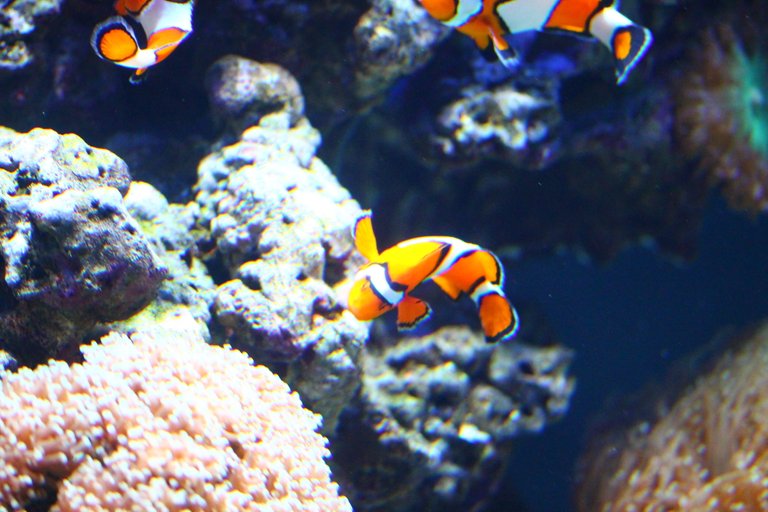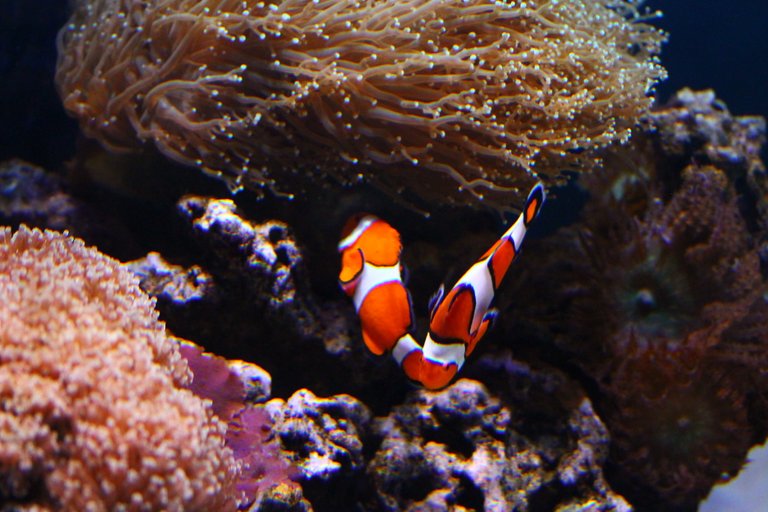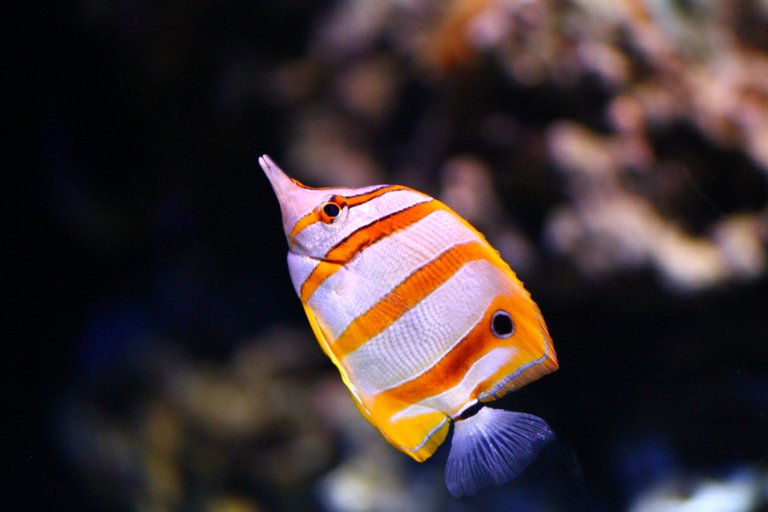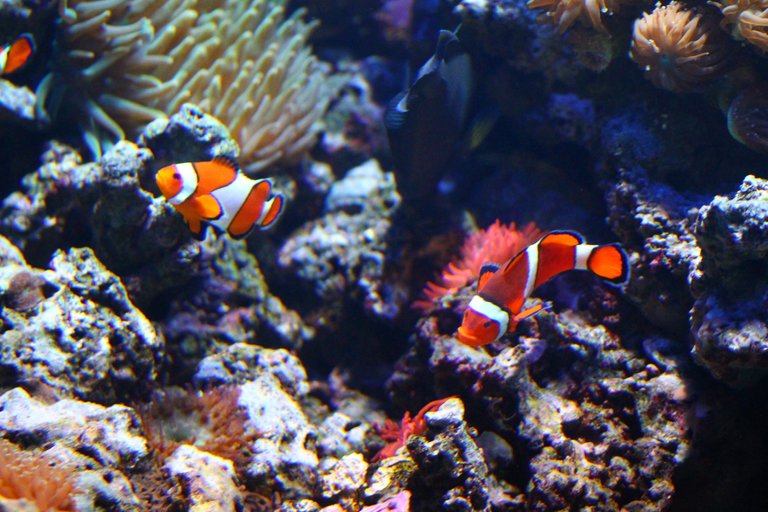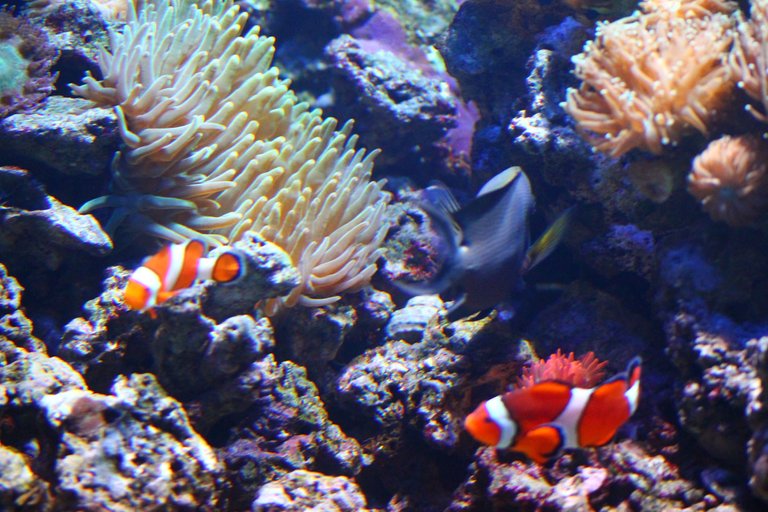 They are clearly hermaphroditic animals since they change sex, if you remember seeing the movie "Finding Nemo" there is a scene where the potatoes place the egg inside an anenoma, remember? This is exactly what clown fish do, they place more than 200 eggs inside the anemone tentacles as protection and the father is in charge of doing the work of protector!😍😍
Son animales claramente hermafroditas ya que cambian de sexo, si recuerdas haber visto la pelicula "Buscando a Nemo" hay una escena donde los papas colocan el huevo dentro de una anenoma, recuerdas? exactamente es lo que hacen los peces payasos, colocan mas de 200 huevos dentro de los tentaculos de las anemonas como proteccion y el padre se encarga de hacer la labor de protector!👶👨👨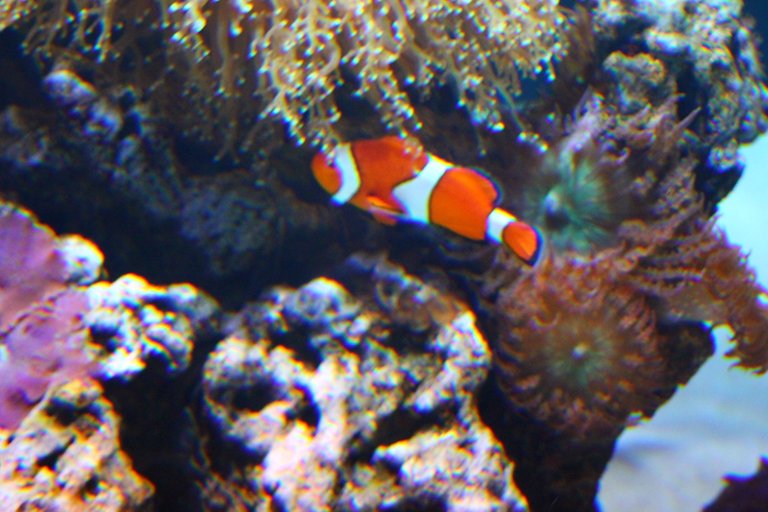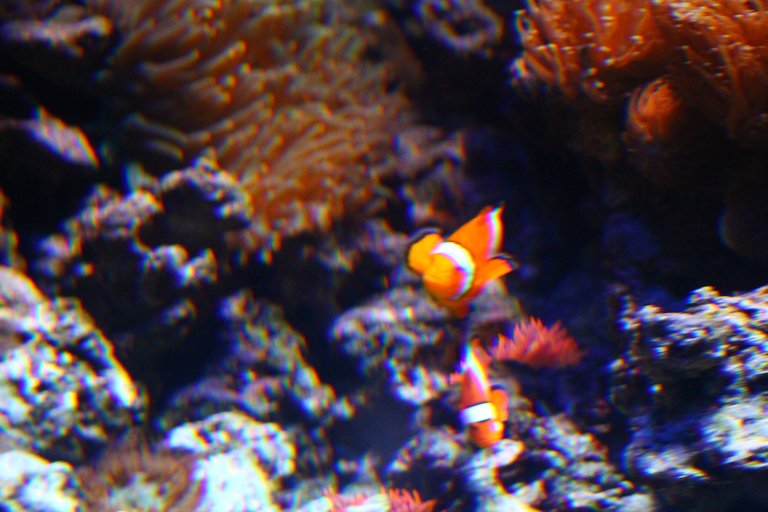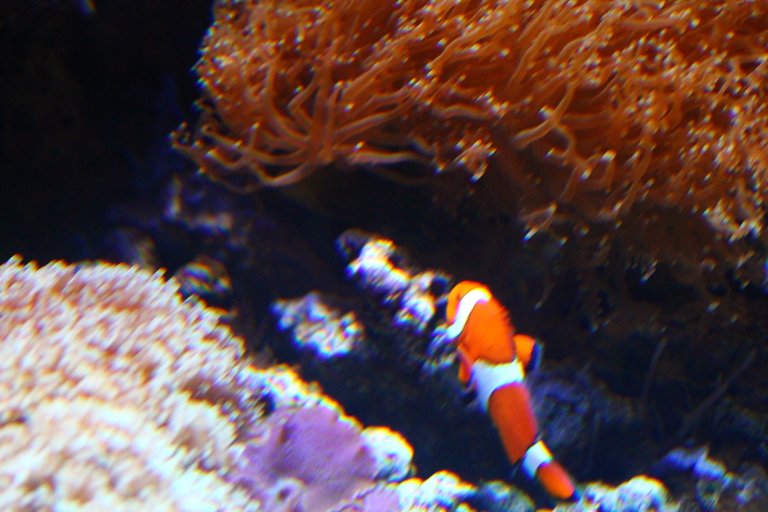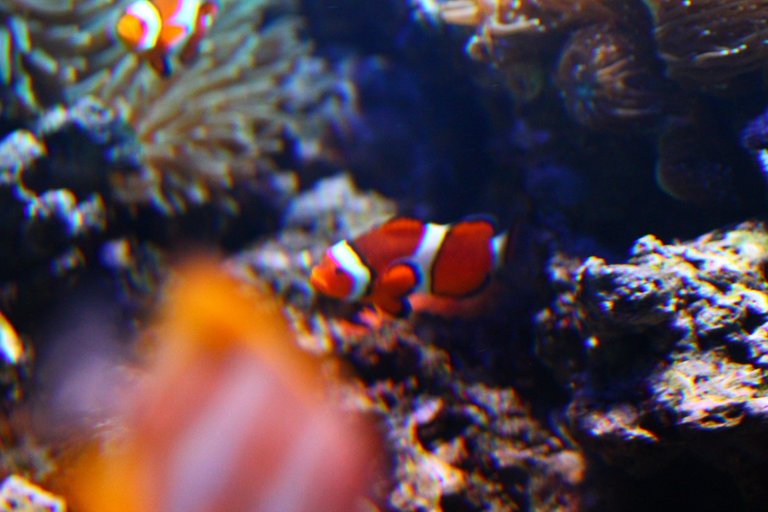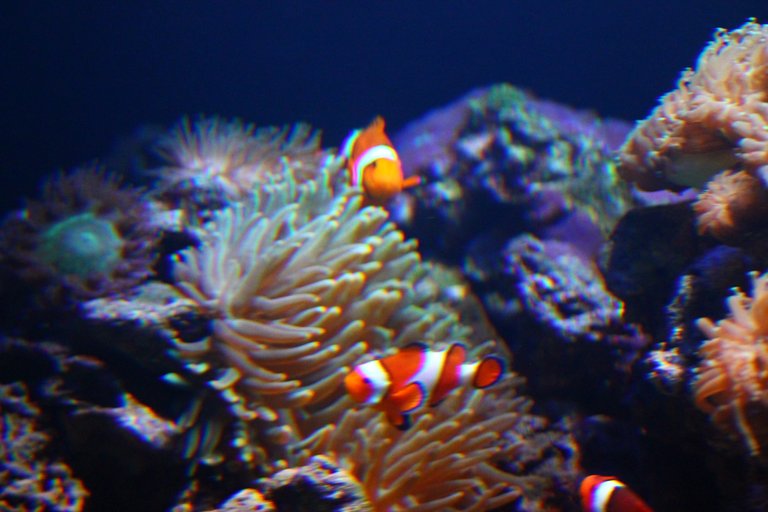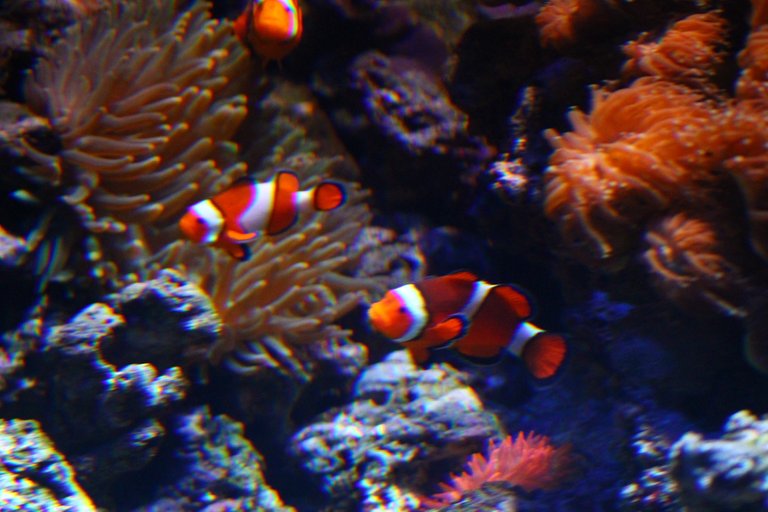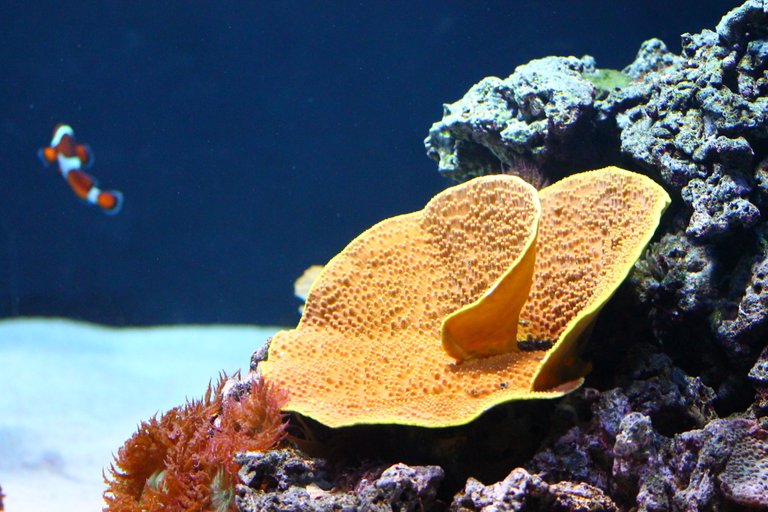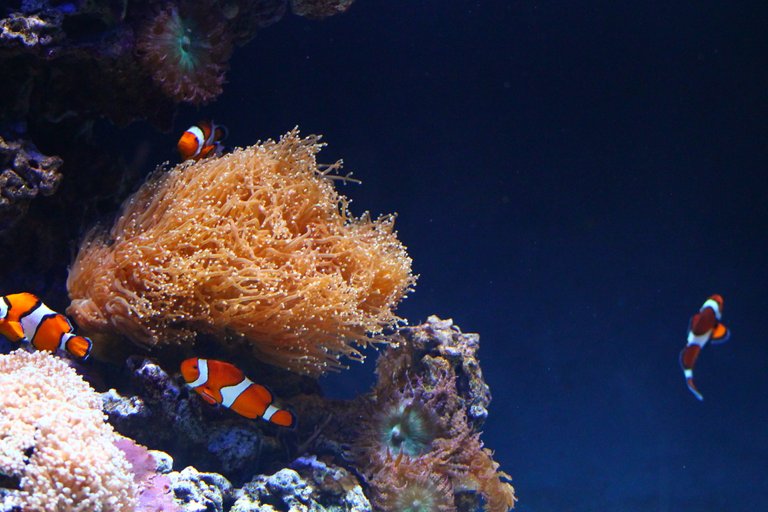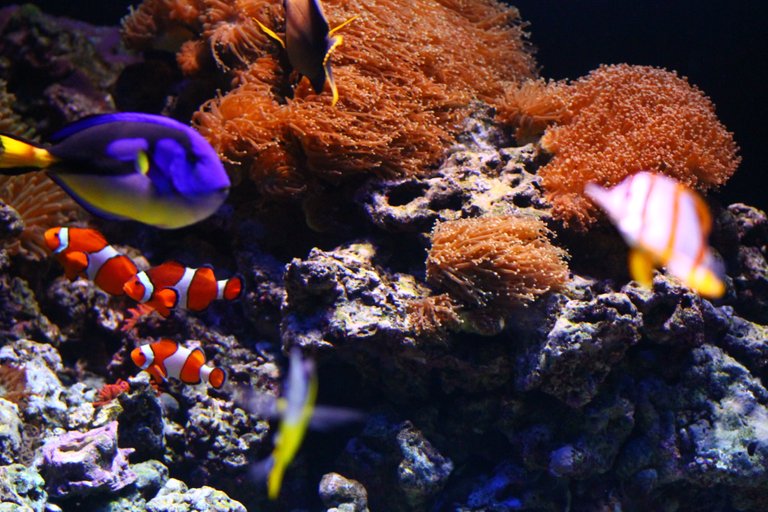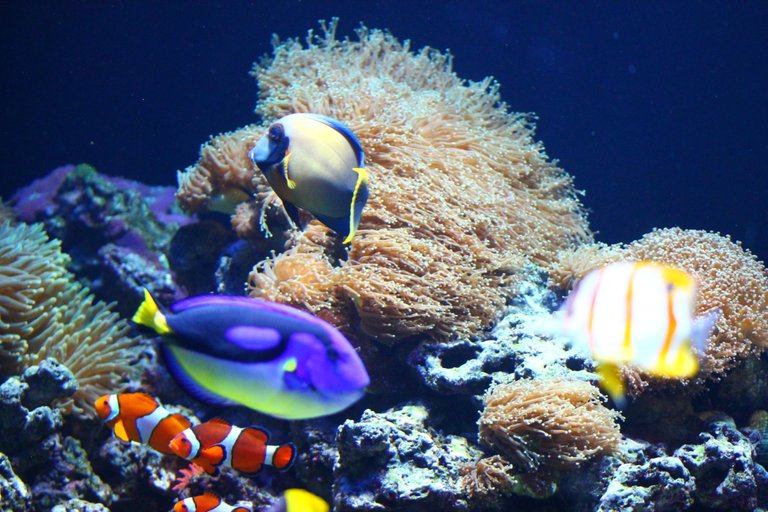 HIERARCHY🌅🐟🐠/JERARQUIA🌊👨‍💻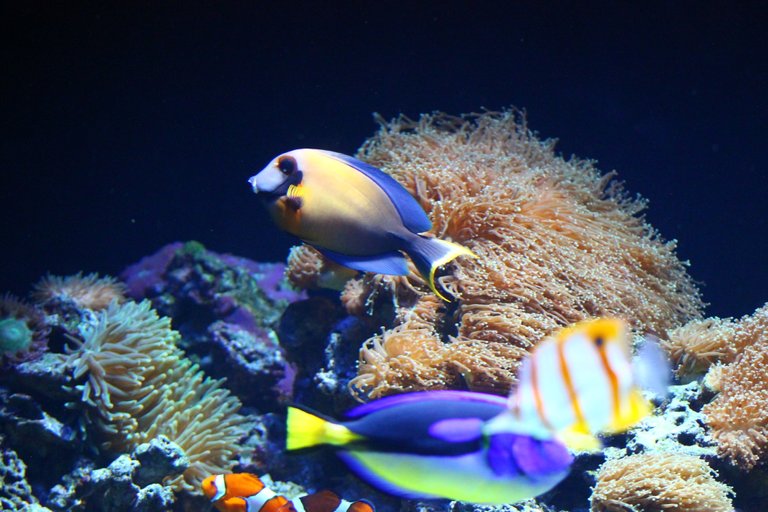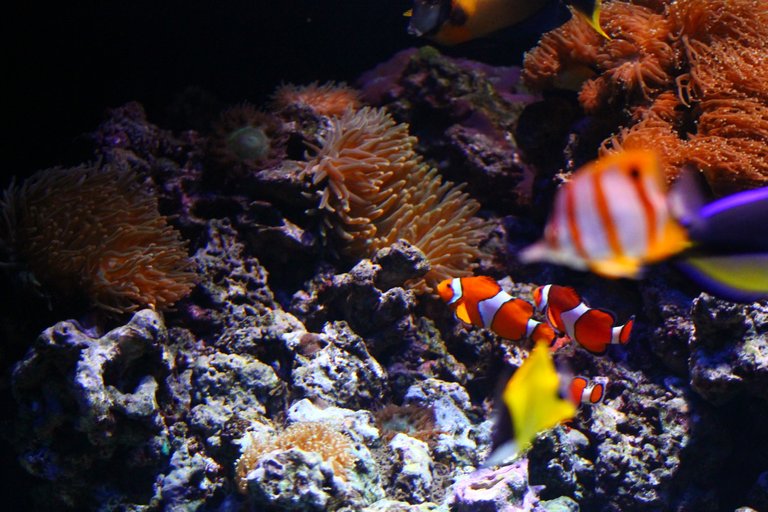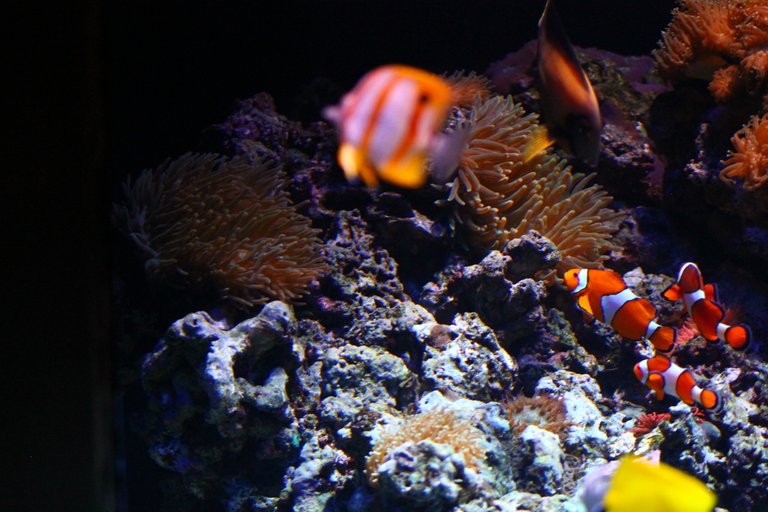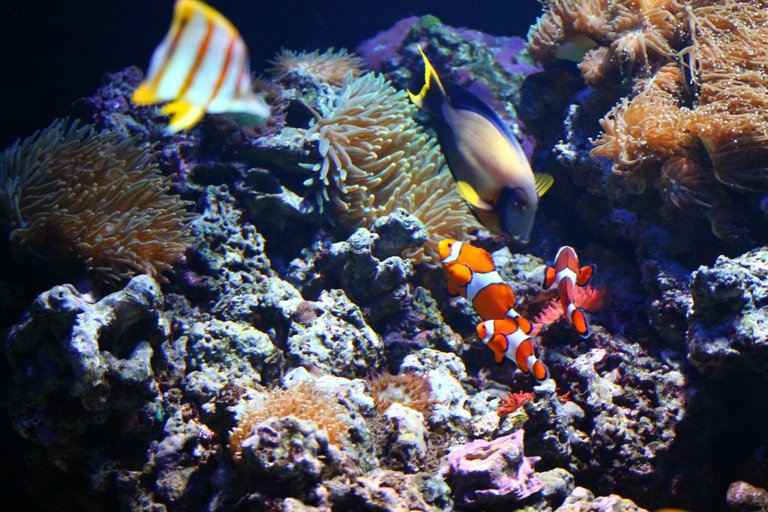 The hierarchy is somewhat matriarchal, the larger female is the one who dominates the community, they are somewhat aggressive animals and constantly attack each other to protect their feeding and reproductive space, if the female with the highest hierarchy dies, the dominant male changes his sex and replaces the alpha female!🙆‍♀️🙋‍♀️
La jerarquia es algo matriarcal, la hembra mas grande es quien domina la comunidad, son animales algo agresivos y constantemente se atacan para proteger su espacio de alimentacion y reproduccion, si la hembra con mas alta jerarquia muere el macho dominante cambia su sexo y reemplaza a la hembra alfa! 👸👸

ECOLOGICAL THREAT🌅🐟🐠/AMENAZA ECOLOGICA🌊👨‍💻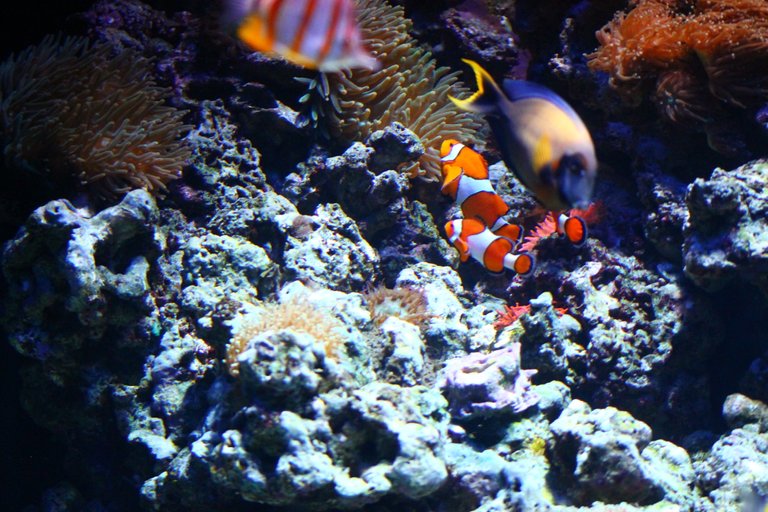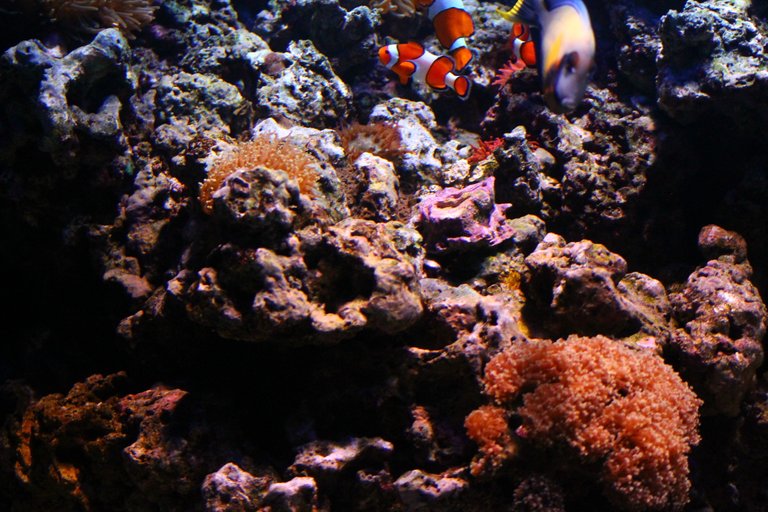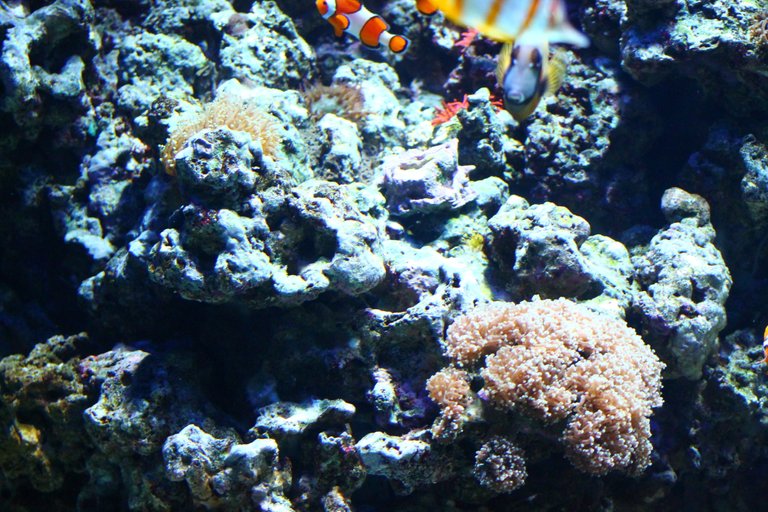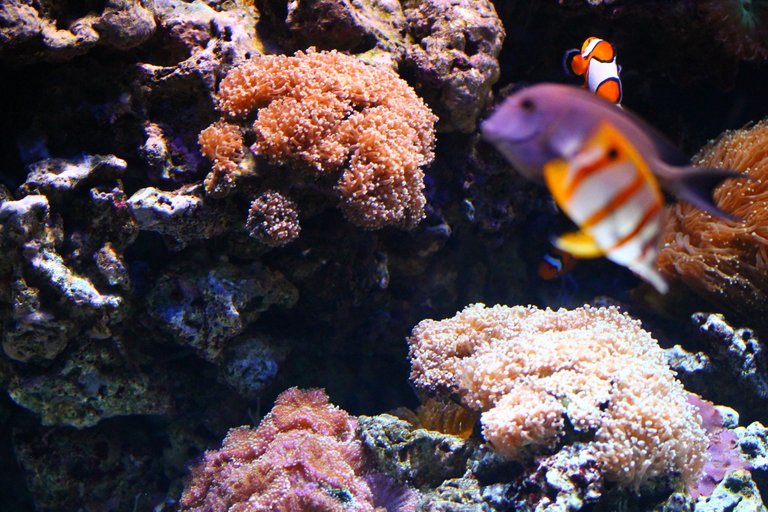 We cannot be alarmed and say that they are in danger of extinction because that is not the case, anenoma fish are very successful animals at a reproductive level and their populations are stable, but the trade in exotic animals in aquariums has reduced their population by a percentage in the last decades. , so we must monitor this behavior so as not to generate long-term problems!⭕🛑
No podemos alarmarnos y decir que estan en peligro de extincion porque no es asi, los peces anenomas son animales muy exitosos a nivel reproductivo y sus poblaciones son estables, pero el comercio de animales exoticos en acuarofilia a reducido un porcentaje su poblacion en las ultimas decadas, por lo que debemos monitorear este comportamiento para no generar problemas a largo plazo!❌💯✅ DNA is an organization to foster and DENSIFY NATURE-APPRECIATION which aims to establish REPORTS OF BIODIVERSITY DATA that is contributed by all of us Hiveans and subsequently cataloged.
Therefore DNA searches for HIGH-QUALITY posts that aim to DESCRIBE and determine the BIODIVERSITY AROUND YOU with added EXPLANATIONS and INFORMATION. For these informative posts they offer a CURATION SERVICE using the @dna.org account. It is also a CURATION TRAIL. Just add the #dna TAG if you think that any of your posts is what they are looking for.
THANKS FOR READING ME (PHOTOS OF MY PROPERTY)🙂🧠🦾👍
https://www.bioenciclopedia.com/pez-payaso/
https://pangeanimales.com/peces/pez-payaso/