After spending good times with my family and friends through physical contact, call and via social media platforms like Hive, what I also enjoying doing during my holiday is to visit places and explore different things, last week I shared my tour to Lagos from Ibadan via the newly constructed Ibadan-Lagos Railway Station at Moniya Ibadan, Oyo state Nigeria with us here on Hive.
Today, being my first post in year 2022, I will be discussing my tour to University of Ibadan zoological garden and my attention will be focused more on my experience with the white gold of the desert (The Camel milk), yes the camel milk, have you seen a live camel before? have you ever wonder about its physical structure? how about the medicinal value attached to camel milk? and may be you have tasted the camel milk before, please kindly let us know in the comment session box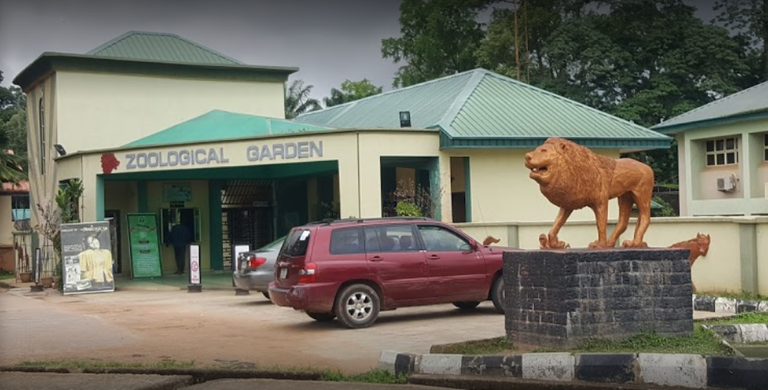 University of Ibadan Zoological Garden entrance. Image from @noble-noah
Camel has been classified as a special type of livestock due to its physical structure and the medicinal value attached to its milk. Camel exhibit lifespan between 40 and 50 years of age and its ability to survive long hot weather is amazing and one of the reasons why it is mostly used by Arab peninsulas for long journey travelling during old days and before the advent of modern transportation.
Another reason why camel was considered as a means of transportation during those days is due to its gentleness which makes it easy to be guided even when instructed to sit on stones. Camel also has the potential to store large amount of fat without any side effect such as fat's insulating and that is another advantage for using it for long journey.
I must not fail to mention the amazing part of its body 'Camel eyes' camel has three (3) layers of eyelids, while two of the eyelids possess eye lashes that are mainly use to protect their eyes from the sand and dust, the third eyelid is a thin membrane which operates like a windshield wiper, it is mainly use to clean the animal's eyes in a sandstorm.
Camel eyes move from side to side in order to carry out its main task unlike human eyes which move up and down.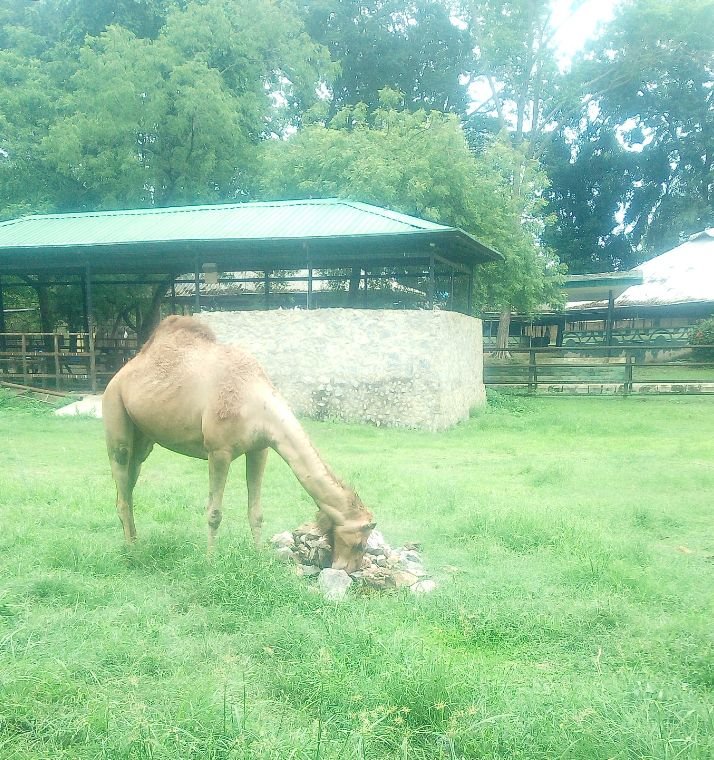 An image showing a grazing camel at University of Ibadan zoological garden. Image from myself @noble-noah
Chemical Composition of Camel's Milk
Camel milk generally has an opaque white color with faint sweetish odour and sharp taste, it may be salty at times and the presence of opaque white color was identified to be as a result of the presence of fats that are finely homogenized throughout the milk and the changes in taste was identified to depend on the type of fodder and availability of drinking water. Camel milk density was observed t range from 1.026 to 1.035 and its pH ranges from 6.2 to 6.5 and both were observed to be lower when compared with cow milk.
Feeding condition, physiological variation, genetic make-up, physiological stage, and the camel health status were observed to be factors that influence the composition of camel milk.
The average amount of component of camel milk is protein with 3.4%; lactose 4.4%; ash 0.79% and water which makes up of 87%
Proximate chemical composition of Camel's Milk
Camel's milk consists of minerals such as Sodium (Na), Calcium (ca), Potassium (k), Magnesium (Mg), Iron (Fe), Zinc (zn), Copper (Cu), and Vitamins (A, E, C, and B1), it was observed that the trace of minerals concentration were significantly higher in camel when compared with cow milk, also its higher concentration was observed to be of significant relevance from the nutritional point of view since it exerts powerful antioxidant activity, it was also recorded that there is lack of carotene in camel milk unlike cow milk which consists of carotene.
It was also recorded that camel milk consists of various fatty acids such as caproic, caprylic, butyric, capric, lauric, myristic, myristoleic, palmitic, palmitoleic, stearic, oleic, linoleic, and arachidonic acids.
Medicinal Value of Camel Milk
Camel milk has been in consumption for many decades, in fact, centuries by the so called nomadic people due to its rich nutritional and medicinal properties. The medicinal properties of camel milk can be traced to the presence of protective proteins, which may possibly play a pivotal role for the enhancement of immune micro bacterium tuberculosis, camel milk also plays a vital role towards controlling a number of physical health disorder, including mental.

Camel milk consists of Enzymes such as aspartate, aminotransferase (AST), alanine aminotransferase (ALT), gamma glutamyl transferase, acid phosphatase (ALP), and lactate dehydrogenase (LDH), they all play a vital role in ensuring the quality of camel's milk is intact, gamma glutamyl transferase can also be used as an indicator for the proper heat treatment of camel milk.

Camel consist of a number of protective proteins such as lactoferrin, lactoperoxidase, lysozyme, and peptidoglycan recognition protein (PGRP), they all possess broad-spectrum antiicrobial activity and that give them the potential to enhance the shelf life of camel milk.
Antimicrobial and immunological activities
Camel milk contains various protective protein such as (lactoferrin, lactoperoxidase, N-acetyl-glucosaminidase (NAGase), PGRP, lgs and lysozyme) which exert anti viral, antibacteria, antifungal, and anti parasitic activity , immunological properties, growth promotion activity and anti tumor activity.
Conclusion and Appreciation
Sincerely, I didn't know there is much to camel milk until now, although I'm aware of its usage as a means of transportation among Arabs but never study much about its physical structure, milk composition and benefits to human kind.
Thanks to the University of Ibadan zoological garden management for keeping a multipurpose animal like camel in their garden,
I must also not fail to thanks my comrades for the tour, especially my brother for writing down the details about the white gold of the desert (The camel), and sincere appreciation to Adeniyi for verification of the write-up and referencing.
To all my friends on Hive who have been there since I joined Hive, indeed I appreciate all your contribution over the years.
Let's be optimistic for a better future!
A special request: Please I have not been getting notifications from my followers, especially when they post, unless I visit their personal page which is not easy most times considering the numbers, is there a button I need to activate? I 'll like to know because I'm missing many good posts from my good friends here nowadays. Thanks!
References