Almost a decade now, liquefied petroleum gas (LPG) became an important commodity and a good source of energy for domestic cooking in various homes, especially in Nigeria where the cost of kerosene is on high side, electricity is unstable and the awareness against deforestation couples with the stress of using firewood and charcoal became the talk of the town.
Of course, people were happy to embrace the new form of energy due to many reasons such as, energy efficiency, tasty food cooked in less time, better temperature control, ease to use more than one pot, unaffected by electricity distribution power supply and cheaper operating cost in a country where the price dictate the trend.
However, the recent hike in price of of cooking gas has created a chaotic environment throughout the country and it seems the increment is not stopping anytime soon, here in Nigeria, price dictate almost everything including the choice of professional career, domestic usage, choice of taste, as such, when such choice of taste goes south like the trending hike in cooking gas, people will surely consider alternative with lesser price and ease of use.
Why Hike in price of cooking gas
The populace keep wondering about what might have caused the recent hike in price of the cooking gas, despite, Nigeria being blessed with mineral resources that is more than enough to govern its state of the the nation, however, mismanagement over the years has taken the country behind, currently, forty (40) percent of liquefied petroleum gas (LPG) is produced locally while almost sixty (60) percent of LPG is being supply through importation, as such, every rise in price of dollar always trigger the price of imported commodities among other factors such as value added tax (VAT), e.t.c.
Charcoal: An Alternative Source of Cooking Energy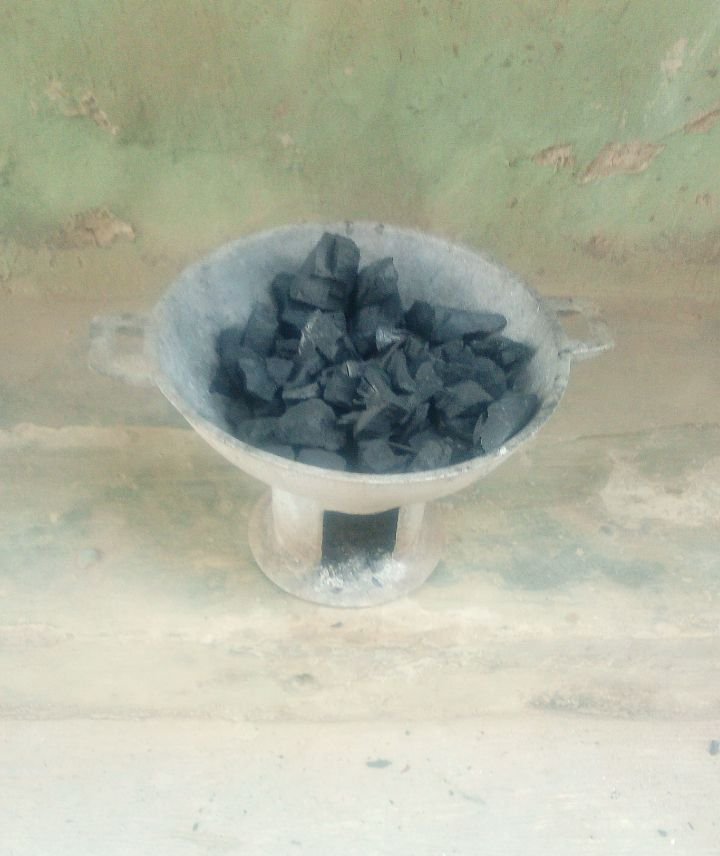 An image showing charcoal on a coal pot. Image form myself @noble-noah
Charcoal is majorly made from wood, plants and animal products, by subjecting the materials to strong heating with a controlled supply of oxygen, thus water and other volatile materials will be removed in the process thereby leaving the incomplete combustion called charcoal.
As shown in the image above, the picture is showing small quantity of charcoal on a cooking material usually called coal pot, although, this alternative method of cooking is not new, it has long been in existence but abadorned due to its stress and unease access to control its temperature, it is now gaining ground again as an alternative way to cooking gas, it is also better and cheaper than a long abandoned kerosene stove and fire wood, according to investigations and my own experimentation, it is cheap to get, the coal pot is almost $5, although it is of various form. a sample of coal pot is shown distinctly in the image below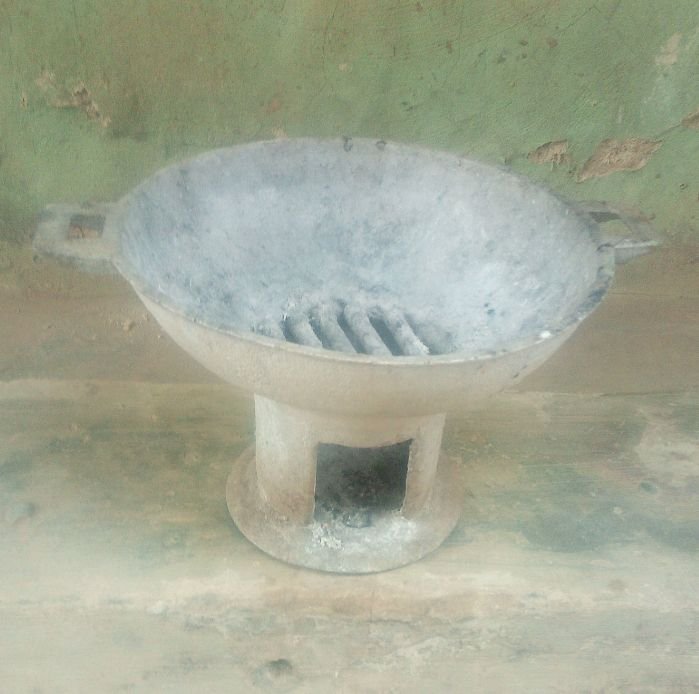 A sample of charcoal cooking material called 'Coal pot'
The coal pot shown above is made up of an iron grid which can withstand heat at higher temperature without being melted out, the iron grid is supported by a raised iron bowl which is used to hold the burning charcoal.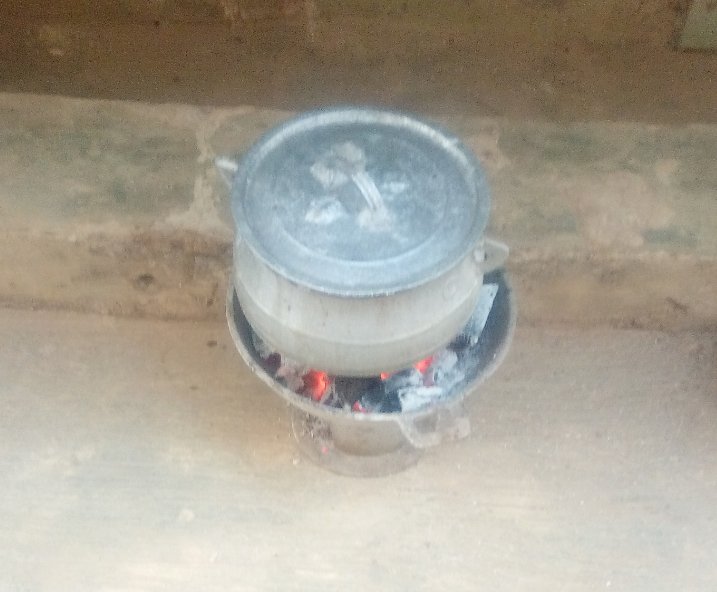 An image showing a pot of rice on a coal pot with heated charcoal
Disadvantage of using charcoal for cooking
The method of using charcoal as an alternative to cooking gas may be cheap, but the stress it takes before the charcoal becomes heated like the one shown in the image above is indeed strenuous, after getting charcoal from the market and you have poured certain quantity to be used inside the raised iron bowl, it can not just work by lighting the fire directly on it, you need to add little amount of kerosene and enough breeze must also flow through the charcoal before it will start burning as shown in the above image.

Another issue encountered when cooking with charcoal is that the temperature at which the fire should flow in can not be controlled since it is not automated, it becomes difficult, especially if you won't be around for a while and you want a steady flow of fire, there is no way for such.

It cannot also be used within a confined environment due to the accumulation of carbon monoxide (CO) which is usually generated when burning charcoal, though carbon monoxide concentration may be small but the effect can leads to a suicide if inhaled for long period of time, as such it is advisable to make sure an open space is considered when using charcoal for domestic cooking.
Final Thought!
Having discussed by comparing the advantages and disadvantages of using both gas and its alternative (charcoal) for domestic cooking, it is still better to choose gas over charcoal for health reason, although the price is higher with gas but the stress and suicide attached with the inhalation of charcoal fumes over long hours can not be overlooked when compare with gas price skyrocketed in the country. I hope it comes back to normal soon.
Thanks for stopping bye always, I appreciate your contribution through your sincere interaction on my post over time.
References
Nigeria consumers worried over hike in price of cooking gas