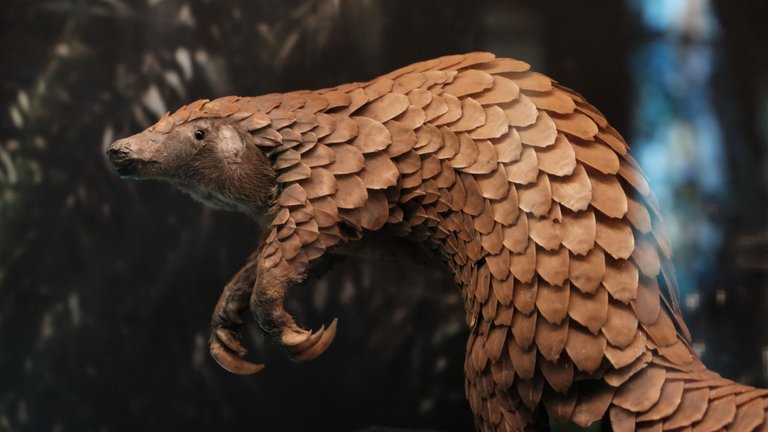 You probably have never heard this, but Pangolins are one of the world's most endangered animals. Many people have never heard of a Pangolin let alone seen one in real life. Sadly, these species could become extinct before most people even realize they exist, due to a couple of factors threatening their survival.
I would say Pangolins are the cutest animals but painfully, they hold a world record of being the most trafficked mammals in the world. As a student of the Forestry and Wildlife Management department of my school, I'd like to increase the awareness of these truly enigmatic creatures.
Pangolins are also known as 'scaly anteaters' because...yes, you're right if you guessed it, they feed on ants to survive. They are insectivorous, so their diet encompasses ants, termites, larvae, and other small insects. The Pangolins lead secretive, solitary, and largely nocturnal lives. They lack teeth and are unable to chew. In replacement, they have long sticky tongues that they use to catch insects, which they feed on.
The scales of a Pangolin cover almost their entire body, and they make up about 20% of their body weight. These scales are made of keratin (the same protein that makes up the human nails and hair and many animals' claws)- imagine how strong and tough the scales are!
The name, 'Pangolin', is gotten from the Malay word 'Pengguling' (and is pronounced so, by the way!), which translates to 'a thing that rolls up' - and yes, they roll-up. They roll up in a ball to defend and protect themselves when threatened, in a similar way to hedgehogs and armadillos.
Why should we care about Pangolins?
It is worthy of note to add that, the biggest threat to Pangolins are humans; we are its greatest enemy. These animals are hunted and killed mercilessly for their scales (used in traditional Chinese medicine, despite no evidence of medicinal properties), meat (it's considered a delicacy in China and Vietnam), and blood (regarded as a healing tonic for various ailments in traditional Chinese medicine).
Pangolins are also vulnerable to loss of habitat due to an increase in agriculture and other land uses. They are not immune to the effects of climate change either, as changes to their natural environment affect the availability of ants and termites. You may wonder why we should care.
What do they do for the environment?
Well, you may be surprised to learn that they play a significant role in the natural environment as Keystone species. Despite their small size, Pangolins fill an important ecological niche through their diet.
They are regarded as "ecosystem engineers", they help maintain a balance of insects with each pangolin consuming approximately 70 million ants and termites per year. Left unattended to, these insects can cause immense damage to natural vegetation and crop production.
Furthermore, by burrowing for insects in the soil, Pangolins help aerate the soil, which is essential for plant germination.
Who are the members of this family
There are four Pangolin species in Asia; Chinese Pangolin, Manis pentadactyla; Indian Pangolin (also called thick-tailed pangolin), Manis crassicaudata; Phillipine Pangolin, Manis culionensis; Sunda Pangolin (also called Malayan Pangolin), Manis javanica.
Four Pangolin species live in Africa; Ground Pangolin (also called Cape Pangolin and Temmincks's Pangolin), Smutsia temminckii, Giant ground Pangolin, Smutsia gigantea; Black bellied tree Pangolin (also called Long-tailed Pangolin and Black-bellied Pangolin), Phataginus tetradactyla; White bellied tree Pangolin (also called African white-bellied Pangolin and Tree Pangolin), Phataginus tricuspis.
How severely endangered are they?
All the species of Pangolins are featured on the IUCN Red List of Threatened species. In Peter Fearnhead's (African Parks CEO) words,
without urgent collaborative action, this lesser-known and critically endangered animal will disappear forever in the face of rampant illicit trade.
Recent findings
There have been claims that researchers have found a 99% genetic match between a virus found in Pangolins and the new human coronavirus. Now, the big question on everyone's lips is -can coronavirus save the Pangolins?
Wildlife conservationists and enthusiasts have been celebrating a rather apparent silver lining in the coronavirus epidemic. The hope of this finding is that humans, frightened of this coronavirus infection, will reduce their demand for the meat and scales of Pangolins, whose populations are in massive decline due to wildlife poaching and trafficking for bushmeat and traditional medicine.
It may, however, be too soon to celebrate "the revenge of the pangolin" since the link to coronavirus may turn out not to have the positive outcome for pangolins that we've earnestly been looking forward to. Quite frankly, there might still be unfolding of interesting and worrying scenarios.
So far, ironically, coronavirus has done wonders for putting the longtime coming plight and the suffering of pangolins into the headlines and onto the global stage, giving it audience that it more than deserves; which is something that is critical for its survival. The fact that people know next to nothing about these animals- let alone their critical status, makes it difficult to rally support for saving them.
The report link between Pangolins and the coronavirus has given rise to the Chinese government placing a temporary ban on all wildlife trade and markets, because of the very obvious fact that these markets are a good spot for the cultivation and spread of zoonotic diseases, which are transmitted between different animal species, including to humans.
This is good news for animal rights, however, it should be noted, that the ban is only temporary at this stage and if extended, it will only drive markets underground, since the demand for animal body parts for use in traditional Chinese medicine, which has existed for long enough, will no just change overnight, regardless of the viral risks.
The downside of the ban is that reducing access to wildlife parts by only selling them on the black market is very likely to increase the street value of Pangolins even further, not only in the end-markets in China and Vietnam but also in Africa where the pyramid of the illegal wildlife trade begins. Even more, poaching may be triggered by a higher street value for Pangolins; and this is applicable not only to the pangolin but also to the rhino horn, lion bone, and elephant tusk; amidst other animal parts.
It is important to remember that the claims made by the researchers are far from conclusive. Several prominent scientists around the world have reserved comment on the study until they receive the yet unpublished data, supporting its conclusions; so that these claims can be verified. In addition, we should bear in mind that none of the reports made to date have pointed to coronavirus being linked to any of the four African Pangolin species. If a scientifically proven link is made between coronavirus and Asian Pangolin species exclusively, this may invariably result in the increased demand for 'uninfected' African Pangolins.
Currently, one African Pangolin is poached from the wild every five minutes, with one study even suggesting that up to 2.7 million pangolins are poached on the African continent each year. Any further increase in this rate of trafficking and poaching will be unbearable for their survival. Another important thing to note is that a scientifically proven link between coronavirus and Pangolins could also present a formidable new threat to the survival of Pangolin populations on the African continent, as bush meat hunters, or indeed anyone encountering a wild Pangolin will have a good reason for killing them, as their potential infection with coronavirus would be seen as a threat to their health.
Conclusion
It is apparently too early to make any conclusions or do more than speculate on possible outcomes for Pangolin lives in the illegal wildlife trade resulting from the coronavirus epidemic, but either way, it already looks like the Pangolins could get the short end of the rod and will continue to hover on the edge of extinction, and they could probably disappear, forever.
References