Greetings to all and sundry,
It has been a while and I must apologize as the workload in school keeps piling up making it more and more difficult for me to get enough time to write a quality post to share with our lovely scientists in our community.
Nonetheless, any day is a good day to share and today having had this opportunity I would want to share with you some of the benefits of wearing spectacles. I do hope you enjoy the ride and that you have loads of fun and lessons alongside.
---
Introduction
---
From where I come from, well I mean Ghana, there are lots of myths surrounding spectacle wear and as an eye care provider, it becomes pertinent that you make sure that your patient understands the principle behind why you are giving them those glasses, what benefit I would give them, would they ever get to put it down? Will they be cured? Won't it cause them lots of harm and a whole lot of other questions?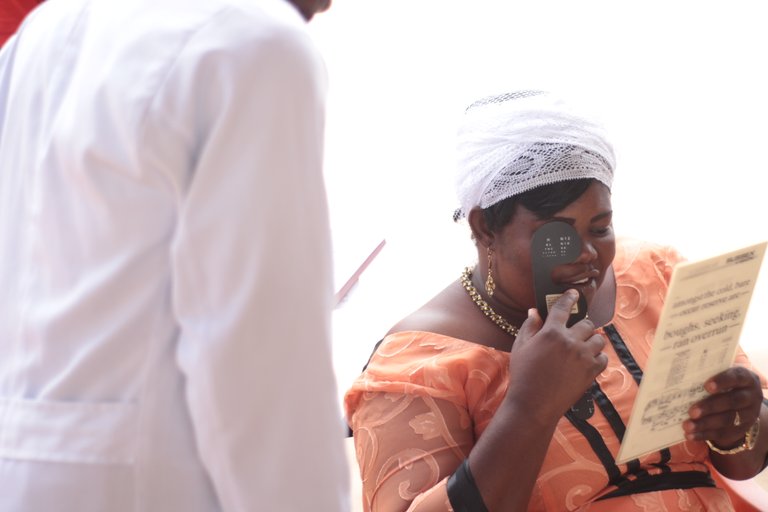 Not that it is a bad thing though as I strongly encourage my patients every time to ask questions about anything I do that they do not understand so they may know what I am about and what their condition may be. I've learned from the early years of my clinical internship that the most compliant of patients are those who understand their condition and so I make this my number one priority in inpatient care. You can only help those who wish to help themselves indeed.
I know this narration I gave is not peculiar to only Ghana but out there as well and I am certain that @agmoore will agree with me, even @lemouth or @gentleshaid that many scientists in our community are curious enough to want to know why Optometrist gives glasses to lots of people and what could possibly be the benefits they seek to gain. Perhaps those of us not wearing are at stake in some way?
---
Why Glasses
---
For those of us who have been following my blog for a while now, I am not to say I do so regularly but hoping to be more active now as I plan to share the interesting cases I get at the hospital with the scientific community. Well, I wish I had some optometrist around though.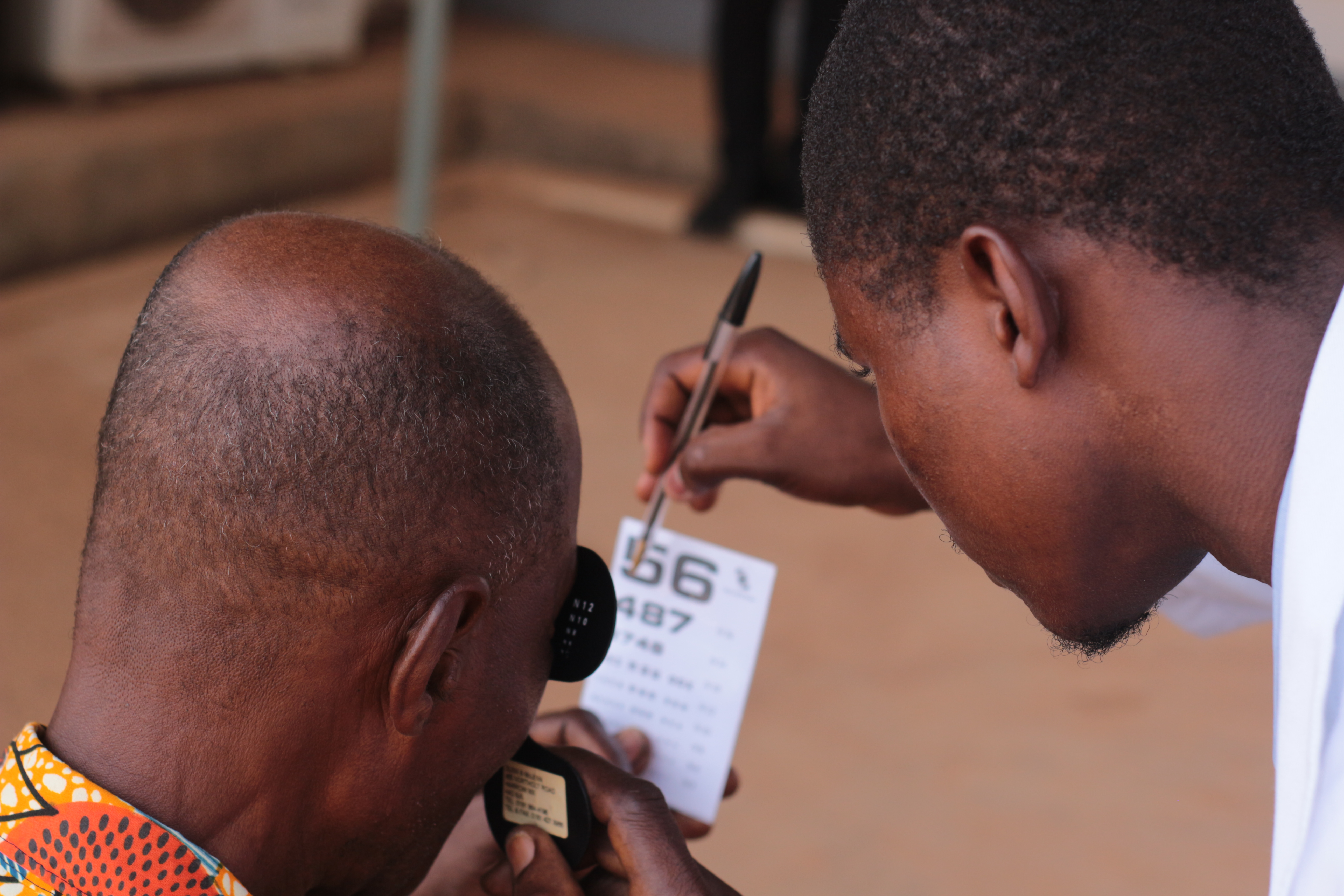 Anyway back to business, as I was saying for those of us who follow my blog you may already know some reasons why your optometrist would give out glasses to you since I have spoken extensively on refractive errors and the various types before but knowledge can really be too much right? So let's go over some of the common reasons why your Optometrist would prescribe lenses or glasses for you;
When most people hear of refractive error they think of myopia, but it goes beyond that, refractive errors entail all the errors that your eye may have as a result of optical focus or defocus. So in simple terms refractive errors come about when light from infinity falls at any other point aside from the focal point which is the retina. It may happen in specific meridians of the eye or all meridians together.
When this happens your optometrist would take you through a simple test called the visual acuity test, where you will be assessed on how well you can see things both far and near when we realized that this is not at the optimum level as a result of the defocus, then he or she would simply help focus the light to the right point in the eye using lenses.
These lenses have a measure on them and so once your optometrist is done finding the perfect power to help with your focus, it is prescribed for them to be fitted into a frame for your wear. Refractive errors are one of the most common reasons why you may be asked to wear glasses and do know that it is for your own good and for your better vision.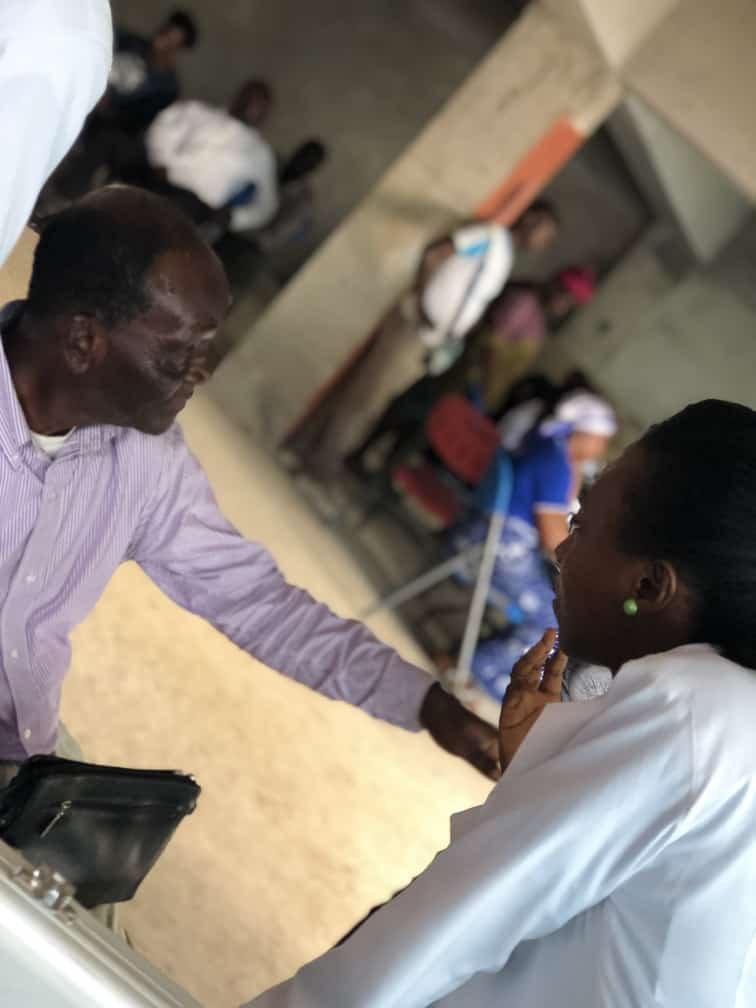 Some diagnosis demand that your optometrist gives you glasses as a means to help accelerate the healing process and also to give some form of protection. For instance, whenever patients undergo cataract surgery they may be asked to wear glasses temporarily to help protect their now fragile eyes from the sun and the wind, and foreign objects in the atmosphere.
In the case of severe dry eye disease wearing glasses may help with some of the symptoms such as photophobia and the burning sensation which comes about when the wind blows over the eye.
Our eyes have a physiological amount of misalignment that enables us to perceive depth and also have a wider field of vision. There is a mechanism in place to keep this in check, when things go wrong this misalignment can become a problem turning into a phoria or worse a tropia. (These would be dealt with in detail later on)
These misalignments are sometimes corrected with glasses, the use plus and minus lenses are used and in some cases, prism lenses to help alleviate the pressure that may be on the eye causing the deviation of the eye. (Note that tropia may also be corrected with surgery). Tropia can sometimes cause diplopia and I can assure you seeing double is never a pleasant experience.
Color vision is an interesting subject because the more you learn about it the more you come to understand how subjective it could be. Imagine someone who has never really seen the color red as we all know it but as grey, because he lacks the cells for that interpretation, nonetheless should you show him the color red he will tell you is red.
This is because he has learned to associate how he sees it in particular with what we term red. Interesting right? So there are individuals out there who cannot see certain colors as they ought to be, these are people we refer to as color blind, although I prefer the term color deficient.
These individuals based on their deficiency may sometimes be corrected using glasses with specific tints, this alters the wavelength of light entering their eye enabling them to be able to perceive these colors as they ought to be.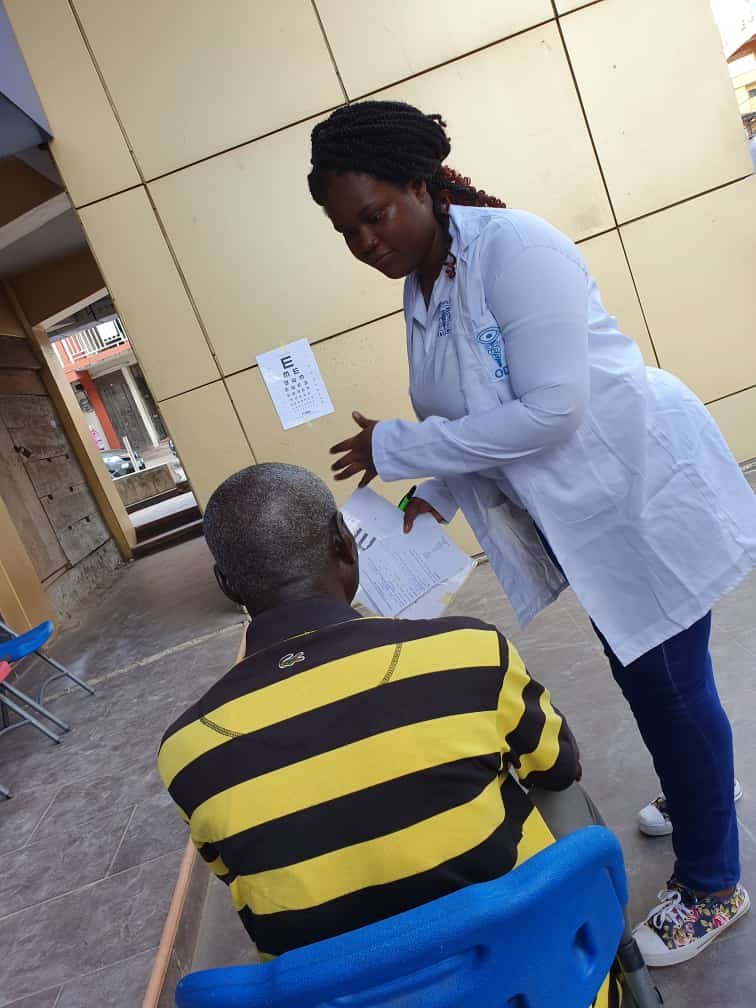 We live in a tech world now and most of our gadgets now use screens, touchscreens, and almost everything is now going smart, we doing AI and Machine learning and all that. Most of these amazing techs have their positives and negatives and one of such negatives is the blue light that they emit which is detrimental to our ocular health.
The blue wavelength is short enough to bypass the security checks of the eye which filters out harmful wavelengths that may be damaging to the eye. The blue light as it is called has potential harm to the optic nerve as well as the macular (the area responsible for clear vision when looking directly at an object). Over time, exposure to light can cause us lots of harm.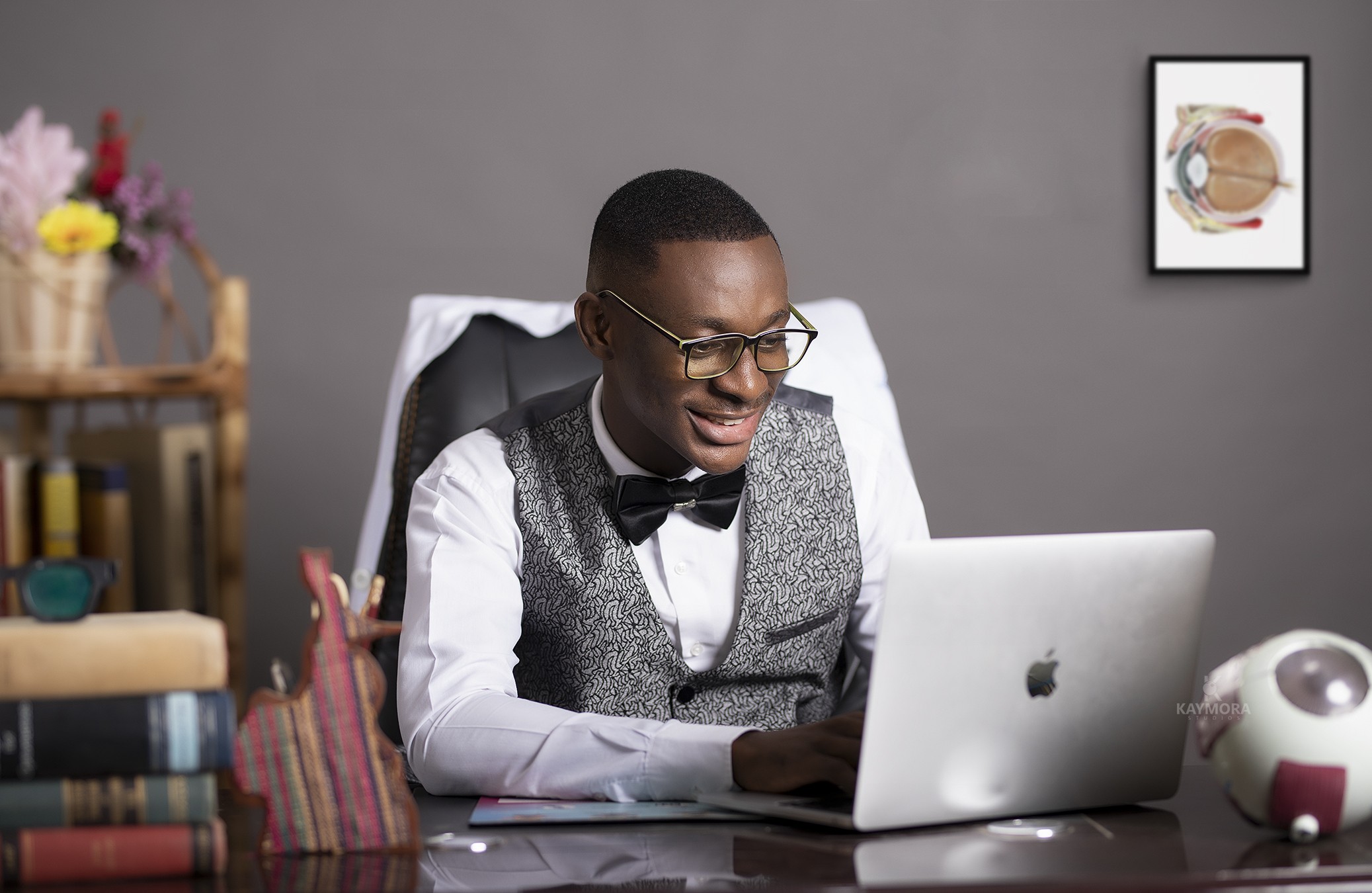 Some research even suggests that the blue wavelength may have some time to do with glaucoma's pathophysiology and that it could be looked at to detect early glaucoma and hence save sight. This led to the development of the blue-block technology which is added to glasses to help keep those rays from entering the eyes.
So far it has proved to be good and has helped in alleviating lots of symptoms that come with computer vision syndrome. I have prescribed this for a lot of my patients who are into tech and use the computer 24/7 and have had good reviews for that. And so your optometrist may also give you glasses not necessarily because you cannot see well but because of your job description and the safety of your eye.
---
Conclusion
---
Be rest assured that this is not an exhaustive list and that there are many other reasons why your optometrist may give you spectacles to wear. It is however of utmost importance that you understand why you are wearing them, this would help you in being compliant with your management.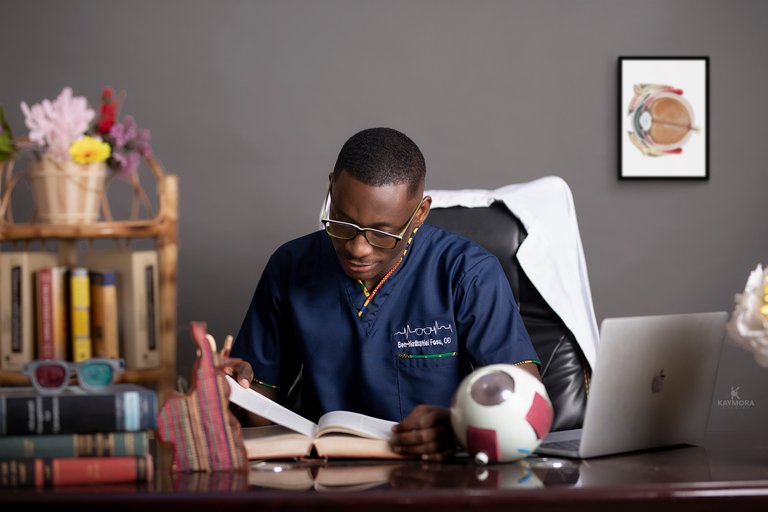 It is always good to be in the know, remember, good health is wealth, when I doubt always ask, I am grateful for your time and for reading this. I do hope you got a thing or two from it. I would be privileged to get your reviews or feedback. Thanks once again and I wish you a pleasant week.
All Images are Owned by @nattybongo, obtain through free eye screening outreaches for local communities in Ghana
---
Rerefences
---
Wedner, S., & Dineen, B. (2003). Refractive errors. Tropical doctor, 33(4), 207–209. https://doi.org/10.1177/004947550303300406
Morjaria, P., McCormick, I., & Gilbert, C. (2019). Compliance and Predictors of Spectacle Wear in Schoolchildren and Reasons for Non-Wear: A Review of the Literature. Ophthalmic epidemiology, 26(6), 367–377. https://doi.org/10.1080/09286586.2019.1628282
Wong B. (2011). Color blindness. Nature methods, 8(6), 441. https://doi.org/10.1038/nmeth.1618
Lawrenson, J. G., Hull, C. C., & Downie, L. E. (2017). The effect of blue-light blocking spectacle lenses on visual performance, macular health, and the sleep-wake cycle: a systematic review of the literature. Ophthalmic & physiological optics : the journal of the British College of Ophthalmic Opticians (Optometrists), 37(6), 644–654. https://doi.org/10.1111/opo.12406
Audren F. (2019). Les strabismes divergents intermittents [Intermittent exotropia]. Journal francais d'ophtalmologie, 42(9), 1007–1019. https://doi.org/10.1016/j.jfo.2018.12.031
REED J. L. (1949). Spectacles and eyeglasses. The Optician, 116(3015), 663–666.