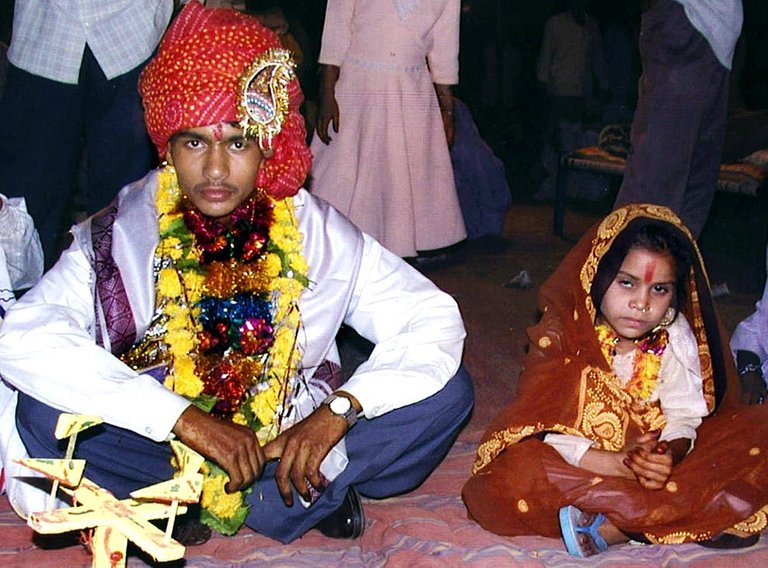 source
In our area, girls below the age of 18 are sometimes married, which is known as child marriage. I have seen some girls from 13 to 17 years old getting married. The government is always making people aware and has enacted laws against child marriage since long ago. Among the downsides of child marriage, they discuss childbirth complications and the freedom of women and children. But not fully science-based discussions so we don't find answers to some questions. I actually wanted to know what would be the problem with girls below 15 years if they are bound to a matrimonial relationship. I also tried to know the effect of child marriage on their sex life.
A report from WebMD found that in 2020, 158,000 babies were born to 15- to 19-year-old teens in America. But gradually this number is decreasing which was very high earlier. But the tendency to give birth at a young age is understandable. Unmarried girls can have children through illicit sex at a very young age. So they have to be supervised by their parents, brothers so that they don't associate with boys because it brings problems.
Child marriage is still rampant throughout the world. Niger has the highest rate of child marriage, according to Statista data. 75% of girls in this country are married below the age of 18. This is very worrying. Child marriage is still prevalent throughout the world. So one of the causes of early pregnancy is child marriage. Preventing child marriage can reduce early pregnancy rates.
You can read an article here that talks about various problems caused by child marriage or pregnancy of girls below 15 years. The article states that girls who conceive at a young age can suffer from a range of problems, including low iron in the blood and gestational hypertension. Women above the age of 20 are less likely to suffer from such problems and women between the ages of 15 and 19 are more likely to suffer from this problem.
Again, high blood pressure due to pregnancy can lead to premature birth. As a result, low-weight babies can be born. This is a major problem as we have seen many premature babies suffer from various health problems and may even die. In addition, during the teenage years, many people indulge in various addictions like cigarettes, alcohol, and other drugs and their chaotic life can have a worse effect on their unborn child.
From the health line I came to know that a teen mother suffers from various mental problems after giving birth. They experience mood swings, increased anxiety, and increased feelings of sadness, and are easily overwhelmed. Also, She cannot focus on any task. Does not like to eat and cannot sleep properly. Many depressions work and the human condition breaks down. Thus, pregnancy at a young age brings about various mental changes and mental problems that can be a risk for a teen.
A girl who is 15 years old is a child herself and having a child while she is growing up is sure to cause some health problems for her. He may face financial problems and fail to build a career. That is, the mental, physical, financial and social problems of the teen mother can increase greatly. So it is better to get married as an adult. Then it will be possible to reduce the level of the problem. If the pregnancy is young, many times the pregnant mothers and fathers try to destroy the womb which should not be done and there is a possibility of further damage. All these problems can be avoided by stopping both child marriage and underage sex

References :


https://reverehealth.com/live-better/risks-teen-pregnancy/
https://www.webmd.com/baby/teen-pregnancy-medical-risks-and-realities
https://www.statista.com/statistics/1226532/countries-with-the-highest-child-marriage-rate/
https://www.healthline.com/health/pregnancy/teenage-pregnancy-effects#types
Thanks for reading
Best regards
---