Hi, 🌻
In February I wrote about a new type of monitor: RLCD - an ambient light Reflective LCD (https://peakd.com/hive-106817/@mirafun/sun-vision-display-has-released).
In short, it is a monitor with use case similar to E-Ink.
Since this looks to be quite a new type of technology I haven't found any companies that sell it other than the one mentioned in the post above, and two other Chinese ones.
The Sun Vision Display currently offers a 32" RLCD for $1,679. While the price is high for a monitor it is comparable and even cheaper than e-ink monitors. Nonetheless, personally for me, a 32" is quite huge along with its price. Thus, I did search if there are other RLCDs on the market with different screen sizes and I found one.
iYan 10" RLCD
I found exactly one other RLCD screen of different size, that is a iYan 10" HDMI RLCD screen with 75x75 VESA mount. The screen costs ¥1399.00 or about $220.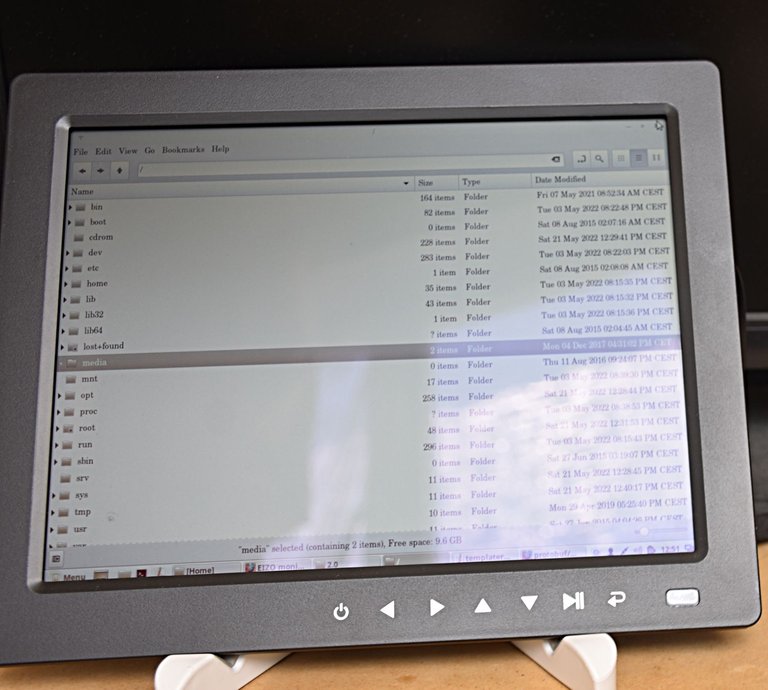 Features
The resolution of the 10" RLCD is 1024x768 (4:3), which is quite sufficient for most daily tasks. The package came with a HDMI cable, USB power cable, wall adapter, desk stand and even a remote control. Apparently, this HDMI screen has some extra features such as support for MS/SD/MMC Card, USB Port, Audio Port, built in speakers and can be used standalone to play music, or show photos and videos.
Where to obtain one: Superbuy/Taobao
Since this screen was available from a Chinese web store Taobao, I used Superbuy service which bought and shipped it. iYan 10" RLCD via Superbuy.
If you do decide to get one for yourself via Superbuy, click the 10" button to select the size and click White/Black for color. Red is out of stock and Gray is more expensive but is also equipped with front-light (I assume the front-light can be turned off and its still a RLCD but I haven't tested it so if you decide to go with Gray, do so at your own risk). Once you select these two options, the correct price of ¥1399.00 should show up. Also know that Superbuy accepts crypto as payment.
I ordered White, but I ended up getting Black, Superbuy customer service immediately asked whether I wanted to exchange it, but I was fine with Black color too.
Alternatively you can order it via Taobao if you know how.
Screen Review
Sharpness
With 1024x768 resolution the 10" RLCD is sharp and crisp just like other LCDs. Even if you might notice some blur on the photos , it is caused by the camera and not by the RLCD.
Brightness
Since RLCDs uses ambient light and does not emit any on its own, it requires a light source. These displays are sun-light readable. (In case you do decide to use them a lot in sunlight, keep an eye out for UV index / UV filtered glasses). Since they got no problem in good lighting conditions I took all of these photos in semi-dark room.
The display in the a semi-dark room is definitely darker than a normal LCD but as long as you turn it towards the light source it is perfectly usable during the day.
During night, you will definitely want to rotate it towards light, but not directly so you do not see reflections. Also adjusting system gamma can help to increase perceived brightness. If it is still not bright as you wish, you might consider adding a desk lamp. (preferably with incandescent light)
In the photos I took I purposely rotated it to show that in dark-lit conditions reflections can be seen.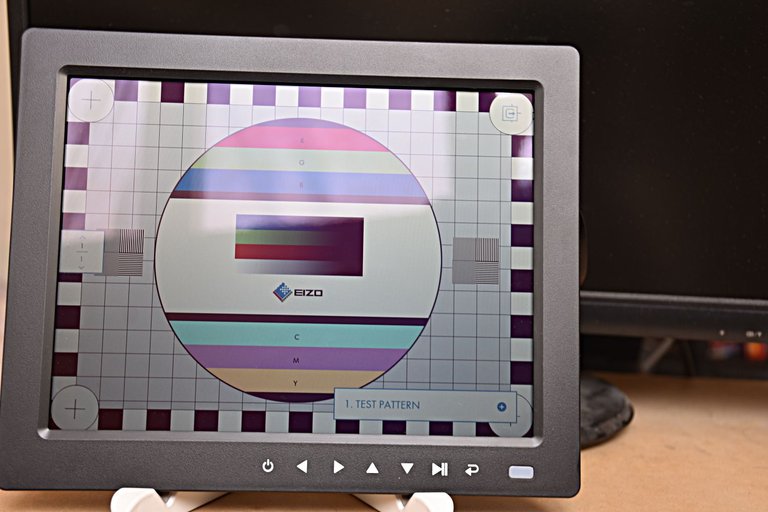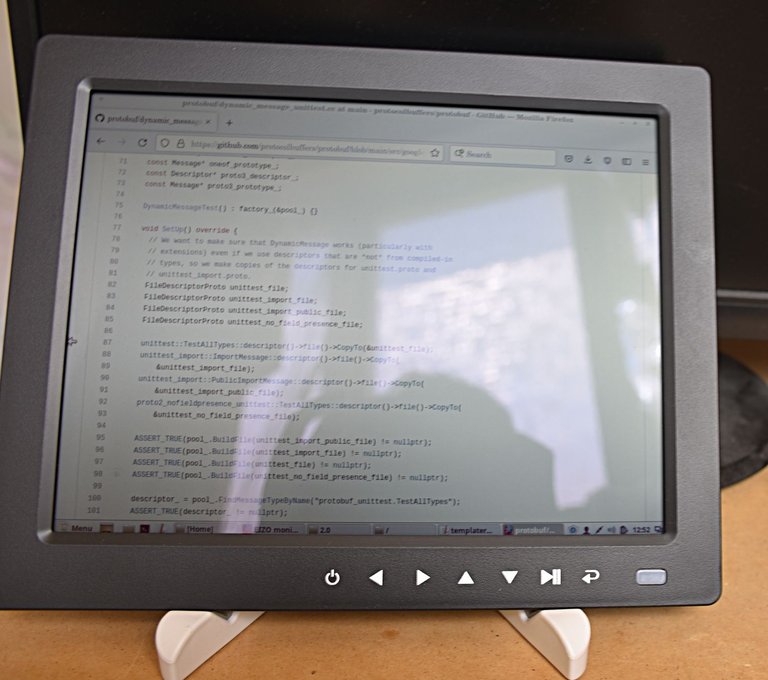 Below is a picture of the backside, with the stand holding the monitor.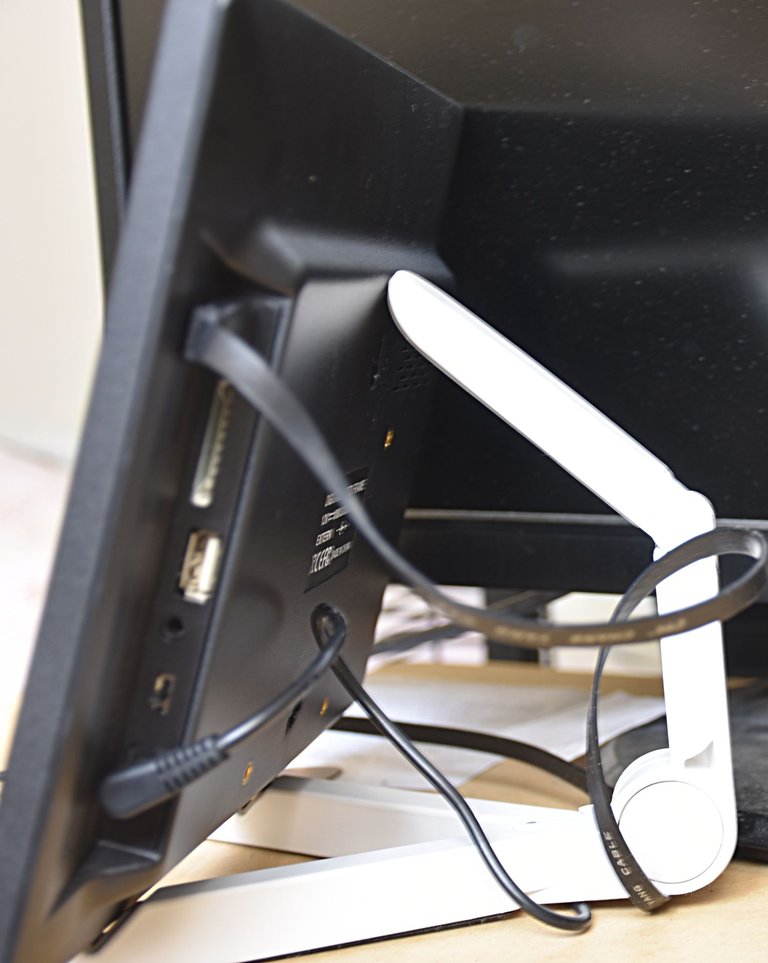 MyDeepGuide's Detailed review of 32" RLCD
MyDeepGuide has done a detailed review of the 32" RLCD. In case you might be wondering whether or not RLCD is a thing for you, you might check them out as well.
Conclusion
Personally, I am satisfied with the RLCD. It is a screen that is not glaring at you and is supposed to be better for the eyes (as long as it is bright enough to read comfortably). I will be testing it out during the following days and see if the brightness is enough or if I'll add an extra lamp during night-time.
That's it for this review.
Hope you have enjoyed it.
Have a good day. 🌻