Hi, hivers!
https://images.ecency.com/p/S5Eokt4BcQdk2bGrmiEeFj8B9PQrgDFPBpSiU2cVGsXxSxuBUEnHNZXMCj1K1D5WKAKq9EN.webp?format=webp&mode=fit
Source-geralt;Pixabay
I'm ecstatic to be writing this piece. I've been eager to share my progress on the #citizensciene project, which was conceived by none other than @lemouth, whom I greatly admire.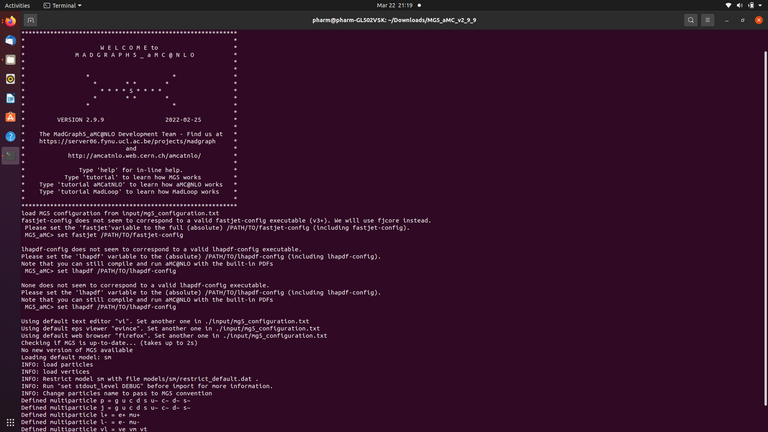 MADGRAPH_5 Version 2.9.9; Source- @mengene
Getting here has not been easy, I must admit. Wonder why?
Well, I use an HP Elitebook with a Windows operating system, which I admit can be a pain to use for Linux code. I followed @lemouth's instructions in his post from about a week ago, however, I ran into a few problems setting up a virtual box. My computer appears to have been infected in some way, as every setup file in '.exe' format I download gets its file size reduced to 0KB. I guess I'll have to format it and install Ubuntu on it in a couple of weeks.
What @lemouth is bringing to the blockchain ecosystem has enormous potential in my opinion. I've been considering a number of methods to combine blockchain with research projects. His technique is eye-opening for me, and I'm eager to learn from it and see how it might be incorporated into studies in my country and other developing countries. This prompted me to discuss the #citizenscience project with my research supervisor, and I was able to persuade her to lend me her Ubuntu-based superlaptop. I'll be using her computer for this project from now on until I can get Ubuntu loaded on mine
I am familiar with using terminals and Linux OS codes, Python packages and modules, shells and scripts in the process of CADD, i.e., Computer-Aided Drug Design, in order to speed up the drug development process and gain a better understanding of the molecular level and types of interactions that occur when drug molecules are introduced into the body system and how they elicit their activity. Keep an eye out for a blog post regarding my research efforts in the coming days!
I've always appreciated computational work, and @lemouth's particle physics has piqued my interest. Despite my lack of knowledge in the subject, I am eager to learn and make the most of this incredible opportunity. As a result, I downloaded and unzipped the MG5aMC software, and I easily followed the procedures outlined in the post! Linux and Ubuntu are unquestionably the way to go, fellas!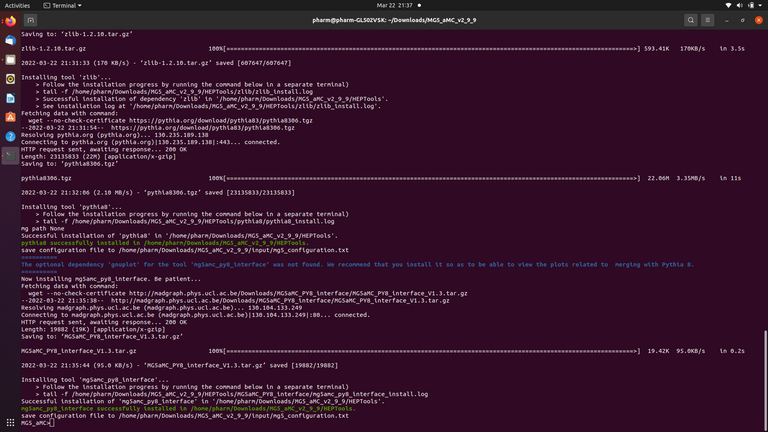 MadGraphs is successfully installed! Source- @mengene
I then proceeded to try out the tutorials. I'm not sure I understand much of it yet, but I think I got a handle on it! I stopped after I was able to view my history file, and I want to pick up where I left off tomorrow when I have more time, as it's becoming late here. It's almost 00:00 WAT right now, but I know I won't be able to sleep comfortably if I don't finish this post...haahaa:)

MadEvent Card for my Multiparticles :)
I propose that we have a platform where we can discuss verbally or via text/chat. As the project thrives here on HIVE, we may create a channel in the @StemSocial discord server where we can rub minds, better explain concepts, and help each other progress. This is only a suggestion, as I'm sure @lemouth has his own plans! A hearty thank you to him and everyone else involved in the #citzenscience initiative. I wish each of us the best of luck in our pursuits.
Cheers y'all!
Posted from HypeTurf