I had my 2nd Stellate Ganglion Block (SGB) on Wednesday March 16, 2022. My first treatment was last November. This nerve block has changed my life. This procedure has been used to treat chronic pain for 100 years. Now it is being used to treat individuals with PTSD.
I was diagnosed with complex Post Traumatic Stress Disorder (cPTSD) in July 2016. Preliminary studies for SGB effects on this disorder focused on veterans and the data suggested a significant reduction in symptoms. I have a new lease on life and want to share this information with everyone.
The Limbic System
"An overactive amygdala combined with an underactive prefrontal cortex creates a perfect storm. It's like stomping on your car's accelerator, even when you don't need to, only to discover the brakes don't work." - How PTSD Affects The Brain
The amygdala is like your alarm system. It lets you know when something isn't right, whether it be a real threat or not. The prefrontal cortex is like the brakes in your car. It stops the emotional response from your alarm system and you are able to remain calm. With PTSD, the different centers of the limbic system may be dysregulated and the brain doesn't calm down. The brain may proceed to react in overdrive, releasing a flood of neurotransmitters.
Unwanted or disturbing feelings and memories may pop up out of nowhere. Always being on the lookout for danger is also a symptom of PTSD. These experiences seem to be related to the hippocampus. This memory center in your brain is a lot like a computer's memory that writes files to a hard drive.
After trauma, the hippocampus works hard to remember and make sense of what has happened. Since trauma is often overwhelming, the information may not get coded quite right. You might have trouble remembering important details or you might overthink what happened in order to make sense of it.
For some, these memories may get stuck in a loop. I have experienced this memory loop and the flooding of brain chemicals, so not only am I familiar with the science, I have personal experience with the dysregulated responses.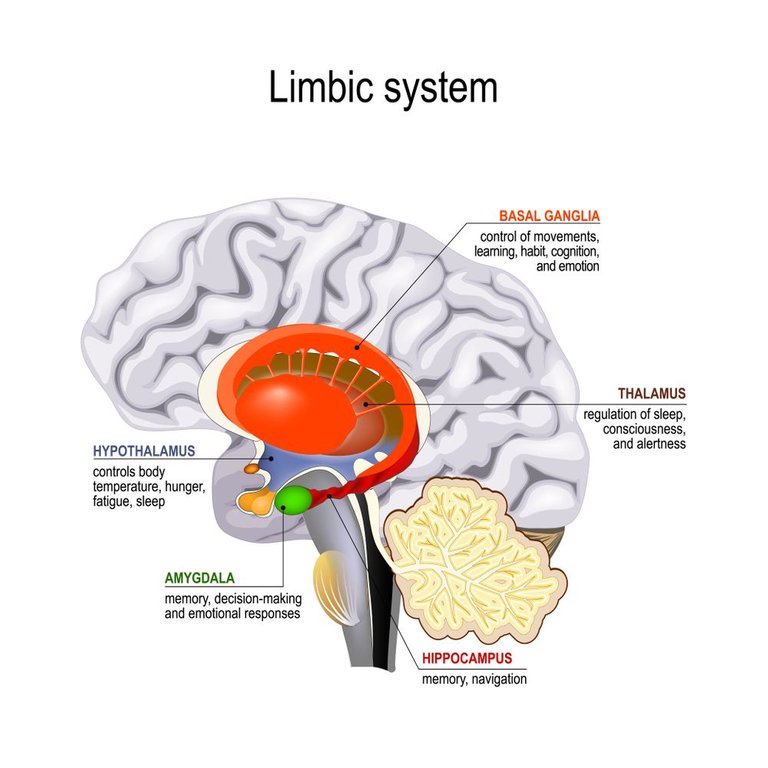 Limbic System (source)
"Your limbic system is an ancient collection of brain structures located deep within the brain. The limbic system is the emotional part of your brain that processes the sense of smell, stores highly charged emotional memories, and affects all sleep and appetite cycles, moods, sexuality, and bonding." - You can't think your way out of PTSD
The limbic system is responsible for the feelings and reactions associated with fear, clear thinking, decision-making, and memory. For individuals suffering from PTSD, all of these actions may be dysregulated. When the fight and flight response is in overdrive, memories flood the mind and you can not think straight. You may become terrified or easily angered.
Chronic dysregulation of the fight or flight response in the amygdala can lead to functional impairment in certain people who have been psychologically traumatized. It is believed that the chronic PTSD brain may be physically damaged.
Medications and talk therapy are often not enough to restore this dysregulation and many that suffer with this crippling disorder give up. Hence the need for a treatment option that could offer long-term relief. The length of someone's response to SGB is completely individualized. Everyone is different.
Stellate Ganglion Block
"The Stellate Ganglion Block (SGB), a widely studied and highly effective procedure that can "reset" the brain's overactivity to its pre-trauma state." - Stella Center
The theory behind the SGB is that the fight or flight response in the amygdala can be rebooted in order to calm the overactive traumatized brain. Research indicates a dual treatment may be necessary for some individuals with PTSD. Their hypothesis was that patients who fail to improve after a right-sided block will report significant improvement following a left-sided, dual treatment.
The Successful Use of Left-sided Stellate Ganglion Block - Military Medicine
My Experience with SGB
I can definitely report a sense of calm in my mind and body. My chronic pain is more manageable. After my right-sided SGB in November, I noticed a marked improvement in my energy levels. The time between the right and left block should have probably been sooner for me. I tend to procrastinate a lot.
The left-sided SGB went perfectly. I'm not gonna lie, I was very nervous the 2nd time. It was so worth it. My mind is clear. I'm communicating more effectively and able to better focus on important tasks. The movie of my life on loop in my head has stopped. It's finally quiet.
I often joke with my IT friends about wanting to download that movie file and delete it. Unfortunately, this file can never be deleted. It is burned into my memory. The good news is, the movie has stopped and a new one is now in production. I have many new memories to make.
We all do.
From this day forward, let's focus on the present and prepare for the future. The past is over and can never be changed. I'm ready to climb some more mountains. Hiking is one of my favorite outdoor activities!
Holistic Activities for PTSD
A holistic mind-body approach is outlined in the book The Body Keeps the Score by Dr. Bessel van der Kolk. This author is known as one of the world's foremost experts on trauma. He suggests certain activities that have been proven to calm the limbic system as well as reduce the symptoms of PTSD:
listening to music

playing a musical instrument

meditation

practicing mindfulness

practicing yoga

physical exercise
Peace be with you my friends 😇
Update:
I realize that many may not have a clear understanding of clinical research. As a clinical laboratory technician, I will try my best to explain. With human studies the numbers count. We need hundreds of subjects for statistical analysis, because everyone is different. With animal studies, the subjects are considered the same and a smaller N value is sufficient.
Most preliminary human studies have a low number of subjects. It's not easy to get consent for clinical trials or find enough people to participate. Quite often, when you read a publication, the results are not always conclusive and more research is required. I found a more recent review of the literature to add as a reference.
Stellate Ganglion Block for Psychiatric Disorders: A Systematic Review of the Clinical Research Landscape
While most individuals with PTSD will report significant improvement after one right-sided SGB, there are a few that will require a 2nd treatment, either on the left or the right. Those individuals may have had a much longer, more intense traumatic experience than others. My experience spans decades. I needed the second treatment. I chose to have the left-sided SGB the second time because of the current research. It was my personal decision.
We have no idea how long the results will last, but let me assure you that I had run out of options. I have tried numerous medications and hundreds of hours of talk therapy. I needed some relief in order to live my life. I am not saying this treatment is for everyone, but it has certainly given me my life back.
Please understand that this is not a stand alone treatment. I must continue talk therapy. I do have one medication that I use for break through anxiety and sleep. It is an anti-histamine that has been well researched for these symptoms and I can take it as needed instead of everyday. I hope this explanation helps. Peace!
Sources: