HL-60 cells transfected with RFP tag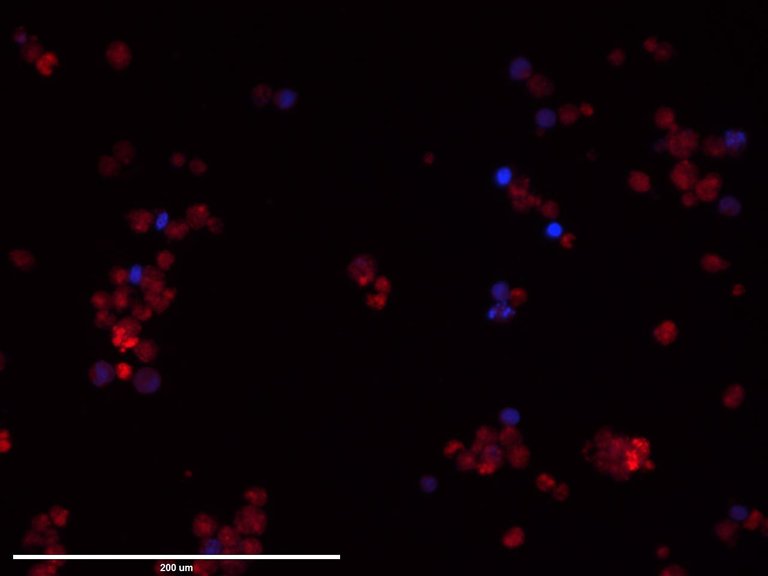 Transfection of Human Leukemia Cells
I've been working on transfecting this human leukemia cell line since last year. I started with electroporating the DNA into the cells. This method did not work, as the cells died rapidly over a 3 day period. I am now using a lipid based method with Lipofectamine that is much gentler. The transfected cells lasted more than a week this last time!
I'll be starting over with a new vial of frozen cells for the next transfection. The cells that were transfected previously were in their 7th passage. As cells are passaged over a long period of time, they begin to act differently.
After several weeks, they may start to differentiate into the cell type they where originally meant to develop into. You can also induce differentiation with certain chemicals such as All-Trans Retinoic Acid (ATRA) or Dimethyl Sulfoxide (DMSO). I eventually want to differentiate these transfected cells chemically, but right now I'm just hoping for a stable transfection.
History of HL-60 Cell Line
HL-60 cells were isolated from a 36-year-old, Caucasian female with acute promyelocytic leukemia. These cancer cells are thought to develop from cells that would have become neutrophils, or granulocytes, a type of white blood cell. Neutrophils are short lived and can become easily activated into netosis or cell death.
Acute promyelocytic leukemia (APL) is an aggressive type of acute myeloid leukemia and involves a somatic mutation of two genes located on Chromosomes 15 and 17. Acute promyelocytic leukemia: from genetic lesions identification to molecularly targeted therapy
Acute myeloid leukemia (AML) starts in the bone marrow (the soft inner part of certain bones, where new blood cells are made), but most often it quickly moves into the blood, as well. Most often, AML develops from cells that would turn into white blood cells (other than lymphocytes). - What Is Acute Myeloid Leukemia (AML)?
Fluorescent Microscopy with EVOS FL Auto Imaging System
The image above shows HL-60 cells more than one week after transfection with a plasmid carrying the genes for our protein of interest and a red fluorescent protein tag. Once I realized the cells where dying after a week, I fixed them all with 2% paraformaldhyde and stained them with Dapi (blue) to visualize the nucleus.
You can see in the photo that there are not many cells that stained blue, which means they are not alive. Purple indicates live transfected cells and bright blue indicates live untransfected cells. The red fluorescent protein tag is still intact on the surface of dead cells.
Image captured on the EVOS FL Auto Fluorescent Microscope.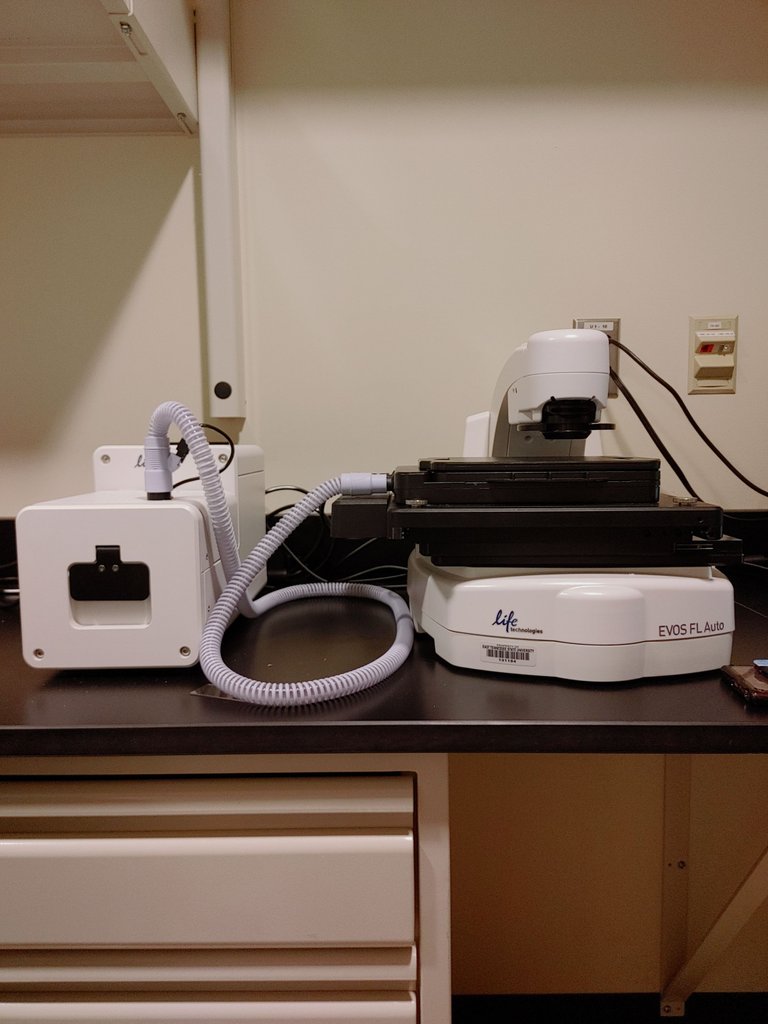 photo taken with my cellphone
Stable Transfection?
It may turn out that this transfection is just not stable and I'll have to experiment on the transfected cells within a few days. I'm hoping that starting with a new vial of cells will make a difference in the stability so that I can start growing and freezing them back for future experiments.
The goal is to compare the experiments with these transfected cells to those with healthy human neutrophils as well as sepsis and infectious disease patients. All of our sepsis patients have shown an increase of a certain pattern recognition receptor for fungal elements.
By overexpressing this protein on the surface of HL-60 cells, our hypothesis is that they act just like septic neutrophils. These transfected cells could be a model for sepsis. The ultimate goal is to determine if this upregulated protein in sepsis is a biomarker.
More in a couple weeks when I repeat this experiment again. Let's hope it's the last 🤞
Peace!
Sources: