Imagine the following scenario. You're a dedicated student, practitioner, or researcher who diligently spends many hours pouring over data, analyzing them, making sense of the results, then writing detailed scientific reports. At some point, you'll need to come up with visualizations for publication and presentation. Through your visualizations, you will convey ideas, theories, hypotheses, experimental frameworks, variables, analyses, results, and so on. This is the moment when you explain to the world your work and what it means for society at large. The last thing you want is for people to end up confused in a morass of scientific jargon and unable to make heads or tails of your work. You want to present your best work.
Edward Tufte has discussed the elements of good design when it comes to presenting qualitative and quantitative data. Designing good scientific visuals is as much a science as it is an art. There's a reason why graphics and information design have become their own independent fields. They not only require extensive knowledge of artistic and aesthetic elements but also knowledge of things like the way the human nervous system processes visual information. Unfortunately, not all scientists and researchers have the means to hire graphic designers for their papers or presentations, so they adopt a do-it-yourself attitude that may or may not work. Is there a way to improve the process?
Other questions we can ask include, where do the ideas for great visualizations come from? How do you know if your work is any good? This topic is not discussed in Tufte's books. The source of creativity is one of those esoteric subjects that still eludes us. Oftentimes, a scientist working on a visualization will simply get inspiration from others in their field. Maybe they'll just feel their way around it like in the good old days when all you had was an overhead projector and no need for fancy illustrations. After all, a serious scientist doesn't have time to play with pretty pictures. Yet, a good visualization is more than just pretty pictures, it's an interface between humanity and the world of nature, as mediated by the researcher's work and understanding.
I recently came across the following Twitter post from Space.com
So, this got me thinking, could I recreate a diagram in Stable Diffusion 2 (SD2) that shows this haunting glow that surrounds our solar system? For those of you not familiar with Stable Diffusion, this AI-driven program allows you to create 'art'. I'm a beginner and have limited knowledge of the system, but I was able to install it and test it out in my machine. To generate an image, you need to prompt engineer, which is basically defining the parameters of your image to get the results you want. For example, I could tell it to generate a magical forest full of fairies and with a few additional parameters, I could generate different scenes based on this prompt. Now, it's one thing to generate an artistic scene, but creating a scientific illustration is quite another. There isn't as much room for 'artistic' creativity because the point is to convey information in a clear manner. There is also text and diagrams that need to be included. To the extent there's a narrative, the story needs to be clear, well organized, easily grasped, and aesthetically pleasing to motivate and facilitate understanding. So could I use SD2 to generate a scientific illustration based on that recent finding regarding the glowing cloud around our solar system?
I tried different parameters and different words in the prompt. I did not faithfully tracked the changes that I made because I wasn't planning to write a report, but since here I am doing just that, I will discuss what changes I thought made a key difference.
I began using this prompt: haunting glowing halo around the solar system, detailed scientific illustration
The prompt further contained all the usual cajoling of the AI to generate a detailed, ultrasharp, polished, etc image in this or that style with this type of lighting and so forth. I generated a total of 6 pieces, and here are the three I found most interesting.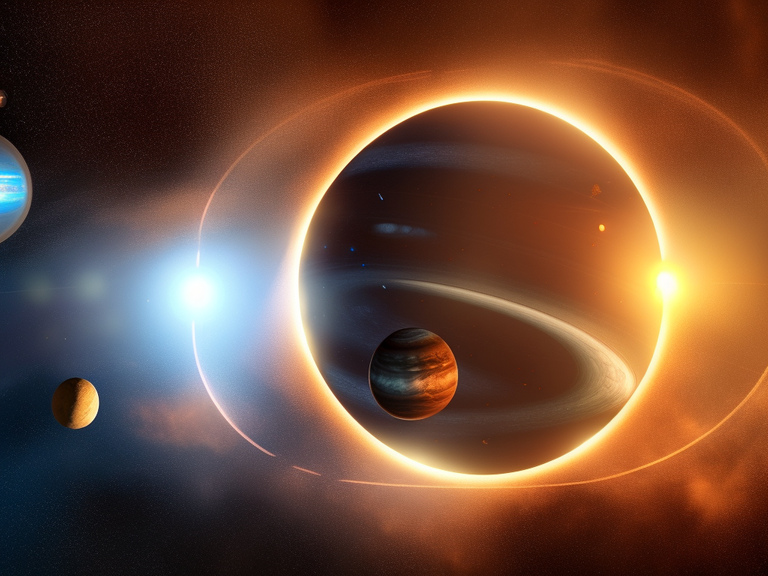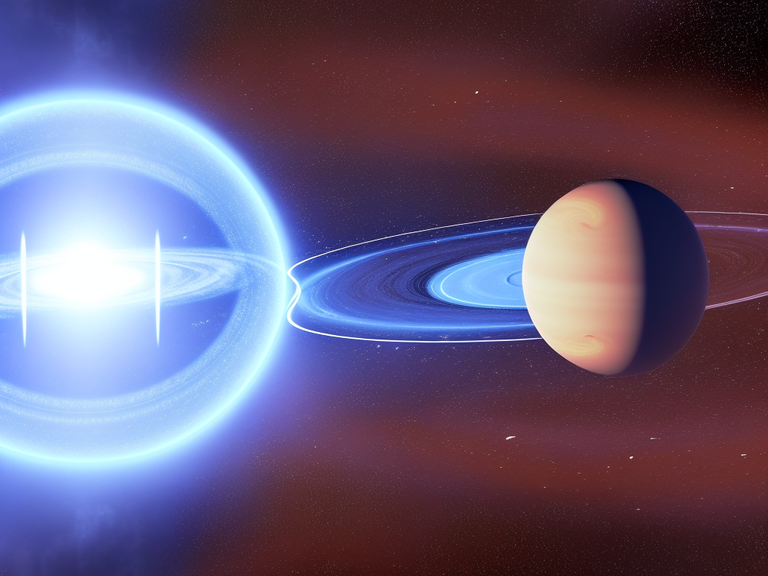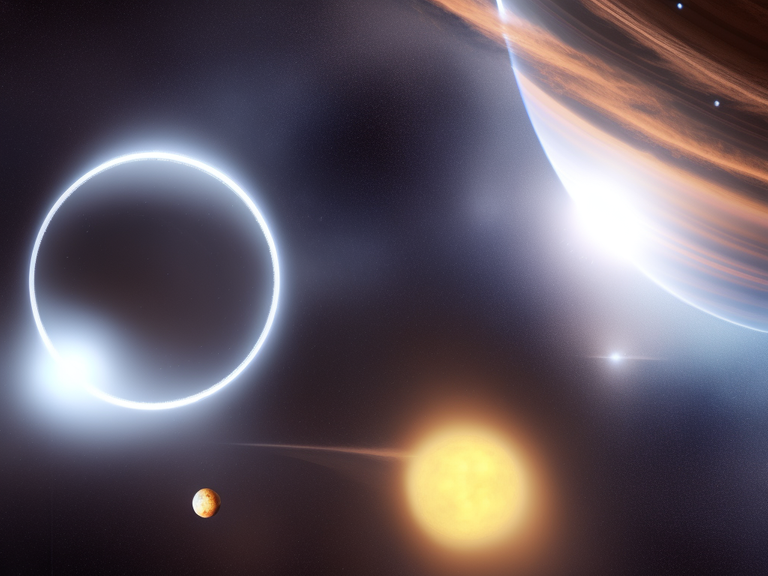 They are certainly much more exciting than a diagram and do contain a haunting glow, but it wasn't what I was looking for. So I adjusted the prompt to include the following words:
diagram of haunting comet dust cloud around the solar system, accurate scientific illustration of the sun and planets, draw orbits
The following are two of the six images generated.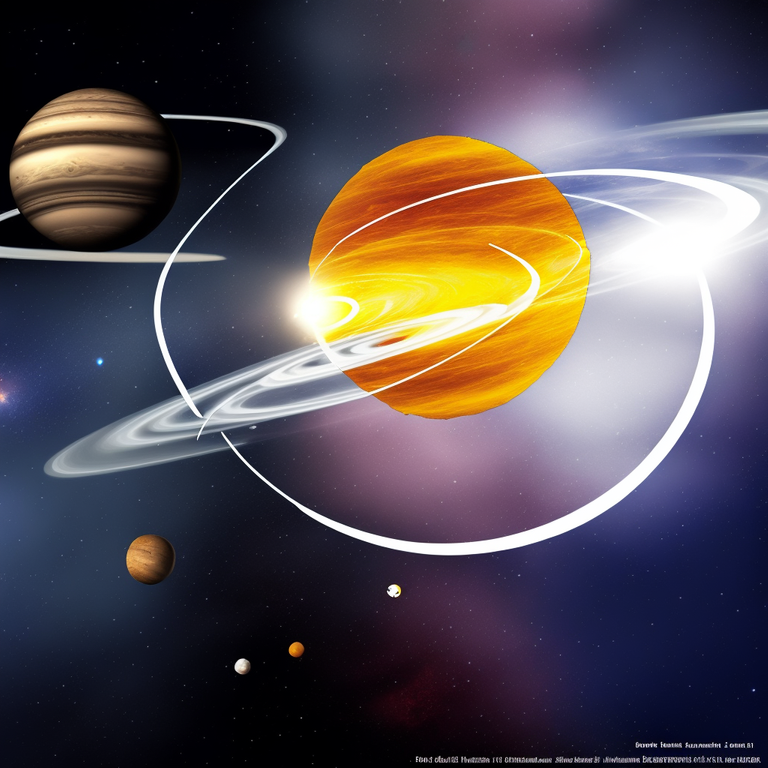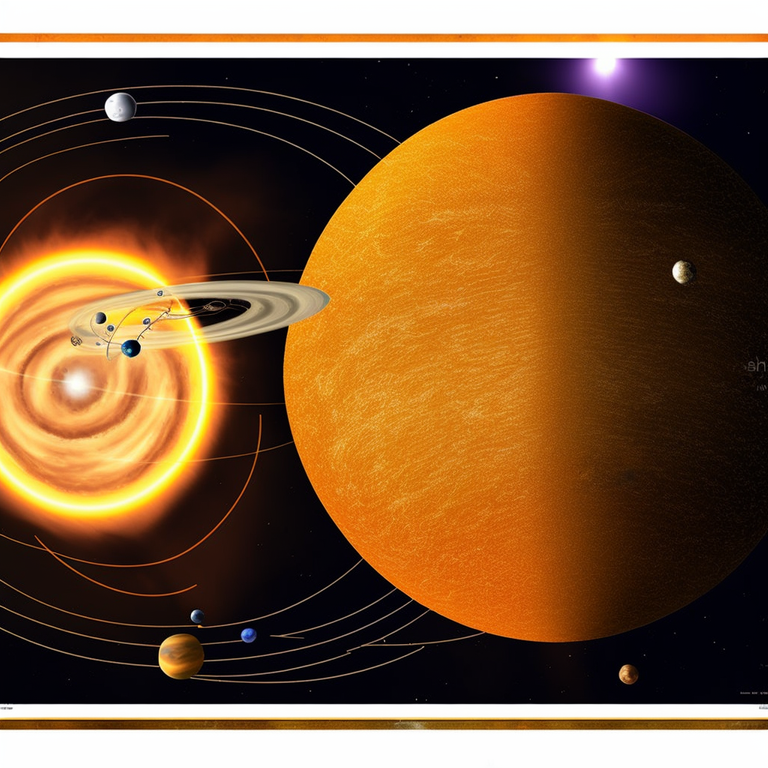 This was more like it. The images began looking more like a scientific visualization with the text and drawn orbits. It still had a habit of showing me a large close up image of the planets. So, I used another function called negative prompt, which refers to words or elements that you do not want to see in the generated image. I added close up of planets as a negative prompt and left everything else intact.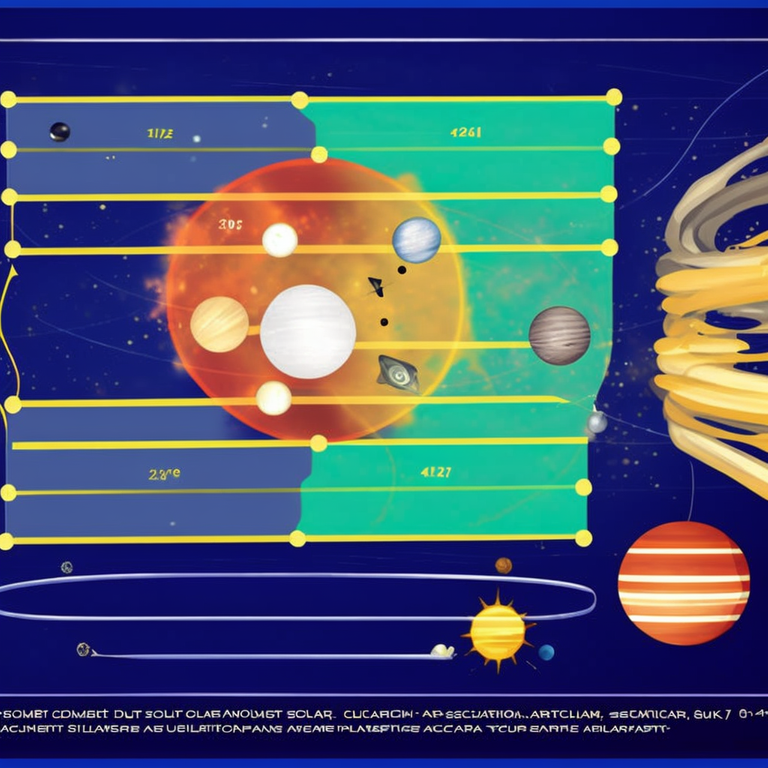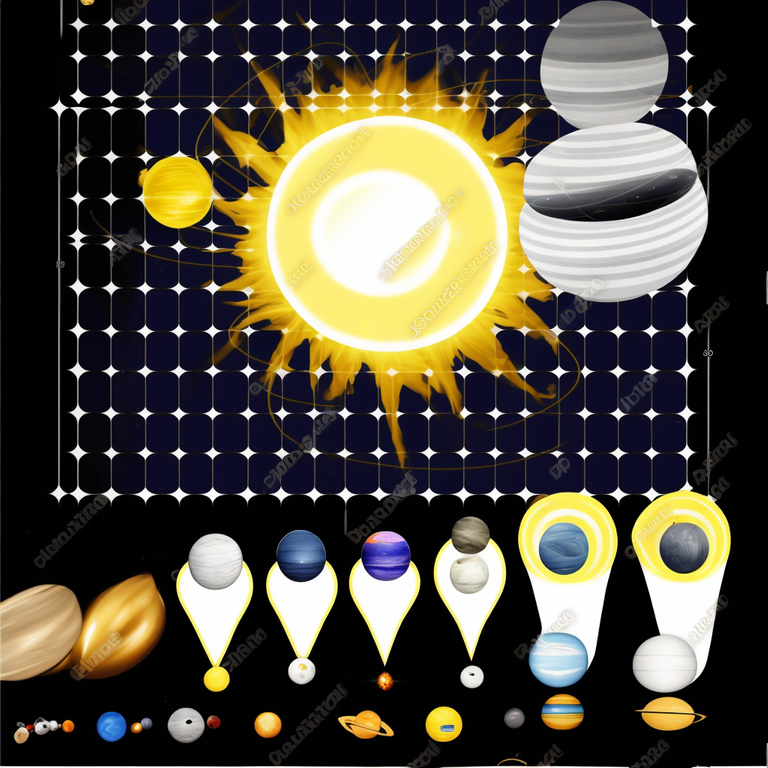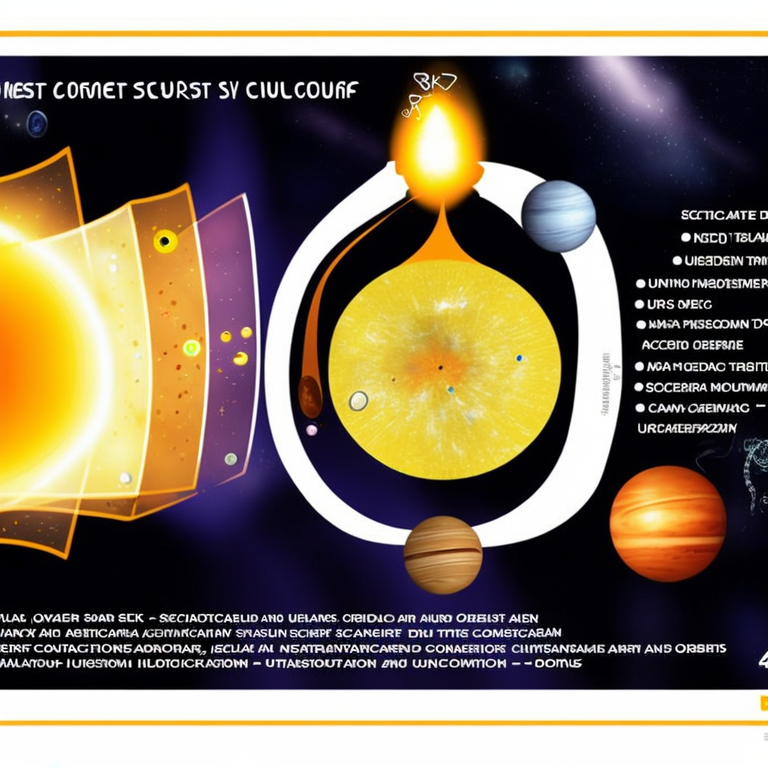 These diagrams look much more scientific. Naturally, the AI does not understand what I mean by a haunting comet dust cloud around the solar system, but the images are not too bad. I can see how I could use this tool to generate ideas for scientific reports and presentations. Will it ever get to the point when we can actually use a prompt based on real world data? Take a look at the following image generated in the preceding set: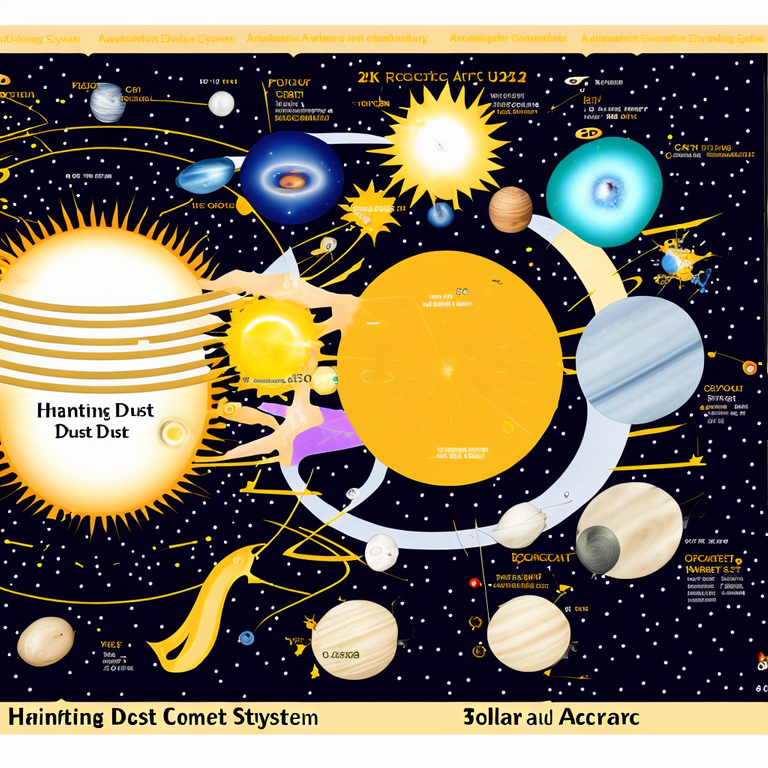 Notice the words on the sun image. They appear to say: Haunting Dust. Along the bottom, we can make out what appears to say: haunting dust comet system. The AI has actually incorporated linguistic symbolic elements (words and phrases) into the image based on the prompt. It's not outside the realm of possibility that one day scientists will be able to just feed a research paper into the AI, and it will generate the visualization that most accurately and aesthetically reflects the findings.
I further prompted the AI to use the English language and also increased the number of steps to generate the image. While it produced crisp text, the symbols were not recognizable as English.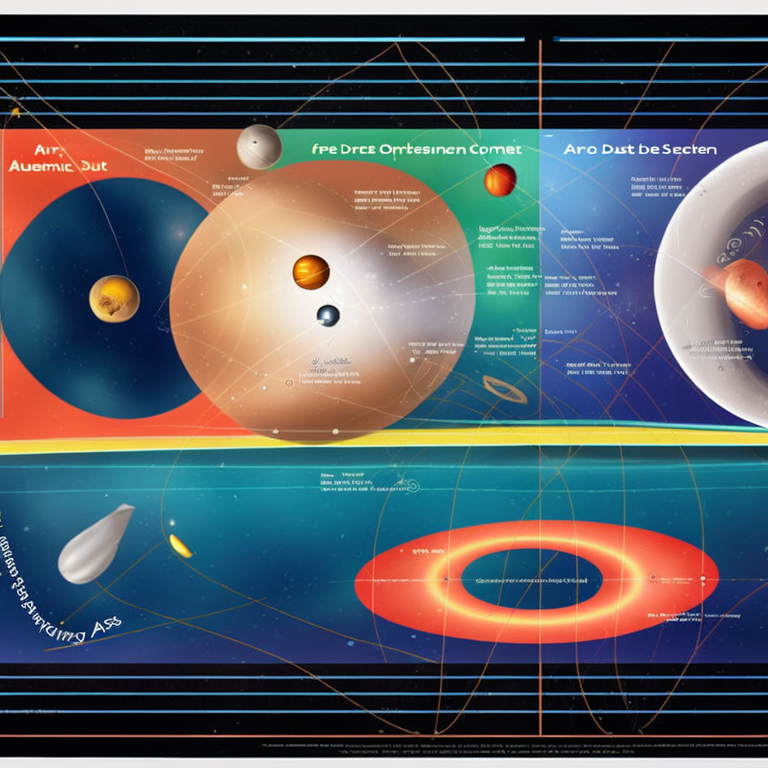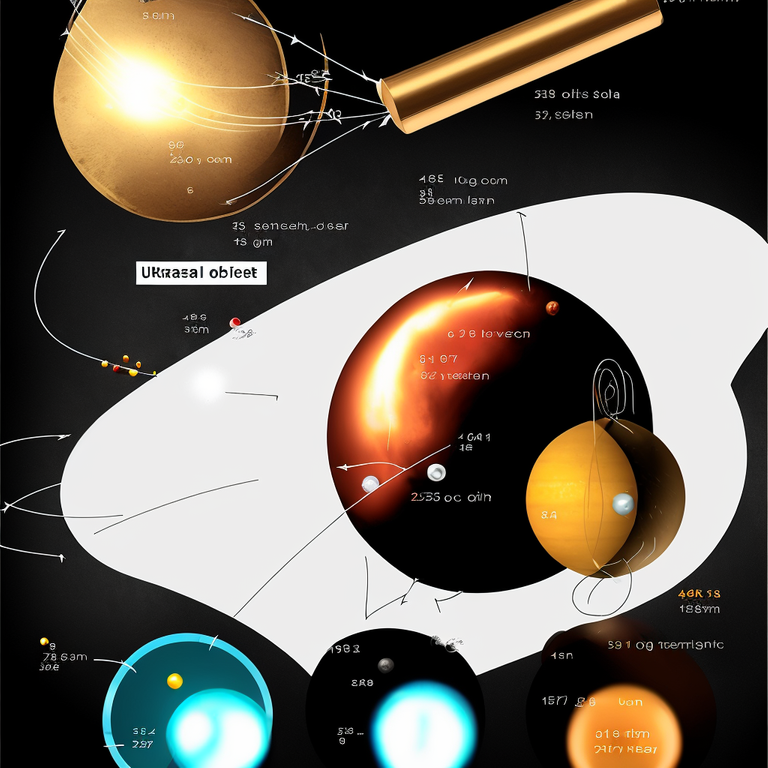 I think this one is about the multiverse. Possibly maybe.
There's a lot of controversy surrounding AI Art at the moment, but this issue goes beyond art. Artificial intelligence will touch many aspects of our lives. It already has in many ways. Will it lead to humanity's demise? Probably. But in the meantime, we can use it to cheerfully make ourselves smarter, and just maybe we'll outwit whatever evil sentient intelligence is generated by the ghost in the machine.

Images generated in Stable Diffusion by @litguru
---