It has been a long time I didn't post on chain. Actually, it has been a long time since I didn't get any interaction on any social media at all (with a few exceptions on the Twitter-sphere because this one is installed on my phone). However, every single excited state must undergo a transition back to its fundamental counterpart after some moment.
Whereas I could simply say in clearer words that vacation time is over, that would be a lie. My holiday break is over since August 20th. During the last 15 days, I was back to work with a lot of things to do… Science and teaching duties indeed never sleep for very long. Because of this situation, I was without enough free time to reconnect with my online life before today.
Instead of resuming my usual posting habits with blogs about particle physics and/or cosmology, I decided to give some news about my summer. For the rest, I am therefore afraid that waiting for the week after HiveFest may be in order… I nevertheless provide some information about the topics of my next few blogs in the second part of this post, for the curious ones.
In the meantime, here is a picture of where I spent most of my vacation. Can you guess where it was? As a hint, I will say that the lake that can be seen below is where the garden ends. More seriously, the answer is provided below.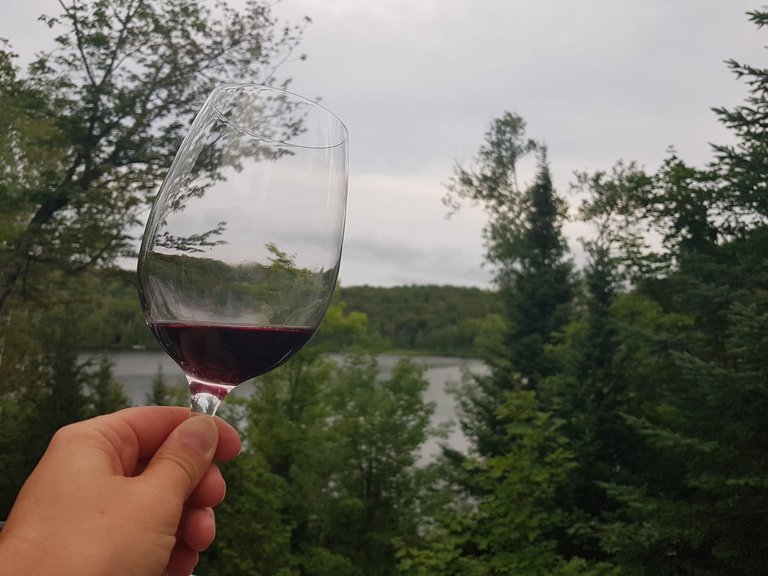 [Credits: @lamouthe (August 2022)]
So, I disconnected from this realm on July 24th in a state of complete exhaustion (last academic year was a real disaster), and I almost directly flew to North America. I spent three weeks there with the family. We stayed in the Laurentides, a bit north of Montreal in Canada, and organised a road-trip to Maine with some camping (@riverflows: we upgraded our tent to a four-person one; as I don't have any picture of it without the kids, I however must skip this).
This consisted of three weeks of calm(ish) and relaxing time with very little computer interactions. We enjoyed moments with my in-laws, and we got a lot of outdoors activities: canoeing, kayaking, hiking, etc. In addition, we organised several visits to bigger cities, Portland and Montreal, as well as one to New York City as we had a 10 hours of layover there on the way back to Europe. In other words, we had a three-weeks trip with a variety of activities of all kinds.
I must also emphasise that the weather was very pleasant. After temperatures skyrocketed in Paris right before leaving (40/45 Celsius in the office for instance), having three weeks in a row below 30 Celsius was definitely excellent!
For those who would like to see more pictures and to hear more stories about my trip, I must confess that there are very few chances that my @lesmouths-travel blog gets resurrected (sorry @documentinghive, and probably sorry @pinmapple too). I am already seeking more free time, and we are only on Sep 6th! However, who knows? Maybe I will change my mind (for instance in the train to Amsterdam, on my way to HiveFest)
In the meantime, please find below two pictures of skyscrapers, one in Montreal and another in New York City :-)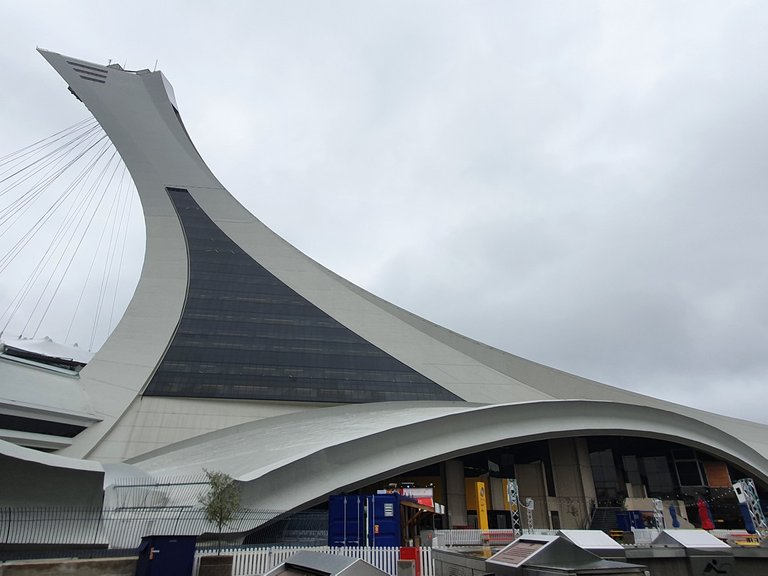 [Credits: @lemouth (August 2022)]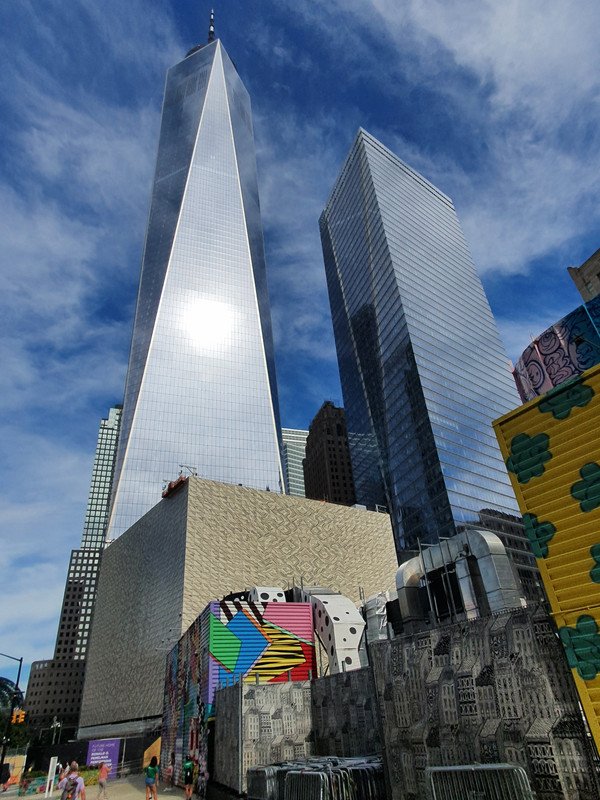 [Credits: @lemouth (August 2022)]
The break was a very good means to get back on track, although I can still feel that I get exhausted much quicker than I should. Is the damned COVID still there? I must confess that I am still a bit scared about that…
Anyway, I was welcomed by a stack of 250+ e-mails waiting for some answers (this number has been obtained after filtering all spam out), several on-going research projects waiting for completion (one got finally released on the web), and a bunch of grant applications are in the pipeline, some with very close deadlines. This is the reason why I didn't manage to reconnect to Hive before today.
However, now I can finally breathe! It is thus time to chat about STEMsocial, my science blogs on our chain, our Hive particle physics citizen science project and what could be expected for September! Of course, this includes HiveFest at which I will give a STEMSocial talk!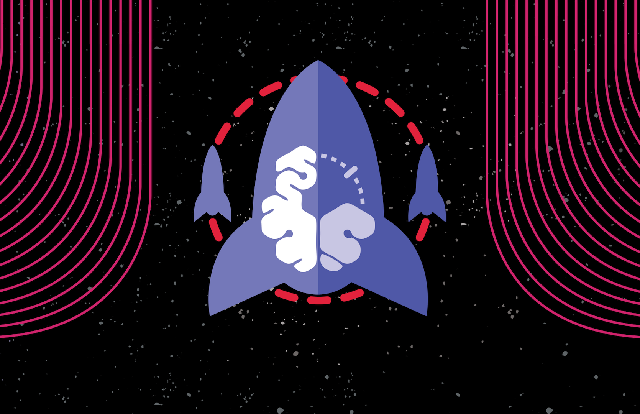 Curation activities on STEMsocial continued during the entire summer, thanks to our team that never sleeps (even when I do, they are super active), and our Discord server kept its usual level of activities (which is not much… but still). Therefore, kudos to @carloserp-2000, @eniolw, @gentleshaid, @iamphysical and @mobbs for this!
Yesterday, I managed to re-run the script dealing with sharing the curation rewards with our delegators, and I caught up what happened during the last 6 weeks. If you are one of our delegators, you can double check your wallet. We paid back everything that was due… Such a script is run manually, and it was thus in pause while I was away.
In addition, I had to upgrade our Discord bot (that we use for curation), as it got broken due to a Discord update that happened yesterday. In addition, the bot will have to migrate soon to another host, as our current host is terminating its service in a few days from now.
Finally, we are still struggling to find some help to develop our app. We have plenty of ideas in our heads, but we miss motivated hands (and time time and time). Please reach us out if you are interested in contributing to create a Web3 environment where STEM enthusiasts could communicate without the need for a third-party. I will definitely discuss all of this (and more) at HiveFest!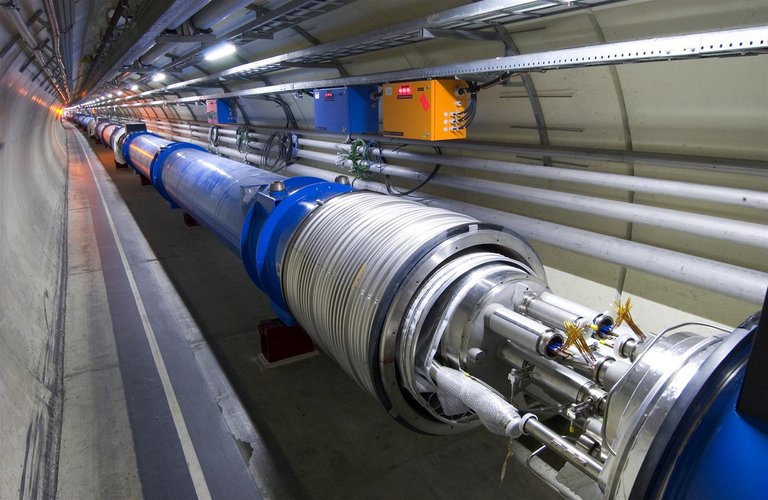 [Credits: CERN]
For what concerns my personal blog, I will resume it soon, as promised earlier in this post. I published a couple of scientific articles right before the vacation time, and another one last week. In other words, this leads to three perfect topics for my next posts.
Two of these articles address how we could improve the re-interpretation of the results of the Large Hadron Collider (the LHC) at CERN in the context of models of physics not considered so far. The first article discusses how several sub-analyses of a given LHC analysis could be combined for a better quantitative extraction of the sensitivity of the LHC on a model, and the second one presents a technique allowing for the determination of the most optimal way to combine analyses not necessarily independent (in such a process, we must be careful with error correlations). Funnily enough, it is associated with a new software that we coined TACO.
The last article discusses calculations made for the first time and that concern the production of hypothetical particles called leptoquarks. Leptoquarks are very exciting beasts for a few dozen months, as several anomalies in data could be explained by their effects.
Finally, I am super motivated to resume our citizen science project on Hive. I recall that within this project, some Hive community members managed to handle calculations never done so far in the entire field of high-energy physics. I will start writing some material for a new episode a bit later this week. Therefore, @agreste, @eniolw, @gentleshaid and @travelingmercies: be ready!
Obviously, anyone who is interested in joining us could still join us. It should not take too long to get up-to-date. There are currently five episodes available, and it suffices to browse the tag #citizienscience to get all information.
Voila! I stop writing here for today. Let's restart slowly. In the meantime, please stay tuned for my next blog for something with much more science! It will be about citizen science, as promised!