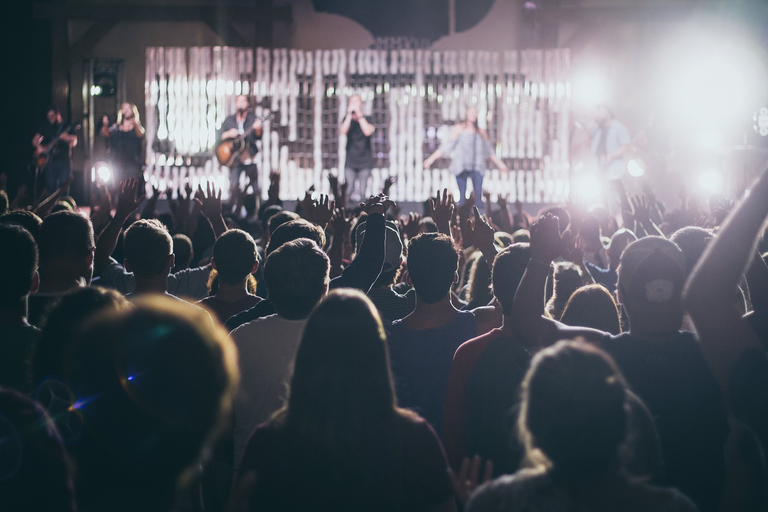 A live band concert. pixabay
One time, there was an open-ground concert near our locality. A local radio station sponsored the event and brought in a mobile disco in our local plaza. Since I live near the concert grounds, I was not able to have a good sleep. I was burden by such an event since I had an early work schedule the other day; but, it was not the reason that bothers me the most. It was the vibration at my room's glass windows, which resonates with the music beats. It was astounding and fascinating to watch. I asked myself: "How about make use of the sound to produce electricity?".
I have a particular interest in non-conventional ways to generate electricity. I am intrigued with the concept of electricity from sounds. We have microphones that convert audio to an electrical signal for music or recreation. Can we base our energy harvester on it? In 2015, Garg claimed that noise or sound is a viable source of electricity. He emphasized that we need to find the right transducer to harvest it. Garg's research suggests the transducer works similar to speakers and transformer. We can apply it to cars so that we can turn car horns into electricity.
We have a working device in microphone that converts electricity from the sound. A microphone is a transducer that changes audio information to electrical signals. It synthesizes vibrations from our voice into an electric current, which we amplify using an electronic amplifier. In 2014, Gupta suggested two practical ways for converting sound to electricity. We can use Faraday's Law or piezoelectric effect to design our harvester.
Gupta stated that we accomplish it by placing a thin layer of the diagram that vibrates to sound waves. We attached a conductor to the diaphragm, which is in between magnetic poles. Once the diaphragm oscillates with the magnetic poles, we generate electricity. He added that piezoelectric transducers are a viable means for harvesting electricity from a sound. Piezoelectric materials give off a small amount of voltage proportionate to the sound vibration.
Young students from the Philippines invented a harvester that is inexpensive and able to generate electricity from noise. Their gadget reverses the function of a speaker. Instead of turning sound into electricity, they used it to produce electricity. In 2019, these students won a Silver Award during the Young investors' Challenge in Malaysia. Their gadget is handy in heavily noise polluted areas like roads and construction sites. Their model follows one of the suggested ways of Garp.
In an interview, the student revealed that they used the diaphragm of a speaker to sense sound waves, and when it, the magnet and coil interact to produce electricity. They stored the electricity in a power bank. The gadget cost 200 pesos or 4 dollars which they spent much to purchase the capacitors. Cesario Bacosa and Mia Baldovino, still from the Philippines, created a model for an energy harvester for noise. They used an electric microphone and Arduino in their device. The microphone detects the noise in the environment and translates it to usable electricity in the power bank.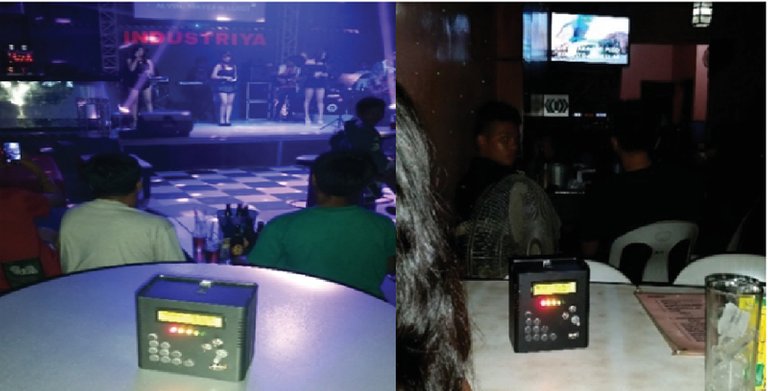 Bacosa and Baldivino experiment. KnowledgeE, Creative Commons
Bacosa and Baldivino records 12,589 mV (79-82 dB) at comedy and KTV bars. At public transport, they registered 8192 mV (79 dB) while 282 mV (49-74 dB) for schools and houses. They observed that the sensor detects 43 dB and can measure over 74 dB. At above 74 dB, the device consistently produces a peak voltage. They suggest, producing usable electricity, the noise level must be higher than 80 dB. They added that the louder noise and the longer the exposure to it charge the power bank faster.
In 2013, Dr. Joe Briscoe, a researcher from London, developed a device that generates electricity from sound. He used the piezoelectric properties of zinc oxide (ZnO) nanorods to extract energy from vibration and movement. He explained that noise around 70 dB has a measurable response. Briscoe envisioned charging the mobile phone using everyday background noise.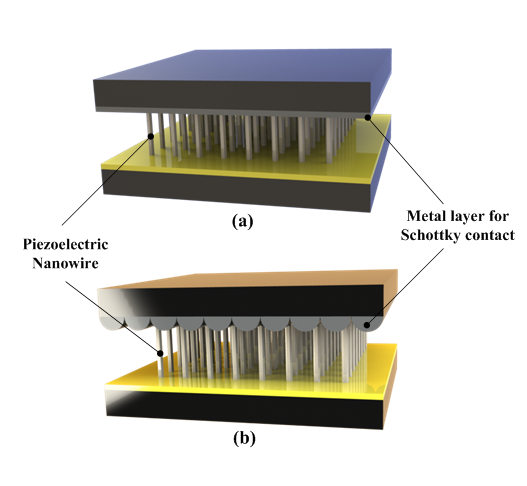 Schematic view of typical Vertical nanowire Integrated Nanogenerator. wikimedia
Dr. Briscoe explained that embedding the device in our phones enables us to converts vibrations from our pocket or car dashboard. He added that we apply it in different ways. We can put it on our bags and wallet or coat our phone case with piezoelectric material so that we can tap the vibrations from tables on trains or from walking.
Other researches predate Dr. Briscoe's study. Cha and his team developed piezoelectric nanowires that are sensitive to sound. They used the piezoelectric properties of ZnO. The nanowires produced 50 mV with a sound intensity of 100 dB. Practically 50 mV is too small to be used. They suggest that a new piezoelectric nanomaterial raises the amount of voltage in the nanowires. Most of the recent research focuses on discovering new piezoelectric nanomaterials with a higher piezoelectric coefficient.
In 2019, Farghaly, Nemeida, and Salah implemented a noise utilization device to reduce energy consumption in street lighting. They used a piezoelectric transducer for their device. They recorded 97.7 dB, which is the highest on a working day, while the lowest noise level is 60.1 dB. For traffic noise pollution in Alexandria City, Egypt, the noise level reached 90.4 dB with a minimum of 60.1 dB. Their device produced 0.024 watts in an hour. They suggest that at least 2483 transducer units to maximized energy harvesting. One unit of transducer costs 265 dollars.
We can harvest electricity from sound by using either a coil and magnet or piezoelectric transducers. There is electricity contained in sounds, but in a practical sense, the electricity is too low. What our ear perceives from train engines or pneumatic drills is a hundredth of watts per square meter. We need a lot of transducers that effectively convert sound into a usable amount of electricity.
When we convert sound into electricity, we are dealing more with vibration rather than sound. There is a strong relation between vibration and medium so that we can maximize harvesting usable energy. We can't power a city with sound or noise, but we can power up small and mobile devices. Can we get usable electricity from sound? Yes, we can, and it is promising.
References