The Effects of Taking Tetracycline 250mg in Pregnant Women. The Mistake I Wouldn't Let My Wife Commit Herself
There are many drugs that most of us are ignorant with them. Sometimes we make a lot of mistakes by prescribing drugs to people which aren't being ordered by a Doctor. To many of us, once we used certain drugs and it helped us to relief our pain, we would be prescribing the same drug to our friends when they experienced the same pain. This is obviously very bad practices in the sense that the problem might be similar pain but it could be different problem altogether. Secondary, we are made up of different immune system, the kind of drugs that would help me survive certain disease may not help me. So alway it's advisable to visit hospital for a Doctor to diagnose you to know the kind of the problem so that the best drug is given to you.
---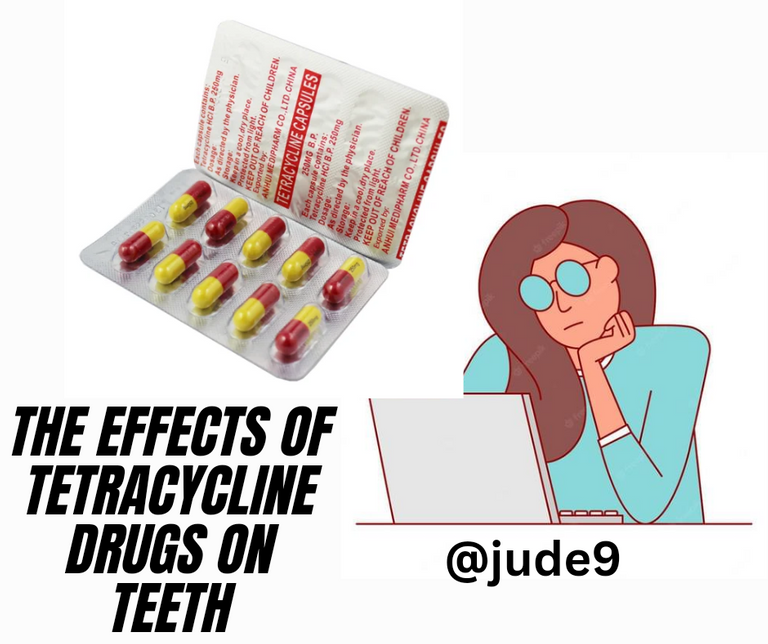 Image designed using Canva app
---
My little baby of age 2 and half years is a victim discoloration of teeth. This is rather not dental fluorosis but this is as a result of a mere carelessness unable to coach my wife for her drugs intake during pregnancy. My wife who was pregnant at that time was taking "Tetracycline 250mg" frequently throughout her pregnancy. As you all know, it's most of our character as men when our wives are pregnant, we aren't able to monitor them when they are taking certain drugs. Only few men are able to even escort their wives to hospital and show more caring of their pregnant women. This mostly due to the fact that we don't often have tine for our wives due to maybe pressure of work. The same thing happened to me when I wasn't checking my wife the kind of drugs she received from maternal care. Not knowing that they have been prescribing more Tetracycline 250mg for her take. She had not idea about the side effects this drug could cause.
---
It was later when she delivery successfully after six month when the baby's milk teeth were appearing we saw that her teeth were becoming yellowish in colour. We never understood this occurrence not until later that we did our research to find out that it's due to more intake of Tetracycline drugs. Even though she could have taken, but she was supposed to have stopped during the trimester stage. So, one effects of more intake of Tetracycline drugs is leaving stains on teeth when can later weaken and wear off the enamel. As we speak, my baby's incisors and canine all have been affected. She is 2 and 1/2 years now but all the incisors have been wear off and she finds it very difficult to cut food or tear meat.
---
For my studies the permanent teeth wouldn't be affected when they emerge since they would new set of teeth that would appear. So, the discoloration of the teeth isn't permanent. But my worries are that she has been affected with stigmatization by her peers who have their normal white teeth. Chewing of certain foods aren't been permitted. This has really led me learn a lot of lesson on the usage of certain drugs. The worse thing that my wife did of which I was blaming her was that when the drugs finished, she could go to a nearby pharmacy to buy some of this Tetracycline drugs to take. This was really very bad thing which she never told me not untill the problem reflected on our baby. I think this is a great lesson for me.
---
---