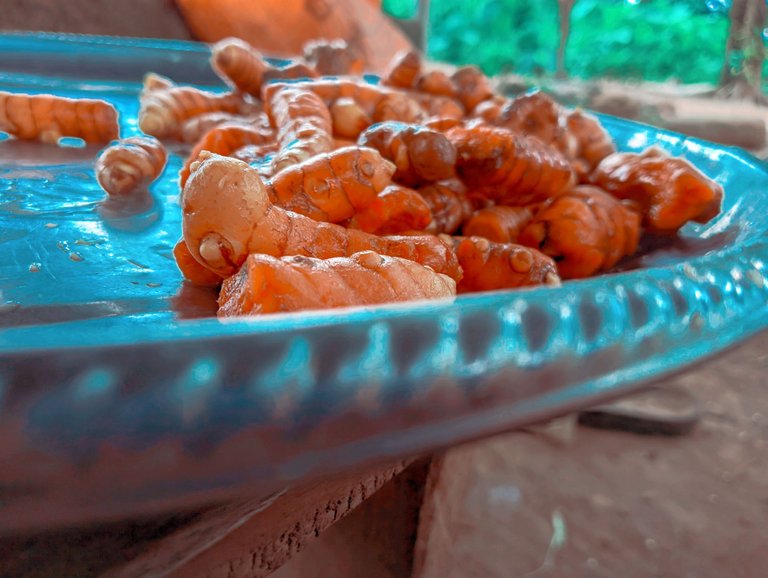 Tumeric in a tray. Photo captured by me, using Oppo mobile device
It was by chance that my younger ones, who were out harvesting corn because it is rainy season and farming has already begun, discovered a clump of Tumeric plants not far from our farm yesterday. They made the decision to uproot a few and bring them back home to use right away. My interest in the medicinal properties of these spices was piqued, so I set out to conduct research and publish my findings on the subject. As a last note, I just happened to acquire this data today, and I hope you enjoy your reading on this topic.
These days, there is a significant quantity of turmeric available all over the world. Coffee shops are employing this bright yellow spice in a variety of their food items, including turmeric lattes, turmeric poached eggs, turmeric smoothies, and even chocolate bars. Let's take a step back and analyze what exactly it is about this material that allows it to maintain its freshness for such an extended period of time, even though its bright yellow hue is very wonderful.
A Brief Overview of the Uses for Turmeric
Turmeric is a plant native to India and Central America. According to the National Institutes of Health's National Center for Complementary and Integrative Health, you're probably most familiar with it from its frequent appearance in Indian food (NIH). The root of turmeric, which resembles ginger in appearance, can be found in the produce section of your local grocery store.
Alternatively, you can buy it in the form of a spice combination, like curry powder, or ground as turmeric. Many health issues, including pain and tiredness, have been treated with turmeric in Ayurvedic therapy for a long time. Spices and religious rituals in Southeast Asia have been used for many years, according to the book Herbal Medicine: Biomolecular and Clinical Aspects. In truth, this practice stretches back to the region's earliest civilisation. In light of its recent ascension to the ranks of a superfood, turmeric is being used to cure disease and reduce inflammation.
What's the Difference Between Curcumin and Turmerir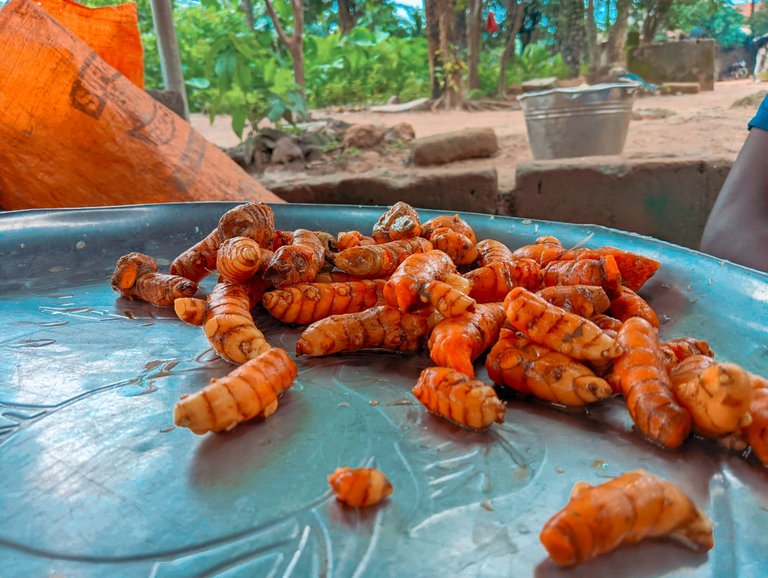 Tumeric in a tray. Photo captured by me, using Oppo mobile device
There are more than a hundred different chemical components found in turmeric. Curcumin, the active ingredient in turmeric, is the one that's getting the most attention. Curcumin, the molecule responsible for turmeric's vibrant yellow hue, barely accounts for 5% of the spice, according to a study published in the Journal of Medicinal Chemistry in January 2017. Curcumin is responsible for most of the health advantages of turmeric.
What Turmeric Does for Your Body
In one teaspoon of ground spice, there are 9 calories (tsp). According to the USDA's MyPlate guidelines, it has 0.3 grams (g) of protein and 0.7 grams (g) of fibre in a small amount, which is a lot for such a small amount. It has 1.65 milligrams of iron, which is about 9% of the daily value for this nutrient. Because of this, you probably only eat a little bit more than that. For example, adding just a tsp to a dish can make the whole thing better.
Not only is turmeric a vibrant and tasty spice, but there is a wealth of research suggesting that it may also have positive effects on one's health. According to a review that was published in October 2017 in the journal Foods, many of turmeric's benefits have been attributed to curcumin, the principal plant ingredient that gives turmeric its distinctive bright yellow colour.
The following are some of the potential health benefits of turmeric and curcumin for you:
Reduce the Pain of Arthritis
Because of the anti-inflammatory qualities that curcumin possesses, it has the potential to be a helpful treatment for inflammatory disorders such as arthritis. For instance, one previous study found that patients with rheumatoid arthritis who took a curcumin supplement of 500 milligrams twice daily for eight weeks saw greater improvements in joint tenderness and swelling than patients who took a prescription anti-inflammatory medication or a combination of the two treatments. This was compared to patients who took either medication alone or both medications together.
Stop or cure depression
A protein in the brain and spinal cord called Brain-derived neurotrophic factor (BDNF) that controls how nerve cells talk to each other has been linked to depression. People with depression have less BDNF in their bodies. Rats' BDNF levels went up after taking curcumin for 10 days, according to a study in the journal Behavioural Brain Research. In April 2014, Phytotherapy Research published a short study that found that people with the major depressive disorder who took 1,000 mg of curcumin every day for six weeks did just as well as those who took an antidepressant or a combination of the two.
Get involved in the fight against diabetes
Curcumin's anti-inflammatory properties make it a possible therapy option for inflammatory diseases such as diabetes as well. After 16 weeks of supplementing obese mice with type 2 diabetes with curcumin, blood insulin levels were reduced, according to a study published in Nutrition & Metabolism in July 2019. According to a review in Evidence-Based Complementary and Alternative Medicine, curcumin may also help prevent type 2 diabetes by improving insulin resistance, lowering high blood sugar, and reducing high cholesterol.
Is There a Risk to Consuming Turmeric?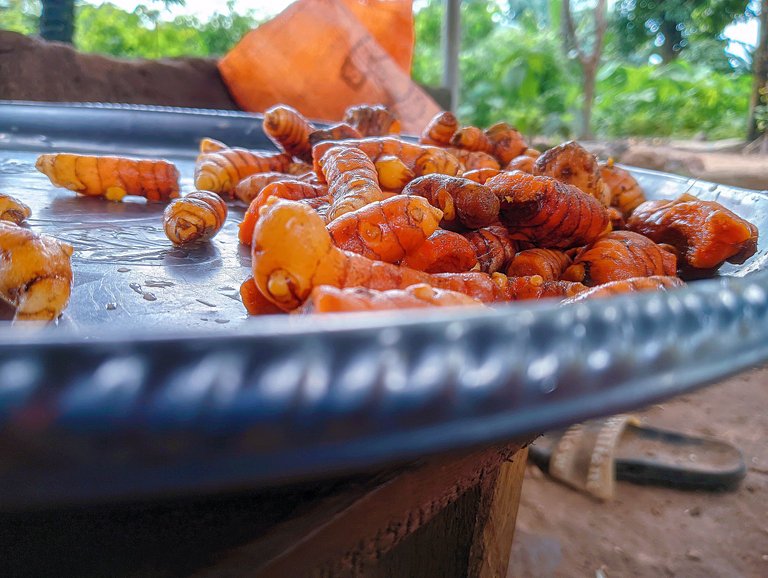 Tumeric in a tray. Photo captured by me, using Oppo mobile device
Taking turmeric in excessive dosages or for lengthy periods, however, may cause stomach irritation, according to the National Center for Complementary and Integrative Health (NCCIH). Curcumin was reported to cause diarrhoea, skin rash, yellow faeces, and headache in a small prior study of 24 persons who took 500 to 12,000 mg daily of curcumin.
Incorporating both Turmeric and Black Pepper into your cooking.
Turmeric has a number of potential health benefits, but unfortunately, your body has a hard time absorbing enough of it for you to experience those benefits. The good news is that combining it with another spice, specifically black pepper (Piper nigrum), may increase its effectiveness in the body.
When piperine, black pepper's major constituent and curcumin, are combined, the bioavailability of curcumin can be increased by as much as two thousand per cent, a previous study has shown. It has been found that piperine boosts the bioavailability of numerous nutrients by blocking enzymes that break down meals and other substances.
You should look for a supplement that contains piperine if you plan to use turmeric or curcumin for health reasons
---
That brings us to the conclusion. I want to express my gratitude to you for taking the time to read this post, and I pray that God will richly reward you.

Referencs
Migala, Jessica, and Lynn Grieger RDN, CDCES. "Turmeric (Curcumin): Uses, Dosage, Benefits, Side Effects, More." EverydayHealth.Com, www.everydayhealth.com, 28 May 2020, https://www.everydayhealth.com/diet-nutrition/diet/turmeric-curcumin-benefits-side-effects-types-more/.
"TURMERIC: Overview, Uses, Side Effects, Precautions, Interactions, Dosing and Reviews." TURMERIC: Overview, Uses, Side Effects, Precautions, Interactions, Dosing and Reviews, www.webmd.com, https://www.webmd.com/vitamins/ai/ingredientmono-662/turmeric. Accessed 31 July 2022.
Gunnars, BSc, Kris. "10 Proven Health Benefits of Turmeric and Curcumin." 10 Proven Health Benefits of Turmeric and Curcumin, www.healthline.com, https://www.healthline.com/nutrition/top-10-evidence-based-health-benefits-of-turmeric. Accessed 31 July 2022.
"Turmeric - Wikipedia." Turmeric - Wikipedia, en.m.wikipedia.org, 1 June 2021, https://en.m.wikipedia.org/wiki/Turmeric.
"Turmeric | NCCIH." NCCIH, www.nccih.nih.gov, https://www.nccih.nih.gov/health/turmeric. Accessed 31 July 2022.
Prasad, Sahdeo, and Bharat B. Aggarwal. "Turmeric, the Golden Spice - Herbal Medicine - NCBI Bookshelf." Turmeric, the Golden Spice - Herbal Medicine - NCBI Bookshelf, www.ncbi.nlm.nih.gov, 1 Jan. 2011, https://www.ncbi.nlm.nih.gov/books/NBK92752/.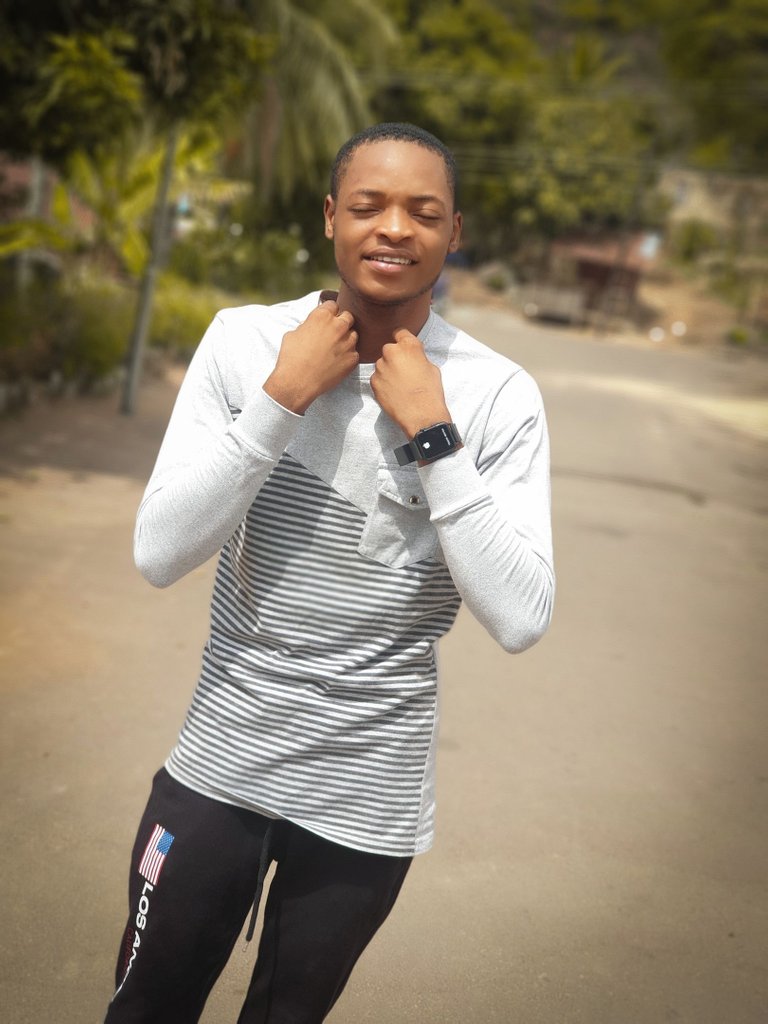 Who Am I?
I am a complete beginner who resides in Africa's Western Hemisphere. My name is James, but you may reach out to me through the Facebook page [Christ Messenger] (https://www.facebook.com/christ.messenger.904) In the year 2018, I completed my high school diploma. Physics, chemistry, and biology are the topics that I find the most enjoyable. My current studies are taking place at the university level, intending to become a recognized professional in one of the topics I am interested in. My professional experience as a computer hardware technician is in the middle of the spectrum. My interest in learning more about computer technology and its upkeep grew when I received my SSCE qualification in 2018. I am fascinated by all things technological, and I take pleasure in contributing to the fascinating technological advancements that are taking place throughout the world today. In my spare time, I'd like to learn more about programming and aid others in resolving any technical issues they may be experiencing. 💞 *********🌹❤️ Thank you so much to everyone who has supported me thus far. ********💞 Currently, I am unable to express my appreciation for all of your assistance in appropriate words. You never cease to astonish me with your generosity. For me, this has turned into a haven of enjoyment. Thanks to colleagues like you, this has all been possible. You've been a great support to me. Everything you have done for me and my family has been greatly appreciated, and I will always be grateful to you.💕.