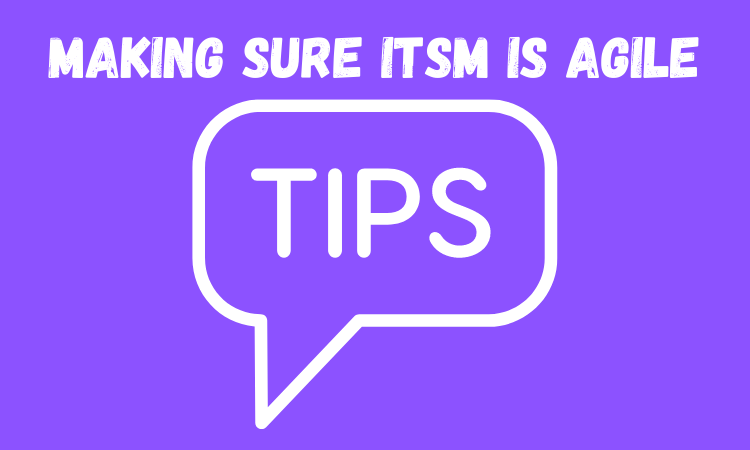 This is the fourth post in the series on Agile ITSM. You can find the first three posts at the links below:
Here are five tips on how to make your service management more agile and how to change the management's thinking to a customer-centric, agile method.
Prioritize People. Even In Today's Digital-First World
People, whether agile or not, power your organization. If the service desk personnel are not fulfilled and driven, the level of service they deliver may suffer. Remember that happy customers are the result of happy workers.
Giving your team members enough time and attention is a key aspect of the agile mindset. This may imply allowing them the time and space to pursue self-improvement activities such as expanded learning opportunities, or it may imply conducting a thorough assessment of whether or not they are satisfied with their current position. If they are dissatisfied, consider where else in the organization they might be more fulfilled.
Concentrate On Providing Value to Customers and Employees
IT departments typically devote a significant amount of time and effort on projects that provide little tangible value to their customers. Consider someone who writes a policy that is often updated. Sure, the policy will be useful for a while, but chances are the policy's creator has an updated one and will update it with each modification, but the rest of the organization will end up not getting the memo, it is just the nature of the beast.
With an emphasis on agile, a preferable approach may have been to write information in such a manner that the policy is restricted to what is strictly essential, and to offer this policy to a small test group. Only describe company-specific information in this manner, depending on input from your test group.
Create a Customer Journey Map and Use a Collaborative Approach
If you want to be agile and provide the most value to your consumers, you must first understand their needs and include them in the process. Create consumer personas and chart their path to start. What are their intersections? Are there any places where they may be encouraged to participate in the problem-solving process?
In agile IT service management, you constantly engage your customers in whatever you do as quickly as possible, as long as it makes sense. Give them the ability, for example, to seek progress updates on the tickets if they so choose.
Begin Small and Continue Going
It should not take years to put in place. Begin small and gradually expand. Consider where the most time-consuming jobs are, where the most waste is, and who is overburdened with emails and queries. Begin with those groups and individuals and increase gradually from there.
Keep Your Flexibility and Strive To Improve With Each Step.
To stay agile, you must be able to think on your feet and work constantly to enhance and improve your processes and team through each stage.
Delivering new services in an agile manner entails delivering something usable as soon as possible, collecting feedback, and using this feedback to improve the product.
The procedure isn't flawless, but that's okay. While working on the next procedure, you can receive feedback to help you improve in loops.
Conclusion
That's it for now, my next post will be on Avoiding Agile ITSM Roadblocks. Let me know what you think?
Feel free to share some thoughts on the topic and what you might expect to see as we move forward in future posts in the comments section. I love to hear from and engage with you.

Joe "Rhino" Brochin is launching ITSM RHINO in the coming months, it is the pull-no-punches, casual-but-effective resource for renegade IT Pros who want to manage risk and add value through ITSM processes & IT Policy.
GET IN EARLY!
Note: All graphics within this post, including their images and elements, were sourced and generated from Canva.com, except when otherwise identified on the graphic.