Hello pals. Hope we are doing great. Let's share this life saving health topic.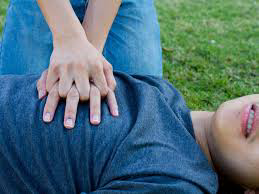 Source:https://www.readersdigest.ca/health/conditions/essential-cpr-steps/
INTRODUCTION
Cardiopulmonary Resuscitation (CPR) is an important life saving first aid skill, practiced throughout the world. It is the only known effective method of keeping a victim of cardiac arrest alive long enough for definitive treatment to be delivered (usually defibrillation and intravenous cardiac drugs).
Before the 18th century, humans had already discovered and were practicing some techniques to keep people alive. But as times went on, Dr. Peter Safar brought to light these techniques and he put them together into what he called the ABC which was:
patients Airway.
Breathing.
Circulation.
INDICATIONS FOR CPR
This includes:
1 Cardiac arrest
2 Respiratory arrest and
3 Acute myocardiac infarction
STAGES OF CPR
CPR is divided into three support stages;
Basic life support
Advanced life support
Prolonged life support
BASIC LIFE SUPPORT (BLS): It is the level of medical care which is used for victims of life threatening illnesses or injuries until they can be given full medical care at a hospital. BLS is generally used in pre-hospital setting and can be provided without medical equipment. It promotes adequate blood in addition to breathing through a clear airway. This involves:
C- circulatory
A-establishment of an airway
B-breathing support.
ADVANCED LIFE SUPPORT: This includes Basic Life Support and the use of adjunctive equipment and techniques to establish and maintain effective ventilation and circulation, to monitor the dysrhythmia, to establish IV access, and to provide therapies for patients with cardiac arrest, respiratory arrest and acute myocardial infarction. This involves:
D-diagnosis and drugs
E-electrocardiography
F-fibrillation control.
PROLONGED LIFE SUPPORT: This involves:
G-gauging a patients response
H-hopeful measures for the brain
I-intensive care.
How to Conduct Basic Life Support
The steps include the following:
Ensure personal safety
Assess victim (tap and shout)
Assess breathing
Call emergency medical services
Circulation: begin chest compressions
Airway: open the victims airway
Breathing: provide rescue breaths
CONTRAINDICATIONS OF CPR
Absolute Contraindications include:
Anencephaly
Confirmed trisomy 13 and 18
Patient with DNAR order Do Not Attempt
Resuscitationn
Patient with signs of irreversible death.
          CONCLUSION

Cardiopulmonary resuscitation [CPR] is a procedure to support and maintain breathing and circulation for an infant, children and adult who has stopped breathing [respiratory arrest], in cardiac arrest and acute myocardial infarction. It involves 3 stages BLS, ALS and prolonged life support. An effective chain of survival is needed to ensure a positive result [adequate revival of patient]. The knowledge of CPR is very important in our life so that many lives can be saved in and out of the hospital environment.
    REFERENCES

  AMERICAN HEART ASSOCIATION ( 2013), Cardiopulmonary Resuscitation (CPR). Retrieved on 5/3/2014.From http//medical dictionary.the free dictionary.com

AMERICAN HEART ASSOCIATION ( 2014) ,Chain of survival .Retrieved on 17/2/14,from www.heart.org/HEARTORG/CPR And ECC/What is CPR /About us /Chain-of -survival_UCM_307516_Article.jsp

  Ascension Health (2014) ,Issues and concepts: Cardiopulmonary Resuscitation Retrieved on 17/2/14 from www.ascensionhealth.org/index