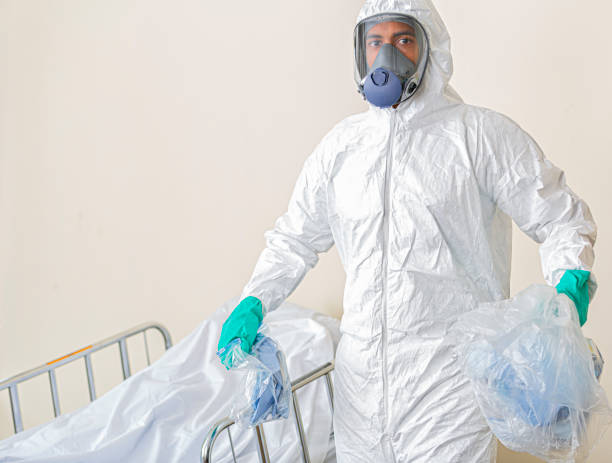 istock
Medical care is vital for our life, health and well-being. But the waste generated from medical activities can be hazardous, toxic and even lethal because of their high potential for diseases transmission.
Biomedical waste can be defined as any waste, which is generated during the diagnosis, treatment, or immunization of human beings or from vetenary practices (Capoor & Bhowmik, 2016).
Types of biomedical Waste
waste and by-products cover a diverse range of materials, as the following list illustrates:
Infectious waste: waste contaminated with blood and other bodily fluids.
Pathological waste: human tissues, organs or animal carcasses.
Sharps waste: syringes, needles, disposable scalpels and blades, etc.;
Chemical waste: for example, solvents and reagents.
Pharmaceutical waste: expired, and contaminated drugs and vaccines.
Cytotoxic waste: waste containing substances with genotoxic properties
Radioactive waste: such as products contaminated by radionuclides
Non-hazardous or general waste: waste that does not pose any particular biological threat.
MANAGEMENT OF BIOMEDICAL WASTES.
For the purpose of better understanding of the management options, reference to the different types of biomedical waste earlier discussed above is vital.
According to Lama (2016), depending on the categories, the following five steps are adhered to for proper management of each group.
(a) Segregation
(b) Disinfection
(c) Storage
(d) Transport
(e) Final disposal.
Segregation
Segregation is the separation of biomedical waste on the basis of its nature & type thus, it is the most essential process of bio-medical waste management. This is carried out by placing different kinds of waste in distinct colour coded containers or coded bags at the point of its origin. For an easy identification of different types of waste, the specific colour code followed includes: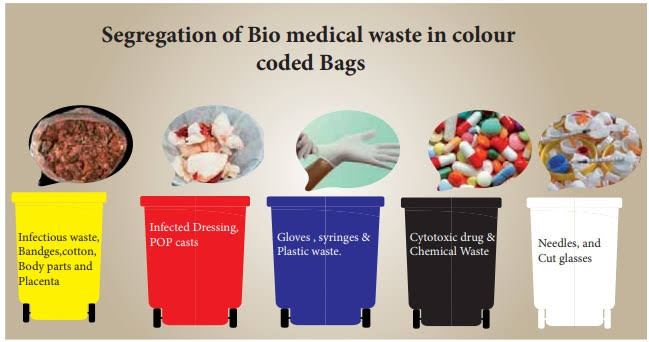 Brainkart
(a) Yellow: Yellow plastic bags are used for segregating human anatomical waste.
(b) Red: Red plastic bags or disinfected containers are used for segregating laboratory waste.
(c) Blue or white translucent plastic bags: Puncture-proof container-like empty cans or thick cardboard boxes to store sharp items like needles.
(d) Black: Black plastic bags are used to segregate discarded medicines and cytotoxic drugs.
Disinfection
To render infectious tissues free from pathogenic organisms, disinfection is carried out before transporting and disposing them. This can be done through; thermal, chemical or irradiation.
Storage & Accumulation of Biomedical Waste
Waste accumulation and storage is generally done near the point of its origin or the place where these waste are to be treated and disposed. Accumulation refers to the temporary holding of small quantities of waste near the point of generation, storage of waste is categorized by longer holding periods and large waste volume. Storage areas are generally located near where the waste is treated.
Transportation of Wastes
The transportation of the biomedical waste should be done with ultimate care. Carts, containers, trolleys and various other vehicles are employed to carry the trash from one place to another. These vehicles must be sanitized on the daily basis.
Treatment and final disposal
Treatment and Final disposal of waste depends on its category. Non-infectious waste like papers can be recycled. Biodegradable waste can be used for landfill or vermiculture or can be just buried. Infectious solid waste is incinerated. Infectious liquid waste is disinfected and flushed out in the drains. Various methods can be used for final disposal of biomedical waste, and they include;
Incineration
Secure Landfill
Autoclaving
Chemical Treatment
Biological Treatment of Biomedical Waste
The Implications of Poorly Managed Bio-medical Waste
The following implications are considered owing to poor management of biomedical wastes.
Health Risks: Poor medical waste disposal procedure exposes both non-healthcare workers and healthcare professionals who are vulnerable to incur health risks. The greatest concern regarding poorly handled medical waste is exposure to infectious pathogens.
The illness and disease
Improper medical waste management could pose a threat to anyone working in the organization. Unfortunately, the effects go on to the public, affecting and contaminating the local environment.
Injuries
Alongside the illnesses and diseases associated with poorly managed medical waste disposal, it's also important to consider injuries caused by medical waste by-products wastes especially by sharps and radiation burns.
Conclusion
The biomedical waste from hospitals, clinics and laboratories cause occupational health risks to those who generate or come in contact with such waste. It is said that about 15% of all medical waste capable of transmitting many infectious diseases such as hepatitis, gastro-enteric respiratory, ocular, genital and skin infections. Since hospital waste has enormous potential to pollute environment and contaminate other waste sincere efforts must be made to tackle these problems. With increasing population, biomedical waste is also growing in quantity. Therefore, proper supervision and treatment of biomedical wastes is a prime concern. To minimize the problem of biomedical waste, it becomes important to follow preventive measures and avoid any hazardous consequences to the nature.
REFERENCES
Capoor, M. R., & Bhowmik, K. T. (2016). Implementation challenges in Bio-medical Waste Management rules. Indian Journal of Medical Microbiol. 35,623–5. doi: 10.4103/ijmm.IJMM_17_416

Manikant, T. (2019). Biomedical Waste and its Management. OMICS International publishing, UK. DOI: 10.4172/978-1-63278-079-9

Mahendra, R. R. (2017). Biomedical waste management: An overview. Journal of Indian Academy of Oral Medicine and Radiology 21(3). DOI:10.4103/0972-1363.58757

Lama, L. (2016). Bio-Medical Waste Management: A Study of Darjeeling. Department of Economics, School of Social Sciences Sikkim university 6 th Mile, Samdur, Tadong, Gangtok, Sikkim, India.