Neurolink es uno de los proyectos liderizado por Elon Musk, quizás uno de los mas ambiciosos,anunciado en el 2016 con una propuesta inicial de dar solución a diversos problemas de salud, en el area de la neurociencia, basados en tecnologia que lleva decadas de investigación en esta area.
---
Los avances obtenidos por el proyecto en los últimos meses han sido anunciados por su fundador quien avisora una potencial analogia entre la inteligencia artificial y la inteligencia humana, a través de la implatación de dispositivos neuronales.
---
Neurolink is one of the projects led by Elon Musk, perhaps one of the most ambitious, announced in 2016 with an initial proposal to solve various health problems, in the area of neuroscience, based on technology that carries decades of research in this area.

---

The advances made by the project in recent months have been announced by its founder who would notice an analogary potential between artificial intelligence and human intelligence, through the imptation of neural devices.
---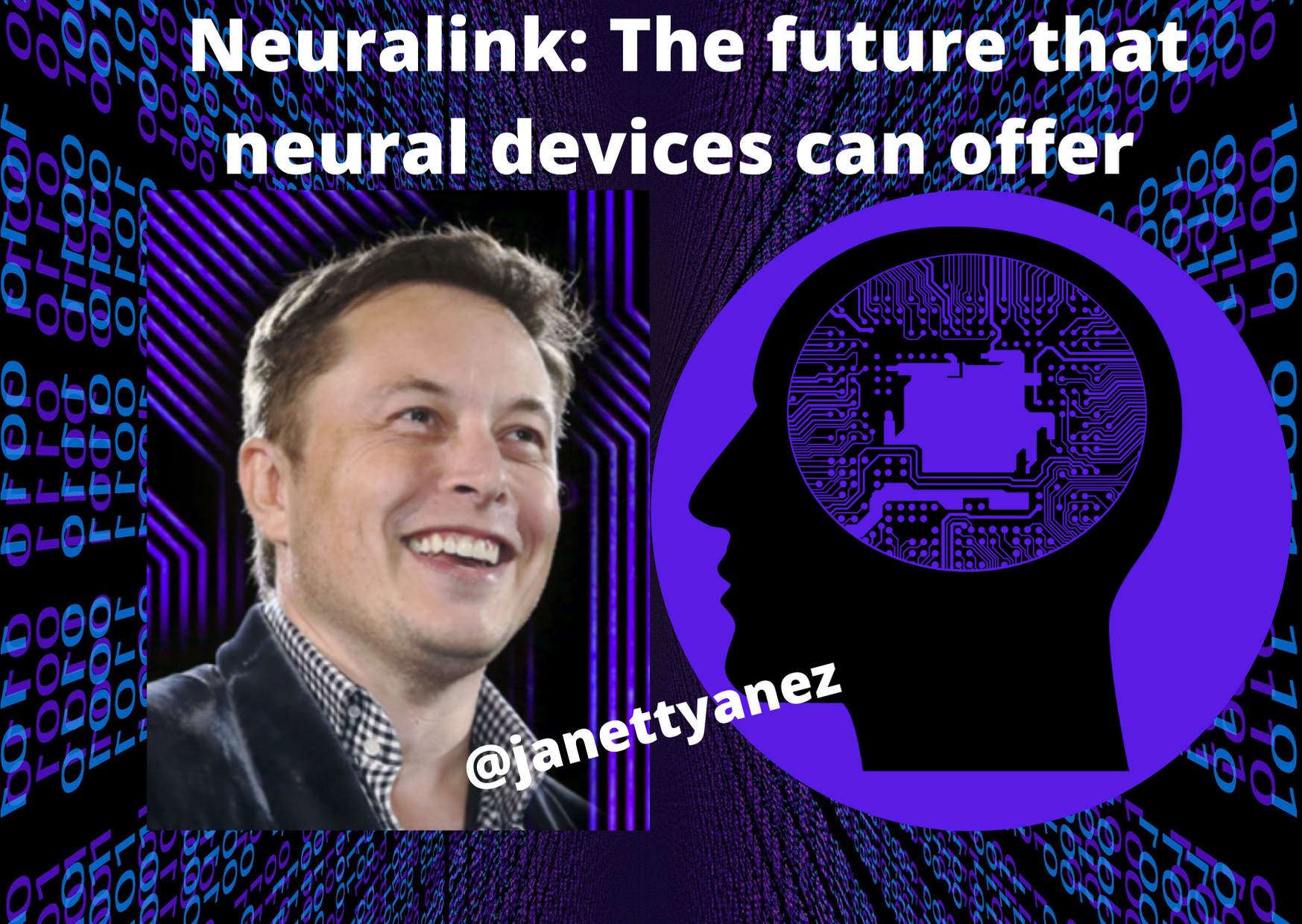 Recientemente en el 2020, Neurolink anunción los resultados obtenidos con el experimento realizado con un cerdo, la implantación de una versión inalámbrica de un Link que era capaz de transmitir las señales somatosencionares o tactiles que experimenta el cerdo mientras exploraba.
---
Este dispositivo fue colocado en la parte del cerebro del cerdo, que se encarga de procesar las señales obtenidas al olfatear.
---
Estos resultados determinaron un avance muy importante, abriendose las puertas para seguir en la búsqueda de la funcionabilidad del Link en una especie con mas semejante a la anatomía del ser humano.
---
Recently in 2020, Neurolink announced the results obtained with the experiment conducted with a pig, the implementation of a wireless version of a Link that was able to transmit the somatosencionar or tactile signals experienced by the pig while exploring.

---

This device was placed in the part of the pig's brain, which is responsible for processing the signals obtained by sniffing.

---

These results determined a very important advance, opening the doors to continue in the search for the functionability of the Link in a species more similar to the anatomy of the human being.

---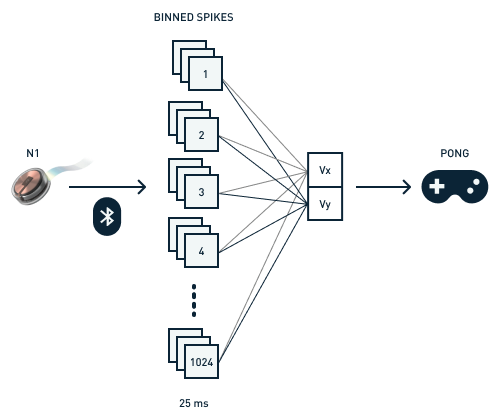 Graphical representation of a BMI decoding pipeline.Source
---
Neurolink el pasado 09/04/2021, anunció los resultados obtenidos de los estudios realizados en un macaco adulto de 9 años, cuyo nombre es Pager, a quien le fuese implantado unos dispositivos denominado N1 Link de grabación neuronal y transmisión de datos de 1.024 electrodos.
---
Estos dispositivos fueron ubicados en la parte del cerebro que se encarga de la planificación y ejecución de los movimientos, tanto en la corteza motora izquierda, que se encarga de controlar los movimientos del lado derecho del cuerpo; como en la corteza motora derecha que se encarga de los movimientos del lado izquierdo del cuerpo.
---
Los resultados obtenidos fueron publicados en You Tube por Neurolink, mostrando en un video de 3 minutos y medio como el macaco Pager, juega durante los primeros minutos un videojuego "Pong" utilizando un joystick, esto como con la finalidad de que el software detectará todas las señales de los movimientos realizados con las manos del macaco.
---
El macaco recibía como recompensa jugo de platano que absorvía a través de una pajilla que se encontraba al frente del monitor.
---
Luego en los minutos restantes, fue suprimido el uso del joystick, visualizandose claramente como Pager seguía jugando sin el uso de sus manos, debido a que el programa "decodificador" se encargó de averiguar las señales neuronales requeridas para cada movimiento, permitiendo que Pager siguiera jugando sin usar sus manos.
---
Elon Musk publicó en su cuenta twitter:
¡¡Un mono está literalmente jugando a un videojuego telepáticamente usando un chip cerebral!!
Neurolink on 09/04/2021 announced the results obtained from studies in a 9-year-old adult macaque, named Pager, to which devices called N1 Link for neural recording and data transmission of 1,024 electrodes were implanted.

---

These devices were located in the part of the brain that is responsible for the planning and execution of movements, both in the left motor cortex, which is responsible for controlling the movements of the right side of the body; as in the right motor cortex that takes care of the movements on the left side of the body.

---

The results obtained were published on You Tube by Neurolink, showing in a video of 3 and a half minutes as the macaque Pager, plays during the first few minutes a video game "Pong" using a joystick, this as in order that the software will detect all the signals of the movements made with the hands of the macaque.

---

The macaque received as a reward banana juice that absorbed through a straw at the front of the monitor.

---

Then in the remaining minutes, the use of the joystick was suppressed, clearly displaying how Pager kept playing without the use of his hands, because the "decoder" program was responsible for figuring out the neural signals required for each movement, allowing Pager to continue playing without using his hands.

---

Elon Musk posted on his twitter account:

A monkey is literally playing a video game telepathically using a brain chip!!
---
Entre las metas propuesta por Neurolink se encuentran la contrucción de un sistema de IMC clinico, de máxima seguridad, implantable y sin cables, que le permitan el fácil traslado y manejo por los usuarios, asi como automatizar la cirugia de implementación del dispositivo para asegurar su eficaz colocación .
---
Asi como, ofrecerle a las personas con parálisis la oportunidad de comunicarse a través de medios digitales, asi como poder navegar en la web, jugar videos juegos, entre otras.
---
Por último, el Link podría utilizarse para proporcionarle mejor calidad de vida a las personas que sufren de parálisis, ofreciéndoles la oportunidad de recuperar la movilidad de sus extremidades a través de la lectura de las señales del cerebro, utilizándola para estimular los nervios y músculos necesarios para controlar los movimientos de sus miembros .
---
Among the goals proposed by Neurolink are the construction of a clinical BMI system, maximum security, implantable and cordless, that allow easy transfer and management by users, as well as automate the surgery of implementation of the device to ensure its effective placement.

---

As well as, offer people with paralysis the opportunity to communicate through digital media, as well as be able to browse the web, play video games, among others.

---

Finally, the Link could be used to provide a better quality of life for people suffering from paralysis, offering them the opportunity to regain the mobility of their limbs by reading the signals of the brain, using it to stimulate the nerves and muscles needed to control the movements of their limbs.

---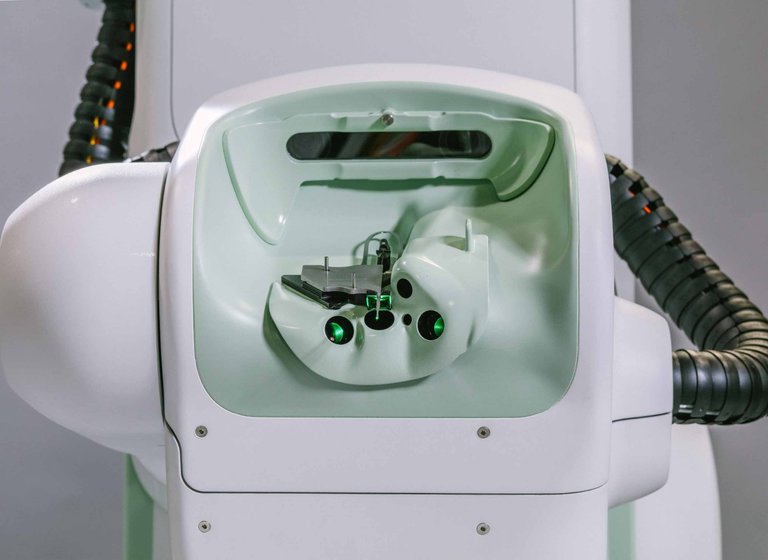 Reference Sources:
---