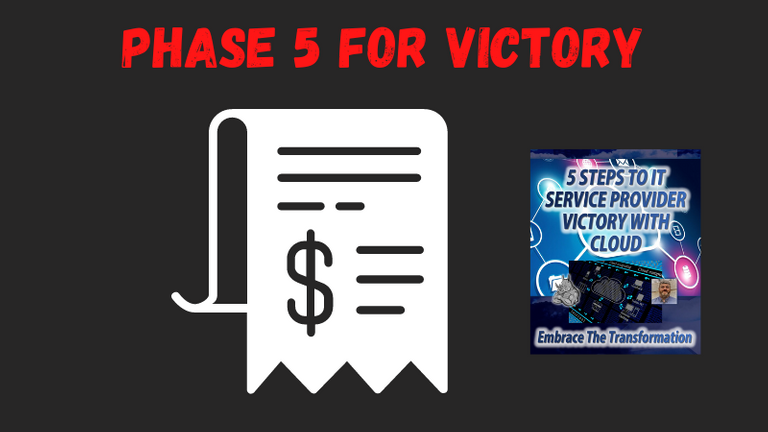 So in this post, we continue our six-part series on the 5 STEPS TO IT SERVICE PROVIDER VICTORY WITH CLOUD. So far we have provided five posts covering 23 tips of what will be a total of 28 when this series comes to completion.
You can find those posts here:
This series is meant to provide value to renegade IT professionals and their organizations, especially those of Managed Service Providers (MSPs). This is in hope that they can in turn provide value to your customers and others. Step 5 is all about automating your billing process for better productivity and efficiency.
STEP 5: BILLING CUSTOMERS
Billing for cloud services will initially come from cloud vendors themselves. It's a good idea to automate this process. This automation will help to increase your profits. The usual margin for cloud services is between 4-5%. It's possible to increase the efficiency of your billing process. Here are some ideas for doing this:
TIP #24: FACTOR IN LICENSES TO YOUR SERVICE AGREEMENTS
Include the cost of cloud services in your existing service agreements. Including them makes the transition to cloud services more manageable and allows you to revise prices when creating new service agreements.
TIP #25: SHIFT TO A USER-BASED BILLING MODEL
If you bill devices for some services and users for others, it can become confusing for customers. Users and usage are the most common billing models for cloud services. This model means it's helpful to offer packages based on people instead of devices.
TIP #26 MAKE SURE ALL PRORATED REVENUE GETS INCLUDED
Ensure you have a system for prorating the partial month of billing if new users sign up for cloud services during the month. Note that missing even two weeks of prorated licensing can take you up to five months to recover.
TIP #27 PROVIDE CUSTOMERS WITH A SINGLE INVOICE
Multiple bills from various vendors will become a problem for your customers. For this reason, try to provide your customers with a single invoice.
CONCLUSION OF PART 3
That's it for Part 5 and Step 5 with steps 24-27. Be looking for the sixth and last post in this series in a day or two.
Be sure to leave any comments, questions, hate, or discontent in the comments below.

Note: All graphics within this post, including their images and elements, were sourced and generated from Canva.com, except when otherwise identified on the graphic.