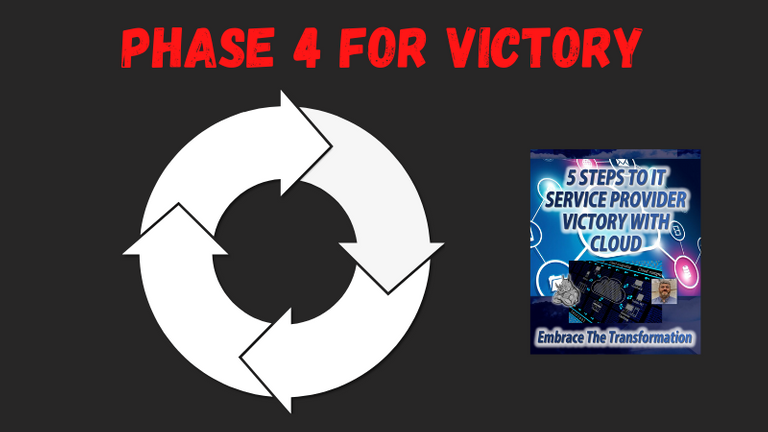 So in this post, we continue our six-part series on the 5 STEPS TO IT SERVICE PROVIDER VICTORY WITH CLOUD. So far we have provided four posts covering 17 tips of what will be a total of 28 when this series comes to completion.
You can find those posts here:
This series is meant to provide value to renegade IT professionals and their organizations, especially those of Managed Service Providers (MSPs). This is in hope that they can in turn provide value to your customers and others and that is what step 4 is all about, the customer lifecycle.
STEP 4: SUPPORTING CLOUD SERVICES
Providing cloud services means you are responsible for the entire customer lifecycle, from managing cloud licenses to reporting usage patterns and also providing support.
TIP #18: MAKE SURE YOU'RE THE INITIAL POINT OF CONTACT FOR CUSTOMER SUPPORT
Most cloud vendors provide very little life support. They usually shuttle customers onto wikis, FAQs, and offshore helpdesks. But realize that your customer is already used to being supported by your team. This established relationship means you have already established a relationship with them, and this is a significant advantage and sales tool. You can provide personalized customer support and meet their specific needs, which is far more than cloud vendors can provide.
TIP #19: MESH CLOUD SERVICES WITH MANAGED SERVICES
The value you provide with cloud services can be integrated with existing management and monitoring services and allow you to support your cloud customers in the same way as managed services are. Cloud data, users, and licenses can be centrally managed and monitored. To do this, you will need to select a cloud management solution that integrates with tools that used to support your managed services customers.
TIP #20: DELINEATE DETAILED POLICIES FOR CLOUD MANAGEMENT
To efficiently manage cloud services, you need to have uniform policies. Universal policies to do with email message retention, passwords, and so on requires establishing with all customers.
TIP #21: USE REAL-TIME MONITORING TO SUPPORT CUSTOMERS
It's essential to provide the same level of support for cloud services that you have for other managed services. Remote management and monitoring (RMM) tools exist and designed to help you achieve these goals. By monitoring your customers in real-time, you can be proactive about providing support. If there is a service outage, you can alert them before they even know what's happening.
TIP #22: MONITOR AND REPORT CUSTOMER USAGE
You can add value to your services by monitoring your customers' cloud costs and usage. During meetings with customers, you should provide them with in-depth usage reports. These reports will give them an idea of the ROI that your cloud services offer to them.
TIP #23: DOING THIS WILL ALSO INCREASE SALES OPPORTUNITIES
Capacity and storage issues give you the perfect opportunity for upsells. Alerting customers to these issues will also strengthen your relationship and provide you with increased revenues.
CONCLUSION OF PART 3
That's it for Part 4 and Step 4 with tips 18-23. Be looking for the fifth post in this series in a day or two.
Be sure to leave any comments, questions, hate, or discontent in the comments below.

Note: All graphics within this post, including their images and elements, were sourced and generated from Canva.com, except when otherwise identified on the graphic.