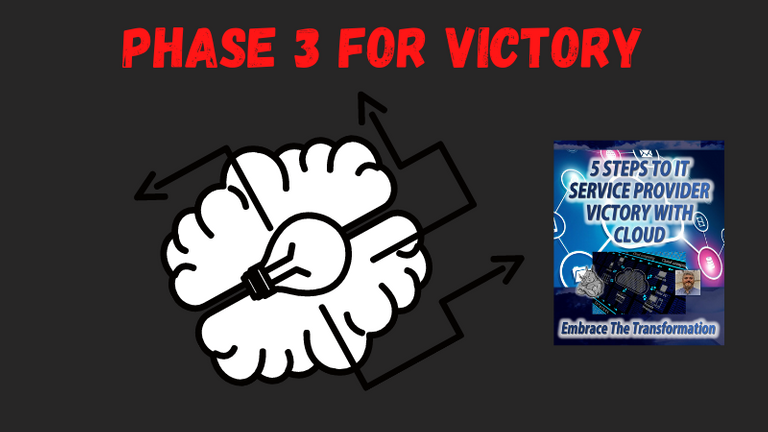 This is a continuation of the six-part series on the 5 STEPS TO IT SERVICE PROVIDER VICTORY WITH CLOUD. So far we have provided three posts covering 15 tips of what will be a total of 28 when this series comes to completion.
You can find those posts here:
The purpose of this series has been explained in previous posts so I will not go into it again and bore you here. Just know that I want to provide value to you and organizations that are service providers. This is in hope that you can in turn provide value to your customers and others.
This is one of the shorter of all the posts with only two tips. Let's get started with Part 3, which is all about having a repeatable implementation process, which is right up my alley. I love processes!
STEP 3: PURCHASING AND SETTING UP CLOUD SERVICES
Delivering services and licenses is critical to an excellent customer experience. Before approaching customers, you should have a replicable implementation process. This process will help get your customers up and operating as fast as possible. The more efficiently you can deliver your service, the more profitable you'll be.
TIP #16: PROVIDE SERVICES AND LICENSES QUICKLY
Customers appreciate it when you can provision cloud subscriptions directly. This capability also puts the management of the service in your hands and will allow you to get customers up and to run a lot faster. It's even better for your bottom line. Doing this will enable you to leverage relationships with distributors, and you'll be able to buy licenses in bulk and get them at a lower price.
TIP #17: INVESTIGATE WHAT EACH DISTRIBUTOR OFFERS IN TERMS OF VALUE
Most big distributors offer cloud services. This amount of choices means it can be tricky to decide which distributor from which you should purchase licenses. Distributors differentiate themselves according to the types of services they provide. They also do this based on the current state of the cloud service marketplace. This basis means you need to appraise their packages carefully.
Ask yourself what you are going to be providing for your customers and how the distributors' services can help to bridge your weak areas.
Also, think about your relationship with the distributor – is it a stable relationship. Sometimes it's also a good idea to purchase services from more than one distributor.
CONCLUSION OF PART 3
That's it for Part 3 and Step 3 with steps 16-17. Be looking for the fifth post in this series in a day or two.
Be sure to leave any comments, questions, hate, or discontent in the comments below.

Note: All graphics within this post, including their images and elements, were sourced and generated from Canva.com, except when otherwise identified on the graphic.