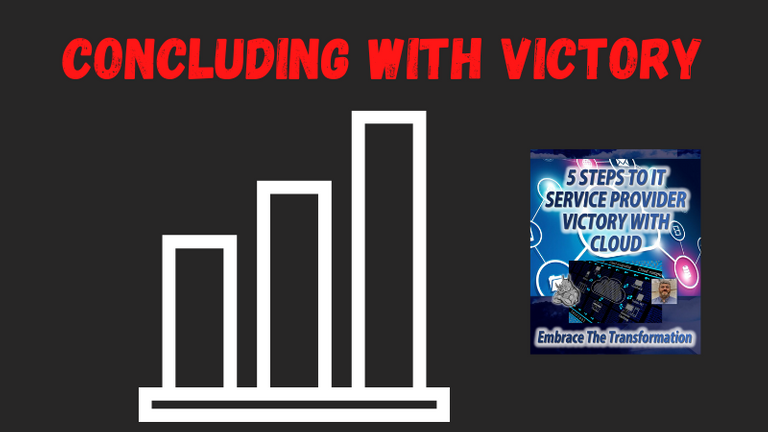 Here we are. the conclusion of our six-part series on the 5 STEPS TO IT SERVICE PROVIDER VICTORY WITH CLOUD. This is the culmination of six posts covering 28 tips.
You can find the five previous posts here:
This series was meant to provide as much value as I possibly could to renegade IT professionals and their organizations, especially those of Managed Service Providers (MSPs). This is in hopes that they can in turn provide value to your clients and others.
THE CONCLUSION
Make sure you measure KPIs in your cloud services.
TIP #28: KPIS, YOU SHOULD MONITOR
Measure success against the goals you have set for growing cloud services. Try to set achievable and attainable goals. Some KPIs you can measure include the following:
Monthly recurring revenue (MRR) - how much do you want to make from cloud services?
Recurring revenue % / profit pools – how much of your revenue should be recurring revenue? How much of your profit should come from cloud services vs. managed services?
Churn% - how many cloud customers will you lose per month or year?
The lifetime value of customers – how long does an average customer use your service?
Existing client transition – how many existing customers should transition to cloud services?
New client acquisition – how many new clients do you want to acquire this year?
SUCCESS IS WAITING!
"All around the world, companies are moving to cloud computing services. It's up to you to capture as much of this business as possible. By making yourself a single point of contact for support and billing, you will enhance your relationship with customers and increase profitability. Hopefully, this guide has provided you with ideas for building your cloud services practice. Good luck!"
– Joe "Rhino" Brochin
I plan to create an FREE eGuide, or eBook, that consolidates all the information from this series. It will be available to all members of ITSM Rhino when it launches.
Be sure to leave any comments, questions, hate, or discontent in the comments below.

Note: All graphics within this post, including their images and elements, were sourced and generated from Canva.com, except when otherwise identified on the graphic.