The Tree that bears the fruit
I have two soursop trees planted in my backyard because I love having different fruit trees around. A Soursop tree is a tropical plant that grows as a relatively medium-size tree at maturity. It can be propagated easily from seed, and the first fruiting season can be achieved in the 3rd year after planting if properly nurtured. It is known for its delicious flavor and possesses many health benefits. Annona muricata is its scientific name, and it is also called guanabana, graviola and sirsak. Soursop is a member of the Custard-apple family in which Sweetsop is another member. The soursop fruit grows on the tree, and the different stages of development of this fruit will be shown and described below.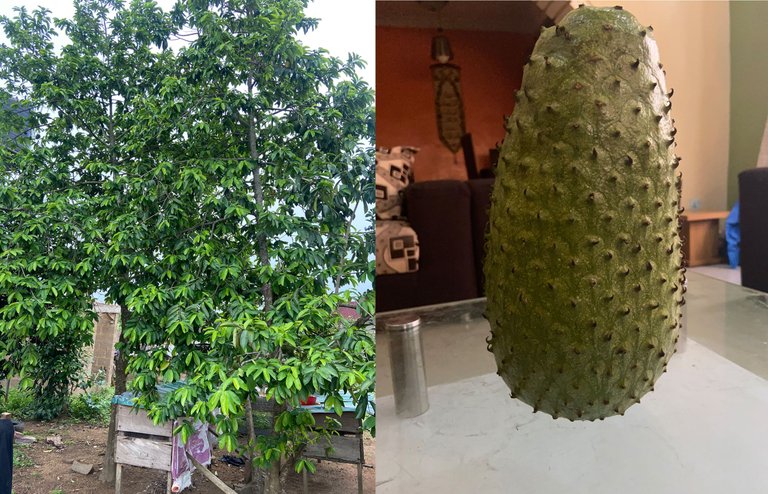 A 7yr old Soursop tree and its fruit. Source @hdigitals

The stages of the fruit development
The collage below shows the different stages of the soursop fruiting. Because soursop can grow up to 10 inches long and weighs about 10 lb, the flower buds on the stem/branches of the tree; this is important so that the weight of the fruit is properly supported at maturity. Stage 1 in the collage is the first appearance of its flower; stage 2 is a more advanced stage of flower development. In stage 3, the petals have dropped and gave way to stage 4- the fruit in its smallest form!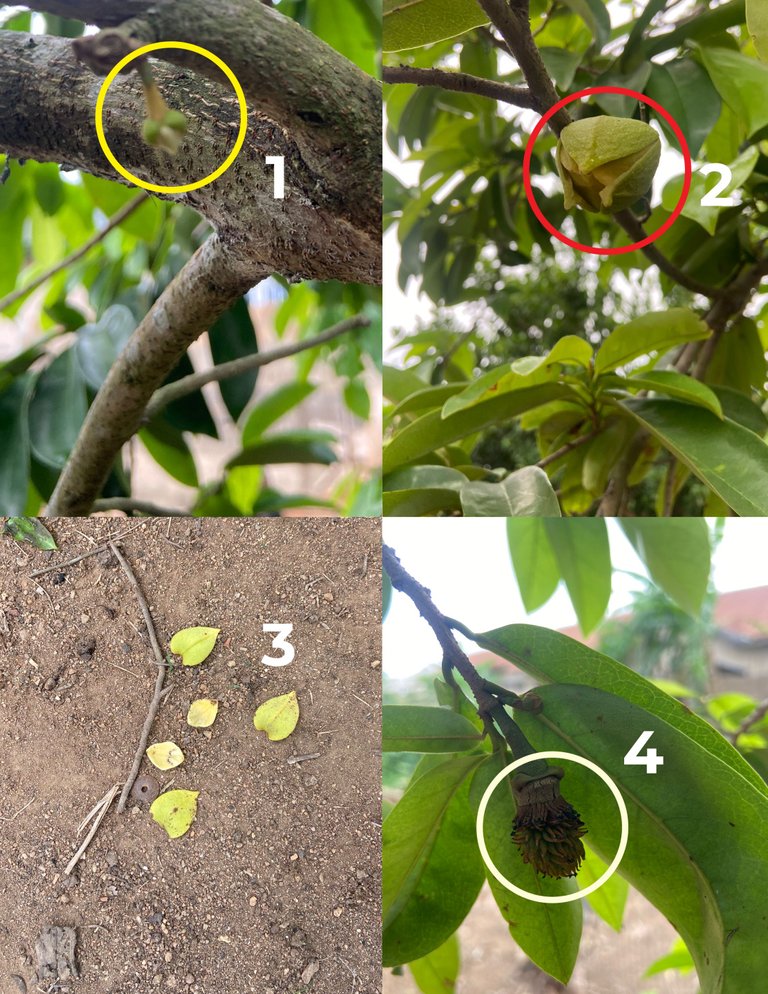 A collage of the stages of the fruit formation. Source @hdigitals

The fruit and when it is fully ripe: what's inside and its taste
The fruit is most often oval, except when the shape can not be described as oval; it could be a bean shape. A slight press would make a small dimple when just ripe (not over-ripened). The fruit is covered with yellowish-green pined flesh outlaying a white creamy (when ripened) fibrous inner flesh. The seeds are either dark brown or black and are embedded in the white fibrous flesh. Soursop flavor is very interesting and can be placed between pineapple and mango but with an ice-cream feel, especially when chilled. YES, the pines are harmless; they may look scary in the picture; trust me, they are softer than they look. There is a sour side to its taste; it probably got the name soursop from this taste.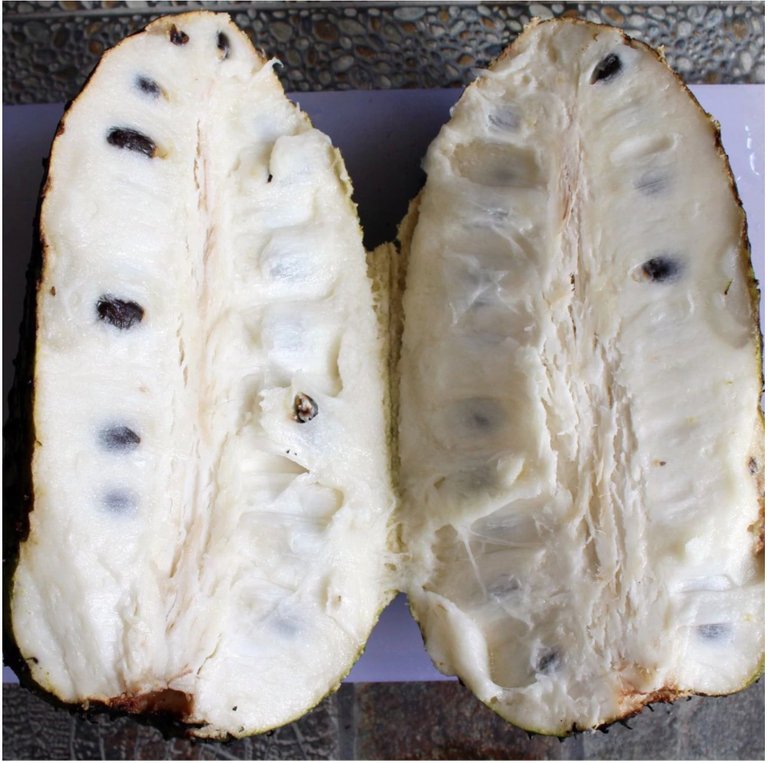 Source: https://exoticanz.com/
How best to eat soursop
A ripened soursop is delicious when taken chilled-raw. Other ways that one can eat soursop are ice cream, Juices, fruits cocktail, and smoothies, to mention a few.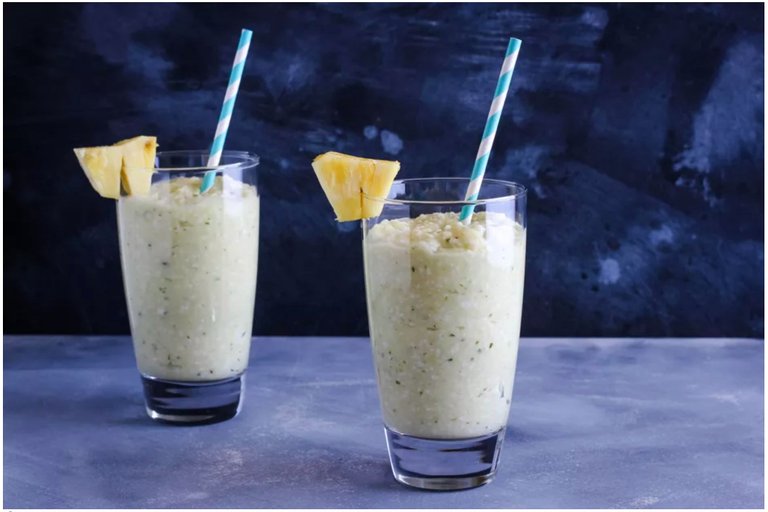 Source: https://www.thespruceeats.com/soursop-juice-and-smoothie-recipe-2078388
Health benefits according to different sources
Digestion: Food with high fiber content helps healthy digestion and prevents issues such as constipation. Soursop has a very high fiber content, and a whole fruit could provide you with your daily fiber requirement.
High in antioxidants : Soursop is very high in antioxidants, which makes it effective in fighting free radicals in your body, tissue repair, and reducing oxidative stress on your body cells. Therefore, it can reduce inflammation. Another study showed that it enhanced the sperm quality of male rabbits exposed to heat stress.
Anti-carcinogenic effect: There has been numerous hearsay about the anticancer effect of soursop. Most are not based on laboratory tests; rather, they are based on personal experience. However, Minarni et al. (2017) showed that an endophytic fungus isolated from soursop leaf has the potential to be used as a source of anticancer agents.
Blood pressure stabilization: High blood pressure may result in dangerous heart disease and heart attack. Sodium can adversely affect blood pressure, while Potassium is an antidote that removes sodium from the bloodstream and reduces the pressure on the walls of the arteries and veins. Taking one medium-sized soursop guarantees you up to 50% of your daily requirement of Potassium.
Personal Used to Cure Malaria: I have personally used the leaves of this plant to cure malaria. It was prepared inform of a green tee and drank 3 times daily for about 3 days. Voila! malaria was gone
Nutrition: A single soursop fruit has numerous essential vitamins and minerals, such as Vitamins B1, B2, B3, and C; Potassium; Calcium; Foliate; Iron; Magnesium; Zinc, Copper, and Phosphorous.
Sources:
https://www.webmd.com/food-recipes/health-benefits-soursop
https://www.sciencedirect.com/science/article/abs/pii/S0306456521002023
Minarni et al. (2017) https://www.sciencedirect.com/science/article/pii/S1995764516307465