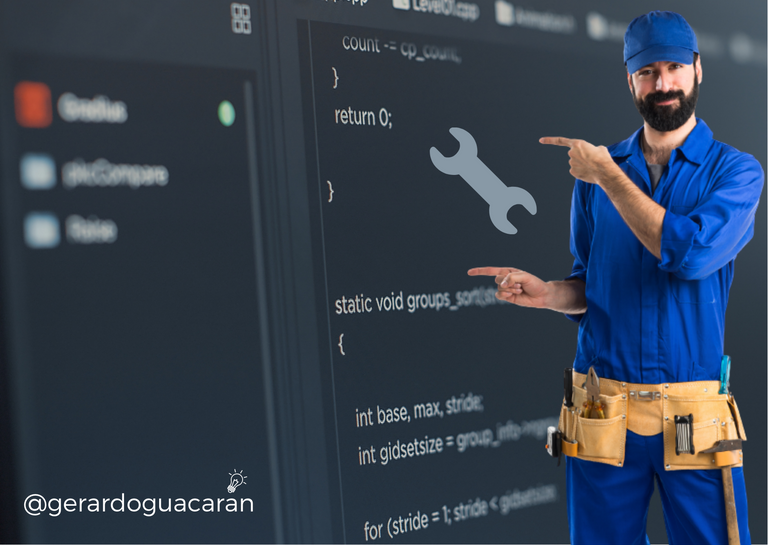 Hello friends of #HIVE and #STEM lovers, for me it is a pleasure to be once again posting innovation topics in these digital spaces. Today I want to share a topic of interest to software developers and of course to professionals from other specialties who are focusing their gaze on programming.
Hola amigos de #Hive y amantes de #STEM, para mí es un placer estar nuevamente colocando temas de innovación en este espacio digital. El día de hoy quiero compartir un tema de interés para los desarrolladores de software y por supuesto a los profesionales de otras especialidades que estén concentrando su mirada en la programación.
---
Did you know that there are tools that can help you to present your programming code in a professional way? Are you aware that by delivering a presentable code you can stand out from the rest? Let's talk about...
¿Sabías que existen herramientas que te pueden ayudar a que tu código de programación sea presentado de una manera profesional? ¿Estás consiente que al entregar un código presentable puedes destacar del resto? Hablemos...


Unlike my early days in programming, where detecting bugs was tedious and sometimes stressful, developers today have extraordinary tools that can help in this task. Could you imagine sitting line by line reviewing the different types of bugs that exist in programming?
A diferencia de mis inicios en la programación, donde la detección de errores era algo tedioso y a veces generaba estrés, los desarrolladores hoy, tienen extraordinarias herramientas que pueden ayudar en esta tarea. ¿podría imaginarse estar sentado revisando línea por línea los diferentes tipos de errores que existen en la programación?
---
The tools shown below can help us excel in an assignment while we are learning, and save efforts in the software quality assurance departments of organizations. In both cases it is applicable that, "the later a bug is detected the more costly it will be".
Las herramientas mostradas a continuación pueden ayudarnos a destacar en una asignación mientras estamos aprendiendo, y ahorrar esfuerzos en los departamentos de control de calidad de software de las organizaciones. En ambos casos es aplicable que, "mientras más tarde se detecte una falla resultará ser más costoso".


In the software development ecosystem, there are many more tools than the ones I will show below. Some are open source, others depend on language, development method and reserved tasks. The choice of this list is given by the recent survey conducted by Analytics Inside Magazine
En el ecosistema del desarrollo de software, existen muchas otras más herramientas que las que mostraré a continuación. Unas son de código abierto, otras dependen del lenguaje, el método de desarrollo y las tareas reservadas. La escogencia de esta lista viene dada por la encuesta reciente realizada por la Revista Analytics Inside.
---
Cloud9 IDE

Cloud9 IDE is a cloud-based software development environment, with which through just a web browser you can write, produce and debug code. It contains tools for several programming languages such as C, C++, JavaScript, PHP, Python, and several others. Its main advantages are to allow collaborative work between development teams in real time and the development of simple serverless applications.
Cloud9 IDE

Cloud9 IDE es un entorno de desarrollo de software basado en la nube, con el que a través de sólo un navegador web podrá escribir, producir y depurar código. Contiene herramientas para varios lenguajes de programación como C, C++, JavaScript, PHP, Python, y varios otros. Sus mayores ventajas son, permitir el trabajo colaborativo entre los equipos de desarrollo en tiempo real y el desarrollo de aplicaciones sencillas sin servidor.
---
IntelliJ IDEA

It is one of the IDEs preferred by developers, although it is designed for the development of Java applications, it provides assistance for languages such as JavaScript, SQL, among others. Its main advantage is the experience it gives the programmer, it puts the whole arsenal of features at a glance, even configured so that everything has keyboard shortcuts. As for code correction, IntelliJ IDEA makes suggestions on the fly, prioritizing the most appropriate by using machine learning, which gives it a significant competitive advantage over the rest. But what fascinates me most as a teacher, is that through the IntelliJ IDEA EDU initiative you can learn or teach programming at a professional level. I share here the link.
IntelliJ IDEA

Es unos de los IDE preferidos por los desarrolladores, aunque está diseñado para el desarrollo de aplicaciones en Java, suministra asistencia para lenguajes como JavaScript, SQL, entre otros. Su principal ventaja, es la experiencia que le produce al programador, pone todo el arsenal de funcionalidades a simple vista, incluso se configura para que todo tenga accesos directos por teclado. En cuanto a la corrección del código, IntelliJ IDEA va realizando sugerencias sobre la marcha, jerarquizando la más adecuada mediante el uso de machine learning, lo que le da una notable ventaja competitiva con el resto. Pero lo que más me fascina como docente, es que a través de la iniciativa IntelliJ IDEA EDU se puede aprender o enseñar programación con un nivel profesional. Comparto por aquí el link
---
RAD Studio

RAD Studio is a powerful IDE for all Windows, Android, iOS, MacOS and Linux platforms. It is very visual, for this reason it has full compatibility with the latest 4k+ monitors and allows developers to design user interfaces with extremely high quality finishes that adapt to the IDE with customizable layouts and content. It connects to more than 20 databases natively and has smarter code navigation when refactoring.
RAD Studio

RAD Studio es un poderoso IDE para todas las plataformas de Windows, Android, iOS, MacOS y Linux. Es muy visual, por esta razón posee compatibilidad total con los últimos monitores 4k+ y permite a los desarrolladores diseñar interfaces de usuario con acabados de suma calidad que se adaptan al IDE con diseños y contenidos personalizables. Conecta con más de 20 bases de datos de manera nativa y posee navegación por el código más inteligente cuando se refactoriza.
---
Notepad++

Most of us all know the famous Notepad that comes built into Windows, I particularly asked my students many times to rely on this application and use it as a code editor. In my country, it is also used by people to generate flat files for payroll payments to their employees. However, it had great limitations at least in the writing of code such as for example that it does not have line identifier, nor tag marking among others.

Notepad++ comes to replace its previous version by supporting the widest range of programming languages from the list of applications presented in this publication. So much so, that if Notepad++ does not open certain code, it is because the file is corrupt or not editable. Not only does it support more than 50 languages, but it also makes code analysis suggestions for the user to correct. Developers can work with multiple files open in different tabs, but in a single window, thanks to its multitasking feature.
Notepad++

La mayoría de todos nosotros conocemos el famoso Bloc de Notas que viene incorporado en Windows, particularmente pedí muchas veces a mis estudiantes que se apoyaran en este aplicativo y lo utilizaran como editor de código. En mi país, también es utilizado por las personas para generar los archivos planos para el pago de nóminas a sus empleados. Sin embargo, tuvo grandes limitaciones por lo menos en la escritura de código cómo por ejemplo que no posee identificador de líneas, tampoco marcado de etiquetas entre otros.

Notepad++ viene a suplir a su versión anterior soportando la más amplia gana de lenguajes de programación de la lista de aplicaciones presentadas en esta publicación. Tanto es así, que si Notepad++ no lo abre cierto código, es porque el archivo está corrupto o no es editable. No sólo soporta más de 50 lenguajes, sino que, realiza sugerencias de análisis de código, para que el usuario pueda corregir. Los desarrolladores pueden trabajar con múltiples archivos abiertos en diferentes pestañas, pero en una sola ventana, gracias a su función de multitarea.
---
Embold

Embold is a truly amazing code analyzer that helps developers improve their programming pipeline by detecting complicated patterns that other tools do not. This is due to the unified view of the quality of your system and that brings out problems in four dimensions. Embold has 3 versions, a free one for Open Source projects, a Cloud one and a version that can be deployed in your own CPD. Finally, it has support for more than 10 languages.
Embold

Embold es un analizador de código que verdaderamente sorprende, ya que ayuda a los desarrolladores a mejorar sus líneas de programación detectando complicaodos patrones que otras herramientas no hacen. Esto se debe por la visión unificada de la calidad de su sistema y que saca a relucir problemas en cuatro dimensiones. Embold tiene 3 versiones, una gratuita para proyectos Open Source, una Cloud y una versión que se puede desplegar en tu propio CPD. Por último, posee soporte para más de 10 idiomas.


This article is based on the author's experience to make recommendations. These tools are not the only ones that can help developers to "polish" their code, for this reason we share articles where you can consult the wide range of solutions that exist in this area:

Este artículo, se basa en la experiencia del autor para realizar las recomendaciones. Estas herramientas no son las únicas que pueden ayudar a los desarrolladores a "pulir" su código, por esta razón se comparten artículos donde podrán consultar la amplia gama de soluciones que existen en esta materia:

---
Goodbye my dear reader, I hope that the article made with much affection, has brought value to your valuable time.
Hasta luego mi apreciado lector, anhelo que el artículo realizado con mucho cariño, haya aportado valor a su valioso tiempo.
---
I would greatly appreciate your visit to @gerardoguacaran, follow me and value my work.


---
---
El banner también es de mi propiedad. Realizado con CANVA, la App BITMOJI y el código QR con el generador de TEC-IT.