Freshly out of school and looking for my first paid employment, I've walked virtually the whole length and breadth of Lagos for approximately a year until my then soon-to-be sister inlaw recommended a job for me. The owner of a retail pharmacy outlet located somewhere within the Lekki peninsula of Lagos was looking for a front desk sales officer which I later got to know is more or less a Pharmacy Technician. Me? A trained Botanist in a pharmacy? Well, I just gotta take anything Nigeria throws at me. My people are at home hoping to hear from their son/brother in Lagos. Money must be made somehow, albeit legitimately and this isn't far from it.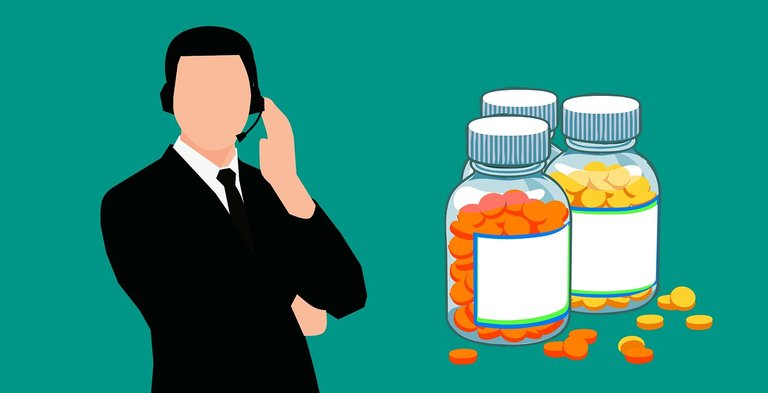 By mohamed_hassan
I met the owner of the pharmacy; a scarf-tying middle-age woman, light in complexion, and drives around in a Honda Pilot SUV. I've heard stories about rich folks living in Lekki and that moment represents my closest meeting with one. I entered the car and she greeted me courteously while I returned it with the same enthusiasm. She went straight to business telling me about the roles of the job, the terms of my appointment, and how much she's willing to pay me per month. We both verbally agreed without putting anything to paper and my resumption was the following day. I was quite happy that I will, for the first time, hold something close to being a proper job after almost a year of searching.
I resumed the following day to meet a man much older than me, my coworker, already at the pharmacy. We exchanged pleasantries while I introduced myself. To my surprise, he also a pharmacy technician like me. I was expecting to meet a professional pharmacist on duty. Anyway, that's none of my business. Customers have started coming-in one after the other.
I watched on as the man was attending to them one after the other. I observed the arrangement of the drugs on the shelves, how they are sectionalized with similarly functioning drugs put together within the same compartment. Being a fast learner, I was soon able to start attending to customer's demands, especially for common drugs such as paracetamol, vitamin c, etc. However, there was a ton to learn with very little or no time available because customers won't just stop trickling-in. Either I learn on the job or run the risk of being booted out early because the boss already mentioned something along that line while signing my verbal agreement the previous day.
Within a short period, I got to learn most of the analgesic, antihypertensive, sedative, and other categories of drugs. One important thing I didn't learn on time was that the same drugs can be different based on their route of administration and it took a couple of mistakes, which luckily didn't result in any major incident, for me to learn.
A woman in her 60s walked into the pharmacy one fateful morning. I happened to be the only one around as my colleague has gone for supplies. She complained of body pains and specifically told me it's beyond just paracetamol. From my little training so far, I've learned that the first thing to do when a customer walks-in without any specific drug in mind is to recommend the most expensive drug in the line of their ailment. I asked the woman if she's not suffering from an ulcer and she replied in the affirmative. Otherwise, non-steroidal anti-inflammatory drugs would be a no-no. I quickly scanned the analgesic section and the most expensive drug that came into focus was Voltaren - a brand of drug that contains 100 mg of diclofenac.
I wanted to act like a pro because the customers expect you to be one. I brought out the drug and explained to the woman the dosage to be taken per day after a meal and whatnot. I acted right in everything except one thing, I gave the woman a suppository. Wtf is that? Of course, I didn't realize this until the woman came back later in the evening. This time, my colleague was around. The woman complained about how the drug I gave her looked funny and didn't seem to work for her ailment. I was about starting to argue with her when my colleague intervened and asked the woman to produce the drug I gave to her. He quietly beckoned me to one side and informed me that I gave the woman a rectal suppository. According to the definition:
Suppositories are solid medications that enter the body through the rectum, vagina, or urethra. source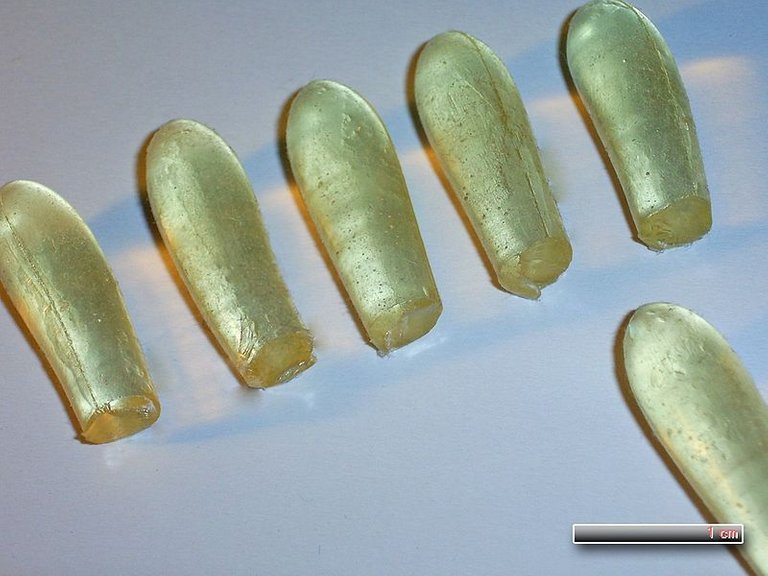 A typical suppository. By Rillke, CC BY-SA 3.0 https://commons.wikimedia.org/w/index.php?curid=13664124
A suppository can be vaginal, rectal, or urethral depending on the part of the body it is meant to be inserted. To cut the long story short, it was a major goof to have asked the woman to orally take a drug that is meant to be administered rectally. Thank goodness, suppositories are usually covered in gelatin or cocoa butter which is not poisonous if swallowed. However, that a drug meant to be a suppository but taken orally will work for the same target ailment depends on the reason the drug was constituted as a suppository in the first place.
A drug may be constituted as a suppository if it gets broken down too quickly in the digestive tract for it to be effective for the target ailment. Sometimes, it might just be because it leaves a bad taste in the mouth, difficult to swallow, or provokes a nauseating reaction from patients. In certain cases, suppositories are specifically meant for the areas or tissues/organs Close to the areas they are inserted. Taking such drugs orally will simply not work.
So what happened with the woman? We quickly apologized to the woman and replaced the suppository with the oral version of the same drug without disclosing many details to her. We couldn't afford for her to create scenes within the pharmacy as we were in the peak sales period of the day. Why didn't the drug work for her? From extensive search, apart from the route of administration, there is really nothing to differentiate between the Voltaren suppository and oral tablet. The suppository, even though taken orally should have worked. Perhaps the woman was just in a hurry to see the effects of the drug as it was barely up to 10 hours she took the first dose.
I became extra cautious thereafter and never really had any major issues throughout the rest of my stay in the pharmacy. In fact, most people I later confessed to that I am not a pharmacist found it difficult to believe. Almost 8 years after, some of them still call me for drug recommendation. Mine was just a case of being lucky. Something worse could have happened as a consequence of the mistake I made.
We live in a world of capitalism where people are all about profit and give little regard for human lives. In a normal setting, the pharmacy owner should have, at least, one professional pharmacist on the ground. Such a mistake would not have happened. However, it is what it is.
Thank you all for reading.
Resources