The experience I have gathered in my over a score and a half years of existence has taught me that the bulk of the non-pathogenic health issues that we face as humans are due to our lifestyle. Even congenital disorders cannot be excluded from this category as most of them can be traced to the lifestyles of the mother before or during the gestation period.
I have been going to and fro the orthopedic ward of one of the most popular government teaching hospitals in Nigeria for the past few weeks and one thing I could not but notice is the absence of pillows on all the beds meant for patients that are recuperating from one or more orthopedic or bone-related health issues.
Is it just a coincidence or a deliberate act? I asked myself.
I could not get a direct answer to my question. However, I got an indirect one in a totally serendipitous manner. Somewhere at the balcony of the ward lies a pile of pillows, disfigured for a lack of usage. This means that those pillows were removed for a reason.
And the reason could only be for a healthy one. So, this got me thinking if using a pillow or pillows to sleep is a good health practice.
The truth is, many people use pillows when sleeping because of the comforts they offers. Only a few people link the practice to their health. Personally, I put a pillow below my head to sleep most of the time because I will hardly get a good sleep without it.
It is possible a particular lifestyle offers us comfort but comes with bad health effects. Whereas, some lifestyle practices may seem uncomfortable but are good for our overall well-being.
Which one does using pillows belong to?
Both.
According to experts, the best sleeping position is one in which the spine aligns with the head, all the way from the hip. In other words, the head needs to be in a neutral position. Not just the best, but the most healthy as well.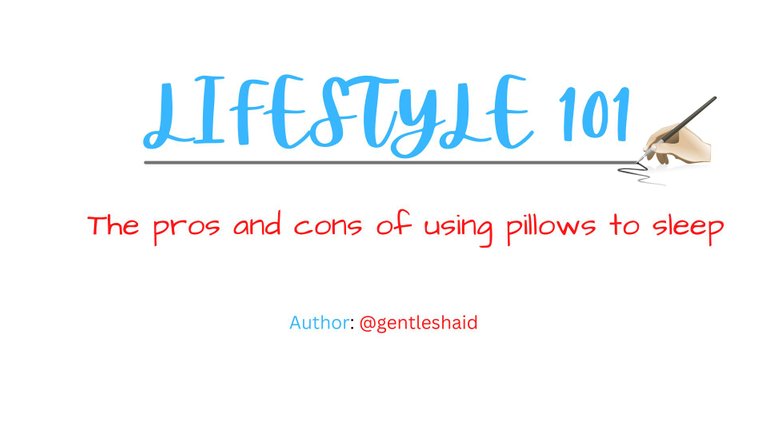 Thus, the two sleeping positions that are recommended for optimum health are sleeping on the side or with the back. However, the benefits of these sleeping positions are incomplete without using pillows.
Using a pillow will raise the head and align it with the neck and the spine. If your neck/head is not in alignment with your spine while asleep, you are likely to wake up with neck pain. In other words, sleeping on the side or on the back comes recommended with a pillow.
It is another ball game entirely for those that sleep on their stomach though.
First of all, sleeping on the stomach is the least recommended position for sleeping due to a variety of reasons. When you sleep on your stomach, the reactive force of the mattress will push against your ribs. This makes breathing more difficult and energy-sapping.
In addition, no one can sleep on their stomach face-down. In other words, you will have to turn your head to a particular side. Consequently, your head and your neck dis-align with your spine and this can create all sorts of health problems in the long run.
Moreover, using a pillow while sleeping on your stomach is not something that anyone will want to do. It will only worsen things. Hence, it comes highly unrecommended. If you are a stomach sleeper that uses a pillow, you may be setting yourself up for terrible spine-related problems in the future.
Updates about my sister
If you have been following my blog, you will know already that my sister was recommended for urgent low-spine surgery to decompress a nerve that has been causing her chronic pain. I am glad to inform my readers that that surgery has been conducted successfully and as I am typing this, she has been officially discharged and will be heading home today.
@sam9999 was skeptical about the surgery and recommended that we try out physiotherapy first, but the doctors at the orthopedic section will not have any of it for a reason best known to them.
What that may be, the surgery has been done and it is a successful one.
Thank you all for your kind words.