For kid lovers, the appearance of cute little twins is always a sight to behold. I have seen several ladies jokingly attesting that their ovaries tingle each time they see a set of twins, especially if they are identical. I would not really know if ovaries do tingles. Perhaps my female audience can clear me up on this.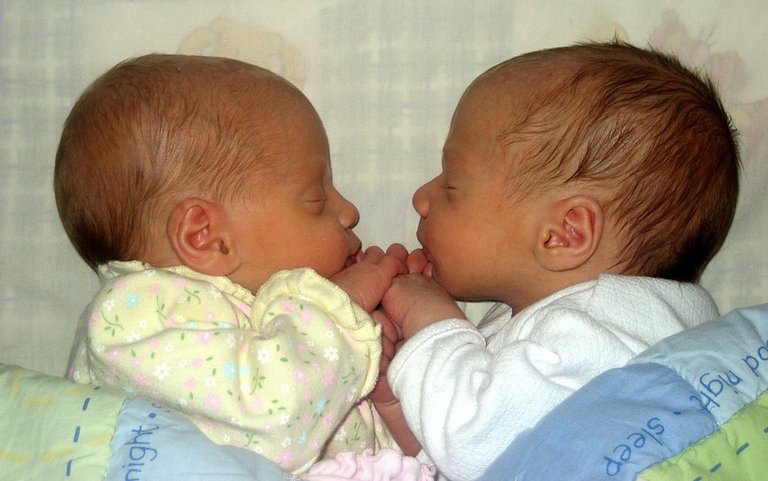 By MultipleParent - Image:TwinsTwins.JPG, CC BY-SA 3.0
Somewhere in a small town in one of the states in Southwestern Nigeria, Oyo-state to be precise, almost every households boast of at least, a set of twins. The phenomenon is prevalent so much in this town to the extent that it has been labeled as the twin capital of the world. A research carried out as far back as 1972 to 1982 revealed an average of 45 to 50 sets of twins out of every 1000 births in the town. The town is known as 'Igbo Ora' and the people attribute this condition to 'an act of God'.
Several inquiries have been made into what might be responsible for the unusually high rate of twins in the town with the strongest evidence pointing to the consumption of a particular species of yam by the women of the town. The research conducted by fertility experts linked the presence of a high amount of phytoestrogen in a species of yam in the town to hyperovulation in women, and hence, the high prevalence of twin births. However, some experts in the same field have debunked the claims and opined that there are no foods that increase the chances of giving birth to twins.
---
The biology of twin
---
The biology behind the formation of a twin is best explained based on the type of twins. There are basically two types of twins based on phenotypic appearance.
Identical twins
Fraternal twins
Fraternal twins, on the other hand, do not look like each other and can be of the same or different sexes. They are formed from two different eggs that get fertilized by different sperms and hence, are both phenotypically and genotypically different from each other.
One interesting thing about fraternal twins is that they can be given birth to days, weeks, or even months apart. Normally, twins are usually given birth to minutes apart, or sometimes, just a few hours apart. While the likelihood of identical twins being given birth to days apart is very slim or even non-existence, history has recorded cases of fraternal twins being given birth to several days apart due to a condition known as uterus didelphys.
The condition is characterized by a woman having two uteri with each uterus having its own cervix. Each uterus is capable of carrying a pregnancy, meaning that, if fertilization takes place at different times within each uterus, the result would be babies given birth to at different times. A good illustration of this case was witnessed when a 29-year old woman gave birth to a set of twins that are 11 months apart.
---
Hyperovulation and the genetics of giving birth to twins
---
My wife and I always joke about having a set of twins and each time, we always refer to the fact that my dad being a twin might be a deciding factor. We, along with several other people, obviously think that giving birth to twins might be genetic. Perhaps we are right.
Whether giving birth to a twin is based on genetic or otherwise depends largely on the type of twin. The formation of identical twins is largely due to chance and has nothing to do with genetics. The division of a fertilized egg/embryo in the uterus resulting in identical twins is a random event that happens based on pure chance.
However, the same cannot be said for fraternal twins. Like I had pointed out earlier, the formation of fraternal twins depends on the release of two eggs, a condition known as hyperovulation. This condition is generally known to be genetic. However, since the male sex does not have eggs, hyperovulation is only witnessed in females but males can pass on the gene to their female offspring.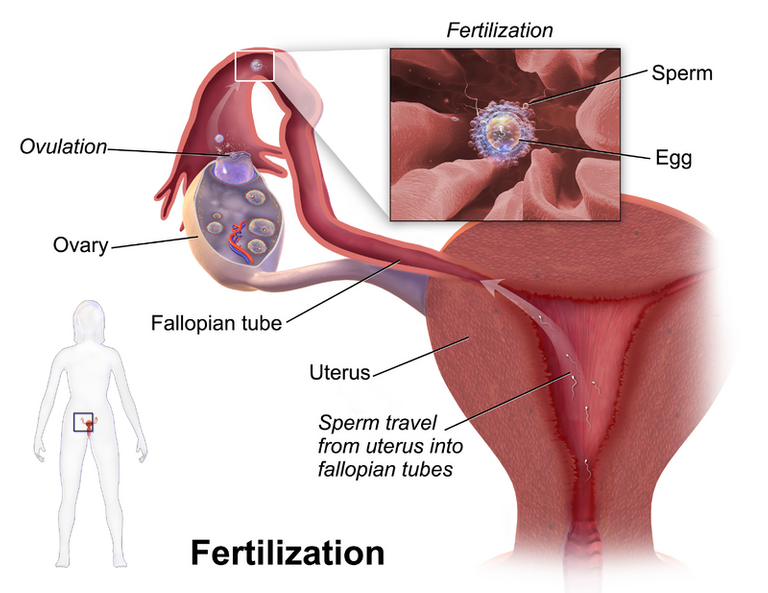 By BruceBlaus https://commons.wikimedia.org/w/index.php?curid=29738545
It thus means that without hyperovulation, the chances of having a fraternal twin are zeros and with hyperovulation, having fraternal twins becomes a thing of genetics. If there is no history of hyperovulation in the lineage of a woman the chance of her having a fraternal twin is zero while the chance of having an identical twin is purely random. Having a twin has nothing to do with a man, except that a man can be a carrier for hyperovulation gene to his daughter, resulting in her having a good chance of producing fraternal twins.
---
Summary
---
The phenomenon of giving birth to a set of twins has been found to have nothing to do with lifestyle as reported in some quarters. However, it can be genetic if the twins are fraternal or unidentical. Identical twins happen by pure chance and result from the random division of the embryo into two. Fraternal twins can only happen when two eggs are released simultaneously from the ovary of a woman, a phenomenon known as hyperovulation. Hyperovulation is a heritable trait that only manifests in the female sex, a man can only be a carrier. Hence, the formation of fraternal twins depends largely on the genetic history of a woman's lineage. Some women have a medical condition that results in them having two uteri, thus enabling them to carry two babies that can also be referred to as twins. This kind of twin can be given birth do days, weeks, or even months apart.
---
Final words
---
Before calling it quit for this session, I will like to ask you, my audience, what is the maximum number of twins have you witnessed a woman given birth to? I am talking about real life, not the one read in the news. Personally, I have seen a woman that gave birth to 6 sets of twins. The woman has 13 children in total with only the firstborn being a single birth.
Thank you all for reading.
Resources
https://theculturetrip.com/africa/nigeria/articles/this-city-in-nigeria-has-the-highest-rate-of-twins-in-the-world/