Hello Hivers!
In today's article, I'll explore the advancements that have been made with the treatment of sickle cell. Sickle Cell disease was first explored by modern medicine in the early 1900s and since then, a lot of progress has been made in trying to find treatment solutions for the seemingly incurable disease.
Let's go.
---
Sickle cell disease (SCD), also called SS genotype or sickle cell disorder, is a lifelong and serious inherited blood disorder. It is however preventable. It comes with dreadfully painful complications commonly known as sickle cell crisis where patients' bodies are afflicted with sudden episodes of severe pain.
---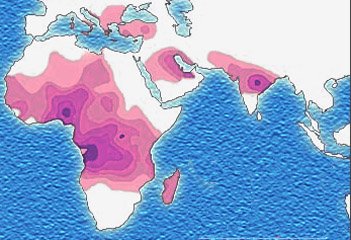 Distribution of the sickle cell trait, shown in pink and purple. By Muntuwandi at English Wikipedia, CC BY-SA 3.0, Link
Sickle cell disease (SCD) is common throughout much of sub-Saharan Africa, affecting up to 3% of births in some parts of the continent. According to Africa Check, in Nigeria with about 7 million births yearly, 150,000 are affected by sickle cell; this is about 2.1%.
Nevertheless, Sickle Cell still remains a low priority for many African health ministries. In Africa, sickle cell disease (SCD) is reported to be associated with a very high rate of childhood mortality, 50%–90%.
---
Previous Developments
A lot has been achieved in discovering new treatment for sickle cell and ultimately, a cure.
Support from the National Sickle Cell Disease Program in the United States has resulted in significant advances in the management of sickle cell disease.
They include;
The inauguration of neonatal diagnosis for sickle heamoglobinopathies with parental education and utilization of special follow-up clinics for affected infants.
The administration of prophylactic antibiotics and improved vaccine for control of life-threatening infection is enhancing survival in infants and children.
A number of anti-sickling agents which were under preliminary clinical developments in adult patients.
Bone marrow transplantation which represented another potential methods for management of selected types of sickle cell disease.
---
Recent Developments
Over the years stem cell transplantation has become an available cure for sickle cell disease. It is although associated with potential side effects like hair loss, skin rashes, swelling, weight loss or gain, fatigue, change in taste/appetite, decrease in sexual desire, yellowing of the skin or eyes, excessive dryness or pain in the mouth, joint pain, or eye dryness.
In the absence of a widely accessible cure, the few treatment options for sickle cell disease are aimed at decreasing pain, preventing serious associated health problems, and improving quality of life. This includes the use of analgesics, antibiotics and vaccine prophylaxis, and blood transfusions.
The only established long-term therapy for sickle cell disease is hydroxyurea, a pill approved more than a decade ago to treat complications stemming from the disease.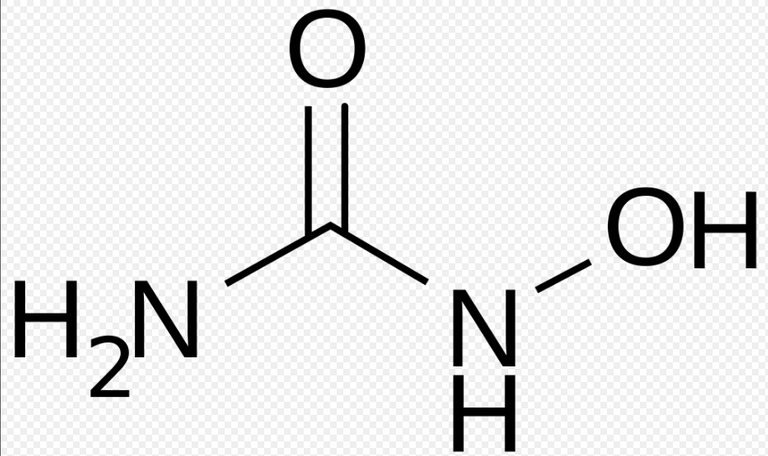 Structural formula of Hydroxyurea. CC BY-SA 3.0, Link
Research studies presented to the 57th American society of Haematology (ASH) annual meeting and exposition, at Orlanda on 5 December 2015 demonstrated potentially practice-changing advances in improving outcomes for patients with sickle cell disease. One study showed the use of Hydroxyurea in a new way to prevent serious sickle cell complications like stroke which is more common in children than adults.
Another study reported on positive outcomes from a large, long-term analysis of children with sickle cell disease who receive a stem cell transplant from a sibling with identical, matching tissues.
Finally a promising new data demonstrated that a new oral agent may be a safe, effective way to manage sickle cell disease by reducing sickling of red blood cells.
With Hydroxyurea
An NHLBI-funded multi-center, phase III randomised clinical trail in 26 paediatric program across the United states and Canada compared 24 months of standard treatment (transfusion) to alternate treatment (hydroxyurea) in 121 children with sickle cell anaemia who were currently receiving monthly transfusions for abnormal transcranial doppler (TCD) but without severe vasculopathy. The results indicated that Hydroxyurea at maximum tolerated dose was not inferior to blood transfusions for maintaining normal TCD velocities and hence Hydroxyurea can serve as alternative to indefinite transfusions for the prevention of primary stroke in this high risk population.
With Stem Cell Transplant
Large analysis shows stem cell transplant is successful in most children with sibling donors. While stem cell transplant is only curative therapy for sickle cell disease patients it is offered to relatively few patients for a variety of reasons, including the risk of graft-versus-host disease for patients without matched donors and lack of consensus on which patients are candidates for transplantation.
An international survey on behalf of Eurocord-Monocord, EBMT paediatric disease working party and CIBMTR; reported on the outcomes of 1000 sickle cell disease patients with a median age of 9 years, who received stem cell transplanted from a sibling with identical tissues during the period from 1991 to 2001. This large registry study demonstrated that transplant from a matched sibling donor is successful in more than 90 percent of patients with severe sickle cell disease. This has increased the awareness of the importance of early referrals for patients with severe sickle cell disease to receive transplant.
Novel Anti-Sickling Agent
GBT440 (Voxelotor) a potent anti-sickling haemoglobin modifier, in the first-in-human randomized, double blind phase I/II study; has been shown to reduce haemolysis, improve anaemia and nearly eliminates sickling cells in peripheral blood of patients with sickle cell disease.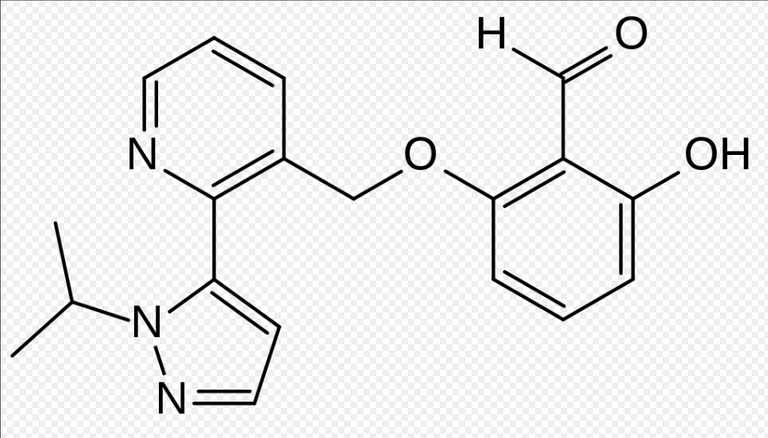 Chemical structure of voxelotor. By Anypodetos - Own work, CC0, Link
---
This exploratory oral therapy works by increasing haemoglobin's affinity for oxygen and targets the underlying mechanism of red blood cell sickling. The results gotten demonstrated that GBT440 rapidly reduced the rate of red blood cell destruction, improved oxygen delivery to tissues, and reduced the number of circulating sickle cells. These results support further clinical investigations this agent as a potentially disease-modifying therapy for sickle cell disease.
A lot is still currently being done to discover new treatment options for sickle cell. Although most are still experimental, they seem promising. For example, the revolutionary gene-editing technique called CRISPR (clustered regularly interspaced short palindromic repeats).

Do you have any questions, concerns or anything to add? Tell me what you think below.





Resources
Kapoor S, Little JA, Pecker LH. Advances in the Treatment of Sickle Cell Disease. Mayo Clinic Proceedings. 2018 Dec;93(12):1810–24.
Nigeria: Weighing Nigeria's Sickle Cell Burden - Is It the World's Highest? [Internet]. allAfrica.com. 2020 [cited 2020 Jul 27]. Available from: https://allafrica.com/stories/202007160854.html
Scott RB. Advances in the treatment of sickle cell disease in children. Am J Dis Child. 1985;139(12):1219-1222. doi:10.1001/archpedi.1985.02140140053026
Oksenberg D, Dufu K, Patel MP, Chuang C, Li Z, Xu Q, et al. GBT440 increases haemoglobin oxygen affinity, reduces sickling and prolongs RBC half-life in a murine model of sickle cell disease. British Journal of Haematology. 2016 Jul 5;175(1):141–53.



Written by @gamsam - a Medical Student
All images used are copyright free
Vancouver Style was used for References.




---