This is an invitation to participate in the FIERCE MADNESS 2020 DRUG Name Tournamed. It has already progressed into the round to elect the final four and there are only 2 Drugs per desease area left for voting. You can choose the name that you like most or on any basis you like.

---
Read more: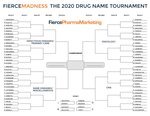 #FierceMadness: Pfizer's Talzenna, J&J's Spravato hang on for Elite Eight berths
Moving into the Final Four of the
#FierceMadness
drug name tournament, contenders from both Big Pharma and smaller companies remain evenly in play. AbbVie's Skyrizi and Amgen's Evenity made it through the Elite Eight, but so did Alexion's Ultomiris and Vertex's Trikafta.
Source:
https://www.fiercepharma.com
---

---
Share this post:







---
Posted using AltYes browser extension.