Exploring the Concept of Liquid Trees in Tackling Climate Change
Liquid Trees!!!, I would have loved to say that three times instead of putting that punctuation mark because it would have sounded more satisfying to say it that way but anyways, I am writing so that would be fine. When I say liquid trees, you start to wonder what I mean so you do not start to say the wrong thing but anyways, I mean liquid trees.
I love plants, and if I am going on a vacation, I would like places with trees so I can be able to enjoy nature's beauty but you see, as important as these trees are to us, civilization has led to deforestation which has brought about having little to no trees in cities and industrial areas. With this, scientists are looking at creating an alternative to having trees, thereby creating liquid trees.

https://commons.wikimedia.org
Plants are very important in our ecosystem, helping to combat climate change by trapping carbon dioxide in the atmosphere and producing oxygen. They are very important to us but they look like a very big concern to cities as there is no space to plant them also when trees are grown in areas where there is a high pollutant, their lifespan is shorter. Trees absorb about 10kg to 20kg of carbon dioxide annually but that is not even enough compared to what is released from a car. While trees have their benefits, they also come with their not-so-good effects on us such as allergies during some climate conditions.
With this, scientists have decided to work on Photobioreactors which are closed vacuums and containers containing organisms that use photosynthesis. These organisms are algae and bacteria, and with photosynthesis, these organisms can also absorb carbon dioxide from the environment and release oxygen into the environment. While this is a great one already, there is more to photobioreactors such as their importance in water purification where scientists use algae in the reactor to filter pollutants such as nitrogen, and phosphorus, as well as other contaminants in the water such as estradiol found in birth control pills. They can also filter out larger organic wastewater matter. Currently, a photobioreactor is used to grow spirulina, and hopefully, in the future, it will be used to do other great things such as in agriculture.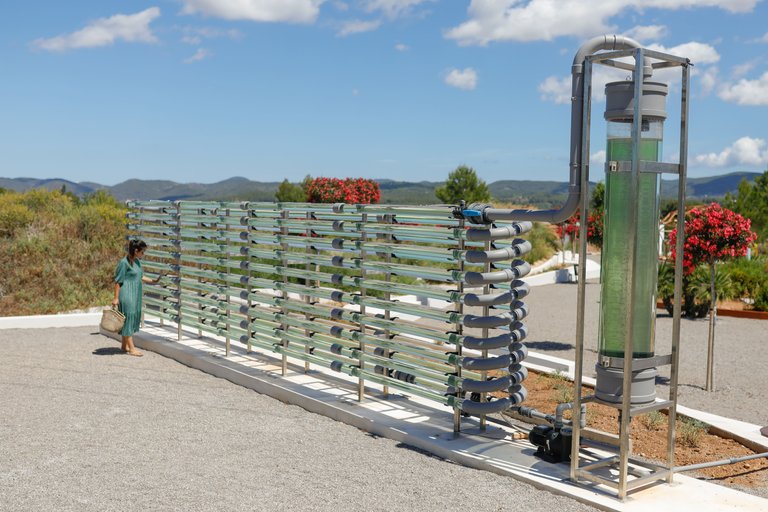 https://commons.wikimedia.org
Currently, in the quest to replace trees with a better alternative in cities that can still utilize photosynthesis, absorb carbon dioxide, and release oxygen, researchers decided to give a photobioreactor a trial. In Belgrade, researchers created the Liquid 3 photobioreactor which is made up of single-celled algae Chlorella vulgaris which is resistant to high and low temperatures and changes in climate, thereby having an all round a year liquid tree.
While I am going to say that they will replace trees because it will be quite difficult for them to do so. The synergy between traditional trees and their liquid counterparts is a realm ripe for exploration. Perhaps it is in this very symbiosis that we find the key to a greener future. Imagine a cityscape where stately oaks and liquid bioreactors coexist, their collective efforts purifying air, mitigating pollution, and heralding a new era of sustainable living.
---
---
Post Reference
---
---
---
---