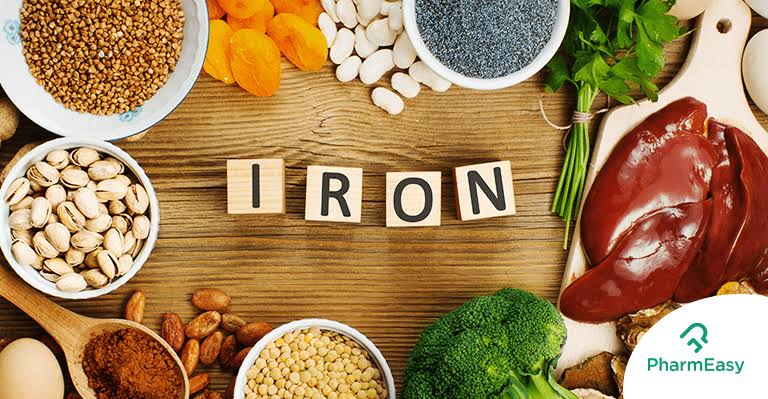 Image source
Introduction
---
Presently, everyone, whether young or elderly, enjoys eating foods that they enjoy. No one considers how the meal will effect his or her wellbeing or whether we will receive a nutritious diet while eating.
We can stay healthy and refreshed if we have a good balance of vitamins, minerals, protein, and hemoglobin in our bodies. Iron plays a critical role in the body's overall health.
Why is iron important in our diet
---
Iron is required for the formation of hemoglobin. Hemoglobin is a protein that contains a lot of iron. Hemoglobin is responsible for the red blood cells. The major component of the blood is this red blood cells. This boosts the ability to breathe while also producing more oxygen in the body. Iron helps the body by delivering oxygen from the lungs to other regions of the body.
Both a lack and an surplus of iron can be damaging to the body. Iron shortage can lead to deadly diseases like anemia, and iron deficiency is more common in women than in males.
Diseases due to surplus of Iron
---
Hemochromatic illness is most likely caused by an excess of iron. As the amount of iron in the body increases, so do the risks of developing a variety of ailments. Diabetes, cancer, liver illness, heart attack, arthritis, impotence, deteriorating digestion, and other major disorders are all at danger.
Diseases due to lack of Iron
---
[Anemia]( can occur as a result of low or lack of iron. It is more common in women since they are unable to care for themselves and suffer from blood loss as a result of menstruation. There is a danger of respiratory disease, difficulties managing body temperature, and heart disease as a result of this.
Early weariness, pale yellow skin, head pains and headaches, a weakened immune system, dark bags under the eyes, increased pain during periods, and more hair loss are all signs of this.
What and what contains Iron
---
Beet roots
---
Beet root iron aids in the production of hemoglobin in the bloodstream as well as the activation of red blood cells. Beetroot leaves, in addition to beetroot, contain a considerable quantity of iron. Sugar can be added to your diet on a daily basis in the form of juice, soup, or salad.
Dry fruits
---
Eat dates, grapes almonds, and raisins to boost your hemoglobin levels. They have an adequate amount of iron. The benefits of eating dates with milk on a regular basis are numerous. Dates provide a significant amount of iron to the body.
Pomegranate
---
Calcium, salt, magnesium, potassium, and vitamins are abundant in pomegranate iron. The blood in the body conducts well when you consume pomegranate juice every day.
Jaggery and Egg
---
Iron deficiency can be alleviated by the use of jaggery. It is a naturally occurring mineral. It's loaded with vitamins. Jaggery is also good for digestion.
Protein, fat, vitamins, minerals, iron, and calcium are all found in eggs. It also contains vitamin D.
Green vegetables
---
Hemoglobin booster is abundant in Green vegetables. Spinach, for example, is high in calcium, sodium, chlorine, phosphorus, mineral salts, and protein. Tomatoes, mustard, fenugreek, coriander, mint, Bathua, cabbage, beans, and cucumber should all be consumed in large quantities.
References
---