My Right Hand, Man!
I lost the use of my dominant hand back in February. Trauma isn't something I play at amateur level, either, I'm pro; buried their only parent, navigate life one-legged, neck that looks like shark teeth—Pro. Fession. Al.
None have taken me to darker places than six months to think about what if I don't get my hand back.
We're pretty resilient, though, humans. We adapt to adversity about as well as any other animal. That and we're real good at pretending.
No faking this one.
---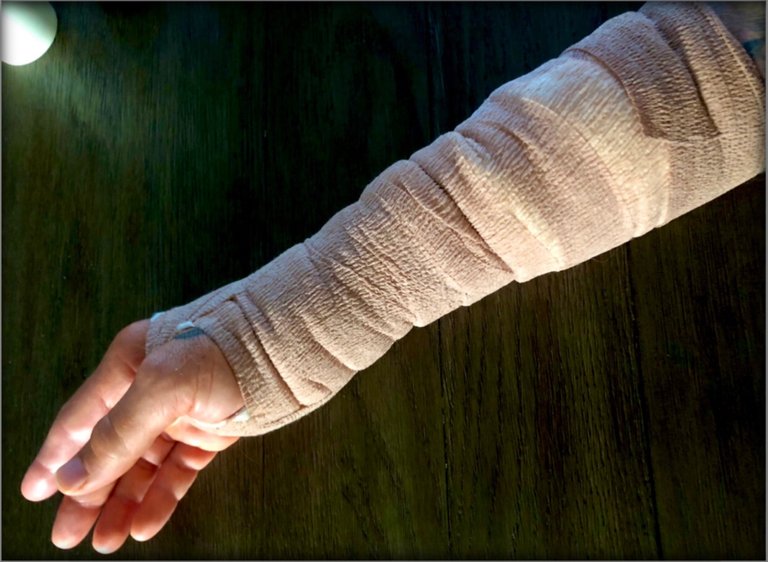 ---
I was playing with the puppy one morning around the first week of February. She would've been puppy-puppy back then—barely three months old when, out of nowhere, a burning sensation in my elbow. Not burning like sunburn or open flame, burning like my elbow was melting from the inside. Pain level 10.
I had to sleep with a heating pad wrapped around my arm for about a week just to intensify the heat so much that by burning my skin I could distract myself from the fire inside my elbow long enough to catch some sleep until it would turn itself off, Wake Up!!!! ~Reset. Burn, sleep.
That first week was intense.
Around day two is when I realized I was losing the ability to control my thumb. My hand deteriorated quickly from able to make a fist to barely able to make a real soft fist to no fist at all until I couldn't snap my fingers and eventually my thumb was stuck in the Fonzie. I couldn't move it.
I never really thought about all the countless, basic, everyday life occurrences we take for granted that are impossible to accomplish without two thumbs like open a Ziplock bag until I was forced to. Anything resealable is off the table without two thumbs. Button or unbutton a shirt, tie shoes or anything with strings, hold a bar of soap, fold clothes—two thumbs required.
Things I'm counted on around the house for that even Pura has taken for granted for 10 years like opening jars and twist tops. She's been on her own since February.
Around day four or five, I lost the ability to control my index finger. Couldn't tuck it in, flick it or put in my right earbud, nothing, including protect it. Still. I still jam it on things occasionally adding injury to injury.
It's tough to explain. Tough to describe like someone telling me what it's like to have children. Be as descriptive as you'd like and, at best, I'll hardly have a vague, ready?
Make a fist.
No matter how hard you try; stare at it, try harder. You know what it's supposed to feel like when all of your fingers are clinched tightly in the palm of your hand. Tight enough to white knuckle and ease off and then white knuckle again but instead your thumb and finger are stuck in a gun position.
Rock, paper, scissors in three, two, bang!
---
---
Cut food, enter a PIN, t.y.p.e, wash your face, hold a toothbrush or your phone for Apple Pay, a cup or plate, fold a napkin, a towel, fold anything, open a door or cardboard box. Ever try turning a doorknob without a thumb?
You can't.
Make an "ok" sign said the radiologist at the imaging lab..
---
---
Can't touch my fingers together.
I haven't drawn anything since February. Impossible to hold a pencil when you can't touch your fingers together. We just got in this house in December and I lost my hand two months later—useless. Something as simple as sending off a package, I have to have the receptionist write the address for me so screwdrivers and hammers are out of the question. I got on the internet.
W w w dot best hand specialist near me dot com.
Two. I found a bunch of highly reputable hand specialists in the nation, two of whom practice in East Tennessee—25 minute drive. Combined, they have 69 years experience. Statistically, they rank #1 and #4 in the state.
I don't partake in worst case hypotheticals because karma is real but if I was forced to choose between body part X and my right hand I'd get a second opinion.
Both described the same preliminary diagnosis, AINS—Anterior Interosseous Nerve Syndrome, an extremely rare symptom they only treat once or twice a year. #MyFuckinLuck. It means the nerve that runs down my shoulder, through my elbow to my hand that tells the ligaments and muscles and tendons in my forearm how to move my thumb and index finger isn't communicating—crickets.
Both specialists concur I injured myself a couple days prior to that morning I was playing with the puppy. I had moved several heavy tree stumps across the yard that day. The heaviest one which didn't seem too heavy at the time gave me trouble as I carried it up a hill. Apparently, this is some normal evolution shit where mentally I'm on point and stronger than ever but, as I inch closer to 50, rather than strain muscles when I lift heavy, I just shred nerves instead.
Four tests.
They each ordered the same initial exam, a Hail Mary, the least invasive approach—load me up on a powerful steroid called prednisone for 10 days with the idea that whatever stress or tension is crippling that nerve repairs itself due to the strength of the steroid and life goes back to normal. Instead, the opposite:
---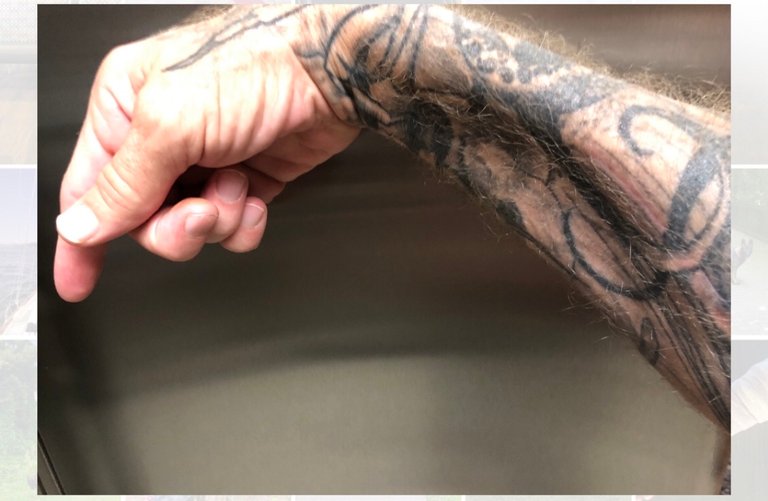 ---
Atrophy.
Doctor #1 with 43 years experience wants to proceed with caution. Wait 8 months, he said, nerve regeneration can take years to overcome. Be careful, don't use your hand, whatever else he said and scheduled some physical therapy appointments to teach me how to write and draw and feed myself yata yata with my left hand.
Fired!
I hired doctor #4 with 26 years experience whose approach is significantly more aggressive. He's the lead physician for the athletic department at the University of Tennessee, too, I like that. He wants to filet my arm open, do what's called a nerve decompression but first, more information. He ordered three additional tests.
The first two were MRI's. One of my wrist and one of my elbow to rule out a damaged muscle, tendon or ligament.
That would've been too easy.
Had it been any of those, he would've opened me up, put it back together, recovery room goes me. By eliminating everything else, we're confirming AINS, one more result show—electromyography.
Nothingshortoftortury, it should be called.
It's a continuity test, proves whether or not the nerve's still intact from one end to the other. Worst case scenario—no continuity. Best case scenario—anything else.
Shock collar on my elbow. It's a shock collar like you put around a dogs neck, I know what a shock collar is.
On my thumb and finger are some pulse sensing apparatuses with wires attached to them plugged into a computer. On the monitor are numbers and line graphs. All of the squiggly lines in assorted colors that look a lot like a market analysis are the readings each time they nailed my elbow with that collar—Ka'pow!
It hurt so bad. All eight or nine times. High pain - high reward. Results: Anything else—best case scenario.
Muscles, tendons, ligaments, no damage. Nerve, damaged but not broken. Had continuity failed between my elbow and hand, terrifying phrases like nerve transplant and partial mobility become reality.
Like all body parts, nerves have a mind of their own. It's still attached, that's great news, it's just not communicating. They can be finicky, I'm told, the analogy used for nerve damage was elastic.
Stretch it, it goes back. Stretch it too far or too many times and it breaks, never returning to form. Somewhere between too many and breaks is too much requiring an extended period of time to go back. Textbook says 24 months. February to now is four, another 20 to go without my hand is what the first specialist suggested.
Mine, however, described an optional surgery where he cuts me open and essentially massages that nerve by hand. Identify it, trace it through all of the veins and muscles and everything else in my forearm kind of caressing it and massaging it along the way—nerve decompression. The procedure can speed up the regeneration process by as much as six months.
So, June 1, 2n1/2 months ago, that's what we did. I've been in recovery mode since.
---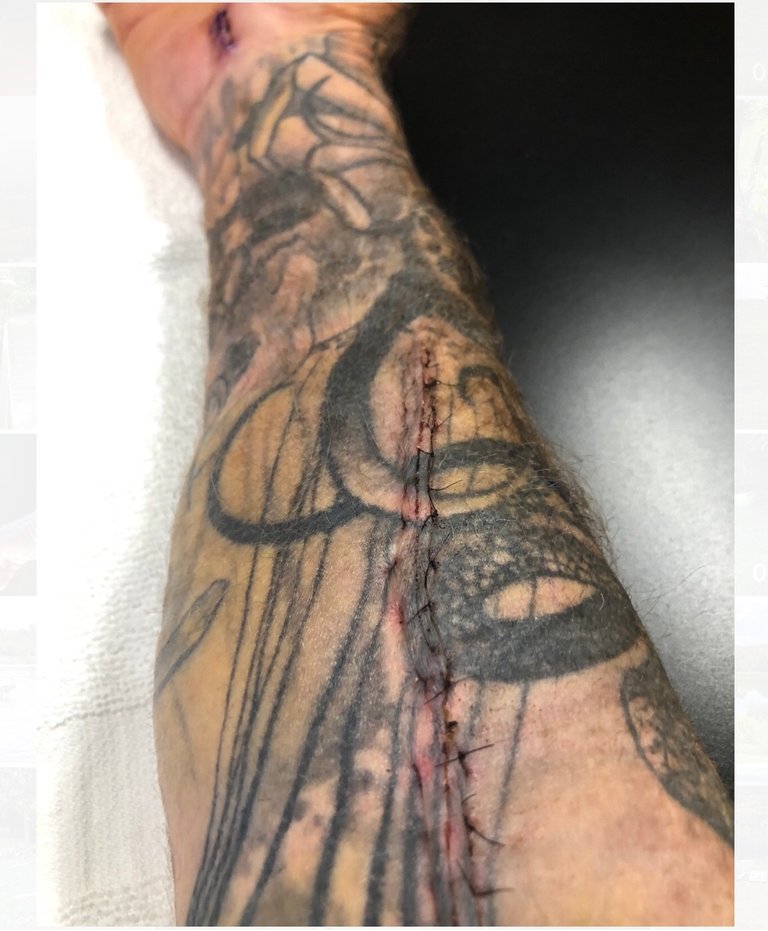 ---
"Oh, you'll get it back," says Morgan, my physical therapist, "we just don't know when."
My doctor is 'optimistic,' his word not mine. He's confident that by next winter, October'ish - 2024, I'll have full mobility and strength. I'll take it!
Neurotherapy muscle spasm stimulation device powered by a 9v DC battery:
---
---
In the meantime, he ordered me that. I use it twice a day, 10 minutes each time until that muscle wakes tf back up and does what it's supposed to.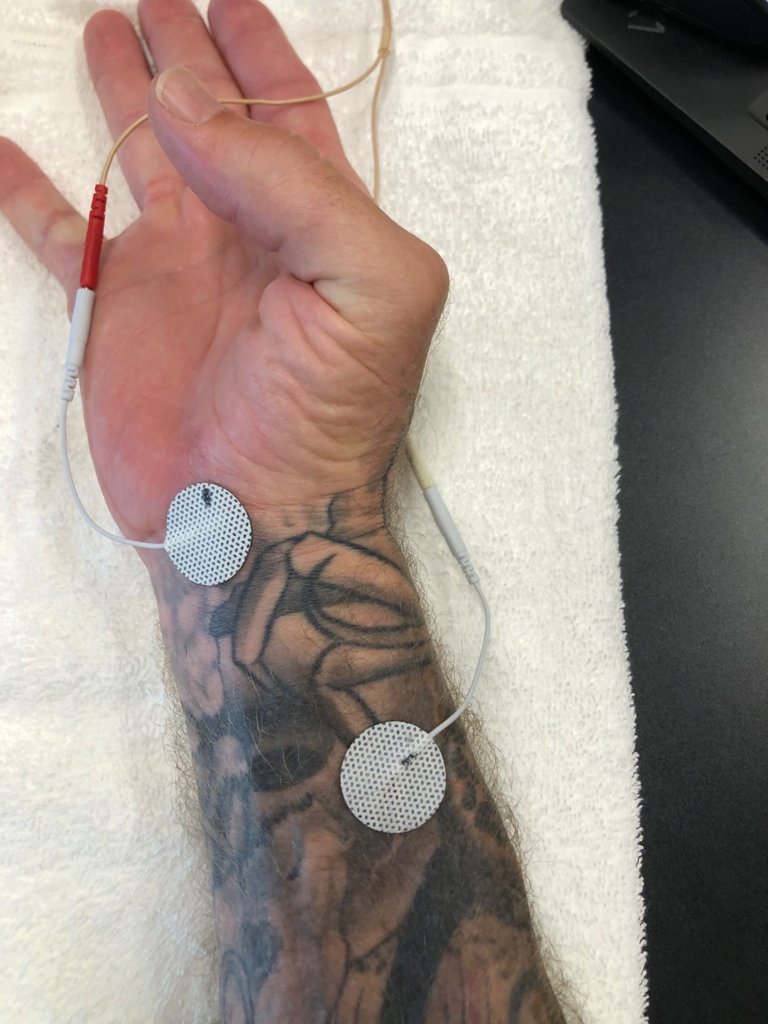 I put those sticky pads on my forearm and wrist in similar proximity depending which I'm trying to move, thumb or finger. For each one, I kinda move it around until I feel the nerve slapping inside my arm and stick a pad to it.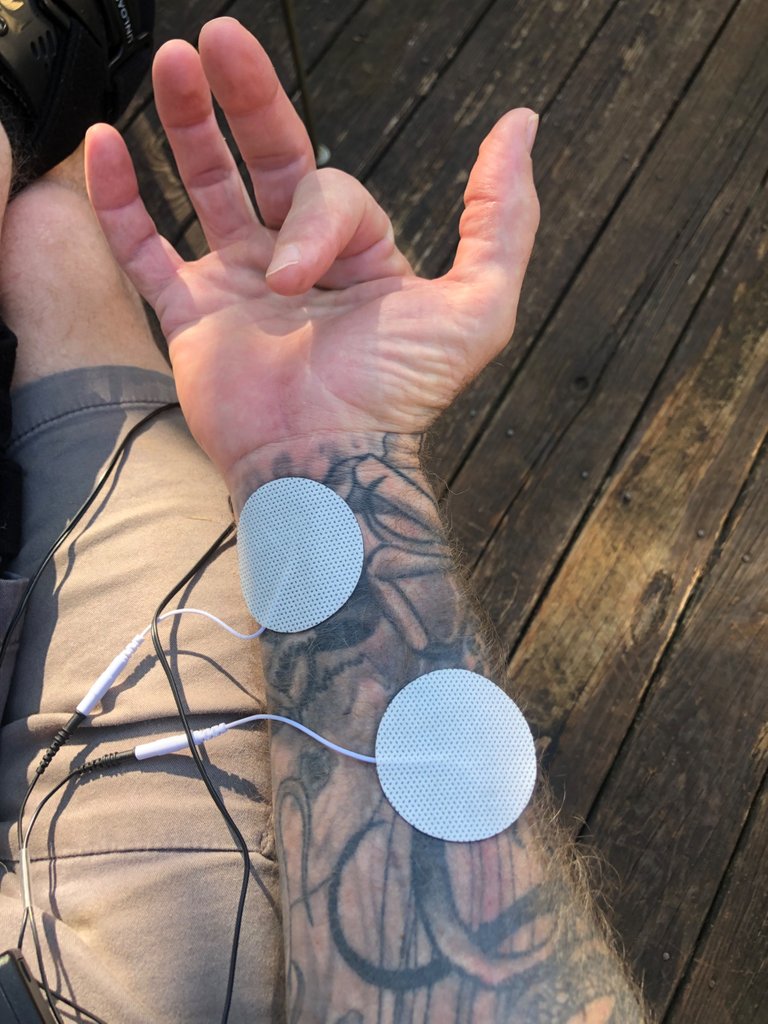 10 seconds on, 5 seconds off with a 1n1/2 second ramp up from 0-40 milliamperes. 10 milliamps on my good hand stings, my fingers twitch and pulsate all over the place. 40 on my damaged hand, I'm finally starting to feel something.
Nerves regenerate at about the same rate as hair growth, I'm told. I need to regenerate from my elbow to the end of my finger, it's gonna be awhile.
70% of hand strength comes from the index and thumb, I wish I didn't know that. Common things like opening a car door or refrigerator is excruciating like tearing a hand away from a wrist one nerve ending at a time when only 30% of 100 is available.
Following the surgery, however, and all of the physical therapy, everything until now, I'm happy to report I can sign language "ok" again.
---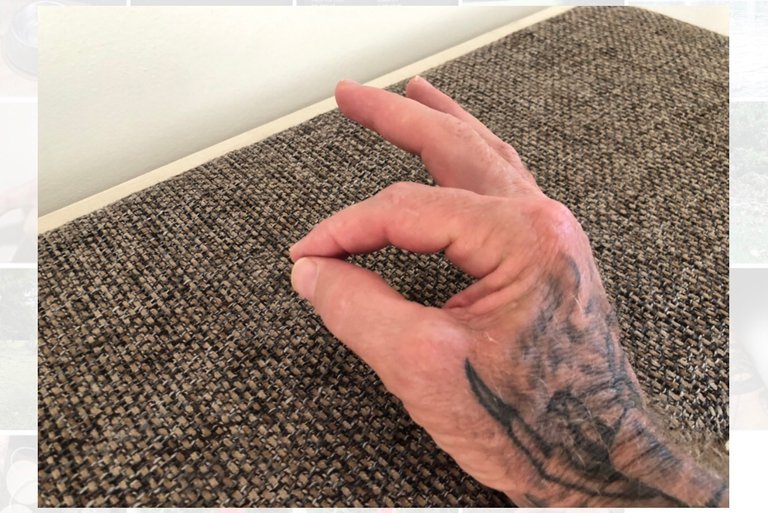 ---
Sorta.
Very little strength. Still can't hold a pencil or turn a screwdriver but I can do other things again like hold a toothbrush or a fork, pretty happy about that. Anything's better than backwards. Still can't type, been using a talk to text app for these things which makes finding grammatical errors extra challenging but I'm progressing at the speed of hair growth, that's all that matters.
This time next year I should be able to clap and draw again, push-ups and pull-ups, all that two-handed stuff like nothing ever happened and I can keep myself awake at night freaking out about the next ailment.
---


---
---