Hi guys! It's the go to lady about anything hair! This blog is about treatment for hair loss and balding. As recently drawn into the limelight by the Oscars Academy awards slap saga. Here is a description of how such conditions can be treated.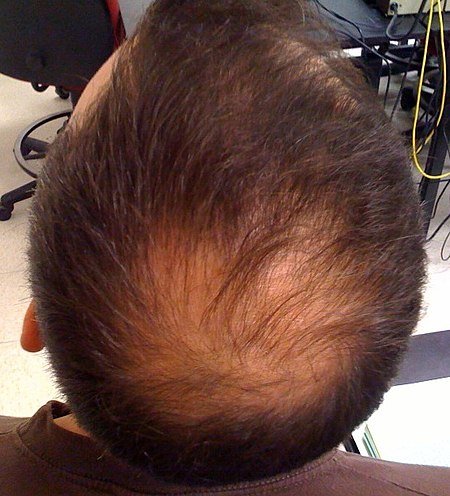 Balding head Source
Hair transplant surgery is performed on individuals who have thinning or balding hair. Dihydrotestosterone, or DHT, is the most common cause of hair loss in men. Hair thins and eventually falls out as a result of this hormone. Although male pattern baldness is the most frequent kind of hair loss, females are not immune.


Structural diagram of dihydrotestosterone Source
Hair loss begins in the temples and crown of the head in those who suffer from this ailment, but with time, it can spread to the entire top region of the scalp. The hairs on the rear side of the scalp, on the other hand, are entirely resistant to hair loss. As a result, when hairs from these areas are surgically transplanted to their new location, their growth can last a lifetime.
Surgeons methodically analyze hair loss in the treatment rooms and collaborate with patients to develop a specific treatment plan to restore hair in balding areas. Follicular Unit Extraction or FUE hair transplant surgery is one of the most popular surgical methods.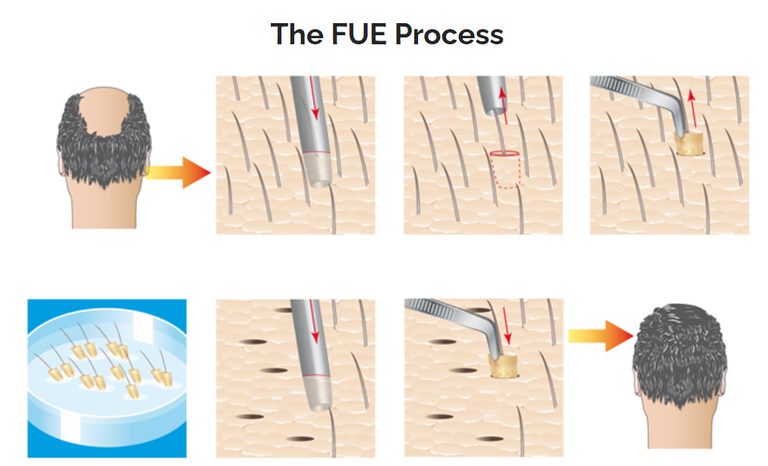 Source
A circular surgical punch is used to cut around each hair follicle individually in this procedure. The hair root is then freed from the surrounding skin. The follicles are then carefully plucked out, with considerable care taken to safeguard them. Hair depth, angulation, direction, and density are all controlled by incisions made in the target area of the scalp. The hair is then reinserted one by one.
The entire treatment is carried out under local anesthetic, allowing the patient to rest and unwind. Dot-like scars smaller than a millimeter in diameter heal in the donor area where hair has been removed. When the surrounding hair grows to a grade 1 or 2 level, these scars are usually undetectable.
The freshly implanted hairs will shed after 1-3 months before sprouting again in 4–12 months. The whole hair transplant result may be observed at this point. The results should last for at least 20 years, if not a lifetime!
So that's it guys! Our hairs make us beautiful and give us our distinct looks. Adequate care should be given to our hair and at least, there is a relief for people who are scared of getting bald; a transplant could always do the fix
Sources
Everything to Know About a FUE Hair Transplant
Growth of Hair after FUE
FUE Hair Transplant Method
Follicular Unit Extraction
Posted from HypeTurf