On the occasion mentioned above, for some reason, three days after starting the dig, the bee did not return; I did not see it again after several days.
En la ocasión comentada, por alguna razón, a los tres días de iniciar la excavación, la abeja no regresó; no la volví a ver luego de varios días.
Recently, as I always check the wooden beam, I was surprised to see another carpenter bee digging in the same tunnel excavation site for a nest left unfinished by the other carpenter bee almost a year ago. This time, instead of photos, I captured short videos that I then spliced together.
Recientemente, como siempre reviso la viga de madera, me sorprendió ver a otra abeja carpintera excavando en el mismo sitio de excavación del túnel para un nido que dejó inconcluso la otra abeja carpintera casi un año atrás. En esta ocasión, en vez de fotos, capturé videos cortos que luego uní.
Carpenter bees build their nests in dead stems or dry tree branches, so mandibles are essential.
Las abejas carpinteras construyen sus nidos en tallos muertos o ramas secas de árboles, por lo que las mandíbulas son esenciales.
Considering that mandibles are extensively used by carpenter bees to excavate wood and construct their nests, the morphological features of this trait may be associated with the particular host species used for nesting. Thus, the mandibles show some differences among bee species that manipulate different nest materials. In addition, the substrates used for nest construction are limited by the morphology of the female mandible (males do not construct nests). In this regard, it has been demonstrated that bees with broader mandibles show greater fitness on some trees relative to others and also that some bees have adapted to trees with denser wood and hence more difficult to be bored.
Teniendo en cuenta que las mandíbulas son muy utilizadas por las abejas carpinteras para excavar la madera y construir sus nidos, las características morfológicas de este rasgo pueden estar asociadas a la especie hospedadora concreta utilizada para anidar. Así, las mandíbulas muestran algunas diferencias entre especies de abejas que manipulan distintos materiales de nido. Además, los sustratos utilizados para la construcción de nidos están limitados por la morfología de la mandíbula de la hembra (los machos no construyen nidos). En tal sentido, se ha demostrado que abejas con mandíbulas más anchas muestran una mayor aptitud sobre algunos árboles en relación con otros y también que algunas abejas se han adaptado a árboles con madera más densa y por tanto más difícil de ser agujereada.
I observed it digging during the day and at night.
La observé excavando durante el día y la noche.
Although it has been said that once a tunnel digging is started, the carpenter bee usually continues to complete it, this bee also abandoned the excavation.
Aunque se ha dicho, que una vez iniciada la excavación de un túnel, la abeja carpintera suele continuar hasta completarlo, esta abeja también abandonó la excavación.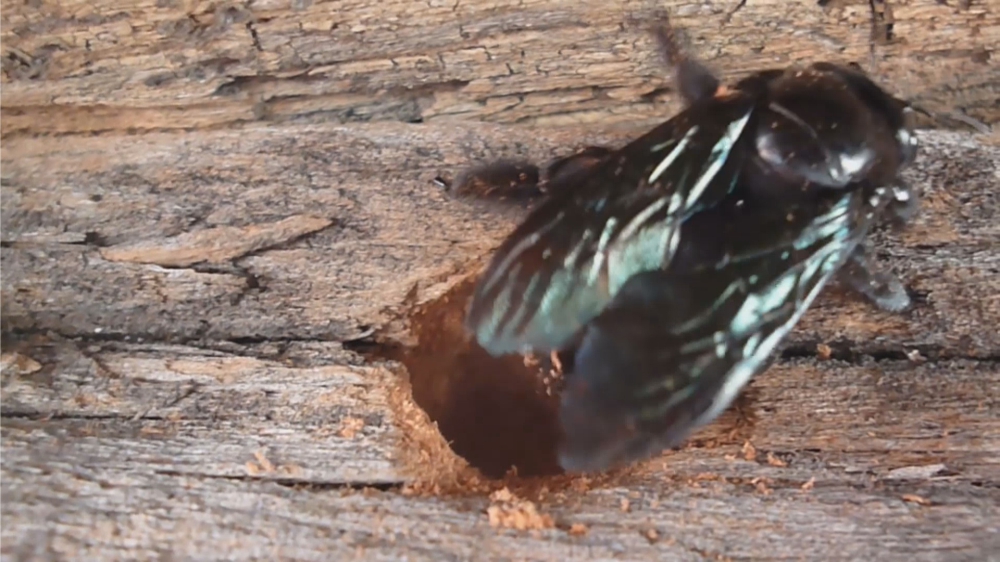 References - Referencias

Video captured with Panasonic DMC-FH4 digital camera.
Video capturado con cámara digital Panasonic DMC-FH4.