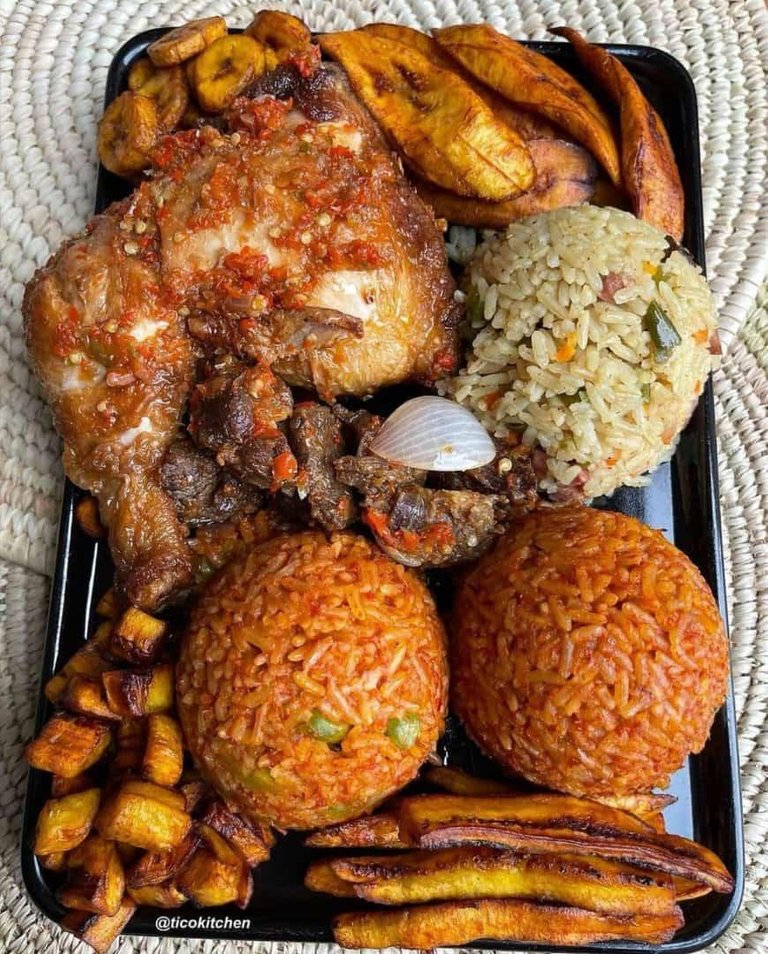 Source Ticokitchen Instagram page
Good day dear Reader, our topic today is FOOD PYRAMID. This may seem counterintuitive to title, no; there is evolution of the topic has evidences and experimental result corrobate with the theoretical theories and knowledge. As at now, the extent improvement is the named title for this article.
Food is combination of substances we consume and use for building our body and supplying nutrients and befitting vitamins to our body. Food also is totality of what allows us to exchange energy in chemical form to what constitutes entire human nutrition.
Nutrition may be synonymously as the utilisation and assimulation of food. Some experts explain that nutrition have the same definitive values as food. In this article, I will maintain the differences between nutrition and foods. Nutrition being organic processes and food being the consumed substance.
Without further ado, let nosedive into the topic for today properly. I will scissor the title for the sake of common experince in terms of definitions that will allow adequate understanding of the key terms.
Health, as commonly known, is the total state of our wellbeing when or during which we not diseased not total disappearance of diseases. It is state in which we are totally have highest percentages of biochemical processes being unaltered. So, health could mean every near-fear from diseases psychologically, physically and socially.
Eating, as popularly known, is act of introducing and consuming foods and its alternatives into our body system, forming the chemical constitute of us as human. This can be simply given to nutrient-deriving processes.
What is pyramid? It is three dimensional with base or floor area and height which is terminated at a peak or point. People that read or study geometry back in sophomore or high school education will immediately allocate value to this figure in their brain or neural processes. So, by that definition, it seems pyramid shows an hierarchical development of concepts from most basic and foundational to the mostly sophicaticated but not a must. But, in this article, every section of our pyramid brings to the board truly engaging and comfit contribution to overall goals of awesome and whole nutrition ecosystem.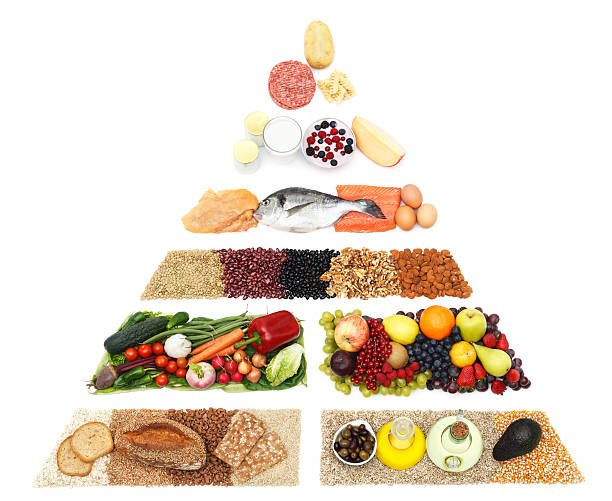 https://www.istockphoto.com/photo/new-food-pyramid-gm180703673-23912504
With that little introduction, let us now state with aid of pictures what we intend to achieve with this information. In this vein, we intend to reinforce the categorisation of foods and how, with percentages, we should tailor our diet towards established and scientifically confirmed studies in improving our healths and live comfortably. The outcome of this is that we reduce to bearest minimum the chances of being victims of diseases and nutrition deficient illness. Also, following the Daily Nutritional Intakes as provided by our various food and drugs regulatory bodies and department will give us ground holding and supportive evidences to make informed decision on our family, friends and society. We are largely what we eat.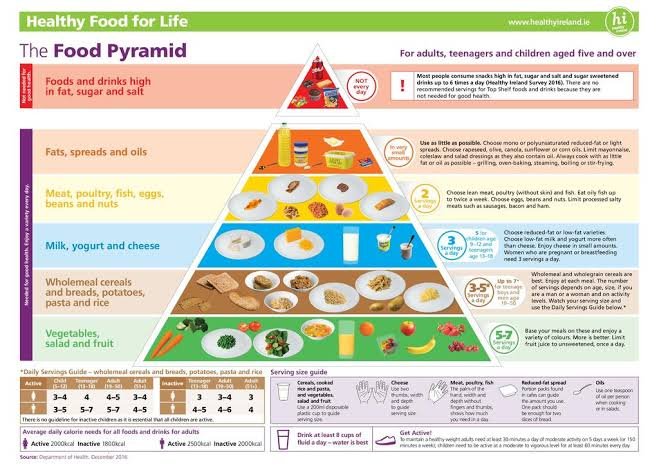 https://images.app.goo.gl/QsAsSv918M75nfXY7
The image of the pyramid is employable for Children, Teenagers and Adult.
The following breakdown simply illustrates and supports the picture for the article.
Water (8 cups)
Vegetables, salad and fruits
Wholemeal Cereals and breads, potatoes, pasta and rice
Milk, yogurt and cheese
Meat poultry, fish,eggs, beans and nuts
Fats, spreada and Oils
Foods and drinks high in fat, sugar and salt.
Going by daily recommendation for population, the evidential factors such as activeness, nature of activities, underlying health conditions, economy and availability of the recommended resources. We assume that people in different countries will face dissimilar experience for the purchase, logistics and local factors.
People in advanced economy has a tracking mechanism for checking on price fluatuaction and various factors affecting meeting the required resources. We advocate for national policy that cater to without relenting in ensuring healthy and lively populace.
Two categories of population are identified to be active and inactive sets. For active population, the overall energy requirement is 2000 and 2500kilocalories while inactive children are expected to consume not less than 1800 and 2000kilocalories for both food and drinks.
Daily servings Guides are as follows
Male Child (5-12) 3-4
Male Teenager (13-19) 4
Female Child (5-12) 3-5
Female Teenager (13-19) 5-7
Male Adult (20-54) 4-5
Male Adult(54-above) 3-4
Female Adult(20-54) 5-7
Female Adult(54-above) 4-5
Coming this far shows your interest and commitment. Kudos to your resilience.
Reference and Resources
http://dentalhealth.ie
https://images.app.goo.gl/QsAsSv918M75nfXY7
https://www.istockphoto.com/photo/new-food-pyramid-gm180703673-23912504