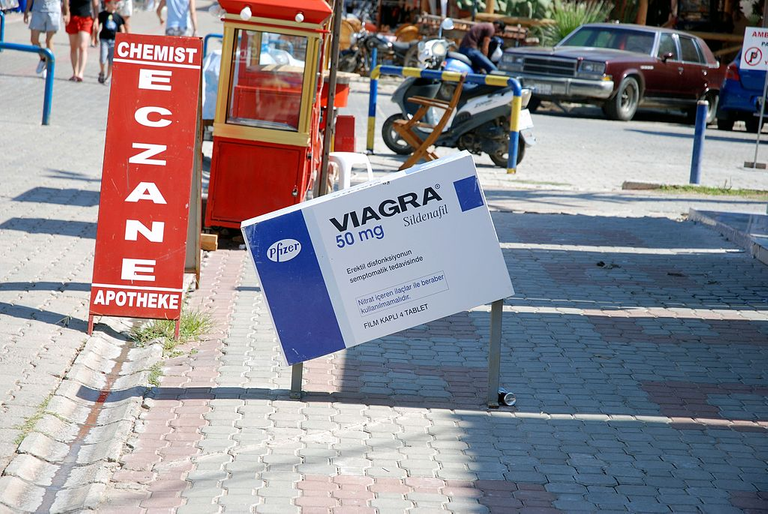 By allen watkin from London, UK - Viagra, CC BY-SA 2.0, Wikimedia
A few days ago in one of my post,
@gentleshaid
made a comment as regards the abuse of viagra > Drugs like viagra et al are used to manage erectile dysfunctions. Unfortunately, these drugs have become a normal thing even for healthy youths who are bent on satisfying insatiable women in bed.
src:@gentleshaid
This comment was what inspired this post today.
In this post, I will be talking about viagra in details, side effects, usage and danger signs.
With this disease, you have a long-lasting and occasionally painful erection.
Viagra, commonly known as Sildenafil, is a drug used to treat problems with male erections (impotence or erectile dysfunction-ED). When paired with sexual stimulation, sildenafil improves blood flow to the penis, which is primarily how it helps a man get and maintain an erection. Some people might find it unusual to hear this, but as I stated in my last post, one-third of men are unable to maintain an erection.
It is worth noting that this medication does not provide protection against sexually transmitted diseases (such as HIV, hepatitis B, gonorrhea, syphilis). So it is therefore important to practice safe sex methods like use of latex condoms.
ARE THERE DRUG INTERACTIONS THAT ONE SHOULD BE AWARE OF?
Yes of course.
Drug interactions can change how your drug function or increase your chance of experiencing major adverse effects.
This is why it is important to keep a list of everything you use, including prescription, over-the-counter, and herbal supplements, and provide it to your doctor before being commenced on Viagra. Any drug you are taking should not be started, stopped, or changed without first talking to your doctor.
A product called Riociguat used for treating pulmonary hypertension has the potential to interact with this drug.
When combined with nitrates like nitroglycerin, sildenafil can cause a significant drop in blood pressure. A significant drop in blood pressure can cause dizziness, fainting, and, in rare cases, a heart attack or stroke.
The following substances shouldn't be mixed with sildenafil: amyl nitrate, amyl nitrite, or butyl nitrite-containing recreational drugs, as well as some medications used to treat angina or chest discomfort (nitroglycerin, isosorbide).
This goes to say that if you are treating hypertension, before you ever commence sildenafil, you must see a doctor.
If you take an alpha blocker (such as doxazosin or tamsulosin) to treat an enlarged prostate/BPH or high blood pressure, your blood pressure may drop too low, causing dizziness or fainting. To reduce your risk of low blood pressure, your doctor may begin treatment with a lower dose of sildenafil.
Other medications may interfere with the removal of sildenafil from your body, affecting how sildenafil works.
Among these are azole antifungals (such as itraconazole and ketoconazole), macrolide antibiotics (such as clarithromycin and erythromycin), HIV protease inhibitors (such as ritonavir and saquinavir), hepatitis C virus protease inhibitors (such as boceprevir and telaprevir), mifepristone, and rifampin. This therefore means that the duration of action might be longer if you are taking it with the drugs listed above.
You should inform your doctor about your medical history, especially if you have: heart problems (such as a heart attack or life-threatening irregular heartbeat in the last 6 months, chest pain/angina, heart failure), stroke in the last 6 months, kidney disease, liver disease, high or low blood pressure, dehydration, penis conditions
Alcohol, marijuana and sildenafil
Vision issues or dizziness could result from this medicine. You may feel woozy if you use marijuana or alcohol. Avoid operating machinery, operating a vehicle, or engaging in any other activity that necessitates concentration or clear vision until you are satisfied that you can do so safely. Alcohol consumption should be kept to a minimum. Before starting on Viagra, discuss your marijuana use with your doctor.
Danger signs to watch when using viagra
Sexual activity may place additional strain on your heart, particularly if you have heart problems. If you have a heart condition and experience any of the following serious side effects while having sex, stop immediately and seek medical attention: severe dizziness, fainting, chest/jaw/left arm pain, nausea. Chest/ jaw / left arm apin is a very serious indicator of a cardiac attack.
Rarely, one or both eyes may experience sudden decreased vision, including permanent blindness (NAION). If this serious problem occurs, discontinue sildenafil immediately and seek medical attention. If you have heart disease, diabetes, high cholesterol, certain other eye problems ("crowded disk"), high blood pressure, are over 50, or smoke, you have a slightly increased risk of developing NAION.
Rarely, a sudden decrease or loss of hearing may occur, along with ringing in the ears and dizziness. If you experience any of these side effects, stop taking sildenafil immediately and seek medical attention.
If you have a painful or prolonged erection that lasts 4 hours or more, stop using this drug immediately and seek medical attention, or permanent problems may occur.
A serious allergic reaction from this medication is extremely unlikely to occur. However, seek medical attention immediately if you notice any of the following symptoms of a severe allergic reaction: rash, itching/swelling (especially of the face/tongue/throat), severe dizziness, or difficulty breathing.
How to take Viagra
Sildenafil should be taken by mouth as directed by your doctor to treat erectile dysfunction-ED. Sildenafil should be taken at least 30 minutes before sex but not more than 4 hours before (1 hour before is the most effective).. Take just once every day.
The medicine may take longer to start acting after eating a meal high in fat.
The dosage is determined by your medical condition, treatment response, and any other medications you may be taking.
Final note
Remember that your doctor has prescribed this medication because the benefit to you outweighs the risk of side effects. Many individuals who use this medicine don't have any major negative effects.
But should you have seek the nearest help.
No healthy person should take viagra.
Thank you for reading
References
This marks the last part of my posts on Erectile dysfunction