1- Silver titration:
Silver can be calibrated in several ways, including the colorimetric method. The atomic absorption device can also be used directly when the concentration of silver in the water is higher than 0.05 mg/l, but since most of the time the percentage of natural silver concentration or contamination is less than that, silver is extracted from the water in the form of an organic complex. Before making the measurement using atomic absorption. The organic complex is formed from silver soluble in water with Ammonium pyrrolidinedithiocarbamate (C5H8NS2.NH4) and is denoted by APDC, this process takes place in an acidic medium (PH= 3.5) and the sample is calibrated directly using an atomic absorption device.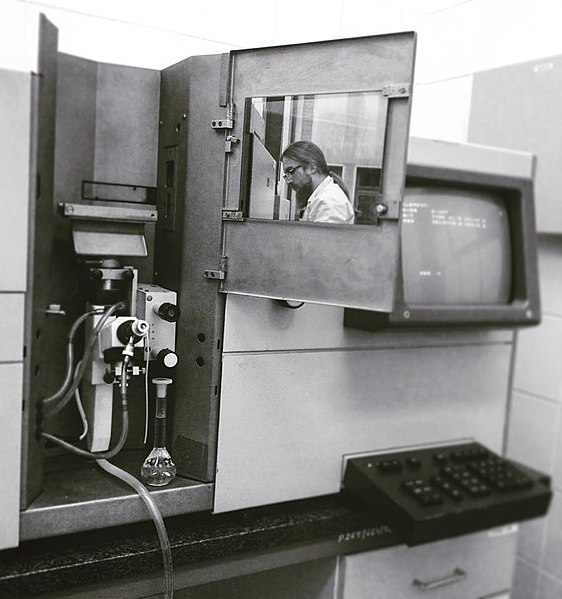 A scientist preparing samples calibration curve solutions for Atomic Absorption Spectroscopy
2- Cadmium titration:
Cadmium make a complex with Ammonium pyrrolidinedithiocarbamate (C5H8NS2.NH4), and the resulting complex is extracted using methyl isobutyl ketone (C6H12O) in an acidic medium (PH= 3.5), and the concentration is measured using an atomic absorption apparatus. This method is only applicable to water poor in organic pollutants.
When the cadmium concentration is higher than fifty micrograms per liter, extraction is not necessary and the concentration is measured directly.
3- Titration of fluorine ions:
The colorimetric method is one of the best ways to calibrate fluorine ions in water, and it is better to perform a distillation process for the sample before calibration in order to get rid of the ions that interfere in the calibration process, including chloride, sulfate, phosphate and others. A colored complex is formed from fluorine and zirconium ions, and the color absorbance is measured by spectrophotometric method.
Bibliographic references:
[General and inorganic chemistry book- M. Shkhashirou- H. Birqdad- Y. Qodsi- University publications. Algeria]

[AQUAPROX- Livre: Traitement des eaux de refroidissement. Imprimé en France par EMD S.A.S- 53110 Lassay-les-Chateaux. N° d'imprimeur: 15566- Dépot légal: juin 2006. N° 842- Cyclus print 90°]

[Introduction to Water Chemistry (Pollution- Treatment- Analysis). Dr. Nasser Al-Hayek. Publication of the Higher Institute for Applied Sciences and Technology (HIAST). Syrian Arab Republic, 2017.]

[Introduction to Water Chemistry (Pollution- Treatment- Analysis). Dr. Nasser Al-Hayek. Publication of the Higher Institute for Applied Sciences and Technology (HIAST). Syrian Arab Republic, 2017.]