A little life update: My dogs are out to ruin my life because they wouldn't let me sleep last night, and now I hate them and they're kicked out of my room tonight and for the foreseeable future. I fell asleep at 5am when I got fed up and finally kicked them out of my room, and I just woke up. And also, because of them, I couldn't process the remaining documents I needed to get today for my new job at a new lab.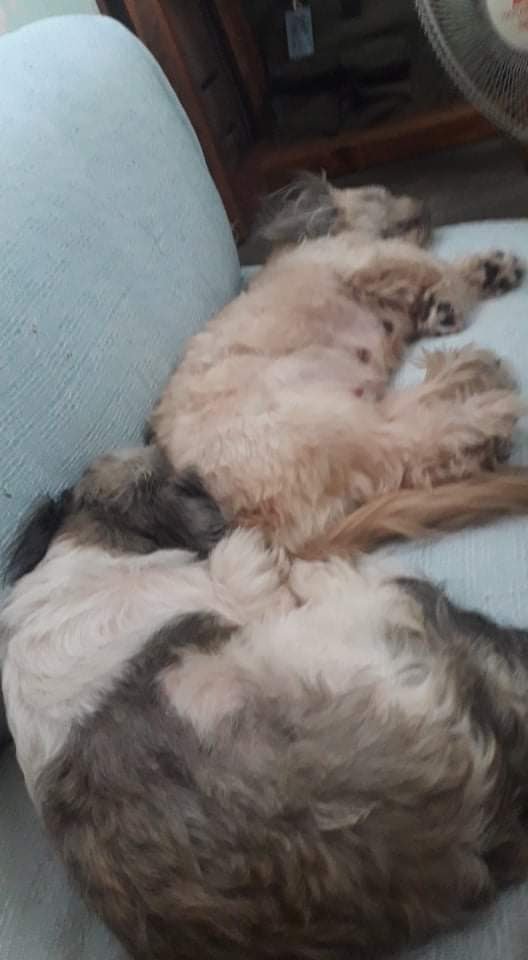 Look at them steal my bed as if they own it 😤
And since I mentioned a new lab, I thought of writing about the samples I'll soon be handling there while I do a quick review of my basic metal chemistry.
In the new lab I'll be going to, I'll be handling ores!!!!!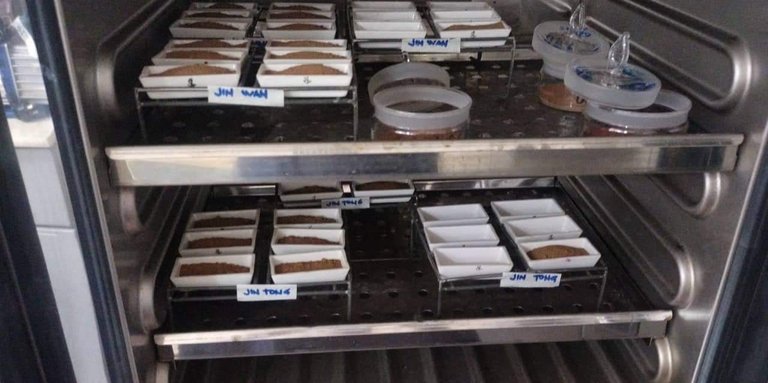 These were the last batch of ore samples I analyzed in the previous lab I was in
Ores are metal deposits. They're where you get your metals from and lucky for them, I'm not a stranger to the commodity. In my previous job, I was actually the one mostly handling the ore samples. Usually these samples come in bulk so whenever we receive ore samples, we usually receive around 4 (the fewest samples I have ever received) to 90 (the most number of samples I've received. And each sample has 2 trials. So there's trial A and trial B and this is to check whether the results we get will be the same.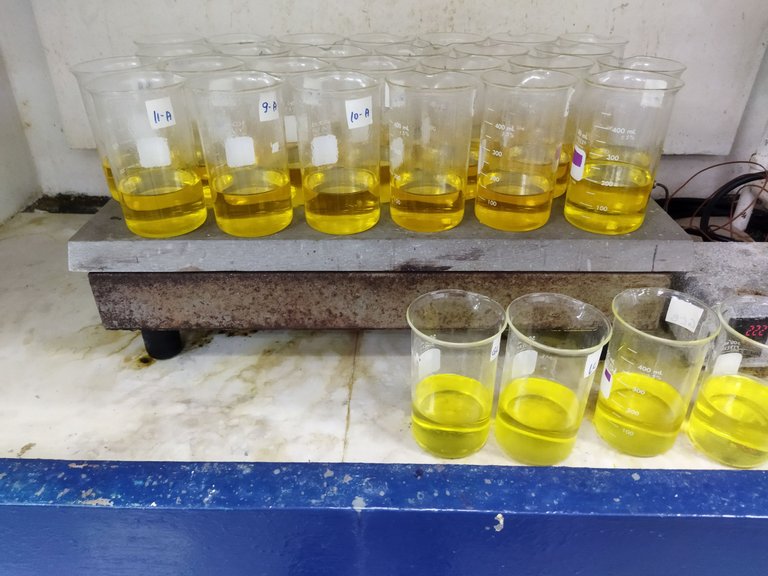 This is them in solution form. Here I have iron ores ready for iron titration. You can see that there's a trial A and B on the labels
Back in my old lab, we were only able to accomodate copper, iron and nickel ores, the common ones used for mass production. And this was mostly because we lacked the instrumentation and methods to process other types of ores.
I believe that in the new lab, they handle the analysis and extraction of all 89 metals in the periodic table and I do believe that they have the instrumentation suitable for the elemental analysis of each. I'm just not sure with their digestion process and whether it's a one-pot digestion or a multi-step digestion process. I'm curious because each metal group has a different pH preference, and ultimately, a different mobilizing/extracting agent.
Before I dive further into metal extraction and all that, I should talk about ore basics first.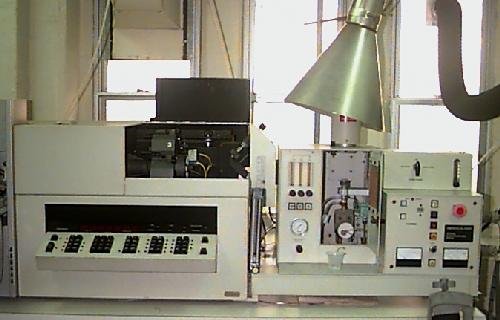 An Atomic Absorption Spectrometer. This is usually used to to measure an element in a sample when liquefied.
Source: http://www.pci.tu-bs.de/aggericke/PC4/Kap_I/aes.htm
So first and foremost, Metal ores aren't renewable like what they appear to be. The supply is actually becoming very limited and the most people can mine now are refractory ores. It takes millions of years for ores to form, very much like coal and fossil fuels. And to make them, there's 3 different processes for it. Internal processes (mostly metamorphic/igneous rocks/ores), hydrothermal processes (mostly igneous and metamorphic rocks/ores are taken from here) and superficial processes (mostly sedimentary rocks/ores).
So when we say internal processes, this is due to volcanic activities. Then hydrothermally formed ores are the same, but in their case, these kinds of ores form from the activity of underground volcanoes. In this case, unusual ores are formed since seawater contains just as many metals as that of molten lava, if not, maybe more. For the superficial process, these are the orese that either form from sedimentation, erosion, rock cleavage or any other physical process and they're only surface level ores. These never form with heat, and believe it or not, meteorites are actually classified under this ore type. Cool, right?
Meteorites are actually high in iron too and no, I've never analyzed a meteorite yet, or maybe I have yet the client never told me about it. Would be cool if I analyzed a meteorite though because I would be holding a literal shooting star!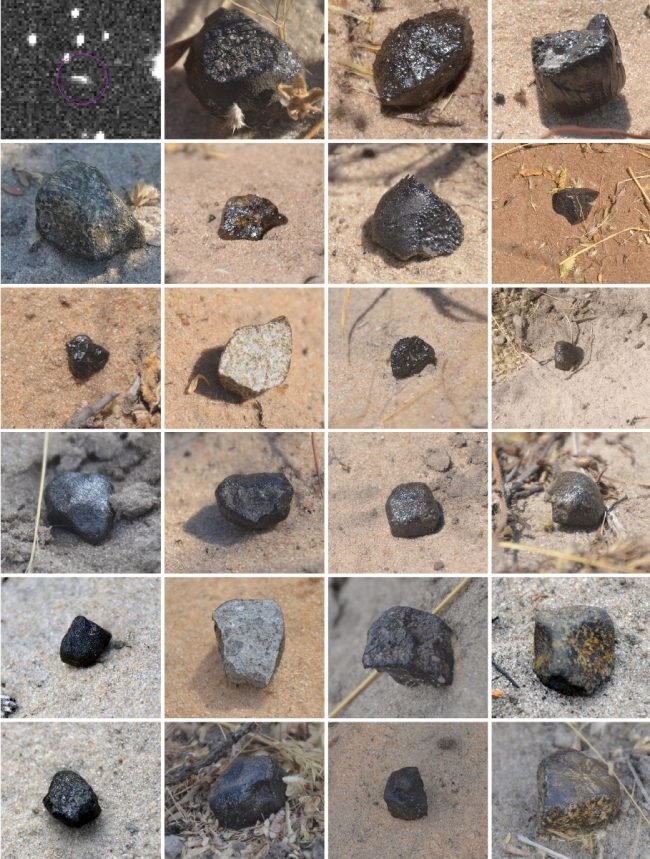 Asteroids and meteorites that have landed on earth!
Source: https://earthsky.org/space/2018-la-meteorite-vesta-botswana/
Fun fact that everyone may or may not know: meteorites are shooting stars. They burn up while entering the earth's atmosphere so they usually don't even reach the earth's surface. The rare ones that do make it are never that big unless it was really big to begin with.
On my next blog: Ore types and very basic metal extraction methods!
That's all from me today! Thank you for your time UwU
Sources:
https://education.nationalgeographic.org/resource/ore
https://www.toppr.com/guides/chemistry/metals-and-nonmetals/occurrence-of-metals/