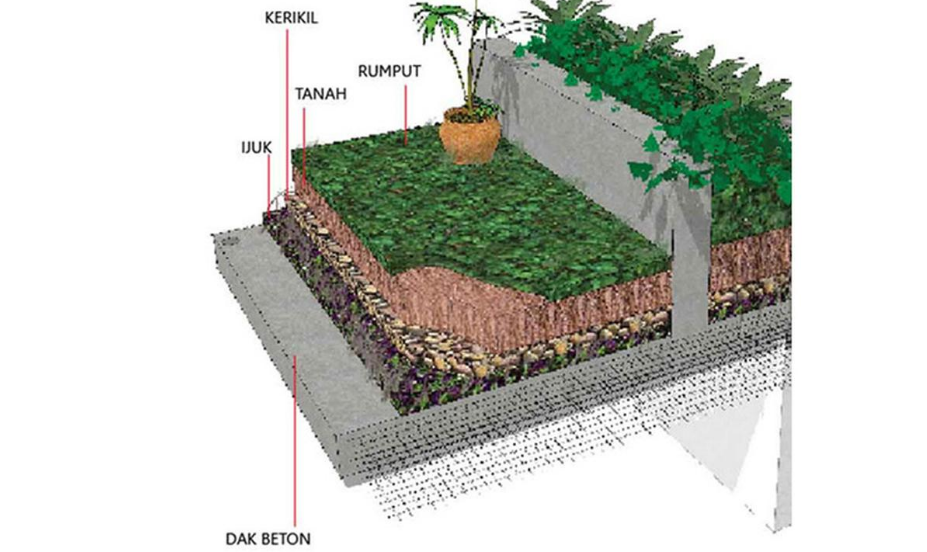 source
Green open space is one of the most important things, especially in urban areas, the land for green open space is getting narrower, there is almost no more empty land overgrown by various trees, even though this is an important aspect to make the air clean. However, this is not the end for humankind to have access to clean air in the area they live in.
Here I will provide a solution for those of you who want to have a green open space area, even though living in a slum area, or also a solution for those of you who want to build an apartment building. My solution is a roof garden. This is not something foreign to the world of architecture. Many tall buildings have applied the roof garden concept as a container for the application of green open space in the middle of the lack of land or open land areas
How to make a roof garden?
Roof garden or garden on the roof has been known in Babylon since the 6th century BC. This concept is still used today, because it can add green open space to the environment even in small houses and in densely populated areas. In addition, the roof garden is also considered to be able to reduce the sun's heat entering the house and reduce the rate of global warming.
Making a roof garden requires a roof construction that is not strong. The reason is, roof construction not only supports its own weight, but also the weight of the soil, plants, water, and people on the roof garden.
Solid roof construction
Making a concrete roof with construction using cast iron reinforced concrete with a diameter of 8 mm. each concrete column measuring 20 cm x 20 cm and 20 cm thick with the area you want.

Make for Columns and roof thickness
Next make a plant tub on the edge of not concrete, it can be in any shape according to your taste, as long as the shape is in accordance with the area of not concrete. This plant tub functions as a container for plants.

line the plant tub with waterproof matarial
Another important point is, Cover concrete and plant tubs with waterproofing material. Which serves to prevent water from seeping into the space below, also protects the iron bones in the beam columns and floors.

water installation
Don't forget to make a clean and dirty water installation. Installing clean water for watering plants, which is directly related to a water pump or water reservoir. Also pay attention to the installation of sewage that is connected to the lowest edge, then connect it to the gutter pipe to the infiltration basin on the ground and to the sewer.

water filter
Install the fibers or cocopeat — a type of coconut fiber — on top of the concrete, in regular rows with a thickness of 10cm. The function of the fibers is to hold and filter water that seeps from sand and soil.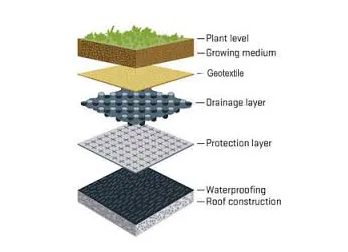 source
That's the stages of making a simple roof garden that I learned from several sources.
Benefits of a roof garden.
I think we already know what are the benefits of a garden, namely to cool densely populated areas, to provide clean air in areas with minimal plants. Likewise with the roof garden, it is even like a pearl or oasis in the middle of the desert, its presence can make a significant difference to the surrounding environment. Starting from starting from cooling your own house, filtering dirty air to be clean. It can also reduce noise, and of course the roof garden can be a relaxing location that is perfect for families.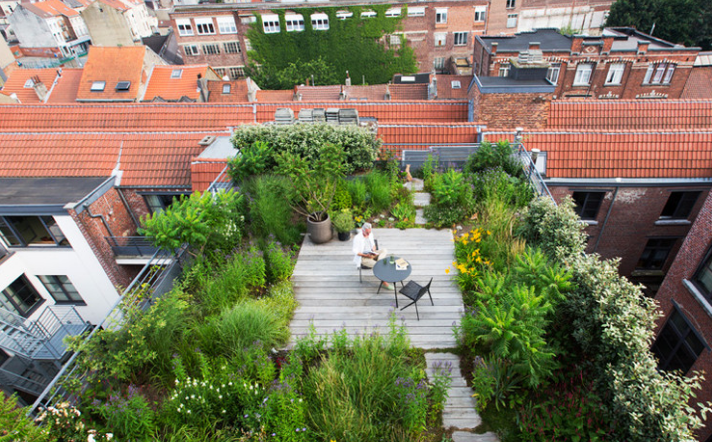 source
Conclusion.
The concept of a roof garden can be one type of architectural landscape that we can apply at home, especially for those of you who live in densely populated areas such as cities. There is no need to build a great roof garden, but it is enough to have a simple garden. with a small fee, you can enjoy the joy of the presence of a roof garden.
articel's sources
www.rumah.com/
www.dekoruma.com
balconygardenweb.com