Next I am going to share a medical topic, not very frequent, but that is diagnosed in the hospitalization rooms after several studies since this clinical entity called Myasthenia Gravis, is frequently confused with other pathologies of neurological affectation, it is for this reason the discussion of this medical-clinical case.
This pathology, called Myasthenia Gravis, consists of the presence of a disorder or alteration in neuromuscular transmission, resulting from a decrease in the amount of acetylcholine in the motor plate, triggered by an autoimmune affectation. It was first described in 1685, by Thomas Willis, and it was not until the beginning of the 20th century that the immunological basis and probable treatments were described.
Like other entities, they tend to have their origin as an autoimmune disease, which over time in recent decades, has been increasing its incidence, has no predilection for sex, but however, with regard to age has been observed to affect women between 20 and 40 years, while the male is more common in the sixth and seventh decade of life.
Myasthenia Gravis has its hereditary predisposing factors such as HLA-DR3 and HLA-B8, in early expression of the disease, while HLA-DR2, HLA-B7 and HLA-DRB1 in late onset. It is also seen to be associated with other autoimmune entities such as Systemic Lupus Erythematosus, Rheumatoid Arthritis, and thyroid diseases.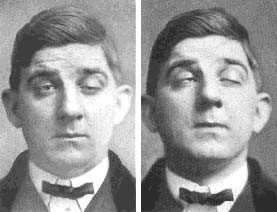 Myasthenia Gravis. Public domain licensed CC0 1.0
It usually runs in an insidious, acute or sub-acute manner, and goes unnoticed for some years. There are circumstances that trigger a myasthenic crisis or make the clinic more florid and be able to reach a diagnosis, such as: Pregnancy, puerperium, infectious processes, drugs (aminoglycosides, macrolides, carbamazepine, beta-blockers, among others) and even situations of stress or even simple changes in climate such as sun and intense heat, could trigger an exacerbation of the disease.
"Then the medical case, whose presentation was cumbersome and even differential diagnoses were established in order to reach the final diagnosis and correct treatment."

Case Report
52 year old male patient diagnosed with Diabetes Mellitus type 2, who started the current disease 4 months ago for presenting photophobia, foreign body sensation in the right eye, diplopia, right palpebral potosis accompanied by muscle weakness in upper and lower limbs, symmetrical ascending that was accentuated at the end of the day, of fluctuating character that improves with rest, he went to the doctor who indicated treatment (Melatonin, Pyridoxine, Aspirin, ginkgo biloba) with partial recovery of the symptoms. After 15 days the weakness reappears with difficulty in standing and walking, requiring the use of a wheelchair. He goes again to the doctor who indicates pulses of systemic steroids (methylprednisolone 1gr EV OD for 3 days and Betamethasone 8mg weekly EV for two doses) partially improving muscular strength, but in view of presenting diplopia again it is decided to admit him.

Clinical history
Diabetes Mellitus type 2 diagnosed at age 36 without treatment until 3 months ago when Metformin 850mg OD and Glimepiride 4mg OD started.
Chikungunya virus infection two years ago.
Denies Family history of importance and habits related to current illness.
Functional Test: Denies weight loss, headaches, seizures, bleeding manifestations. Refers constipation with current illness.
Physical Examination
Blood pressure: 120/80mmHg.
Heart rate: 82lpm.
Breathing rate: 21rpm.
capillary glycemia: 108 gr/dl.
weight: 67kg.
size 1,68.
BMI 23.7.
Positive to the exam: Neurological vigil conscious oriented in time space and person, coherent language, memory preserved, gnosia and praxia preserved affectation of 4th and 6th right cranial pair, positive right eyelid fatigue test. Muscular strength in extremities V/V (British medical council) and sensitivity preserved, normoreflexic +++ (British medical council) without adiadocinesia or dysmetry, without signs of meningeal irritation or gait disturbance. No pathological reflexes.
Other important complementary studies to obtain a diagnostic
Laboratory test:
| | |
| --- | --- |
| Leucocytes | 4600 |
| Neutrophils | 60% |
| Lymphocytes | 40% |
| Hemoglobyne | 13 |
| Platelets | 350.000 |
| Glycemic | 173 |
| Urea | 28,3 |
| Creatinine | 0,8 |
| LDH | 191 |
| TGP | 14 |
| TGO | 15 |
| Alkaline Phosph | 72 |
| Calcium | 9,7 |
| Uric acid | 3,5 |
Abdominal Ultrasound:
Conclusion: Study without pathological findings.
Thyroid ultrasound:
Conclusion: Small colloid cyst (2.8mm diameter) in left lobe.
Electromyography + repeat test:
Conclusion: Suggests a post-synaptic neuromuscular junction disorder. Motor and sensory pathways of the rest of the nerves within normal limits.
Electromyography:
Conclusion: Distal symmetric motor sensory peripheral neuropathy of mixed type to moderate degree Axonal predominance.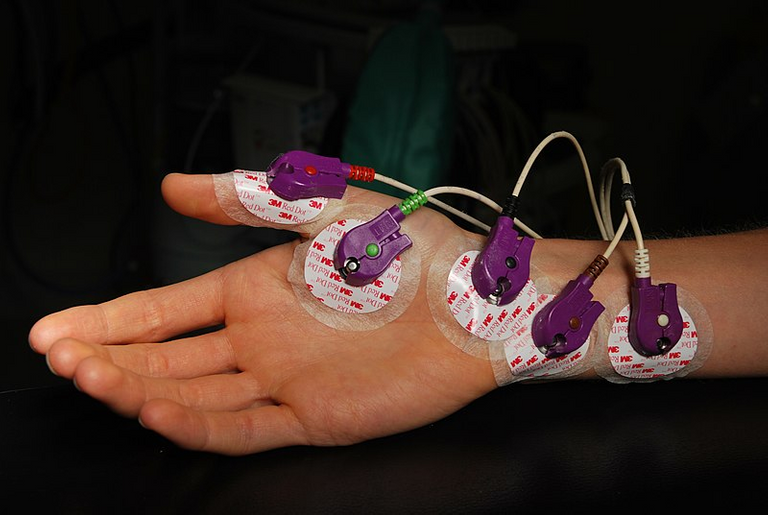 Electromyographic. Public domain licensed CC BY-SA 4.0

Myasthenia Gravis
Pathophysiology of the disease
Like all pathologies of autoimmune origin, the body is capable of producing antibodies that attack its own structures or organs. In this case, these antibodies will affect the acetylcholine receptor located in the post-synaptic region of the striated muscle fibers, as well as generate a diminishing number of receptors and level of the motor plate.
There is no strong theory that explains all this attack that originates in the neuromuscular plaque, but there is a theory that proposes the Thymus, capable of triggering false recognitions as antigens to the acetylcholine receptors (product of the myroid cells) and therefore the need of the body to destroy them, as part of the immune function of each organism.
The affectation of certain viruses, and bacterial infections, is another theory that could explain the presence of this disease, as it is the case of Herpes Simplex Virus, Klebsiella pneumoniae, Proteus vulgaris and E. coli, are the microorganisms mostly involved since they possess certain antigenic similarity with different portions of the cholinergic receptor, reason why, the similarity of these antigens with acetylcholine receptors of the striated muscle originates this immune attack.
In view of the theoretical bases proposed, which guide us to what happens immunologically, as a result of this attack on acetylcholine receptors (ACRA) and the reduction of these receptors in the neuromuscular plaque, it explains the patient's symptomatology.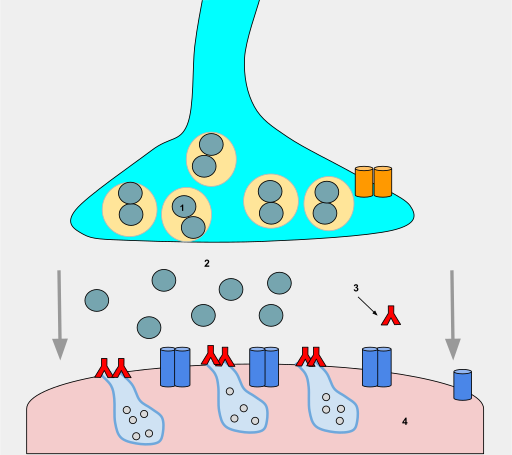 Effects of antibodies binded to ACh receptor sites, resulting in ACh deficienies, or Myasthenia gravis. Public domain licensed CC BY-SA 4.0
Classification of Myasthenia Gravis
According to your presentation we have;
Acute and chronic myasthenia
According to the age group affected;
Neonatal transient myasthenia, is those cases where maternal antibodies manage to pass the placental barrier and affect the newborn, is presented in 10% of cases. The symptoms can be simple to severe such as difficulty in swallowing food to respiratory failure and put the life of the newborn at risk.
Juvenile myasthenia, very similar to the clinical forms in adults.
Adult myasthenia, whose symptoms and signs are well described in the Osserman-Genkis classification, based on the structures involved and their severity.
This is a link where the Osserman-Genkis Classification is clearly and precisely described for the information of each reader.
https://www.researchgate.net/figure/Osserman-classification-system_tbl1_315899361

Clinical manifestations
The cardinal sign of this pathology is muscle weakness and fatigue that can be mild initially and can be intense later on with commitment of the individual's daily activity.
It affects in more than 90% of the cases the ocular, bulbar and facial muscles at the beginning of the expression of the disease.
Symptoms get worse with exercise and physical activity and improve with rest.
This condition has a predilection for striated muscles; extra ocular muscles, facial muscles, the tongue, palate and pharynx, as well as the muscles of the neck, shoulders, and pelvic girdle. In severe cases the muscles of the thorax and breathing.
In view of all these affected muscles, we can observe, dysphonia, dysphagia, unilateral palpebral ptosis more frequently, in some occasions we can evidence Collier's sign, which consists of the retraction of the upper eyelid as a result of the compensatory contraction of the ipsilateral eyelid orbicularis.
Mastication disorder due to muscle weakness, persistent (half-open) mouth opening, difficulty in chewing, as well as loss of facial folds, generating difficulty in smiling, whistling, and pursing the lips.
When the neck muscles are affected, we can observe a fall of the head, needing to be held with the hands.

Myasthenia gravis ptosis reversal. Public domain licensed CC BY 2.0
With respect to the extremities, alteration of the gait as a result of accentuated weakness, falls from one's own height, difficulty in climbing stairs, raising one's arms, combing one's hair, etc.
Finally, the affectation of the bulbar muscles includes difficulty to breathe during physical effort and even an acute respiratory insufficiency.

Diagnosis
It merits a thorough, well-developed physical examination aimed at ruling out and guiding us to pathologies affecting the neurological sphere.
Upon physical examination, it is recommended that the patient be asked to perform repetitive or sustained exercises, such as raising the eyes upward for at least 1 minute. After a short time, we will observe the fall of the eyelid, due to exhaustion of the neuromuscular plate, as well as other activities such as keeping the arms raised to the horizon for at least 1 minute.
Pharmacological tests, such as the stress test or intravenous edrophonium.
Repetitive stimulation test, which is nothing more than an electrophysiological test, where the positive is the Jolly Myasthenic Reaction which consists of a progressive reduction in the amplitude of the potentials of the muscular action during its stimulation and which is frequent in myasthenia gravis.
Single fibre electromyography.
Acetylcholine receptor antibodies by RIA, Anti-RACh, Anti-Musk and Anti-LRP4.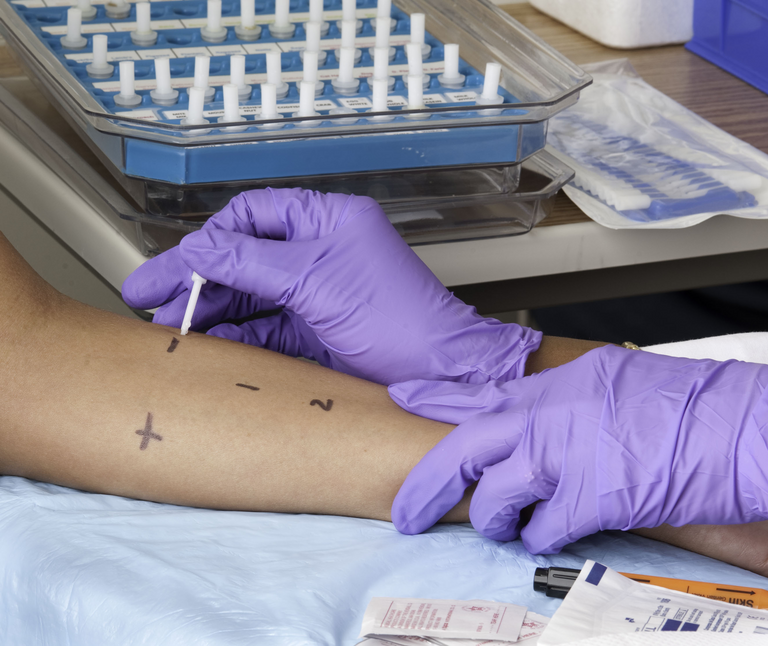 Public domain licensed CC0 1.0

Treatment
The primary treatment consists of the administration of acetylcholinesterase inhibitors (pyridostigmine), accompanied or not by prednisone, in an ascending pyramidal scheme with a maximum dose of 100 mg only in those moderate to severe cases.
In those cases where the first line with the aforementioned drugs fails, the use of immunosuppressive drugs of the azathioprine, Rituximab, Cyclosporine or cyclophosphamide type is recommended.
Some literature describes the use of therapeutic measures based on intravenous immunoglobulin or plasmapheresis for severe cases with little pharmacological response.
There are even cases where certain patients with severe conditions require ventilatory support, fluid therapy, or the use of antibiotics when associated with an infectious process.
In general terms, our patient improved after his diagnosis with the administration of pyridostigmine accompanied by prednisone, and is discharged with clinical improvement and outpatient controls.
We must take into account that this type of patient will always have to monitor his respiratory pattern, as well as the commitment of muscle involvement and the degree of weakness during crises, since severe cases could end up in intensive care unit with ventilatory support.

Sources:
Myasthenia gravis Vern C Juel corresponding author and Janice M Masseylink
Myasthenia gravis: past, present, and future Bianca M. Conti-Fine, Monica Milani, and Henry J. Kaminskilink
Myasthenia Gravis: Pathogenic Effects of Autoantibodies on Neuromuscular Architecture Inga Koneczny1 and Ruth Herbst2link
Treatment of Myasthenia Gravis Constantine Farmakidis, MD, Mamatha Pasnoor, MD, Mazen M. Dimachkie, MD, and Richard J. Barohn, MDlink
Progress in the Treatment of Myasthenia Gravis Ralf Gold,corresponding author Reinhard Hohlfeld, and Klaus V. Toykalink
Muscle autoantibodies in myasthenia gravis: beyond diagnosis? Matthew N Meriggioli and Donald B Sanderslink
Mechanisms of acetylcholine receptor loss in myasthenia gravis. Drachman DB, Adams RN, Stanley EF, Pestronk A.link
Myasthenia Gravis Updated: Aug 27, 2018 Author: Abbas Jowkar, MD; Chief Editor: Nicholas Lorenzolink
Ophthalmologic Manifestations of Myasthenia Gravis Updated: Jul 20, 2018 Author: Edsel Ing, MD, MPH, FRCSC; Chief Editor: Hampton Roylink
Overview of the treatment of myasthenia gravis Author:Shawn J Bird, MDSection Editor:Jeremy M Shefner, MD, PhDDeputy Editor:April F Eichler, MD, MPHlink
A Primer on Ptosis Wesley Klejch, BS; Jesse M. Vislisel, MD; Richard C. Allen, MD, PhDlink
Clinical Overview of MG James F. Howard, Jr., M.D. Department of Neurology The University of North Carolina at Chapel Hilllink
Myasthenia Gravis Fact Sheet link
Trismus From Wikipedia, the free encyclopedialink
@Stemsocial ( old steemstem ) is a big project of the steem community in charge of promoting high quality articles on science, technology, mathematics, engineering and other scientific branches such as psychology, medicine and social sciences. If you want to know more about this don't forget to visit the tag #stemsocial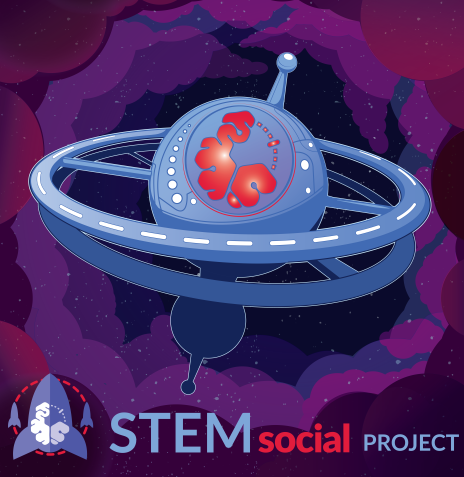 Vote for the witness by clicking on this link
Dra. Ana Estrada