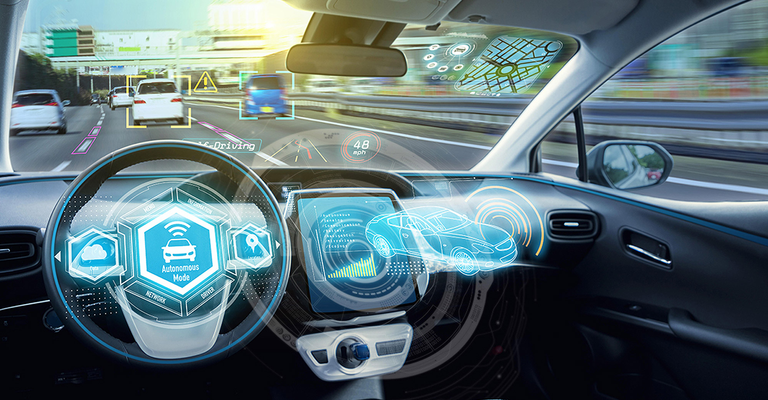 Image Source
According to a report published by WHO in 2015, there are around 1.25 million people who die annually due to car accidents. And due to 94% of these accidents being caused by human error, the idea of eliminating human errors from the equation came to be. The new concept is cars that drive themselves, designed with almost 0% chance of an error.
Self-driven cars won't only make the roads safer, but will actually make the traffic more efficient. A concept that is maybe supported by everyone who is aware of it. But how would you implement that?
Technology isn't the Issue
Maybe when it was first introduced there was the issue of the technology not being advanced enough to make such a concept real. But in the current time, we are closer than ever. The issue is more about how the car would behave in certain situations.
The Trolley Problem of it
The trolley problem is the perfect place to start discussing this issue. When forced upon a decision, how would the car behave when having to either hit 5 people or 1 person? Maybe also 5 to 3? Maybe 5 children on one side and 5 adults on the other? Or maybe, because you probably thought you were safe, one of the options would include sending you, the driver, to your death?
Philosophy Schools in Self-Driven Cars
According to Jeremy Bentham's utilitarianism, the car should go with the decision that causes the least total harm to society. However, according to Immanuel Kant, if you intentionally made and pre-planned (Since the car's decision would have to be programmed in advance) a decision, then you are effectively committing murder, even if we go with the third option then you are committing suicide. Kant is really leaving us no way out except to let fate decide.
Kantism or Utilitarianism: Which One Do You Prefer For Your Car?
When asked about which of these two schools is better followed, most people answer with Bentham's utilitarianism, which makes sense, in a case of an accident the goal is always to have the least amount of victims. However, those people also said that they wouldn't buy a car that might sacrifice them in order to save as many people as possible.
Everyone wants self-driven cars to be utilitarian in nature unless, of course, they were the ones driving them. This leads to an issue for manufacturing companies. If they create a car that would sacrifice the driver if it meant the least amount of victims, then no one would buy their cars. If they make their cars prioritize their passengers then they will be harming the public interest. Such a decision would lead to public outrage and might potentially open the manufacturing company and maybe even the client to lawsuits.
In 2016, when asked about how their cars behave in such situations, most companies avoided answering the question. Volvo spokesperson said that their cars don't get into accidents. However, in Mercedes's case, when Christoph von Hugo, the head of the safety department, was asked he answered
If you know you can save at least one person, at least save the one in the car.
The follow-up of that statement was an outrage that resulted in Mercedes taking back von Hugo's words that were said to assure their clients.
The Dilemma Once More
The dilemma is that we want a future that would guarantee our safety, but that can't happen without self-driven cars. However, people won't buy a car knowing that, in very rare cases, would sacrifice their lives to save other people. And if it doesn't do that, then you open yourself to all kinds of public outrage. Taking us in a full circle where we are back to our usual method of driving now leads to 1.25 million deaths years with 94% of them being avoidable.
In Conclusion
Maybe this conversation is still ahead of time, however, three years ago we actually had the first self-driven car accident and fatality. And with a touch of irony, the car itself was made by "Our cars don't get into accidents" Volvo. The accident also happened while the car was being observed by an Uber operator. The question is; who do you blame for such an accident, a question that the Maricopa County grand jury couldn't answer as even though they indicted the safety driver, the trial is still yet to start due to the complication of the issue.
There's definitely a little intellectual luxury at play here, since these accidents are very rare. Critics say that most of these scenarios don't exist mostly. And that humans find joy in diving into such a dark place, a place that these critics suggest we won't go anywhere forward as long as we remain in it.
That's my take and I look forward to reading your opinions and takes on the subject.