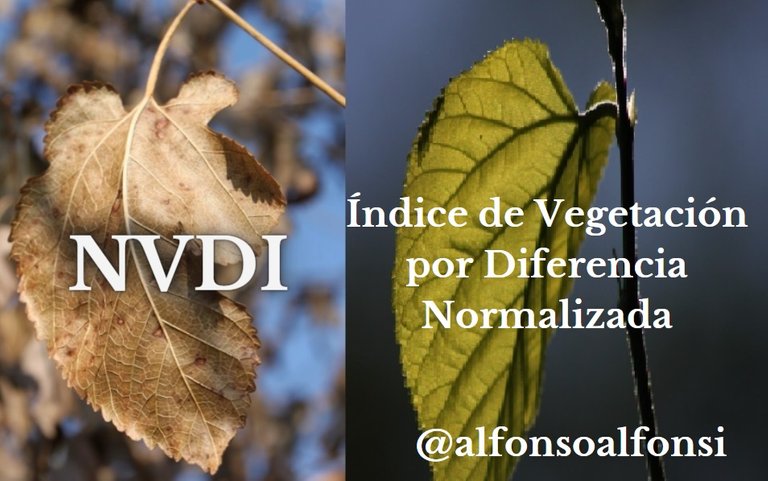 Hello, Friends of Hive and dear readers, it is a pleasure to be with you presenting topics of science, research, technology, and innovation.
Hola Amigos de Hive y apreciados lectores, un gusto estar con ustedes presentándoles temas de la ciencia, investigación, tecnología e innovación.
---
In this opportunity, I will draw your attention to the Normalized Difference Vegetation Index (NVDI), a measure widely used to estimate the overall plant health condition, photosynthetic activity, and possible nutrient deficit, among others.
En esta oportunidad, atraeré su atención al Índice de Vegetación por Diferencia Normalizada (NVDI: Normalized Difference Vegetation Index), medida ampliamente usada para estimar la condición de salud de la planta en general, la actividad fotosintética, el posible déficit de nutrientes, entre otros.


The vegetation index is a combination of reflectance values at different wavelengths, with high sensitivity to changes in vegetation and low sensitivity to other atmospheric and soil information.
El índice de vegetación es una combinación de valores de reflectancia en diferentes longitudes de onda, con alta sensibilidad a cambios en la vegetación y baja sensibilidad a otra información de tipo atmosférica y del suelo.
---
There are a variety of vegetation indices that have been developed to assist in vegetation monitoring, the most commonly used being the NDVI, the Green Normalized Difference Vegetation Index (GNDVI) and the Soil Adjusted Vegetation Index (SAVI), the Crop Water Stress Index (CWSI).
Existen una variedad de índice de vegetación que han sido desarrollados para ayudar en el monitoreo de la vegetación, siendo los más usados el NDVI, el Índice de Vegetación de Diferencia Normalizada Verde (GNDVI) y el Índice de Vegetación Ajustado al Suelo (SAVI), el Índice de Estrés Hídrico del Cultivo (CWSI).
---
NDVI was proposed by Rouse, Hass, Schell, and Deering in 1974, and as in the other indices is calculated using the reflectance of the red and near-infrared regions of the electromagnetic spectrum, calculated by:
El NDVI fue propuesto por Rouse, Hass, Schell y Deering en 1974 y al igual que en los demás índices se calcula usando la reflectancia de las regiones roja e infrarroja cercana del espectro electromagnético, calculada por:
---

---
Where the NIR variables correspond to the near-infrared band and RED to the red band.
Donde las variables NIR corresponden a la banda del infrarrojo cercano y RED a la banda del rojo.
---
By definition, NDVI values vary between +1 and -1. Positive values correspond to vegetation areas. Negative values generated by a higher reflectance in the visible than in the infrared, belong to clouds, snow, water, bare soil areas, and rocks.
Por definición, los valores de NDVI varían entre +1 y -1. Los valores positivos corresponden a zonas de vegetación, mientras que los valores negativos generados por una mayor reflectancia en el visible que en el infrarrojo, pertenecen a nubes, nieve, agua, zonas de suelo desnudo y rocas.
---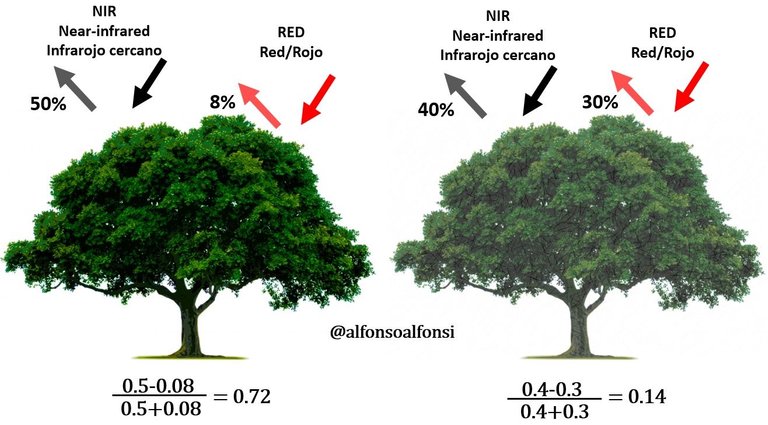 Ejemplo del cálculo del NVDI

---
For example, clouds, water, snow, and ice give negative NDVI values. Bare soils and other background materials produce NDVI values between -0.1 and + 0.1. The highest NDVI values occur when the amount of green vegetation in the observed area increases, ranging from 0.2 to 0.8. Healthy plants have a high NDVI value due to their high reflectance of infrared light and relatively low reflectance of red light.
Por ejemplo, las nubes, el agua, la nieve y el hielo dan valores negativos de NDVI. Los suelos desnudos y otros materiales de fondo producen valores NDVI entre -0,1 y + 0,1. Los valores más altos de NDVI ocurren cuando aumenta la cantidad de vegetación verde en el área observada, variando de 0,2 a 0,8. Las plantas sanas tienen un alto valor de NDVI debido a su alta reflectancia de la luz infraroja y reflectancia relativamente baja de la luz roja.
---

With NDVI it is possible to estimate the overall plant health condition, photosynthetic activity, and possible nutrient deficits as well as to study spatial and temporal trends in vegetation dynamics, productivity, and distribution.
Con el NDVI se pueden estimar la condición de salud de la planta en general, la actividad fotosintética, el posible déficit de nutrientes así como estudiar las tendencias espaciales y temporales en la dinámica de la vegetación, la productividad y la distribución.
---
It has the advantage of having a simple calculation and facilitates the direct interpretation of the biophysical parameters of the vegetation.
Tiene la ventaja de tener un cálculo sencillo y facilita la interpretación directa de los parámetros biofísicos de la vegetación.

See you soon, I hope the reading has been enriching.
Nos vemos pronto, espero que la lectura haya sido enriquecedora.
---

Rouse, J.W., Hass, R.H., Schell, J.A. y Deering, D.W. (1974). Monitoring Vegetation Systems in the Great Plains whit ERTS. Proceeding, 3rd Earth Resource Technology Satellite (ERTS) Symposium (pp. 48-62). Washington DC, USA: NASA Special Publication.
Rueda, F., Peñaranda, L., Velásquez, W., Díaz, S. (2015). Aplicación de una metodología de análisis de datos obtenidos por percepción remota orientados a la estimación de la productividad de caña para panela al cuantificar el NDVI (índice de vegetación de diferencia normalizada). Corpoica Cienc. Tecnol. Agropecu, 16(1), 25-40.
---
Figure and Image Credits / Créditos a Figuras e Imágenes
---
La imagen del Título fue realizado por @alfonsoalfonsi usando CANVAS e imagenes de dominio público PxHere.
---
---
---
The banner and photographs are my property. Made with PowerPoint, Paint, and Linerock Investment LTD ToonMe application.
El banner y las fotografías son de mi propiedad. Realizado con PowerPoint, Paint y Linerock Investment LTD Aplicación ToonMe.