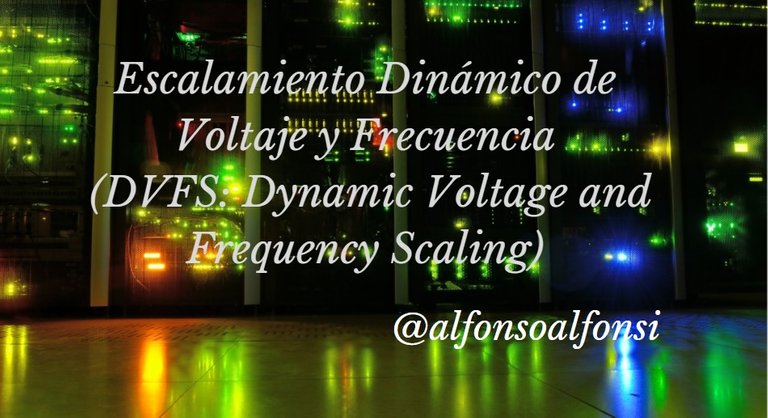 Hello, Friends of Hive and dear readers, it is a pleasure to be with you presenting topics of science, research, technology, and innovation.
Hola Amigos de Hive y apreciados lectores, un gusto estar con ustedes presentándoles temas de la ciencia, investigación, tecnología e innovación.
---
---
This post is dedicated to the Dynamic Voltage and Frequency Scaling Technique (DVFS), which adjusts the power consumed by a system, varying the voltage and frequency of operation of the processor with low power consumption characteristics. In other words, it is a composite power saver.
Este post lo dedico a la Técnica del Escalamiento Dinámico de Voltaje y Frecuencia) (DVFS: Dynamic Voltage and Frequency Scaling), que ajusta la energía consumida por un sistema, variando el voltaje y frecuencia de operación del procesador con características de bajo consumo de energía. Es decir, es un ahorro de potencia compuesto.



DVFS is a technique that aims to reduce the dynamic power consumption of a processor by altering the processor frequency and power supply voltage dynamically, according to the quadratic relationship of power consumption with voltage and direct with frequency, as pointed out in the post Processor Power Consumption.
El DVFS es una técnica que pretende reducir el consumo dinámico de energía de un procesador alterando la frecuencia del procesador y la tensión de alimentación de forma dinámica, de acuerdo con la relación cuadrática del consumo de energía con el voltaje y directa con la frecuencia, como fue señalado en el post Consumo de Energía en Procesadores.
---
Often, processor hardware that has resources for varying speed has a predefined discrete number of scales, which are voltage-frequency pairs at which the system can operate. This means that DVFS is performed by switching from one mode to another.
A menudo, el hardware de los procesadores que tienen recursos para variar la velocidad, poseen un número discreto predefinidos de escalas, que son pares de tensión-frecuencia en los que el sistema puede funcionar. Esto significa que el DVFS se realiza pasando de un modo a otro.
---
The two parameters voltage and frequency cannot be changed independently, usually only various combinations of values various power states are implemented in hardware.
Los dos parámetros voltaje y frecuencia no pueden modificarse de forma independiente, normalmente sólo se implementan en el hardware varias combinaciones de valores varios estados de potencia.
---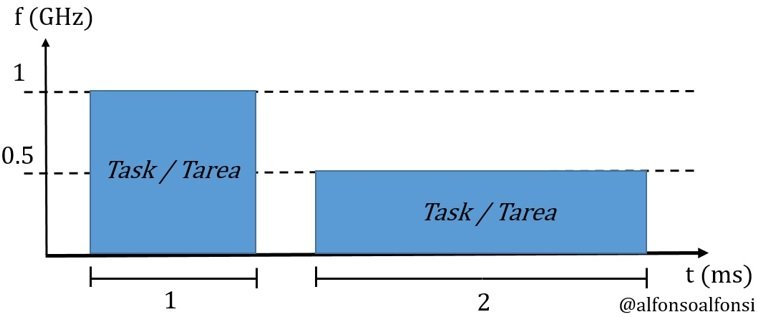 Figure 1. Example of executing a task with DVFS.
Figura 1. Ejemplo de ejecución de una tarea con DVFS.

---
Let's look at an example, consider a task that requires 1 ms to run on a 1 GHz processor at 1.8 V, as seen in Figure 1. Then, when considering the power used by this processor while executing the task, it will result in the highest power consumption.
Veamos un ejemplo, considere una tarea que requiere de 1 ms para ejecutarse en un procesador de 1 GHz a 1,8 V, como se observa en la Figura 1. Entonces, cuando se considera la energía utilizada por este procesador mientras ejecuta la tarea, dará como resultado el mayor consumo de energía.
---
If the clock runs at 0.5 GHz, the time required to complete the task will increase to 2 ms. Reducing the clock frequency to 0.5 GHz will reduce the power consumption by half along with the voltage, resulting in a 4 times power reduction.
Si el reloj funciona a 0,5 GHz, el tiempo necesario para completar la tarea aumentará a 2 ms. La reducción de la frecuencia del reloj a 0,5 GHz reducirá el consumo de energía a la mitad junto al voltaje, lo que supondrá una reducción de energía 4 veces mayor.
---
Thus, if the system requirements can accept an execution time of 2 ms, reducing the clock frequency and voltage can consume one-eighth of the power.
Por lo tanto, si los requisitos de sistema pueden aceptar un tiempo de ejecución de 2 ms, reduciendo la frecuencia de reloj y el voltaje se puede consumir una octava parte de la energía.
---
Of course, if there is only one task or software process, case explained above, that task will have full knowledge of the current power and performance requirements. However, as the software becomes more complex, there may be more than one task running simultaneously and all of them will have different requirements at the same time.
Por supuesto, si sólo hay una tarea o un proceso de software, caso arriba explicado, esa tarea tendrá un conocimiento completo de los requisitos actuales de energía y rendimiento. Sin embargo, a medida que el software se vuelve más complejo, puede haber más de una tarea ejecutándose simultáneamente y todas ellas tendrán distintos requisitos al mismo tiempo.
---
Therefore, resources and facilities will be needed to allow all tasks to report their minimum execution needs, and an entity to monitor those needs and maintain those minimum performance levels while adjusting power where it is no longer needed.
Por tanto, se necesitará de recursos y facilidades que permitan a todos las tareas informar de sus necesidades mínimas de ejecución, y un ente que controle esas necesidades y mantenga esos niveles mínimos de desempeño, al tiempo que ajuste la energía donde ya no sea necesaria.
---
That is, the supported range of processor frequencies will not always meet the constraints imposed by the application, an example of which is found in Real-Time Systems. Therefore, there is an edge frequency (fiborder) that will be the minimum allowed by the system to preserve the logical, temporal, and operational properties of the processor.
Es decir, que el rango soportado de frecuencias del procesador no siempre cumplirá con las restricciones que impone la aplicación, un ejemplo de ello se encuentran en los Sistemas de Tiempo Real. Por tanto, existe una frecuencia de borde (fiborde) que será la mínima permitida por el sistema para conservar las propiedades lógicas, temporales y operacionales del procesador.


DVFS is an effective technique for controlling both energy and performance.
El DVFS es una técnica eficaz para controlar tanto la energía como el rendimiento.
---
Within an application, variable-speed processors can be slowed down as long as system performance does not degrade. The reduction in processing speed decreases power consumption, but increases the computation times of tasks, causing possible loss of response times. Caution.
Dentro de una aplicación los procesadores de velocidad variable pueden disminuir su velocidad siempre y cuando el desempeño del sistema no se degrade. La reducción en la velocidad de procesamiento, disminuye el consumo de la energía, pero incrementa los tiempos de cómputo de las tareas, causando posibles pérdidas de plazos de respuesta. Asunto de cuidado.

See you soon, I hope the reading has been enriching.
Nos vemos pronto, espero que la lectura haya sido enriquecedora.
---

Alfonsi, A. (2021). Unidad II: Restricciones de los Sistemas Empotrados. [Material educativo para la asignatura Proyecto de Digitales Avanzados]. (Disponible: Grupo de Investigación de Arquitecturas de Sistemas de Control, Departamento de Computación y Sistemas, EICA, Universidad de Oriente, Barcelona, Venezuela).
Alfonsi A., Yánez R. y Pérez J. (2017). Distribución del Tiempo Ocioso Orientado al Ahorro de Energía en Tareas de Control de Tiempo Real. Revista Ciencia e Ingeniería, 38(2), 159-166.
https://www.redalyc.org/journal/5075/507555007008/html/
Alsheikhy, A. (2021). Dynamic approach to minimize overhead and response time in scheduling
periodic real-time tasks. International Journal of Advanced and Applied Sciences, 8(4), 75-8.
https://doi.org/10.21833/ijaas.2021.04.009
Kuehn, P. J. & Mashaly, M. (2019). DVFS-Power Management and Performance Engineering of Data Center Server Clusters. 15th Annual Conference on Wireless On-demand Network Systems and Services (WONS) (pp. 91-98). https://doi.org/10.23919/WONS.2019.8795470
---
Figure and Image Credits / Créditos a Figuras e Imágenes
---
---
---
The banner and photographs are my property. Made with Power Point, Paint and Linerock Investment LTD ToonMe application.
El banner y las fotografías son de mi propiedad. Realizado con PowerPoint, Paint y Linerock Investment LTD Aplicación ToonMe.